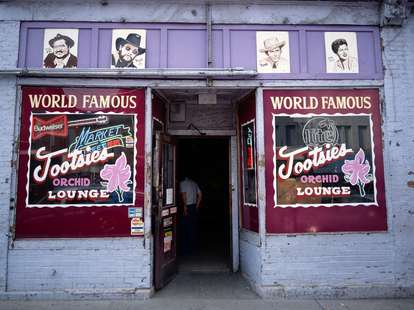 David Redfern/Rederns/Getty Images
David Redfern/Rederns/Getty Images
The first known use of the word iconic comes from 1656, and, though most of these bars haven't been around quite that long, some come damn close. Our rules for choosing an iconic bar were simple: it has to have been around since at least 1990, it has to be famous, and people need to still love going there. Sometimes this bar is a dive. Sometimes it's in a fancy hotel where former presidents have had a drink or two. But for whatever reason, these 51 bars have stood the test of time, broken bottles, and health inspections, and they keep bringing the crowds back in. So here are the most iconic bars in every state (and DC!). Cheers.
Alabama
Flora-Bama (address and info)
Baldwin County (Est. 1964)
The Flora-Bama Lounge & Package (not to be confused with the Yacht Club option across the street) is precisely what you expect from a sprawling, wooden, Gulf-front roadhouse straddling the Alabama-Florida line. Since it opened in the '60s, the daytime crowd has been a mix of young parents with toddlers (who are less welcome after 6pm), college kids on breaks, and locals who walk off the beach or drive up. Despite being almost completely destroyed by Hurricane Ivan in 2004 (devastation was so bad that it took until 2012 to be fully rebuilt), the bar only stopped serving for a few weeks. It's inspired songs by everyone from Jimmy Buffett to Kenny Chesney and inspired many other things in spring-breakers. The drink of choice is a Bushwhacker, and the go-to event is the annual Mullet Toss. No party-in-the-back hair is involved (necessarily), just thousands of people standing in Florida competing to see who can toss dead mullets (it's a plentiful Gulf fish) the furthest into Alabama. Don't think too hard about it -- just go.

Alaska
The Salty Dawg Saloon (address and info)
Homer (Est. 1957)
The old coastal lighthouse and cabin that now houses the Salty Dawg has been a lot of things since it was built in 1897, including a school and a post office. These days it's still a beacon, though instead of boats, it catches the attention of fishermen, locals, and tourists alike. It's as rustic as things get -- this is, after all, Alaska -- and if George Washington could talk, he'd have stories to tell. The first president has never been there, of course, but the joint's covered floor-to-ceiling in autographed dollar bills from patrons who have visited from all over the world. There's also a human skull in there. If you're willing to buy somebody a beer, they'll tell you a story about it. It probably won't be true, but it'll sure as hell be memorable.

Arizona
Big Nose Kate's Saloon (address and info)
Tombstone (Est. ~1880s)
Sure the town's a little cheesy, but it's named after Tombstone pizza, so it kind of makes sense. Get it? Cheesy! (Wait, maybe we have that wrong.) Anyway, it's also a tourist trap. But there's something about a bar in a building that's been around since the 1800s that you can't fake. And while the saloon isn't a house of ill repute anymore, you can still soak up the Wild West with live country music, and stained glass murals of Wyatt Earp and the bar's namesake. We wonder if the mugs back then had "Big Ass Beer" written on them too.

Arkansas
White Water Tavern (address and info)
Little Rock (Est. 1977)
If I were to define the word "resilience," I'd say it was the ability to bounce back. And the late, great owner of White Water from the '70s-'90s, the late Larry "Goose" Garrison was one resilient Arkansan. The bar had fire ruin it three separate times over those decades, and he rebuilt. And the Little Rock faithful and tourists from all over the country looking for a great dive to watch live music in continued to show up. In the present day, the yearly Holiday Hangout is a multi-day fest booked solid with great Americana acts playing for packed crowds drinking cheap beer and having a great time. You have to imagine Goose would approve.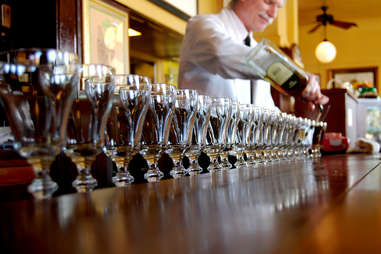 California
Buena Vista Cafe (address and info)
San Francisco (Est. 1912)
California might as well be the land of storied, iconic bars. From Silver Peso in Larkspur (which we highlighted as one of the best dives in America), to the Frolic Room in Hollywood, to the Waterfront in San Diego, to Vesuvio in SF, it's hard to go wrong when you want a drink at a historic bar in this state. That said, our pick is the Buena Vista, one of the oldest bars in San Francisco that basically introduced Irish coffee to Americans. Tourists and locals alike still crowd the Fisherman's Wharf spot 100+ years after it opened to eat breakfast all day (pro tip: try the crab Benedict) and sip on that brilliant boozy concoction.

Colorado
J-Bar (address and info)
Aspen (Est. 1889)
Long before Colorado was a smoker's paradise, it was a skier's. And one welcoming place for smokers and skiers alike is the Hotel Jerome. Sure, Aspen is the same place where Mariah Carey drops your monthly rent on Louis Vuitton, but there are also gems like the J-Bar -- where you can imbibe their famed Prohibition-era Aspen Crud (whiskey, vanilla ice cream, milk) for après ski. And you'd be in good company, as Hunter S. Thompson (R.I.P.), a longtime local, would often drink and work there back in the day. The beauty of a place like this is that it takes all kinds. Skiers, smokers, and gonzo journalists alike.

Connecticut
The Griswold Inn (address and info)
Essex (Est. 1776)
Located on the Connecticut River in a tiny hamlet that looks like it could double as a Revolutionary War movie set, the Griswold is one of the oldest continually operated joints in the nation, functioning as a (allegedly haunted) hotel and pretty kickass bar (it used to also function as a Redcoat command center, but we won, so we're cool with it now). The old (olde?!) Tap Room serves up great pub fare like fish & chips along with its own Revolutionary Ale, and the bar's live music runs the gamut from swing to blues to sea shanties. Most importantly, it's been one of the best bars in America since the day it opened. 239 years is a pretty damn good run.

Delaware
Bottle & Cork (address and info)
Dewey Beach (Est. 1936)
Ask people what they know about Delaware and their answers are usually two-fold: the highways and the beach. I grew up there, so I was never driving through Delaware to get anywhere else -- to me, it's a small state with nice beaches (and great sandwiches!). And Bottle & Cork is its legendary, cash-only beach bar known for its live music scene. It's only open May-Sept, but during those months, they often host bands a year or two away from filling up arenas -- The Avett Brothers and Dave Matthews Band among them. Or you can go midweek and catch a cover band while drinking cheap booze from a plastic cup. Either way, you're having a good time.

District of Columbia
Round Robin & Scotch Bar (address and info)
Washington, DC (Est. 1986)
Seems strange that a mint julep would be so popular at a DC bar, but Senator Henry Clay from Kentucky in the 1800s brought Bourbon County whiskey to the same building where the bar stands today, and passed along his recipe. They still use that recipe here, at the bar inside The Willard InterContinental, and plenty of them are served at their annual Derby blowout: the Bonnets and Bow-ties party. The bar itself is literally round, with the design based on the Capitol Rotunda. To further add to the DC-ness of the place, you can't sip on a julep in here without running into anyone "who deals in the business of government." Heads of state, NATO commanders, and delegations from any country you can name -- if they're in DC, they're often staying at The Willard, and they're definitely drinking at Round Robin.
Florida
Sloppy Joe's (address and info)
Key West (Est. 1933)
Key West isn't exactly Florida. It technically is, but it isn't. Key West is its own thing, and yet it's completely Florida, because people go there primarily to vacation, to tan and drink and temporarily escape their own sad life selling insurance in Iowa, or whatever it is regular people do. I don't know, because I make my living writing about bars. Hemingway loved this bar in downtown Key West, and was friends with the original owner, who once ran a speakeasy. Nowadays it's a "museum during the day," where people eat lunch and browse old photos of Papa and the island. At night, it's all Sloppyritas and Papa Dobles (a grapefruit & rum drink) and dancing to whatever party band playing that night. Vacation!

Georgia
Manuel's Tavern (address and info)
Atlanta (Est. 1956)
"What about Claremont Lounge?!" you're screaming to yourself while reading this on your phone and driving. Put your phone down, dammit. And while it's iconic, it's also a strip club. This story is not about the most iconic strip club in every state. Strangely, Manuel's isn't so much a bar as it is a town hall. The bar's namesake opened it in '56, and his son who owns it now says that if the bar has any theme, it's politics. And he's not kidding -- one of their busiest nights of the year is election night. Soak that in. Last election cycle, 1,000 people were in the parking lot watching the results come in. And their nearly 400 seats pack in groups of all kinds -- a fly-fishing club, the Georgia movie industry, and even presidents (Obama, Carter, Clinton) come in and enjoy the 31 beers on tap.

Hawaii
La Mariana Tiki Bar and Restaurant (address and info)
Honolulu (Est. 1957)
On the mainland, the cult of the Tiki bar has sought to recreate the feeling of relaxing on island time. More specifically, they're trying to recreate the feeling of hanging amid the glowing pufferfish, thatch, and indoor waterfalls of places like La Mariana. Considered to be the last of the old-school Tiki lounges, La Mariana has become something of a museum for the ghosts of Tiki past, a place where you can sip a signature Mai Tai or Zombie while checking out pieces of the culture's history. That includes legendary artifacts like carved Tikis from the Kon Tiki Room, old tables form Don the Beachcomber, and more. This is the mold from which all Tiki lounges are formed. Let's hope it's never broken.

Idaho
Pengilly's Saloon (address and info)
Boise (Est. 1976)
This bar opening its doors in 1976 makes absolutely no sense. The bartop inside of the bar is 100+ years old. Every Thursday, the Frim Fram 4 -- a local group that "specializes in the classic tunes of the Jazz Age" -- serenade the crowds. Basically, the vibe makes the bar seem older than it is. The massive brick walls and buffalo head add to the ambiance. And somehow, when you put it all together, it works.
Illinois
The Green Mill (address and info)
Chicago (Est. 1907)
Chicago played a significant roll in the ascent of both jazz and organized crime in America, and the Green Mill's history is thoroughly intertwined with both. Opened in 1907 as Pop Morse's Roadhouse (the Green Mill name wouldn't come into play until a few years later), the Uptown haunt would grow into both a landmark jazz joint and, for a time, a major hangout for Al Capone and other members of the Chicago outfit (his favorite booth is still there, as are the underground tunnels they used for... various things). Today things are more above board, but the Green Mill remains a fixture within Chi's nightlife and music scenes.

Indiana
Slippery Noodle Inn (address and info)
Indianapolis (Est. 1963)
Though the Noodle has been around since the '60s, the building the bar's in has had a bar in it since the 1850s, meaning every time you pop open a Sun King here, you're drinking in Indiana history, along with a solid beer. Beer signs crowd the walls, mostly from breweries that "unless you're in your 50s, you've never heard of." Daytime stays busy with office workers from locals Rolls-Royce and Eli Lilly ordering the Indiana-favorite (and Iowa) pork tenderloin for lunch, and the sound of live blues fills the bar seven nights a week.

Iowa
Mac's Tavern (address and info)
Davenport (Est. 1934)
There's a Mac's Tavern in Philadelphia owned by a famous guy from a TV comedy, but this is not that. We think he'd approve of this dive too. When we talked to one Iowan, they said "it seems like everyone in the Quad Cities has been there at least once," and since they opened in '34, the odds seem pretty good. While Mac's changed ownership in the early '00s, the important stuff remains: the long, curved bar that takes up basically the entire space, the legendary St. Patrick's Day festivities, and the eye-catching throwback neon sign advertising "fine food."

Kansas
Johnny's Tavern (address and info)
Lawrence (Est. 1953)
Kansas is one of those states that used to have bizarre booze laws, like the one that forced this bar to only serve 3.2% beer, which is approximately 100% less delicious than 6.2% beer. Not anymore, thankfully. Still, the current laws say they have to serve food, but that doesn't seem to bother the "local townies, bank presidents, and college kids" who pack the place. KU's close by, which explains the latter. And how Kansas is this? The bar is 7,000sqft, mostly due to the fact that it's housed in a former tractor/farm implement store.
Kentucky
Old Seelbach Bar (address and info)
Louisville (Est. 1905)
I stayed in the gorgeous Seelbach Hotel last year to learn about bourbon from the master distiller at Old Forester, and our first stop was in this very bar. We drank their famed Seelbach Cocktail, a combination of Champagne, Old Forester, orange, and bitters that somehow works. The recipe was said to have been created before Prohibition in 1917 and then lost until they found it again in 1995. Another fun historical fact: F. Scott Fitzgerald apparently felt inspired by the bar's luxury way back when, something that obviously helped him write the screenplay for that Leonardo DiCaprio movie. And when you're in the Old Seelbach Bar, it's impossible not to take full advantage of the fact that they're on the Urban Bourbon Trail and order a cocktail or two -- or a pour from one of 74 bottles of bourbon behind the bar.

Louisiana
Lafitte's Blacksmith Shop (address and info)
New Orleans (Est. ~1940s)
Lafitte's Blacksmith Shop is one of those rare tourist attractions that is actually worth a visit. While it's only been a booze destination since the '40s, the building itself was built in the early 1700s and is the oldest building in America to house a bar. And while many other New Orleans bars can claim they invented some of the most famous cocktails in America, it's hard to beat a dive where getting the house drink lands you a frozen purple daiquiri loaded with Everclear (it's fondly called 'purple drank,' of course) that you can drink in the glow of video poker while pondering two brothers' smuggling operations that took place under the same roof almost 250 years ago.

Maine
Jameson Tavern (address and info)
Freeport (Est. 1779)
Declaring itself the "Birthplace of Maine" because it's where pioneering Mainers plotted their independence from crappy Massachusetts (America: home to history's groggiest revolutions), the Jameson's gone by many names since it was established, though we're partial to Codman's, for some reason. And while it was temporarily a private residence, it's been a fully operational bar since 1981, serving up a famous lobster stew alongside house beers like Dr. Hyde's Angry Ale. It's a great place to drink in a little history, though sometimes history comes alive a little more than you're comfortable with: apparently, it's haunted as hell.

Maryland
The Horse You Came In On Saloon (address and info)
Baltimore (Est. 1775)
You might expect that a bar that's been around over 200 years (and claims to be the oldest continually operated saloon in America) has had bizarre stuff happen there. And the bartender we spoke to didn't dissuade us from that thinking, saying, "It's definitely haunted. People have seen things." We can't guarantee a ghost sighting, but in the Fells Point bar you'll definitely see a front bar made from Jack Daniels barrels, locals and tourists alike drinking Natty Bo and Heavy Seas, and the ghost of Edgar Allen Poe. OK, probably not that last one, but legend has it that his very last stop before he died was this bar. Yeah, we're gonna go ahead and say it's probably haunted.

Massachusetts
J.J. Foley's Café (address and info)
Boston (Est. 1909)
With respect to Sam Malone's admittedly iconic tourist trap, we're drawn to the South End's go-to Irish bar, where, for more than a century, legions of Bostonians have flocked. The history of Foley's is rooted deeply in the history of the city itself. For the better part of a century, it was like Boston's version of the Mos Eisley Cantina -- everybody could be spotted there drinking, from heroes to villains. Politicians, cops, gangsters, journalists, Joe Six-Packs, yuppies, townies, after-Mass Catholics, and intellectuals commingled under the shared banner of strong drink. Four generations later, it's still owned by the Foleys. And while the neighborhood has been on the up-and-up (or, more accurately, the yup-and-yup), the bar has remained the same. And on any given day, you're likely to get a mosaic of Boston life inside.

Michigan
The Pink Pony Bar & Grill (address and info)
Mackinac Island (Est. 1910)
"But Mackinac's such a tourist trap," many Michiganders will say, probably en route to Mackinac. And they'd be correct. But it's also a place visited by 95% of the population, and it kind of rules. Located where Lakes Michigan and Huron meet in between the Upper and Lower Peninsulas, the island has no cars, and can only be reached by boat or ferry. Which is a good thing, because odds are that whether you're up for one of the annual sailboat races or just visiting for a night, you're getting down at the Pony. The place -- which looks like Bilbo Baggins and Barbie co-designed it -- hosts live music, rowdy parties, and includes one of the most gorgeous patios in the country, with a panoramic view that hammers home the reason they're not called "Pretty Good Lakes." If this is a tourist trap, we're glad to be ensnared.

Minnesota
CC Club (address and info)
Minneapolis (Est. 1934)
Before you complain, know that Matt's Bar is a restaurant. Here's proof. People go to Matt's to eat and the CC Club to drink. The place has housed plenty of local acts who later hit it big, like the guys from The Replacements, Soul Asylum, and umm, Tom Arnold. No, seriously, he used to live across the street. The CC Club's aesthetic defines the term "no frills," as everyone from "25-year-old college kids to 65-year-old Grandpas" drinks tallboys of PBR, and plays pool and old-school video games. And since it's a bar where musicians still congregate, the jukebox is highly curated, and considered one of the best in the city.
Mississippi
Red's Lounge (address and info)
Clarksdale (Est. ~1984)
Clarksdale is one of those towns that is the Delta Blues. And Red's is one of the finest places to listen to the blues, period. Inside a former instrument/record store where Ike Turner and other bluesmen bought instruments, the owner Red set up the juke joint -- basically, a quasi-legal spot to throw a party and experience some live music. A regular (and the owner of Cat Head, a "one-stop shop for everything Mississippi blues") explains that an old bluesman once told him he loved to play Red's because "it feels like you step into a history book, and you feel how the music came to be." Even though those old bluesmen are getting older and passing away as the years go by, you can still catch acts that are "the real deal" most nights a week inside a room lit up only by Christmas lights and beer signs. Red'll be there hosting. Look for the guy wearing sunglasses, no matter how late it gets.

Missouri
Kelly's Westport Inn (address and info)
Kansas City (Est. 1947)
Kelly's is so Missouri that in the 1850s, Daniel Boone's grandson Albert once owned the building in which it's located. It was "one of the mainstays of the original entertainment district" of KC, and people are still partying there. Especially on St. Patrick's Day, where they do a week's business in 16 hours. NBD. Four members of the Kelly family currently run the place, and they've taken over from the original Kelly, the beloved, late bartender with a thick brogue "from the time he got off the boat in the '20s." College kids from UMKC and Rockhurst pack the place on the weekend, and anyone who wants to catch a Mizzou game (or any game, period) has 18 TVs to choose from. Among their 32 taps of beer are local favorites like Boulevard, a brewery that happily delivered the millionth case of their beer sold in 2014 to them late last December. That's so Missouri of them.

Montana
The Sip 'n Dip Lounge (address and info)
Great Falls (Est. 1962)
Montana's a state chock-full of great cowboy saloons -- no-nonsense, rustic drinking holes that take the concept of "no frills" to remarkably great levels. So it'd be pretty understandable if your spurs were jangled violently upon visiting the Sip 'n Dip. Tucked in the unassuming O'Haire Motor Inn, it's an old-school Tiki bar that serves up fruity cocktails that are in direct contrast with the state's unofficial order of "whiskey and a side of solidarity." Were that its only defining trait, the Sip 'n Dip would be a rarity. But it's their mermaids that make it an icon. That's right: in a state that defines "landlocked," the servers (and, once, Daryl Hannah) dress as mermaids and swim around in a pool behind the bar, peeping in through a glass window. Throw in the soothing sounds of "Piano" Pat Spoonheim and you don't just have an icon. You've got a national treasure.

Nebraska
Dinker's Bar and Grill (address and info)
Omaha (Est. 1965)
Sure, you could go to a trapped-in-time dive in Omaha like The Green Onion, but at Dinker's you can get a stiff drink and what they say is "Omaha's best burger," a claim plenty of people agree with. Walk up to the counter and order the Haystack -- a hand-pressed burger with ham, American cheese, and a fried egg. Pay for it with cash, since that's all they take. Finding a seat might be tough, so you might as well move over to the bar and get a drink too. There are TVs to watch sports on while you destroy that burger, and chairs and tables that look like they haven't been changed since '65, but that's part of the charm.

Nevada
Stage Door (address and info)
Las Vegas (Est. 1976)
People take Las Vegas for granted now, but try to explain the concept to someone who's never heard of it, and it makes no sense. Non-stop drinking and gambling in the middle of a basically uninhabitable desert? Sure! Vegas nowadays is a playground run by corporate interests to suck you out of your money, and Stage Door is a refreshing counterpoint. It's old Vegas, and it makes absolutely no sense. How is a 24-hour bar that's also a convenience store that's also a very tiny casino that's known for a hot dog/beer combo still open in 2015? Who the hell knows, but we hope it never closes.

New Hampshire
Wolfe's Tavern (address and info)
Wolfeboro (Est. 1812)
When Wolfe's was established in the idyllic lake town of Wolfeboro waaaaaay back in the day, it was simply a country tavern for weary travelers and locals in need of strong drink. Now, it's one of the last old-school New England taverns, with a stunning deck, a gigantic hearth to warm your haunches, and the infamous "Mug Club," whose members are inducted after the hearty task of sampling 100 different beers (not in one night, slugger). Those who accomplish this feat -- which Wolfe's makes pretty easy with its robust list of regional craft beer and imports -- get their own personalized pewter mug like the ones that hang from the ceiling. 2,200 people have accomplished it. 2,200 people have also had the privilege of kissing the mounted moose head as a result. That moose has been getting around...
New Jersey
The Stone Pony (address and info)
Asbury Park (Est. 1974)
Bon Jovi and Bruce Springsteen have played on the Stone Pony stage multiple times, and if there's a more New Jersey beginning to a sentence, I'm not sure what it is. Oh, and it's steps from the boardwalk to add an extra Jersey vibe to the proceedings. While primarily known as a concert venue, it makes the iconic bar list due to the sizable bar in front of a wall of guitars, where you can order a beer and nod your head to whatever local or cover band is playing that night, though huge national acts also drop in to play the cramped, historic venue.

New Mexico
49er Lounge (address and info)
Gallup (Est. 1937)
Ahh, New Mexico -- the Wild West! It's also the setting for the Wild West in the movies, as many of them were shot in the Gallup area way back in the '30s and '40s. The Lounge is inside the El Rancho Hotel, and movie stars like John Wayne and some guy named Ronald Reagan (in the 1960s, even!) stayed there, and likely knocked back a few at the 49er Lounge. These days, tourists cruising on Route 66 make a stop here, resting their weary traveler bones for a margarita and a steak whilst looking at stained-glass windows "depicting barmaids and poker games."

New York
The White Horse Tavern (address and info)
New York (Est. 1880)
NYC is home to a ton of bars that can be considered iconic: everywhere from Old Town Bar to McSorley's to Pete's Tavern. Not to mention any bars outside of the city, like Old Pink in Buffalo. But White Horse takes the crown because it's the West Village's neighborhood bar, and it has been for 100+ years. It was also a second home to some of the city's most creative residents, Beat writers like Ginsberg and Kerouac, poets like Dylan Thomas (the bar maintains a "Dylan Thomas" room with a plethora of his pictures), musicians like Bob Dylan, and straight-up geniuses like Belushi.

North Carolina

He's Not Here (address and info)
Chapel Hill (Est. 1972)
Sure, it's a college bar. But there are college bars, and then there's He's Not Here. In a South whose drinking laws were highly prohibitive for so damned long, He's Not Here managed to become a juggernaut of drinking culture faster than UNC usually shoots to the top of your bracket. The place even has a keepsake, signature 32oz cup that its owners can fill with cheap beer from the male taps that range from fizzy and yellow (college!) to local craft. That means you have something to remember your time at He's Not Here by, even if you can't actually remember the live band you saw, the karaoke you sang, or the stranger you made out with.

North Dakota
Peacock Alley (address and info)
Bismarck (Est. 1933)
For a state that was completely dry until right after Prohibition, it sure does have a boozy past. Peacock Alley is located in the same building where Al Capone would stop by to drink and gamble on the way to Canada from Chicago. Politicians frequented the place too, something that hasn't changed one bit since then. The massive 180-seat bar currently hosts a live radio show during the state's legislative session, with governors and senators making appearances. Non-powerful folk frequent the place too, mostly to drink from 24 taps that include local breweries like Buffalo Commons and get a taste from the martini bar. Pro-tip: you can order anything from Peacock Alley's restaurant to eat in the bar. We recommend the cowboy ribeye.

Ohio
Arnold's Bar and Grill (address and info)
Cincinnati (Est. 1861)
The bricks that line Cincinnati's historic Arnold's have seen a lot in their day, from the ladies getting down in its brothel days to the bootlegging entrepreneurs who mixed gin in the upstairs bathroom, to the decline of -- and subsequent revival of -- the Rust Belt. Today, sans ladies of the night and gangster ties, Arnold's is virtually unchanged. It is the picture of what a bar should be, with great burgers, a solid tap list, a commitment to cocktails that pay homage to its dicey past (the barrel-aged Manhattan made with port is a highlight), and a steady stream of local regulars, many of which have called Arnold's their go-to bar ever since they turned 21. Hell, generations have. And that makes Arnold's a true American classic.

Oklahoma
HiLo Club (address and info)
Oklahoma City (Est. 1956)
The HiLo Club is a dive bar for everyone -- gay and straight. Whoever walks in the door is accepted: drag queens, burlesque performers, and even magicians. Yes, magicians. And that's just one recurring show at the HiLo. Other nights feature live music and trivia, but it's also perfectly fine to not participate and sit in the corner and drink their cheap, strong drinks, like a homemade Bloody. Come as you are, and all. Not surprisingly, Flaming Lips frontman (and Oklahoma resident) Wayne Coyne has put in time at the bar, as it's where he celebrated his 50th birthday a couple years back. Where else in OK are you gonna see a Grammy winner in a weird hat sing Queen covers?
Oregon
The Blue Ox (address and info)
Timberline Lodge (Est. 1937)
Portlanders will cry foul, but despite the myriad iconic bars in Stumptown, none of them are located in a historical landmark that has the unique distinction of appearing in the hearts of skiing fanatics and Kubrick fans in equal measure. Located at the top of Mt. Hood in the Timberline Lodge -- where the exteriors of The Shining were famously filmed, and where everybody else goes to ski -- the Blue Ox is hidden behind the main lodge's lobby, and entering its iron-barred stone door seems like entering a dungeon. Luckily, this dungeon serves pizza, cocktails, and pints from Mt. Hood Brewing, and also features an amazing glass mural of Paul Bunyan and the bar's namesake bovine homeboy. Not bad for a spot that was originally intended to be a wood-storage closet before some genius architect realized that you can't have a ski lodge without a kickass bar.

Pennsylvania
Bob & Barbara's (address and info)
Philadelphia (Est. 1969)
A bar that, in 2015, offers a can of PBR and a shot of Beam for $3.50 (called the "Citywide Special") is a bar we want to hang out in. And Philadelphians have been doing just that for 40+ years, likely to make the last 40+ years of Eagles losses go down easier. And while South Street has been injected with shiny new businesses over the past few years, this dimly lit, disco-ball'd dive keeps the old spirit alive with a disco ball above the bar, live music (who knew Philly had a "Country Night"?), drag shows, and karaoke.

Rhode Island
White Horse Tavern (address and info)
Newport (Est. 1673)
While the White Horse could be classified as a restaurant (lobster mac & cheese!) and not a bar, it gets a million bar points for being what some say is the oldest bar in the country. And while the restoration of White Horse in the '50s turned it into the tavern it is today (as opposed to the criminal court and boarding house it once served as), it's the general rustic vibe and huge fireplace that serve as a time machine to a simpler time in America. You know, a time like the 1700s.

South Carolina
Nu-Way (address and info)
Spartanburg (est. 1938)
Any conversation about the Nu-Way starts with the Redneck Burger, a behemoth beauty topped with pimento cheese (or, as Mike Ehrmantraut called it, "the caviar of the South"). But conversations inside the Nu-Way start with... well, anything. Because the Nu-Way is a bar in its purest form. It's a place where people talk -- to each other, not on phones -- amid the neon lights of old beer signs, fueled by a tap selection whose definition of "craft" is Corona. It's a place where dogs are permitted, if on a leash. A place where strangers become acquaintances over a shared love of beer, meat, and Southern caviar. That's what makes it a true classic. Because it's a place where people actually talk. And when they leave, their first inclination is to talk about it.

South Dakota
Ice House (address and info)
Yankton (Est. 1933)
It's no surprise that Yankton's famous bar serves up beers in buckets of ice: the place started out as the Pure Ice Company in 1928 before becoming one of the best damned dive bars in the country. And make no mistake, it's a dive with a capital D -- as in damned delightful. A couple things of note here. First and foremost, you're going to want to drink outside -- not because the inside is extremely, shall we say, rustic, but because the gorgeous Missouri River is right across the street. Second, the bartender will bring beers right to your car (don't worry, that, like many weird things, is legal in SoDak). But why drink in the car when you can sit on the loading dock under which the remnants of tens of thousands of broken bottles reside as relics of the bar's history. That's right. Tradition dictates that you smash every empty on the concrete below the loading dock. Tom Brokaw -- Yankton's proudest son -- has a few shattered memories underneath that dock. Everybody should.

Tennessee
Tootsies Orchid Lounge (address and info)
Nashville (Est. 1960)
These days, Tootsies is world famous -- and not just because the words on the windows of the purple building say so. And while it's become a hub for tourists to get a quick Music City experience, and even though it now has outposts in the airport and (ugh) Florida, Tootsies' roots are so deep in Nashville that they date back to the very beginnings of Music City's current status. Every great country star has likely passed through, or taken the stage to work out the kinks in their new songs. That'll happen when your neighbor is the notorious Ryman Auditorium. And sure, now there are thousands of other honky tonk country bars in Nashville that are nurturing the singers of the future. But they're all taking a cue from what Tootsies started. If that gawdy purple bar wants to be a tourist trap nowadays, let her. She's earned it.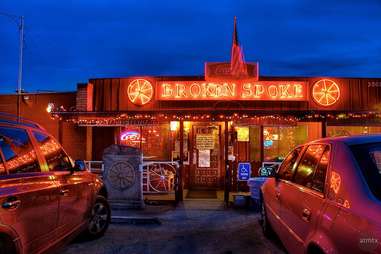 Texas
The Broken Spoke (address and info)
Austin (Est. 1964)
Nothing says "Texas" quite like the Broken Spoke. At a ripe 51 years old, the honky tonk dance hall serves as an oasis of old-school two-stepping and chicken-fried steak in the sometimes unrecognizable landscape of new-school Austin. Thanks to the heavy development of South Lamar Blvd, the humble Spoke is now the meat in a towering condo sandwich, but just like Texas, it stubbornly clings to its independent spirit and refuses to throw in the towel. And although many of the musical performers are older than the bar itself, the outlaw country riffs are still strong enough to draw a melting pot of Texas from gray-haired retirees in cowboy boots to blue-haired hipsters in... cowboy boots.

Utah
Cotton Bottom Inn (address and info)
Salt Lake City (Est. 1966)
You can expect some funky liquor laws to have an effect on the most iconic bar in Utah. And sure enough, Cotton Bottom only serves beer. Luckily for them, beer pairs perfectly with their fabled garlic burger. It's unique in that it's served on French bread, and it might as well be the only food on the menu. So grab a Wasatch on the patio, soak up the sun, and eat a burger among millionaires and blue-collar workers alike. Everyone in town knows where to find the best garlic burger, and it's at Cotton Bottom.

Vermont
Ye Olde Tavern (address and info)
Manchester (Est. 1790)
Sure, Ye Olde Tavern is the oldest bar in Vermont, and on the national registry of historic places. But just being old doesn't get you icon status. Mostly known as a dining establishment, the small, full bar at this gorgeously restored spot used to be the meeting ground for the area's social elite for the better part of a century. Nowadays, it's a place where you can grab a pint of cider or the 1790 Taproom Ale brewed especially for the bar, plus Prohibition-era cocktails and an expertly curated selection of wine. Flagons, sadly, are not an option.

Virginia
The Red Fox Inn and Tavern (address and info)
Middleburg (Est. 1937)
Because of Virginia's law requiring drinking establishments to make no more than $55 off of booze for every $45 of food, it's tough to call anywhere in the state a straight-up bar. Regardless, like the state itself, the Tavern has a rich history. Before it was known as The Red Fox Inn and Tavern, establishments in the same building hosted British soldiers during the Revolutionary War and Confederates in the Civil War. Nowadays, it's got an "ancient British pub" vibe in which tourists and locals alike drink wines from Leesburg, beers from Afton, and eat their famed Virginia peanut soup all the way from in the kitchen.
Washington
The 5 Point Cafe (address and info)
Seattle (Est. 1929)
Some bars are content to be open from the afternoon until 1 or 2am. The 5 Point is not most bars -- it's open from 6am-2am every day, and has people in it pretty much nonstop. And since 5 Point is also a 24-hour restaurant, there's no reason ever to leave. The clientele has a "very old-school Seattle" attitude (read: surly), and that suits everyone just fine. According to the owner, "every Seattle musician has been thrown out of the place," and much of the '90s grunge scene made it their home back then. And because nothing goes together quite like nudity and booze, a moose head on the wall is covered in bras. Not coincidentally at all, Polaroids of topless women cover the back wall of the bar. Whether or not those photos were taken after someone drank the $3.50 special for a shot of whiskey and a can of Olympia, we can't say.

West Virginia
Mario's Fishbowl (address and info)
Morgantown (Est. 1963)
Plenty of bars in America try to achieve a retro feel by buying a bunch of bar stools that look like they're from the '50s. And then there's Mario's, where "everything from the floor to ceiling" has been there since 1949 -- before it was a bar, back when it was an ice cream shop. For modern-day drinkers, there's plenty about the bar that's unlike anywhere else, from the wall full of bizarre "world records" like "seven people shared a single piece of gum passed around the table." World records probably are broken easier when you're drinking beer from "subzero frosty fishbowls" that are definitely more than your average pint. And despite the world records, oversized beers, and the fact that it's in a college town, it's not an 18+ bar. Families bring their kids to commingle with WVU alums and locals in the tiny space on a nightly basis.

Wisconsin
Wolski's Tavern (address and info)
Milwaukee (Est. 1908)
Wolski's has been around so long that way back when they were a "Schlitz bar." That meant they could only serve Schlitz, and in exchange, the brewery would "build your bar" for you. Not a bad trade-off. And since the bar's in Milwaukee, they do a killer Bloody, which pairs well with the free popcorn and darts. One of the strangest enduring legacies of Wolski's is their bumper sticker that says "I Closed Wolski's" -- stick around 'til closing and they'll hand you one. Hold on to that bumper sticker and take a photo of yourself holding it somewhere exotic, and they'll do you one better -- by immortalizing your photo and sticking it to the wall.

Wyoming
The Million Dollar Cowboy Bar (address and info)
Jackson (Est. 1937-ish)
The gigantic sign marking this favorite of locals and tourists in Jackson is an icon unto itself, what with the neon image of a rodeo rider astride a glowing steed sending more light into the Wyoming sky than most small towns can muster. But it's what's beyond those swinging saloon doors that makes the bar a true icon. If the repurposed bar stools and steer horns don't give you a clue that you're in a true cowboy bar, the country music on stage sure will. And boy howdy, has that stage seen some legends, among them Waylon Jennings, Glen Campbell, Willie Nelson, and Tanya Tucker. To this day, the place defines both "rootin'" and "tootin'" with its wall-mounted guns and old-West charm. Hell, the giant old-time mural behind the bar isn't even necessary. This is as good a snapshot of an old-timey Wyoming saloon as you're likely to get.
Sign up here for our daily Thrillist email, and get your fix of the best in food/drink/fun.
Lee Breslouer is a senior editor at Thrillist, and is surprised at how many bars are named White Horse in America. Follow him for tweets typed out in dive bars: @LeeBreslouer.
Matt Lynch, Dan Gentile, and Andy Kryza also contributed to this story.