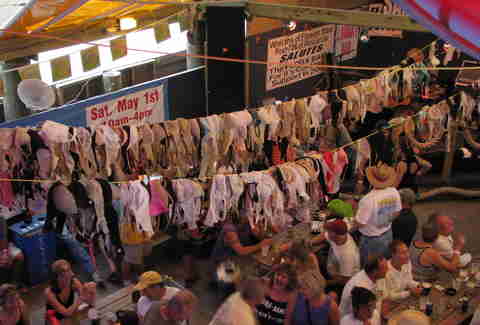 Alabama
Flora-Bama (address and info)
Baldwin County (Est. 1964)
The Flora-Bama Lounge & Package (not to be confused with the Yacht Club option across the street) is precisely what you expect from a sprawling, wooden, Gulf-front roadhouse straddling the Alabama-Florida line. Since it opened in the '60s, the daytime crowd has been a mix of young parents with toddlers (who are less welcome after 6pm), college kids on breaks, and locals who walk off the beach or drive up. Despite being almost completely destroyed by Hurricane Ivan in 2004 (devastation was so bad that it took until 2012 to be fully rebuilt), the bar only stopped serving for a few weeks. It's inspired songs by everyone from Jimmy Buffett to Kenny Chesney and inspired many other things in spring-breakers. The drink of choice is a Bushwhacker, and the go-to event is the annual Mullet Toss. No party-in-the-back hair is involved (necessarily), just thousands of people standing in Florida competing to see who can toss dead mullets (it's a plentiful Gulf fish) the furthest into Alabama. Don't think too hard about it -- just go.