Leighton Pope/Jennifer Bui/Thrillist
Leighton Pope/Jennifer Bui/Thrillist
There are 100+ beer styles, according to the Brewers Association. And even though drinking beer is like sex -- even when it's bad it's good, you shouldn't do it on top of a cop car, etc. -- you might get sick of seeing the same beers at bars and the liquor store. That said, there are also delicious beer styles you're not seeing enough of. That's why we asked a few of our favorite brewers and beer writers to tell us their overrated and underrated beer styles.
Denver, CO
OVERRATED: Gose
"Gotta go with gose. It seems that everyone released one in 2015. Don't get me wrong, when they're on, they're fantastic. But everything is best in moderation, right?"
UNDERRATED: Helles
"Nothing beats a stellar helles lager. So fresh and so clean."

OVERRATED: Belgian IPA
"Overrated is in the eye of the beholder. My least-enjoyed style could be someone's absolute favorite. I'm not particularly a fan of Belgian IPAs, but that leaves more to the people who love them."
UNDERRATED: Lager
"Basically any lager. I'm beating a drum that a bunch of other people have already beaten, but the time and craftsmanship that go into making a good lager is really ignored by the general craft beer drinker."
Boulder, Co
OVERRATED: Sour
"Sour beers that taste like cheese soaked in paint thinner and aged in dirty sweat socks. Just like any other food or beverage you might put in your flavorhole, there is a huge variety in the wide world of sour beers. With the proliferation of more breweries, there are more brewers trying to make them. Which is great, but it also means a wide variety in quality. More flavor does not always equal good flavor. Find a few well-established classics like New Belgium's La Folie, Russian River's Temptation, and Boon Geuze to see how some of the masters do it."
UNDERRATED: German lager
"A quality pilsner, marzen, or doppelbock is liquid glory. I love IPAs and drink them at least 400 days a year, but they're relatively easy to make. Lagers are a whole different monster. They take patience, experience, and skill to produce. But if you stumble on a well-made, fresh pilsner on draft somewhere, there's no better beer style for a long day of downing liters with your friends. And after a few doppelbocks you'll start making new friends, so you can get rid of your old ones."

OVERRATED: IPA
"The most overrated beer style is the American IPA. I say this because it has become the mainstay of every craft brewery, with some producing multiple versions of IPA while neglecting other styles completely. I get it -- IPA is the top-selling craft beer style in the United States, so it makes economic sense to brew this style. But when IPA beers comprise such a high percentage of beers brewed by a single brewery, I think a state of overkill has been reached and exceeded."
UNDERRATED: Porter
"Breweries tend to stick with IPA, pale ale, and other hop-accented styles, but porter is deserving of greater respect. The roasted coffee, caramel, and other flavor characteristics common to porter would present a nice contrast to the more common styles. Forget peace -- it's time we give porter a chance."
OVERRATED: Sour/wild
"I think the most overrated beer style is sour and wild beer. Many fans are willing to throw everything else aside as they claw their way to get their hands on anything with 'sour' in the name. There's a big lack of education around what a sour or wild beer is. A large portion of beer fans don't realize that not all wild beers are sour. They have an expectation that all of these beers are pucker-inducing and then seem to judge them not by the real qualities of the brew, but instead by how much it tastes like the brewer crapped Sour Patch Kids into a glass. We've got a long way to go in educating beer lovers around wild beers, and really, beer overall."
UNDERRATED: Pilsner
"Pilsners have gotten a bad rap thanks to American macro-lagers, many of which are associated with the style. Pilsners aren't flavorless beers for college kids to chug. There are many amazing ones packed full of flavor that remain wonderfully drinkable. Town Hall Saaz Pils, Bent Paddle Venture Pils, Schell's Pils, and many others are delicious drinking beers that showcase what a great pilsner can be. Give them a try."

Durango, CO
OVERRATED: No style
"I struggled with this one for a couple of reasons: there are certainly overrated beers within certain styles, but I think every style has its time and place. I'm sure everyone will say IPAs, but I can't really go there because to this day when I can't make a decision (a state I'm often in), I tend to default to IPAs. As annoying as some of the half-wits are with their charge for the newest, most ridiculous adjective-laden beers, many of these tend to be fantastic, and have helped cement American craft beers as the best and most diverse in the world."
UNDERRATED: English ale
"This one is easy. Medium-bodied, low to medium ABV, traditional English ales. Brewing clean, quaffable, less-complicated beers isn't easy. There aren't as many tricks to mask flaws. This is why breweries like Benchmark in San Diego are often referred to as 'brewers' breweries,' because you're likely to see as many professional brewers hanging out in their tasting rooms enjoying these oft passed-by styles as you are John Q. Public."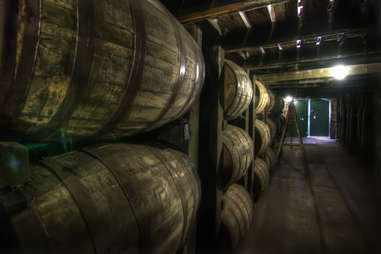 San Francisco, CA
OVERRATED: No style
"As a beer drinker, I don't think any style is overrated, though it could be that style guidelines themselves are overrated."
UNDERRATED: Pilsner
"Where to begin? Due to the current focus on sour, adjunct/fruit beers, barrel aging, and massive hopping rates, people have forgotten dunkel, pale ale, helles, mild, bitter, hefeweizen... the list goes on. That being stated, many beer drinkers confuse pilsner with American light lager and international light lager. I would suggest going to Prague and drinking a few liters of the original with floor-malted Moravian malt, soft water, and aromatic Saaz hops. Or go to the Rheinland-Pfalz in Germany and watch the 'seven-minute pour,' which is done with the same reverence as stout is poured in Dublin. Close to home, Lagunitas makes an excellent version, along with Trumer Pils and Victory Prima Pils."

OVERRATED: Bourbon barrel-aged beer
"Look, I get it. Bourbon is great. Know what I do when I'm in the mood for bourbon? I order a bourbon. That said, while I know barrel aging isn't going away, I'd love to see more experimentation with rum barrels, tequila barrels, etc. Let's get creative, folks!"
UNDERRATED: Lager
"Oh, that crisp lager finish, it's so satisfying. I totally dig the IPL trend, and I'd love to see breweries get into more cold fermentation."
OVERRATED: Double IPA
"While some of the best beers in the world are double IPAs, I think the style as a whole is a bit overrated. There's something to be said for balance and focus, and I think there are a lot of breweries out there that go big just to go big. And similarly, there are a lot of beer drinkers that go big just to go big. Let's put the emphasis back on making great beer, not making the biggest, baddest, and bitterest."
UNDERRATED: Porter
"I love a great porter. But big stouts, barrel-aged stouts, and imperial stouts get the buzz and the ratings. I think we need to see more breweries moving toward the porter and exploring its possibilities."

OVERRATED: Extreme beer
"The blow-your-brains-out beers. High IBUs, overly spicy, extreme flavors, etc. I'm not against experimentation, but I think the style of beer gets lost with such extreme additions. It's probably fun to play with as a brewer to see if you can make it work. But man... totally blows your palate."
UNDERRATED: Sour
"I think you can get a lot of variation in the style. And a well-done sour is very drinkable for many different preferences. Even a hop-head can enjoy a good sour (I should know, my husband is one). It's not necessarily the squeeze-your-face-pucker-up style that some beer drinkers assume."
OVERRATED: IPA
"IPA is easily the most overrated style of beer. I truly love IPAs, too. But between the hops and the alcohol, it isn't the most difficult beer to make. Sure, it's still tough to make an exceptional IPA. But to make one that's going to be good, you don't need the world's best brewmaster. There is little that is subtle about IPAs. They have big hop flavors, and are usually higher in alcohol. These two factors can mask a lot of flaws in beer. Some brewers will just slap you in the face with hops. And a lot of people like that, and will rate those beers very high. But the best IPAs and DIPAs come from a place of balance. Those that can walk this tightrope are the true artists of IPA, and there are few."
UNDERRATED: Saison
"The usual answer is pilsner. I can see why. The technical aspects of pilsners make it a challenge to do well. The clean yeast, low alcohol, very specific hops, fermentation temperature, and a keen eye on water chemistry make it a delicate dance. While I respect it, I am not in the pilsner camp.
"I feel that saison is the most underrated style. I was largely ignorant to the potential of saison until I met Brian Strumke of Stillwater Artisanal. He opened a rabbit hole for me that I have loved exploring. The wide range of flavors in this style is amazing. From the peppery sweetness of the classic Dupont Saison, to a delicate dry saison like Stillwater's Cellar Door. Many saisons also lend very well to barrel aging, and wild yeasts are further broadening what can be explored. Because this style is so broad, there is a saison for everyone. At the same time, it makes it very difficult to buy a saison blindly, because you can't always predict what you're going to get."

OVERRATED: Fruit IPA
"Unfortunately, once a brewery has success with a beer style, other breweries jump on that. Now you're seeing grapefruit IPAs, pineapple IPAs, and IPAs with whatever you can think of. I love Ballast Point, and now they're coming out with a whole line of fruit-infused IPAs. I'm not against fruit beers, but I wish breweries would just concentrate on brewing a good variety of beers instead of jumping on a bandwagon."
UNDERRATED: Pilsner
"I want more pilsners. Pilsners are just great beers, but get a bad rap because all mass-produced beers are based on the style. A great pilsner is a work of art, and they really can be a testament to brewing prowess -- a brewer can't hide any flaws in a good pilsner. Grab a Firestone Walker Pivo Pils or a Jack's Abby Craft Lager Sunny Ridge pilsner and you won't be disappointed."
Brooklyn, NY
OVERRATED: Sour
"Extreme sours. I'm not talking about Berliner Weisse or gose or the like, but sours that sometimes are like drinking vinegar. The balance often gets lost."
UNDERRATED: Pilsner
"I'd say lager/pilsners. They've never really received any hype or high ratings, and they can be so well made and so drinkable: there is not a lot else I rather want."

OVERRATED: Spiced ale
"I think the most overrated beer style is the spiced ale (holiday seasonal). Honestly, it just comes down to personal preference for me. I can handle a well-done pumpkin ale, but the closer the calendar gets to December 25th, the beer nearest the register is furthest from my taste. I do like how those novelty beers potentially draw more drinkers to the dark side, but I'm already Xmassed out from two months of corporate marketing and usually end up drinking more IPAs until mid-January. I will give exception to one beer, however. Fat Head's Brewery puts out a nice dark Belgian called Pimp My Sleigh. It can be hard to get your hands on, but it comes in a six-pack. I'm aging a couple for Festivus 2016."
UNDERRATED: Porter
"To me, the most underrated style has to be the porter. Without it we wouldn't have the stout, and everybody goes crazy over a good stout, especially when the gravity is high and it's been aged in some kind of liquor barrel. I'm always on the hunt for a new imperial porter to taste, yet they don't show up all that often at my retailer. I'm going to plug a brew from my hometown, Dayton, OH, and recommend trying to trade for Warped Wing Brewery's Baltic Argonaut. They released the Baltic-style imperial porter in cans for the first time this year, and it's a hit."
Sign up here for our daily Thrillist email, and get your fix of the best in food/drink/fun.

Lee Breslouer is a senior writer for Thrillist, and thinks good beer can never be overrated. Follow him to deep thoughts: @LeeBreslouer.