V Ben/Shutterstock/Dmitrij Skorobogatov/Shutterstock
V Ben/Shutterstock/Dmitrij Skorobogatov/Shutterstock
With more than 4,100 breweries and brewpubs now operating in the US, our little country that could has finally joined the ranks of esteemed brewing powerhouses like Germany and Belgium. For years, hubs like San Diego and the Portlands have flooded the market with quality product, nobly inspiring their fellow Americans to choose better beer. But even though those meccas are undoubtedly responsible for America's new baller status, there are new cities rising to meet them.
The brewers in these 10 cities represent the latest in a long line of ambitious, passionate, and community-minded entrepreneurs willing to throw caution and a ton of cash to wind in the name of great beer. Until now, though, they've been flying quietly under the radar, just waiting for some beer writer, frustrated with covering the same damn IPA release, to come along and blow up their spot. Well, (cue airhorn!), consider it blown.
Memphis, TN
Everybody knows Memphis for its music, mouthwatering BBQ, and key role in the best John Grisham movies. Lesser known, however, is Bluff City's bustling craft beer scene, a dedicated community of brewers and drinkers hard set on transforming their beloved town into one of the South's premier boozy destinations.
According to Memphis Made Brewing Company co-owner Andy Ashby, Memphis now boasts four small-production breweries, three of which have opened in the last two years alone. And despite humble beginnings, the local scene has begun to thrive in the lower Mississippi Delta. More and more Memphis-area businesses are buying into the craft craze, stocking bottles and kegs of hometown brew, installing grocery-store draft systems for growler fills, and hosting endless tap takeovers, meet-the-brewer events, and beer dinners. "Memphis has been a little slow on the trend," Ashby explained. "Trends tend to start on the coasts and move in, and we're in the middle of the country. But people really have a taste for it now."
Within the confines of the city proper, you'll find High Cotton Brewing, known for creatively brewed and pleasantly funky Belgian-style ales; Wiseacre Brewing, a can-centric operation with a GABF Bronze Medal pilsner and a baller, dog-friendly East Memphis taproom; Ghost River Brewing, which has been brewing European-style classics since 2003; and Memphis Made, whose Kentucky Derby-inspired Southern Julep pushes the envelope with big Belgian flavors, fresh mint, and Bourbon-like oakiness. Don't worry, they all pair really, really well with BBQ.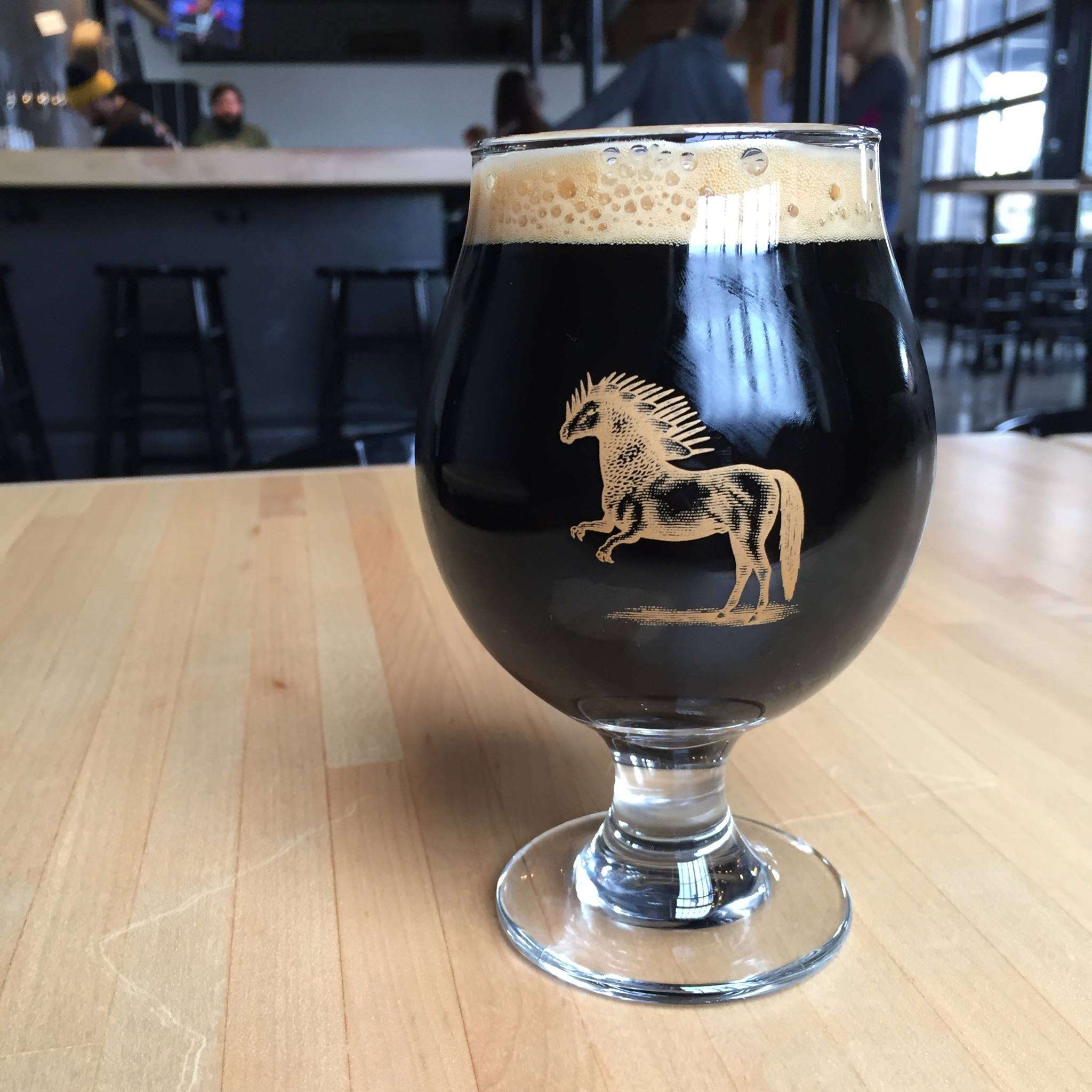 Durham, NC
There are three things you need to know about North Carolina's Research Triangle: college sports is its king, indie music is its queen, and craft beer is the gallant, youthful prince that brings it all together. Home to All About Beer Magazine's annual World Beer Festival, Bull City has emerged from the Raleigh and Chapel shadow as a North Carolina craft beer hub second only to Asheville's long-reigning dominance, with five production breweries and brewpubs leading the ever-growing roster.
Holding court as Durham's oldest craft brewery, Triangle Brewing Company has been dishing out inspired Belgian- and American-style ales since 2007 (check out the Habanero Pale Ale). Fullsteam is the place to be come nightfall, when bands, sports fans, and food trucks take over the giant, hangar-like Rigsbee Ave taproom, which pours brews from the experimental, taproom-only R&D line or ultra-local selections from the Beautiful South series. And after merely two years, Ponysaurus Brewing Co. has boldly entered the fray with a rotating fleet of updated European classics like a tart weissbier, a nutty fig saison, and an herbal Biere de Garde.
Of course, no Durham adventure would be complete without a stop into the little beer store that started it all -- Sam's Quik Shop. Originally opened as an Esso gas station in 1949, it's transitioned into a destination for rare and great bottles since owner John Boy took over in the '90s. It looks like a standard convenience store. Except, with 1,500 bottles from around the world, it happens to be one of the beer shops in the country, and just another reason Durham should be a destination.
Toronto, Ontario
While the idea of Canadian beer might bring to mind the image of a grizzly hockey player crushing cans of Molson Ice by the caseload (which we're totally down with), more and more Canucks are trading in their light lagers for more flavorful -- and yes, higher-gravity -- small-batch brews. Toronto, in particular, has been steadily building a hearty, innovative craft-brewing scene fit to stand up to anything the lower 48 might have to offer.
There are upwards of 35 microbreweries and brewpubs in the Greater Toronto Area alone, many of them opening their doors within the past five years. Currently, Bellwoods Brewery is leading the charge. First and foremost, Bellwoods sports spot-on branding, each label and piece of swag skillfully designed to mirror a quirky vintage-poster aesthetic -- all deep reds, mustard yellows, and matte blues. It also casually cranks out some of the finest beers in North America, ranging in style from hopped-up American IPAs to funky barrel-aged Brett saisons and big, bad 10% ABV Russian imperial stouts.
Other honorable mentions go to Junction Craft Brewing in the West End, famous for supremely well-balanced, easy-drinking Conductor's Craft Ale; Steam Whistle Brewing, a lager-focused outlet with a superbly crisp, award-winning pilsner; and hipster haven Indie Ale House, whose giant, boundary-breaking lineup includes a complex imperial blood orange wit aged in tequila barrels, a tart, earthy sour rye, and a huge, belly-warming imperial IPA called, well, Cockpuncher (consider yourself warned).
Bloomington, IN
Sleepy Bloomington has long been a hotbed for the seemingly disparate worlds of college sports and indie music. How better to unite these warring factions than kegs upon kegs of frothy, feel-good alcohol? No wonder Bloomington craft beer is on the verge of blowing up -- for a town of just over 80,000 people (most of which come and go during the school year), four microbrewing outfits and dozens of craft-focused bars are case and point.
Today's Bloomington beer scene revolves around Upland Brewing, the wildly popular brewpub that's anchored the local brewing scene since 1998. Riding Bloomington's recent craft beer wave, Upland expanded to a brand-new west side production facility and taproom in 2012. Both locations pour a rotating bounty of bomb-ass brews like the citrusy Campside session IPA and a bevy of sours. The elder Bloomington Brewing Company -- a local haunt just steps away from Indiana University -- has abided by the laws of good beer and good pizza since 1994, when it let loose Hoosier favorites like favorite Kirkwood Cream Ale. New kids on the block Function Brewing and Quaff ON! Bloomington are heading up the herd these days, with a constantly expanding fleet of innovative, style-busting brews guaranteed to keep both the punks and the jocks in good spirits throughout the school year.
And did I mention that standalone breweries are the only outlets legally allowed to sell off-premise beer on Sundays? That's right, even during football season. Enough said.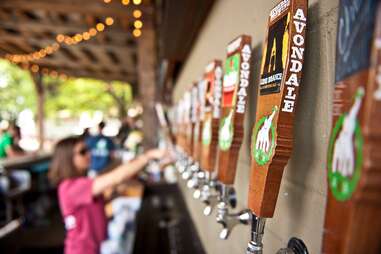 Birmingham, AL
Far from the wonders of the Redneck Riviera, Birmingham's increasingly in-demand craft beer scene is proving the good ol' boys sure can brew. Yet it wasn't always this way. As recently as 2009, all beer sold in the state of Alabama was capped at a meager 6% ABV... until a group of brainy beer enthusiasts organized the "Free the Hops" campaign, successfully lobbying for the standard 13.9% and allowing small breweries to begin experimenting with modern styles. That was followed in 2012 by the legalization of homebrewing. And now, a handful of local craft breweries are working to raise the entire state's profile.
While baby breweries have been popping up all over the Birmingham area, more recent additions like the yeast-focused Avondale Brewing Company and the outdoorsy, hop-obsessed Cahaba Brewing owe a great deal to their pioneering big brothers in beer. Challenging palates and changing lives with "ales from the heart of Dixie" since July, 2008, Downtown Birmingham's Good People Brewing Company tops the list of local craft beer innovators. Its all-can roster is chock-full of bold flavors, including the dangerously hoppy (100+ IBU) Snake Handler double IPA, a surprisingly sessionable Coffee Oatmeal Stout, and a spicy, hop-forward rye IPA refreshing enough to make the sticky late-summer Alabama air feel like a breezy autumn evening.
Back Forty Beer Company, stationed in nearby Gadsden, has been putting out what it deems "liquid folk art" since 2009, developing relationships with area chefs to promote food-and-beer pairings. Of particular note is the Truck Stop Honey brown ale, a medium-bodied dark ale brewed with local Alabama wildflower honey. It's a favorite of 2012 James Beard Award-winning chef Chris Hastings, who keeps a rotating selection of Back Forty flowing at his nationally recognized Hot and Hot Fish Club. After all, after a day in the hot Alabama sun, what complements a hearty helping of deep-fried Southern goodness better than a crisp, freshly brewed beer? Literally nothing.
Appleton/Green Bay, WI
Wisconsin knows beer -- that's never been in doubt. But when most folks think Wisconsin beer, they usually think Milwaukee or Madison, with their giant macro-lagers, leading craft brews, and Big 10 sports. Hell, their baseball team is even named after beer. But Green Bay? Appleton? They're not always part of the conversation.
That conversation is changing. An ungodly number of microbreweries and brewpubs have been quietly making their marks up north over the last 20 years, including Hinterland -- which to this day inspires new generations of brewers with concoctions like the biscuity Packerland Pilsner -- and Titletown, which has been brewing up offerings like the Addlepated Ale -- an American amber bursting with earthy hops and slightly smoky malt aged in oak -- since 1996.
Rookie brewery Badger State Brewing opened up just over two years ago in the legendary Lambeau Field Stadium District, the first brewery to do so and thus, the first brewery to cash in on the beautiful art of Wisconsin tailgating with beers like the hop-forward Mean Green New Zealand IPA. Another youngster, Stillmank Brewing Company, moved its operation from contract brewing down in Milwaukee to a facility just 15 minutes from Lambeau in 2014 and has been showering football fans with its ultra-smooth, award-winning Wisco Disco ESB ever since.
Venture a few miles north of Green Bay (OK, more than a few -- this shit is remote), and you'll find Door County Brewing, a gorgeous microbrewery inspired by Wisconsin's natural landscape. Door County has been brewing craft beer beautiful enough to match its surroundings since 2012, amassing a following of loyal customers willing to make the trip up to the Baileys Harbor taproom for a taste. Unsurprisingly, this rural brewery excels at farmhouse ales, with Belgian-style seasonals like L'Automne and L'Hiver among the brewery's best offerings. And, of course, everything pairs perfectly with a heaping plate of authentic, Wisconsin-made cheese curds.
Salt Lake City, UT
Salt Lake City might seem an unlikely candidate for a top US craft beer destination, but SLC has been building a serious repertoire of world-renowned craft breweries since 2009, when otherwise ultra-conservative governor Jon Huntsman, Jr. eased liquor laws to allow small breweries to sell their wares on site. Though they still had to contend with a multitude of additional regulations (no beer flights, no opening bottles in clear view of customer, a 4% ABV cap on all grocery-store sales), a generation of industrious craft brewers set out to reclaim a little piece of the Western frontier by opening a slew of award-winning breweries throughout the city.
You'd be remiss not to focus on relative old-timers Wasatch Brewery & Squatters Beers, two diverse brands that make up the pioneering Utah Brewers Cooperative (the folks behind Wasatch were responsible for getting brewpubs legalized in the state of Utah way back in '89). These days, the Cooperative's extensive fleet is featured at most bars and restaurants around town, including three Squatters brewpubs (one hidden inside the SLC airport -- you're welcome) and two Wasatch brewpubs. Want to blend in with the locals? Grab a cheekily titled Polygamy Porter: as the motto says, "Why have just one?"
The other big hitter is the eco-friendly Uinta, now a nationally distributed brand. Located on the far west side of the city, Uinta's 100% solar- and wind-powered production brewery also houses a taproom cafe where beer-seeking visitors can sample a selection of its 20+ quality brews. Bringing up the rear is Epic Brewing, by far Salt Lake's ballsiest small brewery. The fearless dudes behind this uber-creative craft outfit are determined to skirt almost every legal obstacle in their way, hawking a never-ending lineup of high-ABV, full-flavor ales, including an award-winning range of barrel-aged Belgian sours, all sold in 22oz bombers. A visit to their "tapless taproom" -- draft beer is limited to 4% ABV, so it's all bottle pours here -- is not for the faint of heart, but those who dare are greatly rewarded.
Louisville/Lexington, KY
The Louisville-Lexington area has long been synonymous with its most popular export: good old-fashioned Kentucky bourbon (and horses... lots of horses). Lesser known is the region's recent contribution to the world of craft beer, with a local scene on the cusp of explosion. More than a dozen Kentucky-based craft breweries have opened their doors in the last five years alone, joining the ranks of established brewers like Cumberland and Lexington, makers of the celebrated Kentucky Bourbon Barrel Ale.
Louisville's Against the Grain Brewery & Smokehouse, established in 2011, is recognized coast to coast for its enormous program of style-defying, experimental brews and exceptionally bizarre packaging. Take ATG's delicious Kentucky Ryed Chiquen, an amber ale aged in rye whiskey barrels -- each 750ml bottle of the stuff is topped by a wax seal, covered in (hopefully) fake chicken feathers. Across town, Louisville's Great Flood Brewing Company represents the proverbial yin to Against the Grain's yang. The two-year-old microbrewery focuses on pared-down, well-executed classics like easy-drinking amber ales, rich porters, and hop-forward IPAs.
Over in artsy, collegiate Lexington, West Sixth Brewing has been schooling Kentuckians in the art of quality IPA production since 2012. Packed with four different varieties of hops -- Cascade, Columbus, Centennial, and Citra -- West Sixth's flagship IPA is a thing of piney, citrusy beauty, balanced by a sturdy backbone of five different malts. Another relative newcomer, Country Boy Brewing has been kicking it down the road from West Sixth since 2012. The Boy's Ghost Gose is a fantastic example of the traditional German style -- tart, extremely refreshing, and finished with a drying dose of sea salt and coriander. And fresh out the gate in 2014, Ethereal Brewing's got a lineup of handcrafted brews that run the gamut from modern American styles like wild ales and imperial IPAs to more obscure European barleywines and farmhouse ales that are infinitely (ugh) sluggable.
Boise, ID
For serious craft beer nerds, Boise is most easily recognized for housing a huge outpost of 10 Barrel Brewing, a craft upstart that was recently sold to AB-InBev. But 10 Barrel's not the only game in town: a rash of equally reputable small-batch breweries have sprung up around Idaho's capital city, coming together to form the tourist-approved Boise Ale Trail.
In addition to the the mid-1990s OG Boise breweries like multi-award-winning Sockeye, three new area microbreweries are helping to transform the Treasure Valley from a craft beer desert into a noteworthy destination. 2010 saw the arrival of the forward-thinking Payette Brewing Company, a hipster enclave brewing excellent ales and lagers down by the banks of the Boise River. Payette's put out a ton of beer over the years, but two brews consistently top the fan-favorite list: 12 Gauge imperial stout, a bold, 10% ABV stout best enjoyed aged, and the Slaughterhouse Red, a velvety red ale teeming with toffee malt and dank hops.
Slanted Rock Brewing Company, established in 2011, maintains a core roster of four traditional, easy-drinking styles while also creating some exceptional seasonal beers, including an 8% ABV Scotch ale that showcases the age-old style's molasses-like sweetness. Crooked Fence Brewing, opened in 2012 and relocated to nearby Eagle in late 2015, is the youngest member of the area's craft cohort, and it's making a killing among Boise's heavy-metal and punk scene (yes, it exists) with its high-gravity, devilishly labeled brews. Try the flagship 9.2% ABV Sins of Our Fathers imperial stout -- it's bound to put some hair on your downy chest.
Omaha, NE
Nebraska's brewing history dates back to the mid-1800s, yet, as with most Midwestern beer towns, it completely died out during the first half of the 20th century, thanks to bummers like Prohibition. A handful of Omaha-based artisan brewers, however, are revitalizing the state's brewing prowess, opening microbreweries throughout the city and organizing the annual Omaha Beer Week to spread the craft gospel. These Corn Huskers can drink, that's for sure, and they're not too bad at making the stuff, either.
Ground zero for the scene is the historic Benson district, also known as the beer district. Noteworthy spots in the booming area include three-year-old Benson Brewery, a neighborhood brewpub with a warm, Brooklyn-esque aesthetic (think hanging Edison bulbs, exposed brick, reclaimed-wood furniture) and a line on drinkability thanks to its house-made American and English standards. A few blocks down the way, you'll find Infusion Brewing Company, one of Omaha's most celebrated new craft outposts. Infusion's seven-barrel brewhouse and taproom are set in a carefully restored 1917 meat market, giving the joint a real dose of Nebraska-born authenticity to pair with a rotating beer list that peaks with the Camaraderie, an 8.5% ABV imperial IPA dripping with complex blood orange flavor and brewed in collaboration with famed Odell Brewing of Fort Collins, Colorado.
For something a little different, Midtown's Farnam House Brewing focuses on funky farmhouse ales and experimental Brett-fermented and sour ales. Brewed in traditional Belgian style, Farnam's Papio Kriek and Oud Bruin are beautifully tart, like two swift kicks to the jaw followed by a drying embrace. Welcome to the craft beer revolution, Omaha.
Oh, and here's a tip: grab the Omaha Visitors Board-designed free "Explorer's Journal." The pamphlet currently highlights nine top-notch Omaha microbreweries and comes with vouchers for a free pint at each stop. Yep. Free beer. You're welcome.
Sign up here for our daily Thrillist email, and get your fix of the best in food/drink/fun.
Meredith Heil is a writer, drinker, and dad-joke enthusiast living in Brooklyn. For misdirected late-night texts, follow @beerdedladies & for ill-fated attempts at humor, see @meredad.