Last February, as has become tradition, beer-lovers flocked from around the world to stand in line during driving rain for days, just for a chance to get inside Russian River Brewing to convene with the legendary Pliny the Younger -- a triple IPA that has been called the best beer in the world by some -- for a mere two hours each.
Like Alchemist's Heady Topper, Pliny has cultivated its own cult of followers willing to make pilgrimages to get a taste of the hoppy greatness. But Pliny and Heady aren't the only elusive, amazing big beers deserving of their own altars. The below beers are poised for cultish devotion, too. Seek them out and allow your cup to floweth over. For soon, you might encounter a massive line just to get a taste of them.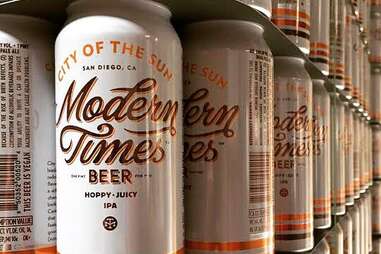 Modern Times Beer
San Diego, CA
Why you should care about it: Well for one, the brewery's got maybe the best cans in the business... ironically, they don't look modern at all! Also, this winter, the sticky, fruity IPA is making the move to metal after selling out within two weeks of being bombers-only earlier this year.
How you can get it: Get to San Diego before the winter's over, otherwise take up homebrewing and make it yourself.

Maine Brewing Company
Freeport, ME
Why you should care about it: MBC first hit the world with citrus-forward IPA Lunch, and the cult was born. Then came Dinner, a dangerously drinkable double IPA that's as refreshingly dry as Maine's sense of humor when it comes to beer names. The downside? This one's way tougher to get -- it's only released at the Freeport brewery, not on a regular schedule, and it's generally sold out in a day or two.
How you can get it: Gotta hit that brewery, real quick, on the right day. Definitely keep track of your beer-nerd network.

Other Half Brewing
Brooklyn, NY
Why you should care about it: Because it's one of the best triple IPAs available, anywhere. And also one of the sneakiest -- you know damn well it's a three-banger, but will likely still be surprised when the 10.5% ABV-er works you over, as Other Half made it very, very easy to drink thanks to tropical, citrus, and pine notes.
How you can get it: Visit the brewery in Carroll Gardens, Brooklyn, and get yourself a rack of the 16oz cans.
Fiddlehead Brewing Company
Shelburne, VT
Why you should care about it: Second Fiddle is a massive double IPA that will -- and we don't say this lightly -- have you questioning why you've been spending so much time trying to get Heady Topper. Do a blind taste-test... you'll be shocked at the results. It's that good.
How you can get it: You were probably hoping this was easier to find than Heady, it isn't. The brewery produces less of it, and less regularly, but when it is released you'll at least have a few days to pick up a case of these cans. So, basically, start stalking Fiddlehead.

Kern River Brewing Company
Kernville, CA
Why you should care about it: It's arguably the best Citra-based beer out there. KRB is in the middle of an expansion project to increase capacity and add a canning line -- if this one goes in cans and the brewery start distributing, it'll further guarantee it sits itself down alongside names like Pliny and Heady.
How you can get it: Win the lottery! Seriously. You have to win a lottery that gives you the right to drive three hours outside of LA to purchase six bottles.

Treehouse Brewing Company
Monson, MA
Why you should care about it: The can is orange, the pour is orange, the smell is orange, the taste is orange. This beer will having you discussing that Orange Julius you haven't had since you were a mallrat in middle school. It's by far one of the most tropical IPAs you will find on the market.
How you can get it: Get yourself to Monson, MA on a Thursday or Friday from 5-8pm, or Saturday from 11-6pm and get in line. If you strike out on Julius you'll be happy with any cans you get your hands on.
Toppling Goliath Brewing Company
Decorah, IA
Why you should care about it: It's likely the smallest beer on this list -- a humble 5.8 % pale ale, she is -- but Sue makes up for the lack of oomph by being one of the best beers in America, period. Citra hops are a huge part of it, but then there's a hint of mango to step it up. Also, if the label is to be believed, Sue is a T-Rex. And if you really need that extra blast, Sue becomes King Sue in limited IIPA form.
How you can get it: Good news: TG is working with Brew Hub to brew more so that you can get this outside of Iowa. You're welcome, Wisconsin and Minnesota. Everybody else? Plan a road trip to Iowa bluff country. And keep your fingers crossed that it's in stock (or, you know, call ahead).

Beachwood BBQ & Brewing
Long Beach, CA
Why you should care about it: Beachwood continues to deliver some of the best hoppy beers around, including the near-perfect West Coast IPA known as Melrose, with tons of Simcoe and Amarillo hops that give the beer an incredible nose and taste.
How you can get it: It's released every few months in a bomber at both brewpubs, Seal Beach and Long Beach, along with a small local distribution. You'll have this in your hands within a week of bottling or you won't find it, so keep Beachwood in your news feeds. When it's gone, it's gone.

Fat Head's Brewery
Cleveland, OH
Why you should care about it: The Cleveland-based brewery dominated the IIPA in 2013 and this year, and for damn good reason: five hops varietals lend it a hell of a bite, augmented by a fruity finish that makes it slightly dangerous, considering you can down several alongside Fat Heads enormous chicken wings before you know what hit you.
How you can get it: It's available during late winter in bottles and at the brewery, with intermittent kegs popping up every now and again. Luckily, Fat Head's is now also in Pittsburgh and Portland, OR too, so at least some people have a shot at getting their hands on some outside Cleveland.
Sign up here for our daily Thrillist email, and get your fix of the best in food/drink/fun.
Scott Klemme is an engineer living in San Diego. You'll find him and his dog @Bowieknows at a brewery any time they can convince his wife.