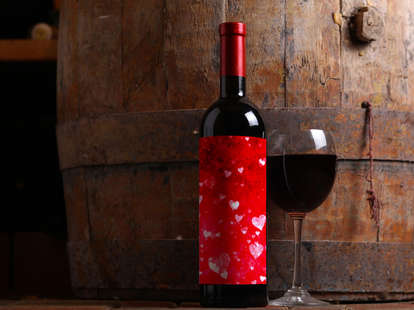 Shutterstock / Jennifer Bui
As Valentine's Day approaches, there are two possibilities: either you haven't prepared and you feel like a deer in the headlights, or your plans are totally on point and you feel like a playboy, or at least someone who subscribes to that magazine and only reads the pictures. Well I've got some deer-sized smoking jackets to hand out, because in my opinion, if you nail the wine, everything else is smooth sailing.
Anything from Spain
Now I know that sounds like a really wide net, but there are a couple of reasons here. First up, there is obnoxious value coming out of Spain. Places like Castilla y León and Murcia haven't had their prices spike up like some trendier regions (I'm looking at you, Priorat), so you can get in and out of the wine store for under $20 and your date will think you've spent twice that much. Plus, you get to describe the rolling Spanish countryside, and that kind of language can't do anything but help.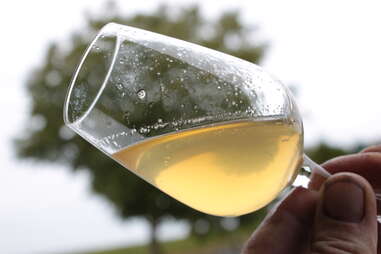 Muscadet
Don't go confusing this with Moscato. I know they kinda sound similar, but listen up because this can take your white wine game to new heights. Muscadet comes from the part of the Loire Valley closest to the Atlantic (Northern France, if anybody asks), and brings a ton of bright, briny notes (yes, wine can be briny, and it's amazing) to the party that go perfectly with Valentine's Day's favorite go-to: oysters. For a little more body and complexity, look for a Muscadet with sur lie on the label. That means the wine has spent extra time in contact with the yeast, and has some rich, toasty flavors to make things even more interesting.
Pedro Ximenez
Yes, that's a wine, not the star of a Mexican soap opera. Normally when people want to go for a dessert wine around this time of year they reach straight for the port. I respect that call, but I'm going to give you something much more interesting: Pedro Ximenez (or PX) is a grape that, when dried out, fermented, and fortified, makes a super-viscous, aromatic, nutty dessert wine that can satisfy both sweet-teeth and wine nerds alike. Leave the heavy molten chocolate cake and go for this after dinner to minimize the wait time before you... um, get into the pool.
Gary Vaynerchuk (@GaryVee) is the co-founder of Winelibrary.com, and the former host of Wine Library TV.