The Perfect Beer for Every 2015 NFL Team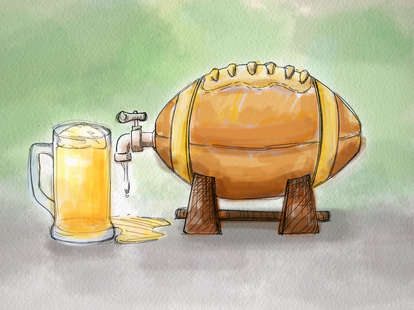 Jennifer Bui/Thrillist
Jennifer Bui/Thrillist
The NFL is back once again to rescue you from an empty seven months of not seeing a Manning brother in a TV commercial. And because we love both football and beer (and, unrelatedly, the HBO show Ballers), we're combining two of our favorite things by selecting one craft beer that best fits your favorite NFL franchise for the 2015-2016 season. And while the beers we've chosen are brewed in the same city (or suburbs) of your team, it's not necessarily the best beer in that city -- it's the one that best reflects the 2015 squad and/or that team's rabid fan base. But not the Rams' fan base because no one cares about them.
So strap on one of those helmets that has two straws connected to two beers, and let's raise a cold one to another season of football.
(Editor's Note: The National Football League and the teams mentioned here are in no way affiliated with any of the beer brands mentioned, and were not involved in the creation of this article. We did not receive express written consent for any of this.)

Arizona Cardinals
Their beer: Four Peaks Sunbru Kolsch
We basically picked this beer because it sounds like the answer when you ask Carson Palmer why he moved to Arizona. But if you want to get in-depth with it, the Cardinals are supposed to make a run at Seattle for the top spot in the NFC West, and they've had four "peak" seasons over .500 in the last 16 years, so I mean, HOW IS THIS NOT THE PERFECT BEER FOR THE CARDINALS?

Atlanta Falcons
Their beer: Wild Heaven Craft Beers Autumn Defense
One of the Dirty Birds' LBs is Kroy Biermann, who I just discovered is married to a woman who emotes on Bravo for a living. Also, his last name kind of sounds like "beer, man!" What a coup for this story! Those two facts are the most interesting things about the Falcons, as the team's sole highlights will come when Matt Ryan throws 15-yard strikes to the newly acquired Jacob Tamme over and over again while Arthur Blank and his impeccable mustache cheer from the sidelines. But in order to win, they're going to need to take a cue from Decatur's Wild Heaven and get them some Autumn Defense, an Oktoberfest beer that pairs nicely with a 5-11 record.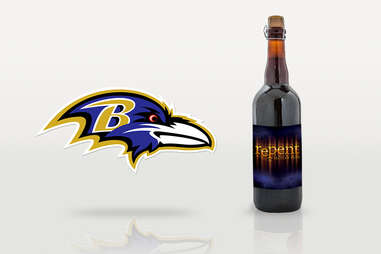 Baltimore Ravens
Their beer: DuClaw Brewing Company Repent
Eventually this organization and fan base has to own up to the myriad ways it thoroughly botched the Ray Rice situation, right? Right? Nah, everyone is looking forward now! Specifically, looking forward to the team's best healthy wide receiver being 150 years old and watching Justin Forsett realize he's... Justin Forsett. This Belgian strong pairs perfectly for finally deciding it might be time to stop sporting the Rice jersey.

Buffalo Bills
Their beer: Cigar City Leon
Amidst the Bills' impressive insistence on Super Bowl ignominy, there stands Leon Lett. Or actually, there runs Leon Lett, arms wide in celebration, impressively speedy for a 300lb man, but not quite enough to escape Don Beebe, who loves slapping balls out of large men's hands, and also trying really hard. Leon reminds us all that even when the Bills are at their failing-est, redemption lurks. Turns out redemption feels even better when it's a 13% barleywine.
Editor's Note: Yeah, this beer isn't made in Buffalo, but no other brew allowed us the ability to make a Don Beebe reference in a 2015 Bills preview.

Carolina Panthers
Their beer: The Unknown Brewing Co. When Life Gives You Lemons
Cam and Stewart are staples of the Panthers squad, both of whom are lucky enough to play in a weak division. New for 2015 are Shaq "No Relation to SNL's Kenan" Thompson at LB and Ted "Had a Bad 2014 And Can't Wait For This Season to Be" Ginn as a WR/returner. The D should be great again (duh, Kuechly), but Cam will likely be enigmatic as ever. Because we're guessing this season will likely have a similar result to past ones (in that it'll end in disappointment), we'd recommend Charlotte's Unknown Brewing Co's When Life Gives You Lemons golden ale. Keep your heads up, Panthers fans! At least you have the Hornets! Hmm, better order two.

Chicago Bears
Their beer: Off Color Brewing Troublesome
The team's steady insistence that first-round pick Kevin White was fine until announcing he was out (possibly all season) with a stress fracture? Troublesome. The decision to sign human red flag Ray McDonald in the offseason in an era in which player conduct is under closer scrutiny than ever (spoiler alert: he's off the team already)? Troublesome. Jay Cutler's decision making, including his stance on vaccinations? Troublesome. This funky gose fits this Bears' season on so many levels!

Cincinnati Bengals
Their beer: MadTree Brewing PsycHOPathy IPA
In this case, the psychopathy is brought on by yet another season of watching Andy Dalton wreck the chances of what, in better hands, might actually be a contending football team. Could you imagine A.J. Green with a better quarterback? That's probably all A.J. Green dreams about. Bengals fans are already mentally bracing themselves for their inevitable thrashing in the first round. At least they'll have these bold hop notes to keep them company.

Cleveland Browns
Their beer: Great Lakes Cellar Dweller
Not that we don't have faith in former Raiders QB coach John DeFilippo's ability to turn around Johnny Manziel and make him into the next… hmmm… Jeff Garcia? Trent Dilfer? Wait, was Derek Anderson really a starter here for four years? Anyway, Pettine's squad has a good defense, and that's great, but unless Johnny Football makes the miraculous comeback the scriptwriters at Disney are hoping for, this beer more than suits the Browns' chances. Try it with shellfish!
Dallas Cowboys
Their beer: Deep Ellum Dreamcrusher
In 2014, this potent double IPA paired beautifully with the thrilling Dez Bryant catch that wasn't. What will it pair with this year? A backbreaking Tony Romo interception? Tony Romo's back actually breaking? DeMarco Murray torching the Cowboys for 150 yards in a critical game? When it's the Cowboys, no time is the wrong time for crushed dreams.

Denver Broncos
Their beer: River North Brewery Hello, Darkness
Sure, Kubiak's the new head coach, but this is not his team -- it's Manning's team, and they might as well be renamed the Denver Peytons because the season rests on his crumbling lower body. He's been playing football a long-ass time. If he plays like he did at the beginning of the 2014 season, they're in business. If he plays like he did in the divisional playoff game against the Colts, they're screwed, and Donkey fans should console themselves with River North Brewery's black IPA Hello, Darkness. Because it'll be lights out for Peyton, as he likely won't be coming back for another go-round.

Detroit Lions
Their beer: Atwater Brewery Conniption Fit Double IPA
You'd throw a conniption fit too if you had watched your team build a frightening defensive line only to see it all fall apart because the two stud DTs they drafted were so volatile that the prospect of giving them long-term deals was terrifying. Enjoy a nice long season of 41-38 losses, spectacular Stafford overthrows, and the realization that you've already wasted the peak years of Calvin Johnson.

Green Bay Packers
Their beer: Lakefront Brewery Fixed Gear
You can't help but get the sense that, injury to Jordy Nelson notwithstanding, the Packers are just going to keep rolling along, just like this smooth amber rolls into the gullet. Aaron Rodgers will keep dating Olivia Munn and being excruciating to watch in insurance commercials. Eddie Lacy will continue to be a beast. Fans will continue to wear those stupid-looking cheese wedge hats. And it'll all continue to come crashing down against the Seahawks.
Houston Texans
Their beer: 8th Wonder Brewery Astroturf
Ryan Fitzpatrick and the majestic beard he spent 20 years growing while he lived amongst woodland creatures is gone, and in his place is probably Hoyer, as long as he doesn't lose the QB battle to Ryan "The Hammer" Mallett (he won't, but we hope that nickname sticks). But if you talk about the Texans, you have to talk about their D, which got even better with the additions of Vince Wilfork and former Broncos safety Rahim Moore. And it's pretty damn good even without the new guys -- JJ Watt and Clowney are undeniable beasts. And they'll be beasts again in 2015, as long as Clowney doesn't get injured by that damn Texans' turf. Not 8th Wonder Brewery's Astroturf -- that stuff will only make you feel good.

Indianapolis Colts
Their beer: Sun King Brewing Sunlight Cream Ale
Even as Andrew Luck grows a really weird beard for DirecTV commercials, he will always be the Sun King to Peyton in the echelon of fantastic Indy quarterbacks. But this boy king has taken Peyton's torch and sprayed it with propane, and, this year, with weapons like Frank Gore, Andre Johnson, T.Y. Hilton, and that tight end with the nice hair, he should fully establish himself as a man, and we won't be able to pick the same beer next year. Also, Sun King describes the beer as its "most approachable," and talked crap about Tom Brady on the bottom of its cans, so that is pretty damn awesome.

Jacksonville Jaguars
Their beer: Bold City Mad Manatee IPA
I always get confused: is it a bad thing when TV pundits regularly ask if the best college football team in the land could possibly beat you? Jacksonville has been a punchline for so long that it almost feels lame piling on, so just enjoy this balanced IPA with a floral aroma and a crisp citrus, and we won't say anything about the fact that their two best offseason signings, Julian Thomas and Dante Fowler, are out for a month and the year, respectively. Bold City, indeed.

Kansas City Chiefs
Their beer: Boulevard Brewing Co. Heavy Lifting IPA
In a football sense, the heavy lifting will belong to the defense, because the Chiefs continue to insist Alex Smith is a starting NFL quarterback despite his inability to, like, throw to wide receivers. They also seemed to forget that Jamaal Charles exists at some points last season. If this team somehow DOES win, carrying the coach off the field will also constitute heavy lifting. Get it? Andy Reid is a large man!

Miami Dolphins
Their beer: MIA Brewing Company IPA
The Miami Dolphins: the Miami Marlins of football. OK, things aren't that dire in Miami. But things aren't that good either, even with the addition of standout defender/guy-who-steps-on-other-guys Ndamukong Suh, and the possibility that Tannehill might put together a decent season. But the beer pick in 2015 is for the Dolphins' fans, who rank an uninspiring 14th in total attendance, and who also seem to be M.I.A./not in their seats when I watch Fins games on Sunday Ticket. To be fair, the franchise doesn't seem to be doing much to get them to show up. Why, they have more in common with the Marlins than I thought!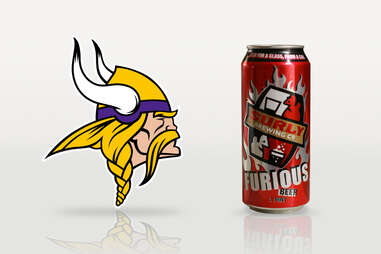 Minnesota Vikings
Their beer: Surly Brewing Co. Furious
Because Adrian Peterson was FURIOUS the Vikings hung him out to dry after a well-documented case of child abuse. But the Vikings also realized they were pretty terrible without him, so now everyone's acting like everything's cool and the Vikings are posting calculated photos of Peterson being all "good dad" during family day. Vikings fans will also be furious when this team finishes 7-9.

New England Patriots
Their beer: Blue Hills Brewery Quarter Mile Double IPA
Blue Hills stamped "A. Luck Sux" on the bottom of its cans, in response to that Sun King move. CRAFT BREWERIES ARE HAVING A FOOTBALL-BASED THROWDOWN! IT'S LIKE THEY DID IT JUST FOR THIS STORY!

New Orleans Saints
Their beer: Parish Brewing Ghost in the Machine
The Saints manage to look like the well-oiled offensive machine of the 2009 Super Bowl champs about as often as you can find a bottle of this delicious pale ale. Plus, Drew Brees is legit haunted by ghosts: the goal post-breaking ghost of Jimmy Graham, the ghost of his departed arm strength, the ghosts of the 17 defenders who picked him off last season. Expect Sean Payton to be active on the free agent exorcist market.

New York Giants
Their beer: Threes Brewing I Hate Myself
The beer of the Giants for the 2015 season is Threes Brewing's I Hate Myself, which is also what JPP must be saying to himself over and over again whenever he glances at a hand that presumably resembles a pile of deli meat. If any Giants player would be involved in a fireworks accident, I would've picked Eli. He looks like he's a little rascal, always getting into trouble! Anyways, as a lifelong Eagles fan, I hope JPP comes back and plays so that the Eagles can crush the Giants at full strength. That's assuming Cruz makes it back too. In other words, it's gonna be a long season, G-Men fans.

New York Jets
Their beer: Angry Erik Brewing (Really any beer)
Though you could argue that there are similarities in this Jersey brewery and the Jets, as they both could be considered up and coming, the real reason we picked this brewery is because there are definitely at least 200 Eriks (and Erics) who are Jets fans, and going to be very angry this year when their secondary cannot mask the issues with their linebacking core, Ryan Fitzpatrick throws between three and seven interceptions a game, and they end up 6-10.

Oakland Raiders
Their beer: Tipping Point Punch in the Face IPA
If you can't understand why we picked this beer, you've clearly never YouTubed "Oakland Raiders fans."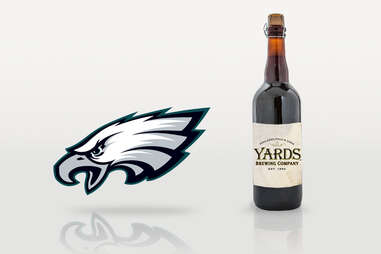 Philadelphia Eagles
Their beer: Yards Brewing Company Golden Hopportunity IPA
Chip Kelly made a huge mark on the roster for the upcoming 2015 season by seemingly trading or releasing anyone who wore an Eagles jersey during the 2014 season. You could say that this presents a Golden Hopportunity (sorry) for the franchise in Chip's third season, as new talent like DeMarco Murray, Sam Bradford, Kiko Alonso, and rookie Nelson Agholor take the field for the first time. As an Eagles fan, I'm so excited for the season to begin that I could throw batteries at a guy in a Santa Claus costume while drinking a glass of wooder.

Pittsburgh Steelers
Their beer: Spoonwood Brewing Company Smoke & Oats
Dick LeBeau is 77 years old and is no longer the Steelers' coordinator. He didn't retire -- he's an assistant head coach with the Titans now. First of all, what's his secret to being that productive at 77? I can barely get through this paragraph without nodding off. Secondly, the D sucks. No Ike Taylor, no Polamalu, no Keisel, no identity. On the offensive side of things, Big Ben will likely continue to magically conjure up Steeler wins with his arm and Antonio Brown's wizardry, and also handing off to Le'Veon Bell. Speaking of Bell, he was suspended for a few games for a marijuana violation, so raise a Smoke & Oats from Spoonwood for Le'Veon, and watch the Steelers inexplicably have another 11-5 season.

San Diego Chargers
Their beer: Ballast Point Even Keel Session IPA
Even Keel seems like an obvious choice because Phillip Rivers is so calm and normal and never freaks out and gets really red and seems to have spittle hanging from his lip like a scythe, swinging there, daring you to tell him to wipe his face. Or maybe it's because the Chargers were slightly above average last year, and they don't really seem like they're going to be much better this year, even with Melvin Gordon and his talented hair game.

San Francisco 49ers
Their beer: Country Boy Brewing Infinite Sadness
Our choice of a Kentucky brewery's American strong ale might be considered strange until you remember this story: at one point not very long ago, the Niners were a lock to be competing for NFC titles. They had a great (albeit somewhat unpleasantly intense) coach, an unbelievable linebacking core, a running back who is a Hall of Fame lock, and an extremely athletic, but somewhat unpredictable quarterback. Now they just have the quarterback. At least they get to play 120 minutes from the city they claim to rep! Niners fans are going to need at least a 12% strong ale.

Seattle Seahawks
Their beer: Holy Mountain Brewing The Goat
How does a team, which came within one not-so-great goal line interception of becoming repeat Super Bowl champs, improve? Well, maybe by getting one of the two best tight ends in the game (Jimmy Graham) to shore up their few weak spots. Combine him with Skittles poster boy Marshawn Lynch, Russell Wilson, and a cornerback who is smarter and faster and more outspoken than any other cornerback ever, and you might just have a G.O.A.T. season for the Hawks. Also, much like this beer, Pete Carroll's musical tastes could be described as "soft, dry, and funky."
St. Louis Rams
Their beer: Perennial Artisan Ales Fantastic Voyage
With pirate-worthy mustache owner Jeff Fisher at the helm, a rooking running back with a bum knee, two rookie starters on the O-line, and Nick Foles bringing the booty along with his $24.5 million (!) contract, it will be a fantastic voyage, indeed. One that's more about the journey than the inevitable 8-8 finish. Last stop: Los Angeles?

Tampa Bay Buccaneers
Their beer: Cigar City Brewing Big Sound
When Mike Evans scores, there'll be a big sound from that annoying, terrifying canon in Raymond James Stadium, and that's about the most exciting thing that will happen during Tampa Bay's season. Bucs fans: you may need to drink a few extra of Cigar City's beers when, come late November, you realize exactly how many big sounds you have not heard this season.

Tennessee Titans
Their beer: Black Abbey Brewing Co. The Champion
How the hell do the Titans get a beer called The Champion associated with them? Well, it's sure as hell not because they've won anything recently -- the team hasn't made a playoff appearance since 2008. It's all because of the winner they drafted at starting QB -- Marcus Mariota. Dude's won a Heisman and was on the brink of a national championship last year. He's a winner. And we bet in a few years he'll be able to take the Titans from the 2-14 team they were in 2014 to a… 5-11 team. Football's a team sport, so they're gonna need some time to surround him with other champions. And when they do, they're gonna be a solid 8-8 team with a sick QB.

Washington Redskins
Their beer: Right Proper Brewing Spirit Animal
Sure, Kirk "Me and My" Cousins (and you and your cousins) being named the starting QB is a fairly big development, but as long as the football team in Washington has a name so politically incorrect some publications won't actually print the team's name -- like the hometown Washington City Paper -- we're going to say that's still a huge talking point in the 2015 season. That's why this year's beer is the farmhouse ale Spirit Animal, as the DC team should realize that naming themselves after an actual animal might be a better look. May we recommend the Washington Pigs? It works on so many levels!
Sign up here for our daily Thrillist email, and get your fix of the best in food/drink/fun.
Lee Bresloueris a senior writer for Thrillist and hopes Sam Bradford becomes invincible this season. Follow him to wishes and dreams at: @LeeBreslouer.