Of all the activities that make summer special, only one can beat the simple joy of drinking a cold adult beverage outdoors, and that's drinking two of them. Since rum and warm weather go together like pool parties and bikinis, let these six new cocktails from BACARDÍ accompany your weekend plans. (Unless it snows, like it's been doing lately in a freakish plague of frost. Although to be fair, they would still be delicious.)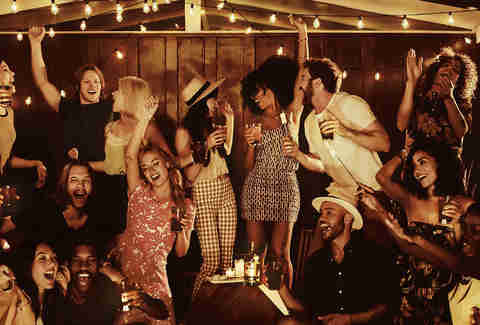 Fresh-cut grass is the quintessential smell of the season, so if you've just mowed your lawn -- hooray, you did an adult thing! Now the yard looks nice and you've done your chore,  so you can venture out to party guilt-free! Reward your hard work with a drink.
The Citrus Party Punch mixes orange, lemon, lime, and grapefruit to serve up the citrusy compliment to the smell of those grass clippings. And if you have hay fever? Seal all the windows with duct tape and pour yourself one of these while laughing at those poor, congested fools outside.
Citrus Party Punch
Ingredients:
1 part BACARDÍ® Limon
1 part BACARDÍ® Grapefruit
2 parts orange juice
1 part grapefruit juice
2 lime wedges (squeezed into drink)
Orange slice or a citrus skewer of orange, lemon, and lime for garnish
Directions:
Pour all ingredients into a serving glass that is filled with ice.
Squeeze two lime wedges into drink. Stir with a bar spoon.
Garnish with an orange slice or a fun garnish; citrus Skewer of orange, lemon, and lime slices.
As Abraham Lincoln so famously said, "I've seen every sunset, and with all that I've learned, it's to you I will always, always return." No…wait, sorry, that was actually Bryan Adams. Anyway, watching a sunset is one of the real joys of summer, whether you're partying on the beach, partying at a rooftop bar, or just staring out the window of a party, regretting buying a dictionary of quotations.
For an appropriately warm glow, try the Red Rum Punch, a gloriously rosy mix of BACARDÍ® Raspberry with grenadine, cranberry juice, and lemon. And if you want to continue drinking these long after the sun sets, no one's going to mind.
Red Rum Punch
Ingredients:
¾ part BACARDÍ® Limon
¾ part BACARDÍ® Raspberry
¾ part BACARDÍ® Superior Rum
½ part grenadine
2 parts Sweet & Sour
1 part cranberry juice
Lemon wedge and mint sprig for garnish
Directions:
Pour all ingredients into a mixing glass and fill with ice.
Cap with a tin and shake. Strain into a serving glass filled with ice.
Garnish with a mint sprig and lemon wedge.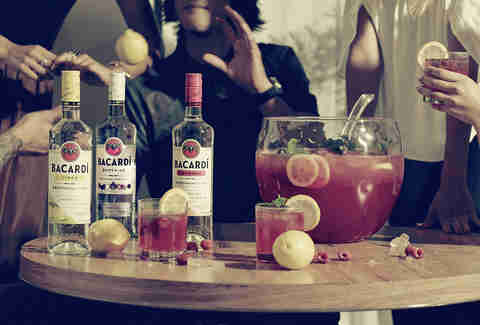 Brunch is always a good thing, but summer brunch? The best. To do it right, you should be sure to sit outdoors and order a meal that will take at the very least three hours to consume. You should leave that table happily stuffed and excitably buzzed at the same time, utterly secure in the knowledge that you reveled more by noon than some people party all day. 
Slap aside any brunch cocktail menus containing Mimosas or Bloody Marys, and instead ask for a Tango -- a brunch-friendly blend of BACARDÍ® Tangerine and orange juice. It's the breakfast drink of champions. 
Tango
Ingredients:
1 part BACARDÍ® Tangerine
3 parts orange juice
Directions:
Fill a highball glass with ice.
Pour in ingredients and mix well.
If you don't spend at least one day on the beach, you didn't really have a summer. Everyone has their own preference: Some enjoy the energy of a crowded party beach, swarming with college kids and their insanely overpowered phone speakers, while others prefer something a more private gathering of friends, where the waves lap at the sand while the sun gently cooks partiers well-done in peace. 
Either way, you're going to want a drink in your hand, so go for a Bright & Sunny Punch. It's got the coconut and pineapple base of a more traditional beach cocktail, but with a citrus and ginger twist that'll keep you from nodding off while a tween writes rude words on your forehead in SPF 50 sunscreen. 
Bright & Sunny Punch
Ingredients:
1 part BACARDÍ® Coconut
1 part BACARDÍ® Pineapple
½ part Sweet & Sour mix
½ part orange juice
2 parts ginger beer
Orange wedge and lemon wedge for garnish
Directions:
Fill serving glass full of ice. Pour in all ingredients.
Gently stir with a bar spoon to mix together.
Garnish with an orange and lemon wedge.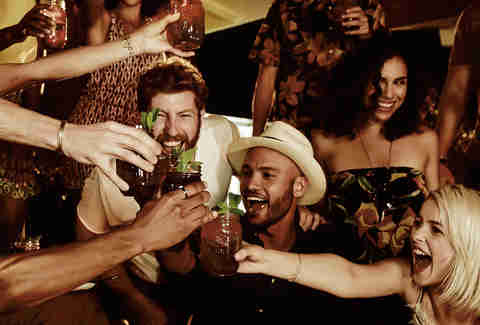 The backyard barbecue is one of the season's highlights -- an excuse to trash any diet because come on, it would be rude not to eat at least three of these double cheeseburgers the host has lovingly spent all day grilling. It's a long-burn party that ends with everyone happy, full of food, and smelling vaguely of charcoal. 
Most barbecues don't stretch much beyond a cooler full of light beers, so to stand out, serve up something a little more impressive, like the Pomegranate Mojito. An exotically tangy twist on a classic cocktail, it'll cleanse the palate for that fifth hot dog.
Pomegranate Mojito
Ingredients:
1-1/2 part BACARDÍ® Superior
1 part Liber & Co. Real Grenadine
3/4 part Rocks mix
1 part club soda
9 mint leaves
Directions:
Add 8 mint leaves and Liber & Co. Real Grenadine to mason jar and gently muddle for 3 seconds.
Add Rocks mix, BACARDÍ® Superior, and ice to Mason Jar and shake for 5 seconds.
Return mix to mason jar and top with club soda.
Garnish with 1 mint leaf.
All of the above are wonderful, fun activities that we all look forward to every summer. But we would gladly forgo every one of them for that ultimate summer experience: The summer fling. These sweaty whirlwind romances are some of the best times in a person's life, so if you meet the right candidate, you want to impress them early on, or waste half a summer that could have been spent wondering what parties 'ere may have been. 
The Maestro Collins is a luxurious take on another classic, with just the right mix of simplicity and elegance in the preparation to look like a boss without it descending into a hipster mixologist snooze-fest. This is a cocktail that'll knock your potential lover's socks off. Or they could leave them on, it's really up to you. 
Maestro Collins
Ingredients:
2 parts BACARDÍ® Gran Reserva Maestro de Ron
1 part freshly squeezed lemon juice
2 teaspoons fine white sugar (caster sugar)
Soda or sparkling water to fill
Directions:
Pour the BACARDÍ® Gran Reserva Maestro de Ron, lemon juice, and caster sugar into a cocktail shaker with cubes of ice and then give it a good, hard shake.
Fine strain the mixture into a serving glass and top it up with soda.
Finish by garnishing it with a lemon peel.