The Crucial Steps to Making the Perfect Caipirinha
<a href="https://www.flickr.com/photos/gothiatowers/15981813211/" rel="nofollow" target="_blank">Gothia Towers/Flickr</a>
Shine that lime
"The first secret of a perfect caipirinha is a shining lime," says Kennedy Nascimento, bartender of Riviera Bar in São Paulo. The quality of the lime is just as important as the quality of the spirit, he says. "Slice both edges off and then cut in half, not across the width, but from one end to the other, then remove the center and cut into eight cubes. Put the pieces in a glass, sliced side face up, and top with sugar." Nascimento prefers organic demerara sugar.
Cameron Whitman/Stocksy
Make it short
According to Felix Jorge, caipirinha master at Hotel Botanique in Bairro dos Mellos, a proper caipirinha is considered a short drink -- it has to be consumed cold and fast. "A lot of bartenders use crushed ice and a tall glass, he says. "It should be served in a rocks glass. The longer it takes to consume, the more quickly the ice melts, compromising the cocktail's sweetness and the tangy flavor of the fruit." Jorge says like any cocktail, a top-shelf spirit always improves a drink. His cachaça of choice is Jacuba.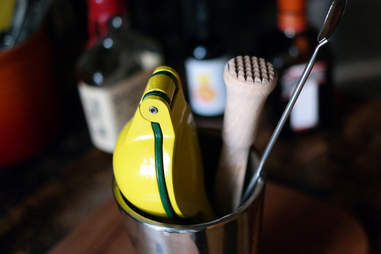 <a href="http://www.flickr.com/photos/barneyabishop/14379620075" rel="nofollow" target="_blank">Barney Bishop/Flickr</a>
Muddle mildly
Lili Torres, the dining and beverage director at UXUA Casa Hotel, says inexperienced bartenders over-muddle. "They don't realize muddling extracts the juice and the oils from the citrus peel," she says. "The more you muddle, the more bitter the drink will get." She suggests rolling the limes before you cut them to help release their aromatic oils. UXUA's restaurant manager, Mattia Balzarini, adds that stirring the maceration dissolves the remaining sugar and helps balance the sweet and bitter flavors.
Advertisement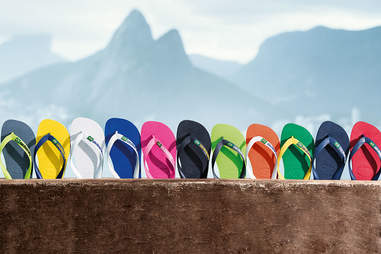 Havaianas embodies the fun, vibrant, and spontaneous way of Brazilian life. As the original flip-flops created in 1962, Havaianas have been bringing the Brazilian spirit all around the world with high quality rubber and bright, joyful designs. They're as Brazilian as caipirinhas, beautiful beaches, and the bossa nova. Not since the tire has rubber done so much to get people moving.
Alamy
Use the right sugar
Brazilians are particular when it comes to sugar. Raw sugar's rough texture adds a chewiness and sweet finish to the drink. "Demerara sugar is halfway between white and brown sugar in terms of sweetness," says Spencer Amareno, Jr., bartender at the Frank Bar, the lobby bar of Maksoud Plaza Hotel in Buenos Aires. "It isn't so sweet that it masks the flavor," he says. "Instead it actually brings out more flavor." He adds that the cocktail should always be built, never mixed in shaker.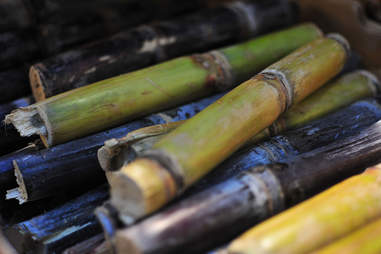 <a href="http://www.flickr.com/photos/sophiakristinaphotos/6445706709" rel="nofollow" target="_blank">Sophia A/Flickr</a>
Garnish for flare
Rodrigo Ferreira, bartender of Mocotó in São Paulo, says the garnish adds a touch of flavor and mystery. He sometimes has fun and accessorizes with fennel, pepper, and grated brown cane sugar, but he says a traditional caipirinha gets a fresh-cut stick of cane sugar as its final touch.
Don't do this
As the cocktail has been exported around the globe, international bartenders have tried to finesse the drink by using different fruits, flavored sugars, and alternative spirits. But at the end of the day, the drink shouldn't be fussed with. Vodka, lime concentrate, and sugar syrup are all deal breakers for Brazilians who take pride in their national drink. You don't mess with perfection, people.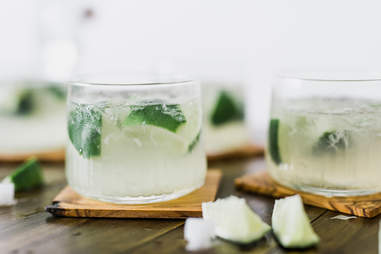 Whitman/Stocksy
The recipe for the ideal caipirinha
From Brazil World Class Winner mixologist Kennedy Nascimento:
1. Cut a fresh lime into 8 cubes and put the pieces in a rocks glass, face up.
2. On top of the lime add three bar spoons of organic demerara sugar.
3. Muddle gently.
4. Add 60ml of good white cachaça, stir, add ice cubes, stir, and add a stalk of cane sugar for garnish.