The Starting XI: Counting down America's best soccer bars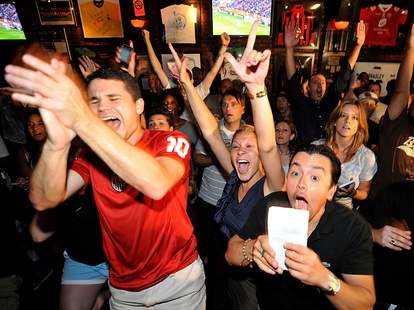 With all respect to Lloyd Dobler, it's pretty obvious that soccer is the sport of future (wait! For real this time!), so instead of just watching another meaningless Marlins-Diamondbacks game, kick off the start of the English Premier League, and the continued strangely awesome dominance of the US men's team at one of the 11 best spots in the country to watch matches. But when you go, just promise us that, at least until you understand the offside rule, you won't Say Anything.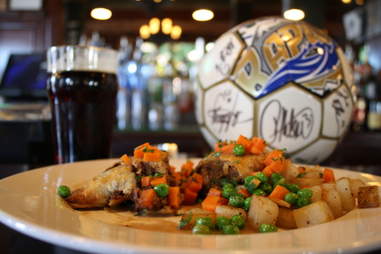 11. Three Lions Pub; DenverModeled after some of the finest London pubs, this Mile High boozer broadcasts "as much soccer as possible" and is festooned with football scarves from the likes of Arsenal and West Ham, aka how Kanye labels his sandwiches so they don't get stolen on tour.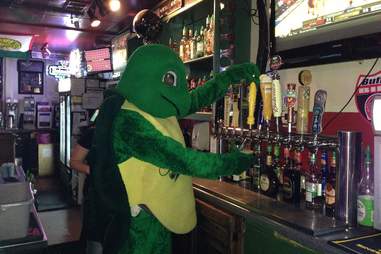 10. The Cheerful Bullpen; PortlandJust a stone's throw away from the now baseball-less Jeld-Wen Field, this utilitarian sports hang is a... um, clear-cut favorite of the Timbers Army, the rowdiest of the local supporters' clubs.
9. Barcode; Washington DCFar lounge-ier than most soccer bars (they've got bottle service!), this LED-lit spot features some creative cocktails crafted from behind a massive marble bar, including the mint leaves/Hennessy/ginger syrup/lemon "Brandy Summit", despite the fact that her peak was actually reached in 1996.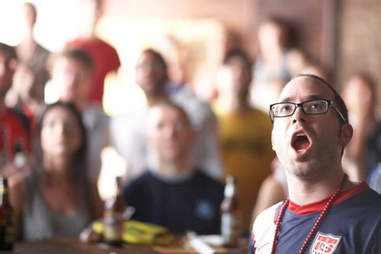 8. Woodwork; BrooklynIf you couldn't tell by the flag from soccer playing nations flying outside, or the schedule of upcoming matches featured prominently on their website, you'd still know this boozer was committed to the beautiful game because of its name, which, despite the fact that they're no longer made of wood, is a reference to the frame of the goal.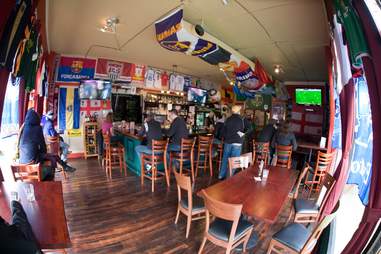 Andrew Callaci
7. 442 Soccer Bar; PortlandA veritable shrine to fútbol, this heavily decorated little pub is staffed with soccer fanatics, shows every match you'd ever want to watch, and is named for a traditional tactical formation that, unlike their rival Sounders, the Timbers have wisely stopped using so they can actually keep possession in midfield.
6. Cock 'n Bull Pub; Los AngelesThis is no bull: there aren't many things better than hitting this popular English-style pub at 5a to watch soccer on a 135in screen in pre-dawn light.
5. The George and Dragon; SeattleNamed after a pub in London that dates to the Middle Ages, it seems like the George and Dragon has been the most popular soccer bar in what is arguably America's most footy-mad city almost that long... except it only opened in 1995.
4. The Globe Pub; ChicagoThe grand-dame of Chicagoland soccer bars, The Globe shows its love for the game by running a luxury cruiser back and forth to Chicago Fire matches, but sadly not back in time to when the team was actually any good.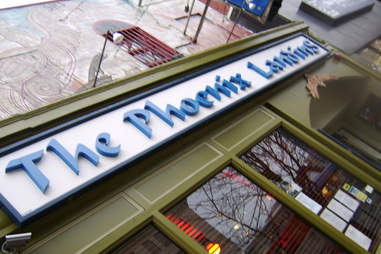 3. The Phoenix Landing; BostonThis Irish pub climbs to third on the list by doing double duty -- during the day, it's a raucous soccer-hang serving heaping plates of fried chicken and oversized burgers until the sun goes down, when it turns into nightclub, of all things.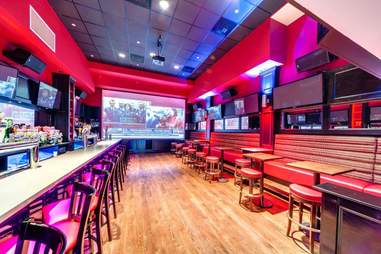 2. Nevada Smiths; New YorkThe massive new version of Manhattan's premier soccer spot boasts three red-and-black bars spread over four floors, but is just a little too much like Cristiano Ronaldo -- clearly world class, but too pretty to be number one. That distinction falls too...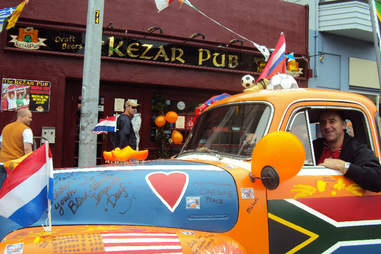 1. Kezar Pub; San FranciscoSmall enough to overlook at first, this Haight-Ashbury boozer has some serious sports heritage (it's across the street from one of the 49ers' former stadiums) and a vibrant, joyful feel on match days (thanks to its colorful fans), so it's pretty much the Leo Messi of soccer bars, plus it serves housemade corn dogs made using Aidells' sausages in a spicy corn jalapeno batter, if gorging yourself is the.... Gooooooooooooooool!!