14 Cities, 14 Bars: The Traveler's Guide to Happy Hour
When you're traveling to a new city, you've got to hit happy hour. Whether you're visiting for business or getting touristy, happy hours are your best starting point for an awesome night out with locals who've got no plans other than a 6pm drink. There are no ulterior motives to this epic institution -- everyone's just trying unwind without the heady expectation of a night out. And no happy hour is going to be in a travel guide or roundup of must-go tourist destinations or get visited by Anthony Bourdain plus TV cameras. That's where we come in. We rounded up locals with hefty experience in later afternoon and early evening beverage consumption and got them to give their recos for the absolute premier happy hour destination in their burg. Read up and go get your happy on.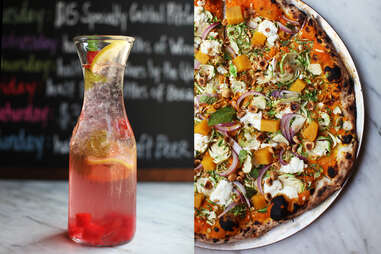 Pizza Domenica
New Orleans, LA (address and info)
The wood-fired Neapolitan-style pies at Alon Shaya's flagship restaurant, Domenica in the Roosevelt Hotel, were so damned good they went ahead and got their own spot uptown: PIZZA Domenica. While all of the restaurants under the John Besh umbrella have great happy hours, Shaya's Magazine St. pizza shop will have you hooked with the half-price pies, especially the pairing of prosciutto and arugula, or the wild mushroom pizza with tomato sauce, bacon, onions, and egg. Pair that with a constantly changing daily drink special, the restaurant's comfortable and handsome decor, and a lively bar scene, and you'll quickly see why locals are flocking to Magazine St. to turn that happy hour into a happy evening.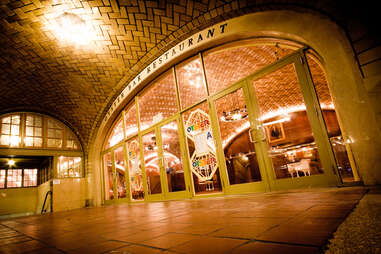 The Grand Central Oyster Bar
New York, NY (address and info)
If you're passing through New York, you have to hit up the legendary Oyster Bar in Grand Central Station. Open since 1913 and located on the lower level of Grand Central, you can find $8 martinis and oysters for a buck twenty-five each during their happy hours, and enjoy it all under vaulted, tiled ceilings. A mixed crowd of power business brokers, commuters, and regular Joes enjoying the delicious lunch counter sandwiches make the Oyster Bar a perfect example of NYC-style melting pot-ness, minus all the sad tenement museum stuff most tourists have to endure.
--​Emma Diab
Monty's Sunset
Miami, FL (address and info)
In a state with over 1,200 miles of coastline, finding a happy hour by the water is only slightly less difficult than finding someone to sell you a condo. But this spot on the southern tip of Miami Beach takes the title, not only because it's been THE happy hour pick for locals in a place where the "it" spot changes weekly, but it also gives us that rarest of South Beach oddities: cheap drinks. Add in a nightly sunset over the ever-changing Miami skyline and Biscayne Bay, and no happy hour in the Sunshine State comes close.
The Slippery Noodle Inn
Indianapolis, IN (address and info)
Sure, the Slippery Noodle in Indianapolis is Indiana's oldest bar, but that's just about the least interesting thing about the place. The Noodle was a stop on the Underground Railroad and a hangout of infamous bank robber John Dillinger and his gang during Prohibition -- where beer was made in the basement (and to this day, there are bullets lodged in one of the interior walls used for target practice). Now, it's everything from a sports bar to blues bar with live music every day of the week. And yes, it's most definitely haunted, whether you believe in ghosts or not. Located just south of the heart of downtown and within punting distance from Lucas Oil Stadium, you can get whatever kind of bar you want from the Noodle: Outdoor patio seating on two floors, a classy(ish) dive seated at the bar itself or dining in a terrarium-style restaurant area. Have a local beer on half-price Thursdays and hang out near the life-size sculptures of the Blues Brothers.
--Amy Bartner
Olde Bar
Philadelphia, PA (address and info)
With the ever-present citywide special and summertime SIPS, it's usually pretty easy to find a cheap drink in Philly. But if you are looking for a real deal happy hour, the Olde Bar (in Old City) is the best in the city. Housed in the former President's Room of the original Bookbinders, the Olde Bar is dripping with old-school cool -- a place where you can get dollar oysters, $5 bar snacks and happy hour drinks at the same mahogany bar that used to seat the city's most famous and well-to-do.
--​Daniel McKay
Herbs & Rye
Las Vegas, NV (address and info)
With vintage chandeliers and red velvet wallpaper, it's easy to mistake Herbs & Rye for an old speakeasy that's been around for decades. But this Italian restaurant and bar has become one of the best places to grab a drink off the Strip, thanks to a strong classic cocktail program and two bustling happy hours. The first one (5-8pm) is perfect for those on their way home from the office while the second one (midnight to close) tends to draw an industry crowd working late on the Strip. There's no separate Happy Hour menu. Just go through the regular one and look for food and drinks with two stars next to 'em. Those items are half-off… including the entire steak selection. That's right. Half-price steaks. And these aren't the cheap kind that you might find at an old school Vegas buffet. These are perfectly cooked corn-fed cuts, free from hormones and antibiotics that are butchered in-house with a side dish thrown in at no extra charge (go with the Jalapeño Cream Corn). Half-off drinks include well cocktails and red or white wine.
Bardog
Memphis, TN (address and info)
Bardog is downtown's neighborhood bar, and at 6pm it's sure to be full of fun and friendly locals. It's a real bar with real people who like to drink and talk and listen to music. The bartenders are cool -- all of them. They always shake your hand and ask your name when meeting you for the first time. (And they remember it!) People are not there to hook up or impress -- at least not at happy hour. Most of the food is pretty damn good and it's one of the last places left where one can smoke inside.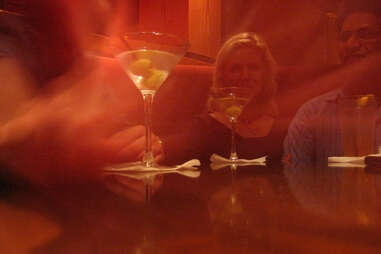 Portland City Grill
Portland, OR (address and info)
A true cosmopolitan bar and restaurant with legendary views of the city and Cascade Mountains, Portland City Grill is the place to see and be seen. From the moment the elevator doors open on the 30th floor, to the moment the first signature martini arrives, it's all white tablecloths, polished booths, pressed shirts, and designer skirts. The secret to getting a seat with a view is arriving early for happy hour. Not only will you find $6 specialty cocktails and sushi rolls, you'll get to bogart the prime real estate for as long as you like.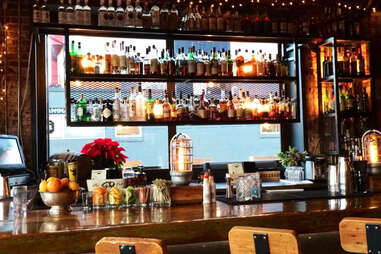 Old Major
Denver, CO (address and info)
It's named for the rebel pig in Animal Farm who calls for solidarity among the beasts, which is funny, because Justin Brunson's celebrated LoHi destination does bring all the earth's creatures together -- on plates, where they belong. As a menagerie of sausages, charcuterie, and shellfish, his de rigueur menu has been drawing locals in droves to the rustic-industrial space, anchored by a glassed-in curing room, since day one. That's especially true at happy hour, when -- even funnier -- the bar itself becomes a total meat market, packed tight with bodies pairing pork burgers and boilermakers.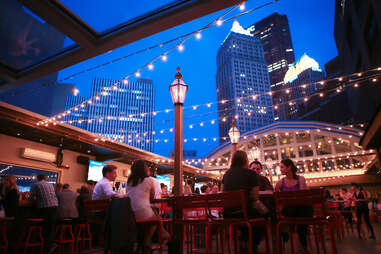 Il Tetto
Pittsburgh, PA (address and info)
When the workday ends, Pittsburghers gravitate to Il Tetto, the rooftop bar in the city's Cultural District. A clear, retractable roof can quickly cover the patio in case of rain, giving guests the chance to enjoy a skyline view no matter the weather. With a rotating draft list featuring more than 30 beers, a solid wine list, plenty of expertly prepared classic cocktails, and artisanal bar snacks, you might just want to leave work early.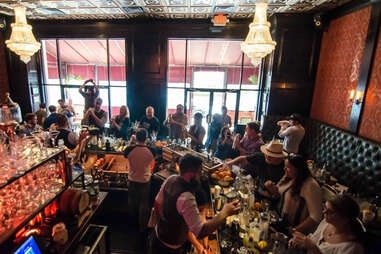 Parliament
Dallas, TX (address and info)
Eddie "Lucky" Campbell brought Parliament to uptown less than a year ago and fortunately for us, also one of the best happy hours you might ever find. On the menu you will find 11 cocktail ranging from $4-$7 and they don't skimp on anything either -- these are full size, premium liquor cocktails, they make no changes for happy hour. They also have six glasses of wine and four bottles of beer if you're looking for something lighter. Happy hour here is Monday-Saturday from 5-8pm (all day Monday) and, more important for you out of town folks, any time it rains. Make sure to check the forecast and remember that four dollars is all that separates you from one of the best old fashioned's in Dallas.
The Lightning Tavern
San Francisco, CA (address and info)
Union Street is the perfect place to happy hour because when you're ready to move on, there's an abundance of bars, bistros, and restaurants to hit up next. And Lightning Tavern is the perfect bar on Union Street to happy hour thanks to its laid back vibe, a huge back patio, PITCHERS of cocktails, 25 cent wings 'til closing on Wednesdays, $5 pop-a-shot (make the basket and you get a drink of your choice; miss and the bartender chooses for you), and tachos (that's tater tot nachos for the uninitiated). Oh yeah. And they also have lightning rounds from 4-7pm where the bartender rings a bell and drinks are a dollar for the next ten minutes. Drinks for a buck? Yes, please.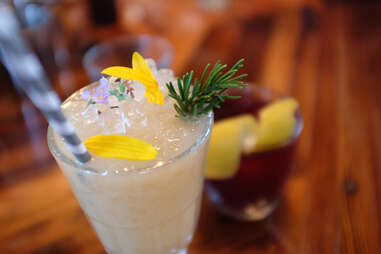 Kimball House
Atlanta, GA (address and info)
The buzz at KH starts every weekday right at 5pm, and not just because that's when those super-delicious premium oysters go for half price. Kimball also has big-time cocktails (mixed in science-y beakers), absinthe service in 13 varietals (Butterfly Verte from Switzerland; Pernod Verte from France, etc.), and a $45 steak dinner setup if you're feeling particularly fancy. Add in the fact that this is all in a woodsy, vintage-wrapped former Decatur train depot, and it's hard to be here mixing it up with the crowd without feeling at least somewhat happier than you were an hour earlier.
Masa
Boston, MA (address and info)
"Happy hours" are technically verboten in the Commonwealth, but neighborhood folks and post-work squads still flock to Masa for savory noshes, award-winning margaritas, and the buzzy-yet-relaxed vibe. Even when busy, the knowledgeable and friendly staff take time to help you find the perfect potable for curing your case of the Mondays. Or Tuesdays. Live music and the extensive tequila menu keep the Southwestern mojo moving all the way 'til salsa dancing takes over this cozy watering hole. Major bonus: all tapas are a mere 50 cents Sunday through Thursday, 5-7pm. That's two hours of happy.