Photo: Shane McCauley, Hair/Makeup: Michael Thomas
Photo: Shane McCauley, Hair/Makeup: Michael Thomas
Introducing: The World's First Bathtub Gin Calendar
Most calendars feature cute but not particularly useful things like kittens or shirtless firemen (how are you going to fight fires with your shirt off, fireman?). We decided to do something a little different. Welcome to Thrillist's first bartender calendar, where 12 drink-slingers from Dallas and San Francisco bless you with something way more valuable than days of the week: Zephyr Gin cocktail recipes themed to the season.
All of the bartenders were shot in bathtubs to honor the prohibition hack that allowed bootleggers to mix up grain alcohol, juniper, and other flavors to create Bathtub Gin. Sure, the history of the legendary spirit includes Dutch royalty too... but bathtubs were way easier to come by than crown princes.
Robbie Call
The bartender: "Molecular gastronomy. I hope that didn't catch anyone's interest. It's bullshit. Just kidding. It's okay. Just learn the classics, and do them right first. There's a reason pop music sucks today. People haven't sweat the sweat, bled the blood, cried the tears over what it is that they love. They just want to give people the cotton-candy-infused-vodka-topped-spherification-martini version of music. I like to bring people back to reality. I want soul in my cocktails. If my cocktails were embodied, I would hope that they would be Curtis Mayfield or Thelonious Monk."
The cocktail: "In January, I seem to notice that mojitos (dude bros really like to over pronounce that… MO-HEE-TO) sell like hot cakes. It's totally out of season and makes no sense. I decided to run with this and made the most refreshing summer cocktail you'll ever have in January. Raspberries, fresh lemon juice, demerara, witbier -- mmmm, summer. Oh, but there's jam as a garnish!"
Gin-gham Shandy
INGREDIENTS:
2 ounces Zephyr Gin
Witbier
1.5 ounces raspberry demerara reduction
1 ounce lemon juice
Raspberry jam
Turbinado sugar
Lemon twist and raspberries for garnish
DIRECTIONS:
Shake over ice in a pint glass with ice.
Top with witbier.
Add raspberry jam and turbinado sugar rim, with fancy lemon twist and raspberries for garnish.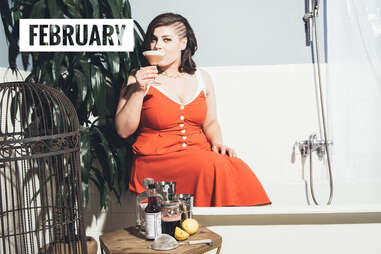 Jessi "Mess" Lorraine
The bartender: "I'm a San Francisco native and the bar manager at Absinthe Brasserie & Bar in Hayes Valley. I love lighting things on fire and try to break no more than two glasses a night (no guarantees)."
The cocktail: "This cocktail was inspired by the the lightness and elegance of the English gin with a little Valentine's Day romance mixed in. It's also the perfect cocktail to drown your romantic sorrows."
The English Love Song
INGREDIENTS:
2 ounces Zephyr Gin
0.75 ounce lemon juice
0.5 ounce blanc vermouth (Dolin Blanc)
0.5 ounce rose petal/hibiscus syrup
1 egg white
2-3 dashes Peychaud's bitters
DIRECTIONS:
Place all ingredients except bitters in a cocktail shaker and shake vigorously without ice.
Add ice and shake again.
Double strain into a stemmed cocktail glass and dash bitters on top of foam. 
Fernanda Rossano
The bartender: "I grew up moving a lot between the USA (AZ, FL, TX), Stockholm, Sweden, and Mexico City, Mexico. Through a series of events I ended up living in Dallas and at a career cross road. I had my mind set on bartending just trying to prove myself as a great bartender and not any mold that exists. Luckily I was surrounded by people that believed in me and gave me a chance. I was on the opening of The Standard Pour in Dallas. After an 18-month intense apprenticeship, I then helped open places for well-respected teams, like HG SPLY CO, Atwater Alley, Filament, High & Tight Barbershop, and Knuckle's Sandwich Co. My passion is fun. Come sit at my bar and have fun while drinking great things."
The cocktail: "With the notes of elderberry high on Zephyr Gin, I wanted to do something bright but subtle enough to still accentuate the gin. The creamy texture of the fruit gives it this amazing mouthfeel, and the subtle nutty notes really liven the gin up. Garnish is strictly for your nose to not be jealous of your mouth."
Mamey May I?
INGREDIENTS:
2 ounces Zephyr Gin
1.5 ounces mamey milk
.5 ounce lemon juice
.5 ounce agave
Thyme sprig for garnish
DIRECTIONS:
Build in shaker with Zephyr Gin, mamey milk, lemon juice, and agave.
Shake and then double strain.
Serve up with thyme garnish.
Suzie Robinson
The bartender: "I fell in love with cocktails in San Francisco. Working in restaurant bars and sitting at friends' bars while they worked, pestering them with questions, I found my passion. I now work at Novela, a beautiful lounge, and I help run the program. Not bad for a small town girl."
The cocktail: "When designing this cocktail I was so happy that rhubarb had just come into season. So fresh and tart, and that's what I wanted for this cocktail. Something bright and light to enjoy in the sun! Spring has sprung!"
Rhuby's Arms
INGREDIENTS:
1.5 ounces Zephyr Black Gin
1.5 ounces fresh rhubarb juice
.5 ounce Velvet Falernum
.25 ounce fresh lemon juice
.25 ounce honey syrup (1:1)
2 Thai basil leaves
DIRECTIONS:
Combine all ingredients in tin.
Add ice, and shake.
Fine strain into a large coupe.
Garnish with Thai basil leaf float lightly pressed to express the aroma.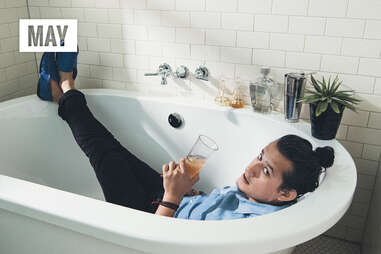 Christian Armando Guillen
The bartender: "I'm a native of Lima, Perú who's been living in Dallas for a bit over 11 years. I fell in love with the hospitality business working at bars (and all the hidden opportunities available) such as The Standard Pour where I serve as the beverage director. I'm also a co-founder/owner of El Cantinero, a cocktail movement that focuses on showcasing South American/Latin American culture.
The cocktail: "I picked this cocktail based on a trick I play on guests on a daily basis. The usual 'Ew, I don't like that' never ceases to occur, so I proceed to make something they end up enjoying, without them knowing that the base ingredient is that thing they don't like. In this case, I picked gin and a twist on a Gin & Tonic. Once they find out, the expression on their faces is priceless. Yup, I'll take that as a tip."
Bittersweet Voyager
INGREDIENTS:
2 ounces Zephyr Gin
.25 ounce Campari
.75 ounce lime juice
.75 ounce passionfruit & yerba mate syrup
Yuzu tonic water (East Imperial)
Orange peel and tarragon sprig for garnish
DIRECTIONS:
Pour in Zephyr Gin, Campari, lime juice, and syrup. Mix in shaker.
Double strain and pour.
Garnish with orange peel and tarragon sprig.
Ashley Afferino
The bartender: "Been bouncing around the hospitality industry spreading cheer for 18 years. Building a bar, and being an owner was one of the best experiences in my life. Although it took 16-hour days, it is still one of my most cherished accomplishments."
The cocktail: "It's June. You're on a yacht, on the beach, at a wedding reception, heck in a BATHTUB. I incorporated the fresh strawberry since they are in season, sweet, and add a lovely pink hue. St. Germain infused with mint (to honor Rob Cooper) helps accent the elderflower notes in Zephyr. The hint of mint, whatta rhyme, is the perfect cool down for a hot day. Bubbles on top, because who doesn't like bubbles?"
Zephyr (Summer) Bliss
INGREDIENTS:
1.5 ounces Zephyr Gin
.75 ounces lime
.5 ounces St. Germain infused with fresh mint
1 muddled strawberry
1 strawberry for garnish
DIRECTIONS:
Shake liquid ingredients and pour served up in martini glass.
Top with dry Champagne.
Garnish with strawberry wheel float.
Alex Fletcher
The bartender: "Currently I am the beverage director for Henry's Majestic, Atwater Alley, Breadwinners, Quarter Bar, and Shaken & Stirred Beverage Catering Services. I've been behind the wood for touching over a decade. I've worked in all types of bars and restaurants, finally landing in a craft-centric establishment where I've been able to explore the world of fresh ingredients and different flavor profiles. A mind-blowing new world opened up, and I ended up sampling... a lot of cocktails. Whoops."
The cocktail: "For this drink, I paid tribute to the great American classic strawberry rhubarb pie, one of my favorites. It's a long drink that is light, approachable, and fights off the heat of the upcoming summer months."
Born on the 4th
INGREDIENTS:
1.5 ounces Zephyr Gin
.5 ounce Lillet Blanc
.75 ounce lemon juice
.75 ounce strawberry rhubarb shrub
Dried strawberry and thyme sprig for garnish
1 pound of strawberries
.5 pound of fresh rhubarb
15 ounces of white sugar
10 ounces of white wine vinegar
DIRECTIONS:
Combine all ingredients in a Boston shaker.
Add ice and shake for 10-15 seconds.
Strain into a coupe glass.
Garnish and serve.



Cut strawberries in half and thinly slice rhubarb.
Place rhubarb in layers coated with half the sugar.
Layer and coat strawberries in sugar.
Let sit for 48 hours.
Strain contents of container into a second container.
Add white wine vinegar.
Label and store in a cool place.
Evans Horn
The bartender: "I moved out here with the goal of learning how to bartend, and I have been in San Francisco for just over 10 years now. I've had the pleasure of meeting and working for/with some of the best, including two other bartenders that are included in the SF Zephyr Gin group. I enjoy working behind the bar in San Francisco because I don't know any other city or job that can connect you with so many awesome people on both sides of the bar, both guests and bartenders."
The cocktail: "I made a simple variation of a Corpse Reviver #2. The main difference is I used sambuca instead of absinthe because of the elderberry in the Zephyr Gin, and in going with the more Italian theme, I used Carpano Bianco instead of Lillet. I like the bright citrus of the Carpano and I think it is a little less sweet than the Lillet. The name comes from an old western movie that I saw with my father when I was younger, and I think the finished cocktail accomplished what the original recipe was intended for... it's a bright hair of the dog that refreshes your spirit."
Quick and the Dead
INGREDIENTS:
1.5 ounces Zephyr Gin
.5 ounce lemon juice
.5 ounce Pierre Ferrand Curaçao
.5 ounce carpano Bianco vermouth
.25 ounce borghetti sambuca
DIRECTIONS:
Shake and strain into coupe or martini glass with orange twist.
Eleanor Ahmuty
The bartender: "I've been bartending around the north Texas area for about two years now. Casa Rubia and FT33 are both amazing chef driven restaurants where I work. Without the support of these places I wouldn't have the drive to continue to learn and better myself as a bartender. These places make me feel like the chef of the front of house."
The cocktail: "I created this drink to be something to be enjoyed all year round, the elderflower notes in the gin is kickass with the combo of hibiscus, Campari, and St. Germain; it's a refreshing sipper. Cheers!"
Mundá
INGREDIENTS:
2 ounces Zephyr Black Gin
1 Luxardo cherry
1 orange peel
2 dashes orange bitters
1 ounce hibiscus syrup
.5 ounce St. Germain
.5 ounce Campari
DIRECTIONS:
Muddle one Luxardo cherry with orange peel.
Stir and serve on a single cube in a rocks glass with orange peel and cherry garnish.
Brandon Clements
The bartender: "I moved to San Francisco in the summer of 1999 to continue my study of theater. On my second day in the city I secured a job as a singing waiter at Max's Opera Café. When I reached legal age, I quickly transitioned to the bar, where I'd always wanted to be. It was in the early 2000s, under the tutelage of Neyah White at MECCA, that I discovered the true craft of a legitimate barman. I now oversee the bar programs for the Bacchus Management Group (Spruce, The Village Pub, and Mayfield).
The cocktail: "Created with the flavors of fall in mind, this cocktail further accentuates the botanical profile of Zephyr Black with the added herb/spice notes of rosemary, nocino, yellow Chartreuse, and the house-made tincture. That and I wanted to show off my garnish game for the photo…"
Peared Up
INGREDIENTS:
1 1/2 ounces Zephyr Black Gin
1/3 ounce yellow Chartreuse
1/4 ounce Nocino
3/4 ounce lemon juice
1 egg white
1 dash cinnamon-cardamom tincture
3 thick slices fresh pear (+1 for garnish)
Rosemary
Angostura bitters
DIRECTIONS:
Brush the inside of a coupe glass with rosemary sprig; reserve sprig for garnish.
Place pear slices in mixing glass; muddle well.
Add gin, Chartreuse, Nocino, lemon juice, egg white, and tincture to mixing glass. Add ice and shake vigorously.
Double strain back into mixing glass. Shake a second time without ice. Double strain into rosemary brushed coupe glass.
Garnish with sliced pear, rosemary, and Angostura bitters.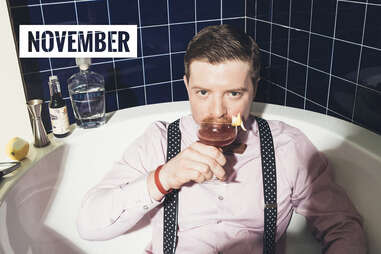 Eddie (Edward) Eakin
The bartender: "I've been in the restaurant business in Dallas for 16 years. I'm currently the beverage director for Rapscallion and Boulevardier. I enjoy wine, noodle soup, and short walks on the beach."
The cocktail: "I wanted the cocktail to have some deep flavors that could refresh in the fall. Port, lavender, and the herbal components of Chartreuse fit the bill."
Remember, Remember
INGREDIENTS:
1.5 ounces Zephyr Gin
.75 ounce Aperol
.5 ounce Tawny Port
.25 ounce yellow Chartreuse
.75 ounce lemon juice
2 dashes lavender bitters
DIRECTIONS:
Shake.
Double strain into cocktail coupe.
Express with lemon oil and garnish with peel.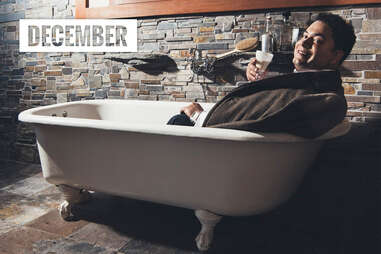 Rafael Jimenez Rivera
The bartender: I'm originally from upstate New York and have been bartending and managing in the San Francisco Bay Area for 11 years at places such as The St. Regis Hotel, The Moss Room, Comal, Plum Bar, A16 Rockridge, and Urchin Bistrot. I'm currently running Hamlet. We are a local bar trying to use small batch spirits and artisanal products. My favorite color is denim (is denim a color?).
The cocktail: "The 'You Never Know Nog' is inspired by my Puerto Rican Roots, we have a drink called coquito which is a light egg nog type drink."
"You Never Know" Nog
INGREDIENTS:
1.5 ounces Zephyr Black Gin
.5 ounce black tea infused rum
.75 ounce allspice syrup
1 ounce heavy cream
1 ounce egg whites
DIRECTIONS:
Take egg white and dry shake to make froth. Pour in Zephyr Black Gin, rum, syrup, and heavy cream.
Add ice and shake.
Double strain into Irish coffee glass and sprinkle cinnamon on top.