There Are Almost No Black People Brewing Craft Beer. Here's Why.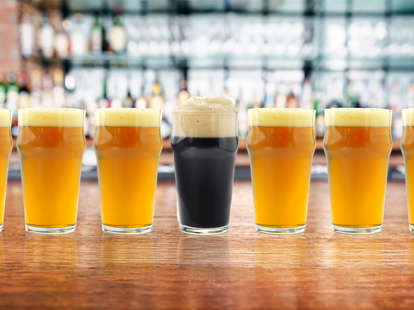 ISTOCKPHOTO/NINA GONZALES (EDITED)
ISTOCKPHOTO/NINA GONZALES (EDITED)
I'm in a craft beer bar in Brooklyn, sipping a $9 stout and looking for black people. "Juicy" is on the speakers, and Notorious B.I.G. grew up a five-minute walk from my barstool here on the dividing line between Clinton Hill and Bedford-Stuyvesant. This is a traditionally black neighborhood, but right now, at 10:30pm on a Thursday, the only people in the bar are me (white), the bartender (white), and a stocky guy with a beard down at the end mouthing lyrics and nursing a bomber of what looks like Hill Farmstead (he's white, too).
My search isn't going well so far.
That's because craft beer is white. Whiter than a ski lodge. Whiter than a Whole Foods in the suburbs. Craft beer is so white, in fact, that there's an entry for "microbreweries" in Stuff White People Like, a book based on a blog written by a white person making fun of white people for being white. The passage concludes with this sentence: "[M]ost white people want to open a microbrewery at some point."
Do most black people want to open a microbrewery at some point? Do any? The Brewers Association, the craft industry's leading trade group, doesn't keep records on the racial breakdown of its membership; nor does the American Homebrewers Association, its DIY-focused branch. Both organizations told me they weren't aware of the existence of any such data. After digging around, neither am I.
So, in the absence of statistics, I set out to answer a simple question: where the hell are all the black craft brewers, bar owners, bloggers, aficionados, and nerds? Why is craft beer -- the consumer side, and especially the business side -- so white?
I started with Garrett Oliver. Oliver is a black man who also happens to be the long-standing brewmaster of Brooklyn Brewery, as well as an accomplished beer author. When we linked up, it was via email; he was in Slovenia.
In his polite response to my questions (why is brewing so white? Is it changing? Should we care?), Oliver didn't tell me much. I had the wrong focus, he said; it's not a craft beer issue but a much broader and deeper problem. "My best answer is 'See Coates, Ta-Nehisi,'" he concluded. (For the uninitiated, Coates is the preeminent public intellectual in regards to racism in America -- and yes, he's required reading.)
It was at this point that I realized Garrett Oliver probably gets asked about being a black guy in craft beer more than he does about craft beer itself. Being the de facto spokesman of minority brewing would get a bit tiresome after two decades. So I stopped pestering him, and started making calls. Here's what I learned.
1. Black people don't drink much craft beer
Nearly all craft beer brewers started out as craft beer drinkers, so it stands to reason that if there are to be black brewers, there would have to be black drinkers.
Turns out the latter are few and far between. A recent Nielsen study commissioned by the Brewers Association found that while black drinkers compose 11.2% of the US population, they consume only 3.7% of the country's craft beer. Compare that with the 80% of craft beer guzzled by whites, who make up 60% of the population, and you'll start to get a sense of the size of the divide.* (See footnote at the bottom of this page for a word on other racial groups.)
Still, numbers don't tell the whole story. So I asked a sample of black peers if they drank craft beer, and what they thought about it. "I don't hate craft beer," said Owen Rucker, a 29-year-old video editor living in Williamsburg. "But if I had to choose what I dislike most about it, it would have to be the culture." Which he summed up as, "God forbid you want a 'regular' beer instead of an 18% homebrewed bacon-infused IPA. You'd get an earful from the closest neckbeards about how you just have to 'work' through the taste."
Kara Brown, a 27-year-old writer in Los Angeles, feels similarly. "It seems like craft beer has been closely tied to an experience that a lot of people of color either don't want to be a part of or don't feel welcome engaging with," she said. "I think of white guys in thick-framed glasses and flannel shirts drinking at tables crafted out of reclaimed wood next to their Manic Pixie Dream Girl."
That sort of arm's-length engagement goes both ways. While some macros and the malt liquor category -- which has an uncomfortable but profitable history capitalizing on the low-income dollar -- have appealed directly to black drinkers, craft brewers for the most part have not. Ale Sharpton, a black journalist, consultant, beer nerd, and expert pseudonym-deviser (his real name is Dennis Byron) based in Atlanta, told me that while "there are no 'White Only' signs" in craft beer, the market still has a long way to go to court black drinkers. There simply aren't many craft beer bars, restaurants, or stores in black neighborhoods, he said. "I visited a homie recently [in a predominantly black neighborhood] and felt like I struck gold finding a Sierra Nevada Torpedo six-pack at a nearby store."
It's important to note that no one I spoke with for this story claimed or even hinted that the enthusiasm gap between white and black consumer bases was driven by racism. Instead, the takeaway of many of these conversations boiled down to a simple fact: craft beer is white because the overall American beer industry has always been white.
So it's worth asking: why has the overall American beer industry always been white?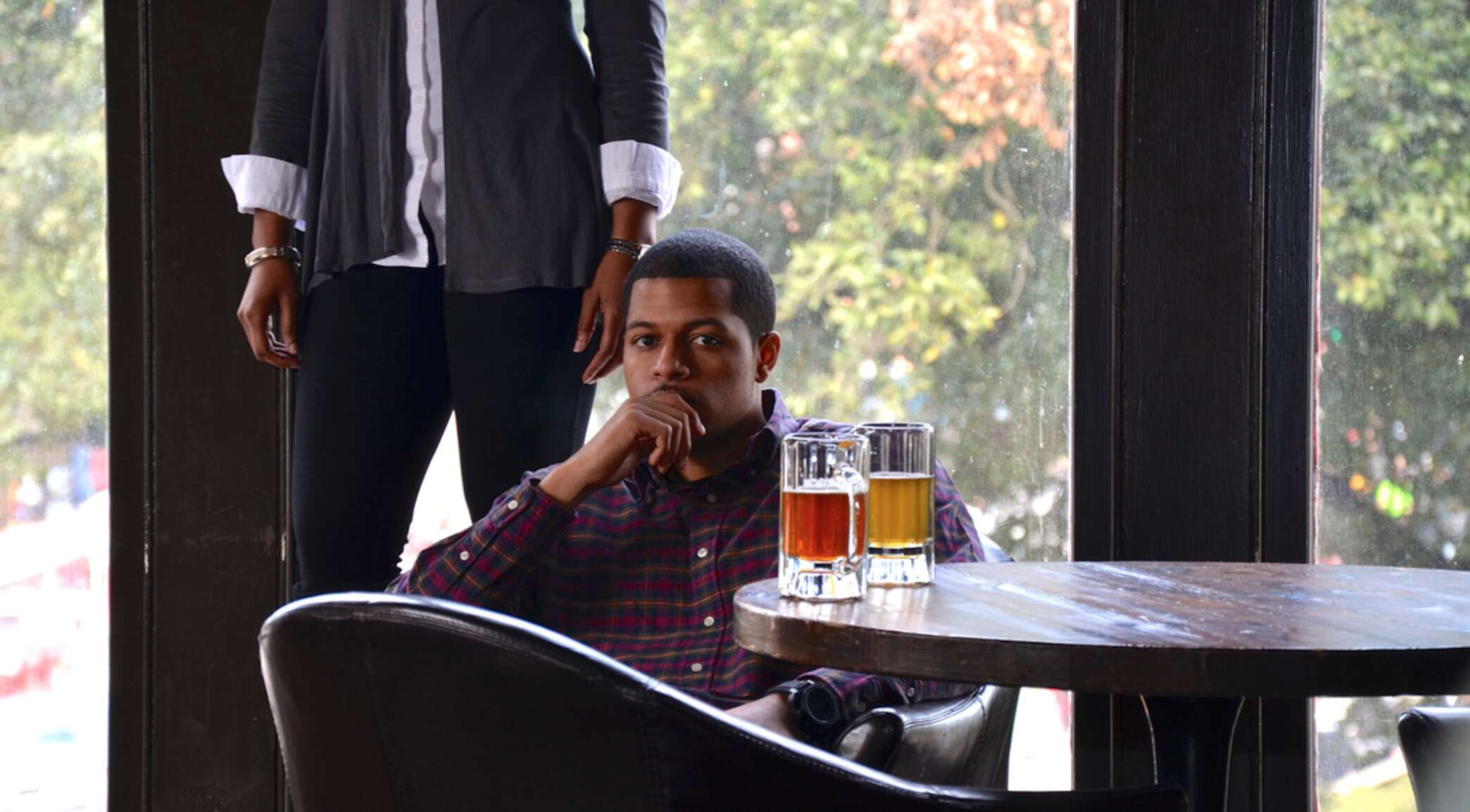 2. There is an ugly history of racism in beer
No single moment in American history has had more impact on the beer business than Prohibition. As it turns out, the 18th Amendment carried some grim racial undertones.
Temperance found its way into the Constitution thanks in part to the Anti-Saloon League, which trafficked in racially loaded propaganda to cast alcohol as a dangerous pandemic. "Saloons became code for not only drinking and debauchery, but also code for where immigrants and brown people hang out," explained J. Nikol Beckham, an assistant professor of communication studies at Randolph College in Lynchburg, Virginia. The Prohibition movement was "always racialized," she said, pointing to political cartoons like this one, in which faceless blacks are portrayed as willing minions of a Germanic beer baroness.
In 1933, Prohibition was repealed by the 21st Amendment, but the beer business quickly developed -- or even cultivated -- race problems of its own. "[The post-Prohibition] consolidation of most beer brewing in the US into very large corporations probably hurt all sorts of minorities who would have potentially owned breweries," said Allison McKim, an assistant professor of sociology at Bard College.
"Craft beer is one area where we can take a chunk out of racism. If we can't do it here, then we're in trouble."
And in the four decades between the rise of the macros and craft beer's eventual arrival, American beer stayed white as hell by design. (See: Coates, Ta-Nehisi.) "Historically, there's been a lot of discrimination of African-Americans in terms of employment, and the brewing industry is not an exception," said Celeste Beatty, a black woman and the founder of Harlem Brewing Company. "There were a number of studies done by the Urban League where they went to speak with brewing industry [employers] in the '50s, and they tell them, 'There's no place for African-Americans, skilled or unskilled, in our breweries.'"
Other accounts from that era tell a similar story. Take Detroit, for example. In 1950, 39 out of 3,300 brewery employees in a five-brewery survey were black, reports Thomas J. Sugrue in his book The Origins of the Urban Crisis: Race and Inequality in Postwar Detroit. "As late as 1962... fewer than 120 blacks were among the industry's 12,000 workers," he writes. In the intervening 12 years, Detroit's black population had expanded from 16.9% to 28.9% black, but its brewing industry remained around 1% black.
When an industry begins so white, said McKim, "it is hard to change those patterns, because our networks, workplaces, schools, and neighborhoods are [still] so segregated." This is one reason craft beer is so white: its legacy springs from the lily-white talent pool Big Beer had engineered. But "that's the way it was" isn't the only reason.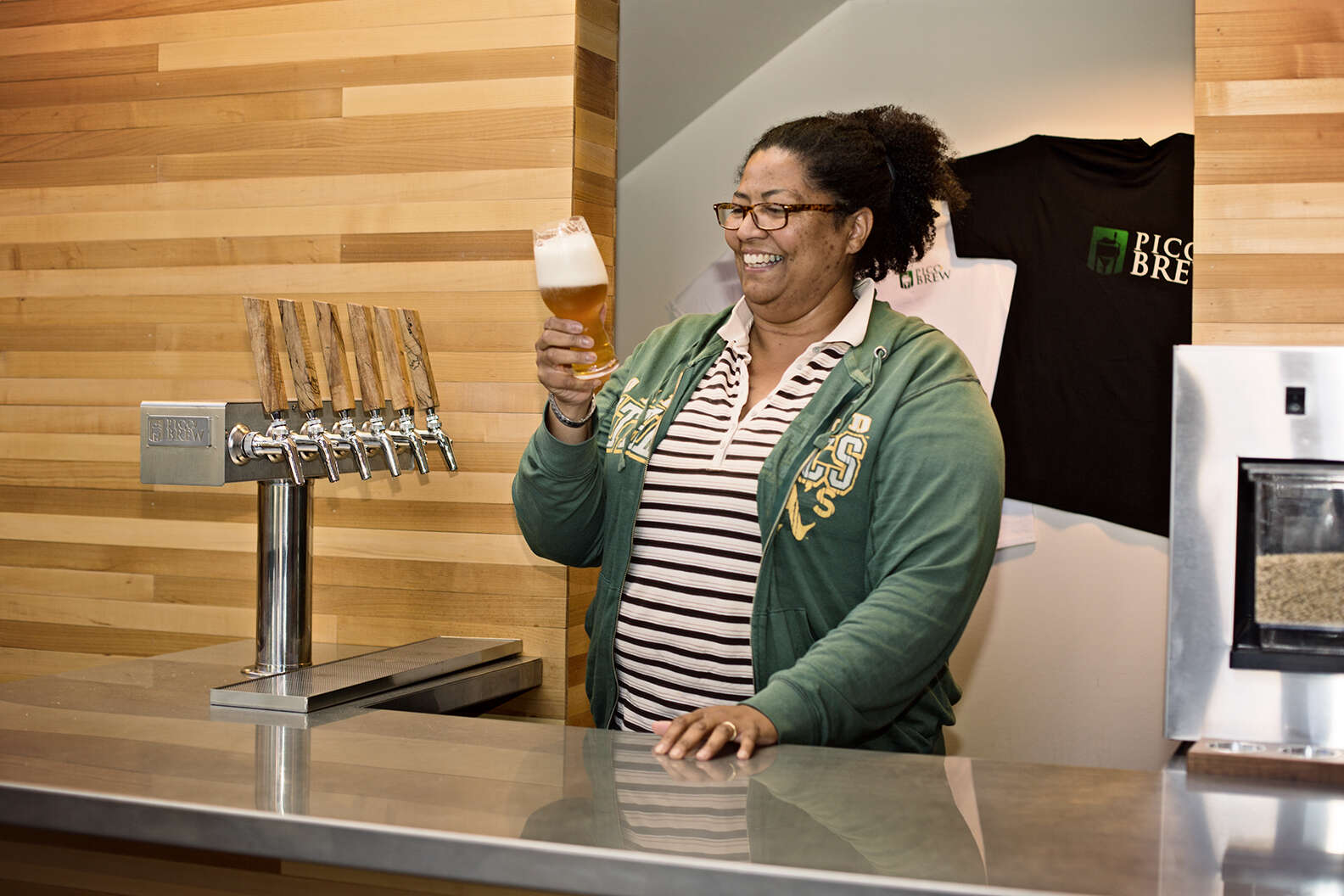 3. Craft brewing requires money and time
It's a widely known fact that black Americans on the whole have less wealth, lower incomes, and more difficulty securing bank loans than white Americans do (Coates, Ta-Nehisi, again). And those three factors create another barrier to entry into the craft beer industry.
When the craft beer revolution arrived in the '80s, it disrupted the market but still largely stayed true to the pattern of white men brewing beer. Pioneers like Ken Grossman of Sierra Nevada, Jim Koch of Sam Adams, and Fritz Maytag of Anchor Brewing were all white, and all shared a love for flavorful brews. They also had something else in common: the big luxury of being able to take a big risk. Grossman got a loan from his family, Koch had an MBA and a lucrative job at the Boston Consulting Group, Maytag was... well, a Maytag, part of one of 20th-century America's most powerful industrial families.
"This is the origin story that we tell about the craft beer movement," said Randolph College's Beckham, who successfully defended a dissertation at the University of North Carolina at Chapel Hill on the subject. "If the starting point takes for granted having access to certain resources, then certain people are going to see that model and just know it's not for them." And so, craft brewing inadvertently develops a type: white, male, and most important, willing and able to take a professional gamble. Or as Jimmy Carbone of Manhattan craft beer mainstay Jimmy's No. 43 puts it, "It's a lifestyle industry. If you really want to make money, you're not going to be working in a brewery."
Your craft beer aisle may feature a dozen IPAs, but good luck finding an African-style sorghum ale.
Opening a craft brewery is a challenge for aspiring brewers of all races. But for aspiring brewers who happen to be black, the task is that much harder. "It is no secret that securing capital as a minority business owner can be downright discouraging," acknowledged Jon Renthrope, a Louisiana native and the founder of Cajun Fire Brewing, in an email exchange. He started homebrewing in repurposed gumbo kettles while attending the University of Florida in 2007. Four years later the self-described serial entrepreneur returned to New Orleans to open his brewery with money sourced from "people and support within [his] social sphere." (Asked whether the industry's racial makeup was changing, he replied plainly, "I do not see a foreseeable change in the next decade.")
Meanwhile, some brewers are looking to the crowd for financing. Chris Harris of Toledo founded Black Frog Brewery in his garage in nearby Holland, Ohio, and attempted to sidestep the need for a small-business loan by running a Kickstarter campaign. If successful, he planned to open a taproom in Holland. I asked him if his brick-and-mortar would be in a black neighborhood. "No, I'd say it's probably majority Caucasian," he told me on the phone. Shortly before press time, though, his campaign concluded around 90% shy of its goal -- a suggestion that even unconventional financial structures may not be enough to help bridge craft beer's racial imbalance.
Which leads to my next question:
4. Does it even matter?
Here's where I'm going to make us all uncomfortable. Should we, the white craft beer majority, care that black people don't partake in the culture we love? If craft beer is indeed "white people shit," and black people are cool with that, then what's the harm, right? Isn't this all just a big, foamy glass of white guilt masquerading as a beer story?
I don't think so. There are two major downsides to allowing craft beer to remain homogeneous.
The first is simple: we miss out on enjoying singular brewing talents like Annie Johnson. Johnson is a black woman who won the American Homebrewers Association's Homebrewer of the Year title in 2013 with a light lager -- a difficult brew with which to score notice, much less take the top prize. When Johnson won the title, she became the first woman to do so since 1983, and the first African-American to do so ever. The year before, she'd won Pilsner Urquell's Master Homebrewer Competition, where head brewmaster Vaclav Berka told her that her beer was the best he'd had, she said. She's also a Beer Judge Certification Program judge, and proctors certification exams.
"These are startup businesses. Their focus has been to build their core base before branching out."
In other words, Annie Johnson knows her shit. But unless you've been lucky enough to attend a beer dinner in her Sacramento home, you've probably never tasted her beer. "I tried for the longest time to break into the brewing world," she told me. "I applied to several dozen different local breweries, and breweries that were out of state, and I got nothing. Crickets, chirping at a field." She was consummately chipper in the hour we spent on the phone, but in this one moment, her voice turned glum.
If craft beer doesn't prioritize racial diversity in its ranks the way it does product diversity, we'll eventually wind up with homogenized craft beer. That's already happening, to a certain extent. Any good craft beer aisle will feature at least a dozen IPAs from a dozen different breweries -- but I don't think I've ever seen an African-style sorghum beer. That's not to say it doesn't exist, or that all black brewers should or would brew African-style beers, but just imagine all the culinary and brewing traditions we're missing out on.
If craft beer is as serious about taste exploration, inclusiveness, and innovation as it loves to claim, then we should want the Annie Johnsons of the world to find a place in the craft universe. (In a happy turn, Johnson herself actually has: she now works for PicoBrew a company that manufactures homebrewing equipment. "[Race] doesn't matter, they don't care, and it's my chance to be in the brewing industry," she said of her new employer.)
The second big downside to allowing craft beer to remain homogeneous is less about beer and more about what Garrett Oliver alluded to: social justice. "If you shut out parts of the population -- particularly groups who have been historically excluded -- from the opportunity of this expanding industry, then craft beer works to perpetuate racial inequality that exists well beyond itself," noted McKim, the sociologist. Beckham, the beer scholar, expanded on this point. "Craft beer is one small area where we can make an effort to take a chunk out of racism, rather easily" because it is a relatively progressive enclave. "If we can't do it here -- when everyone's feeling good and giving high-fives -- then we're in trouble."
5. Speaking of those high-fives...
It's around midnight when I get to Bed-Vyne Brew, a beer and wine bar in Bed-Stuy. It's the fourth bar in the neighborhood I've gone to, and the farthest from the front lines of gentrification. Outside, a white woman smokes a cigarette while speaking into the microphone of her oversized Beats headphones. A white couple waits for a cab at the curb. In my bar-hop through one of America's most historic black neighborhoods, I've seen about four black people drinking craft beer.
This isn't my first time at this bar. A few weeks back, I stopped by in the light of day to interview its black co-owner, Michael Brooks. "I think there was an availability issue [of craft beer], but we've set the trend" in the community, he told me. "Now, if you go to the bodega across the street, you'll see the guy has taken like a third of his refrigeration and has filled it with craft beer." He laughed. "Before we came in he had 40s of Colt 45. Now, he still has the 40s and stuff, but they're hidden."
Bed-Vyne Brew isn't the only green shoot. Ale Sharpton introduced me to Lenox Mercedes, another black Atlantan. He first got into craft beer at Morehouse College, and the beer festivals he attended in those days were white as hell. "Definitely not many people of color at all," he recalled via email. "Something like 2%." He has since founded High Gravity Hip Hop, an event company that puts on beer festivals marketed to the black drinker. "These are startup businesses," he told me via email, referring to the craft brewmasters and brewery owners he's worked with in Atlanta. "Their focus has been to build their core base before branching out."
Mercedes' business plan is to help bridge the gap. And he sees opportunity in the many parallels between the craft beer and hip-hop cultures -- veneration of tradition, attention to detail, grassroots beginnings, and so forth. "When we said 'hip-hop beer fest' to a guest at a traditional beer fest, nine times out of 10 they lit up with enthusiasm," he recalled of their early promotional efforts. Mercedes pointed to beer-musician collaborations like Goose Island x Run the Jewels, as well as cultural appreciation like Twisted Pine's Ghost Face Killah ghost pepper beer (no relation to Tony Starks) and Dock Street's "Ain't Nothin' to Funk With" IPA (subjected to six months of Wu-Tang aural therapy), as evidence that there was already some crossover between the two cultures, and potential for a lot more. (Plus, he wrote, white craft beer drinkers have always been pretty welcoming. "You know beer makes all of us friendly as heck. LOL.")
A few weeks back, Michael Brooks told me his bar has been embraced by the black community around it. Now I've returned to find out for myself. Before entering the bar, I pop across the street to the bodega and check the drink cooler in back. There, on the top-two shelves, are rows and rows of craft beer -- Lagunitas, Captain Lawrence, Brooklyn, Ballast Point. And as he said, a few shelves lower skulked 40s of Olde English and Steel Reserve.
Encouraged, I head back to Bed-Vyne Brew. Inside, I find what I'm looking for. The small, low-slung space is dark, loud, and full of black people drinking craft beer. I'm one of only a handful of white people in the place. I order an $8 lager and post up in a corner. Across the room, the white woman who was on the phone earlier is seated across the table from a black guy about her age; they are clearly on a date. INTERRACIAL CRAFT BEER UTOPIA, YOU GUYS.
I allow myself a smile. Garrett Oliver told me that I was barking up the wrong tree, that homogeneity wasn't a problem specific to the craft beer industry. Sipping my beer and marveling at the unfamiliar scene of a mostly black craft beer bar, I find a happy counterpoint. While craft beer isn't the source of the problem, I think it might be some small part of the solution.
Note: So what about other minorities? Asians' consumption of craft beer mirrors their share of the population (5.5%/5.3%), and historically they have faced less-overwhelming barriers to entry of the beer industry than have blacks. Hispanics currently drink just a tiny bit more per capita than black drinkers -- but that's changing, explained Bart Watson, chief economist for the Brewers Association, in a recent email exchange. "Hispanics tend to be drinking more craft (and at a faster rate than everyone else)," he said.
As evidence, he cited several figures, including a 2014 Harris/Nielsen study that shows while only 42% of the general drinking population claims to be drinking "more craft beer" compared to a few years ago, 57% of Hispanic drinkers make that same claim. Hispanic brewers -- they exist too! -- also enjoy a relatively unbroken lineage from their respective brewing heritages in comparison with their black peers, whose efforts start out partially or wholly discrete from African brewing culture. So it's not that other minorities are perfectly accounted for in this wide world of craft brewing and drinking -- it's just that there are unique stories to tell of minority brewers on all sides, and the one we're telling this time is about black brewers.
Sign up here for our daily Thrillist email, and get your fix of the best in food/drink/fun.
Correction: An earlier version of this piece misattributed Owen Rucker as an advertising professional from Chicago. He is a video editor from Williamsburg.