10 Things You Didn't Know About Pappy Van Winkle
The Washington Post/Getty Images
Within the bourbon nerd community, if you've tasted Pappy Van Winkle, you've basically communicated with God. The brand is worshiped among whiskey drinkers, but good luck finding it. Part of Pappy's allure is its mystery -- because it's produced in such small batches, you almost never see it in the wild. And while we can't point you toward a bottle, we can at least pull back the curtain on the hooch's history. It begins, like most bourbon histories, in Kentucky, but from there, it journeys to Chicago, Hollywood, and more. We'd tell you to pour yourself a glass as you read this, but we know you don't have one:
1. Bourdain is one of its biggest fans
Anthony Bourdain gave Pappy a sly endorsement when he declared, "I'm here for that incredibly wonderful bourbon whose name I'm not gonna mention because there are just too many sons of bitches out there who want it," on The Layover. It was pretty obvious which bourbon he was talking about, though, and he was more explicit when he tweeted out, "I am considering a full back Pappy Van Winkle tattoo." Will some ink master please take him up on this?
2. The Pappy heist was remarkably easy to pull off
The whiskey world was rocked when Buffalo Trace discovered 200 bottles of its precious Pappy had gone missing in 2013. It turned out an employee had been secretly stealing bottles from 2008 up until 2015, when the ring was officially busted. But he was no criminal mastermind. The Pappy people were just keeping the bourbon in a cage with faulty hinges, and only taking inventory twice: when the bourbon was placed in there, and when it was taken out for sale. Sounds like Buffalo Trace needs to upgrade to a state-of-the-art KFC vault.
3. Only 6,000-8,000 bottles are produced per year
The Old Rip Van Winkle Distillery (or Buffalo Trace Distillery, since Old Rip Van Winkle is just a label) pumps out less than 10K bottles annually. Within a decade, the company is hoping to double its output to 15,000, but since Pappy needs to be aged so long, it's a work in progress.
4. Pappy was real and he hated science
First off, "Pappy" was a real person -- Julian P. Van Winkle. He got into the whiskey business in 1893 at the tender age of 18 and eventually became president of the Stitzel-Weller Distillery. While he was running the distillery, he kept a little sign up that said, "No Chemists Allowed." It referred to his philosophy that all you need to make good bourbon is Mother Nature and Father Time. He also, presumably, thought chemistry was for nerds.
5. But he was a stickler for bourbon law
When Van Winkle started out at Stitzel-Weller, he was a traveling salesman for one of its labels, W.L. Weller. And he didn't fully believe in the product he was selling. At the time, Weller whiskeys were altered with flavoring and coloring agents, which goes very much against the guidelines for true bourbon. (The Weller whiskey proof was also frequently corrected with grain alcohol.) Once Van Winkle seized power, he pushed hard for traditional bourbon. When someone asked him about the course correction, he gave this choice quote: "There's no one purer than a reformed prostitute."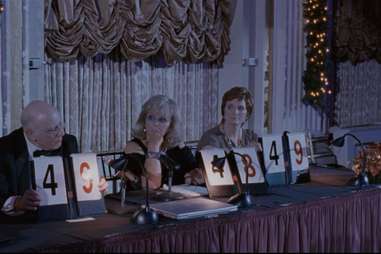 6. A rating from the Beverage Testing Institute created the Pappy frenzy
Don't worry, they scored higher than that! In the '80s and '90s, Pappy went through a rough patch. Julian III was in charge, and up against a market interested in vodka and gin, not fancy bourbons. He could only move units by selling the stuff in gimmicky jars with coal miners on 'em, until the Beverage Testing Institute stepped in. The Chicago-based group rates liquor on a scale of 100, and in 1996, the 20-year Pappy Van Winkle scored a 99. It was the highest rating ever for a whiskey. With that A+ score, Pappy was rescued from schmaltzy marketing hell and exploded into the cult it is today.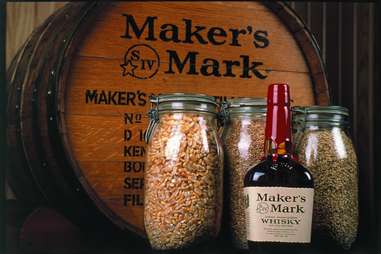 7. The Maker's Mark dude consulted with Pappy
Pappy's granddaughter Sally Van Winkle Campbell wrote a book about her family's business titled But Always Fine Bourbon: Pappy Van Winkle and the Story of Old Fitzgerald. In it, she reveals this interesting tidbit: Bill Samuels, Sr. consulted with Pappy as he was developing Maker's Mark. It's unclear just how much influence Pappy had on Bill, but both bourbons are made with wheat rather than rye, so he might've given Samuels that idea.
8. It had a recurring cameo on Justified
The FX show's prop master John Harrington managed to snagfour whole bottles before Pappy Mania swept the nation, so the beverage made sporadic cameos during the series' run. Hopefully Harrington is just as tough as those Justified dudes, because we imagine many people wanted to hurt him for that haul.
9. There's an app that tells you where it is
It's called Pappy Tracker, it's free, and it scans Twitter and Instagram for mentions in your area. You're welcome.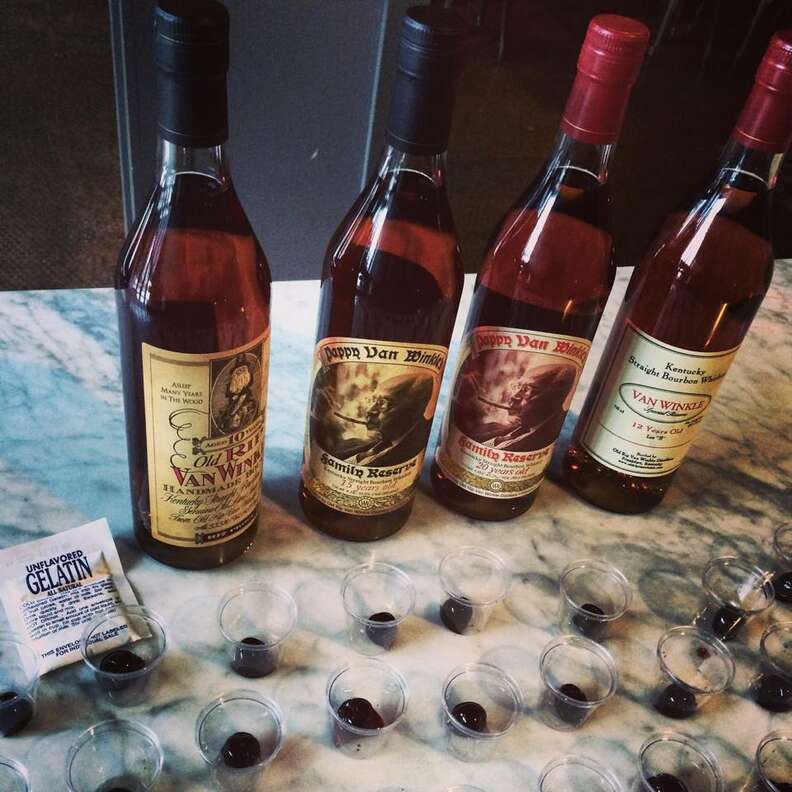 10. It makes great Jell-O shots?
Last November, the Louisville bar Meta got its hands on a few bottles. Only the staff didn't ring the siren we assume all bars have for Pappy and wait for customers to line up with $60 in hand for a pour. Instead, they proudly advertised Pappy Jell-O shots on their Facebook page. It was bold and possibly blasphemous, but when you've got the Van Winkle, you call the shots.
Kristin Hunt is a staff writer for Thrillist, and would totally try a Pappy Jell-O shot. She just has to try Pappy straight-up first. Follow her at @kristin_hunt.