11 things you didn't know about Lone Star Beer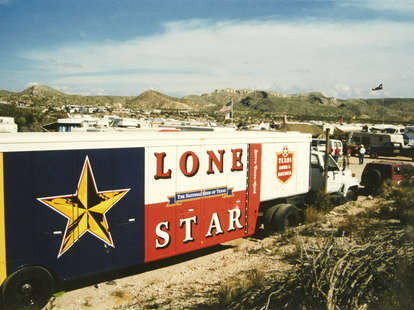 Like the state it's named for, Lone Star's history is full of big personalities, weird happenings, and armadillos. Here's just a swig of its strange and awesome tale.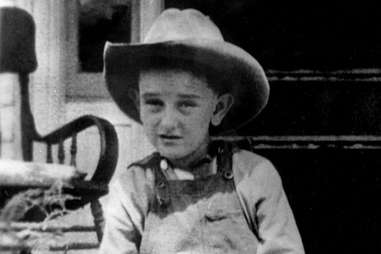 It was very presidential
Harry Jersig -- the former company president who built Lone Star into a regional monster -- began his career as a traveling candy salesman. To add efficiency to his operation, Jersig paid some kid named Lyndon Baines Johnson a quarter a day to open ranch gates for him.
It was Outlaw fuel
Back in the early '70s, Willie Nelson needed help with two things: covering his backstage crew's $90,000-a-year beer tab, and convincing rebellious Texas twentysomethings that his brand of country wasn't their dads' brand of country.
For whatever reason, those dads preferred a different San Antonio beer, making drinking Lone Star the bottled equivalent of wearing long hair. Willie saw that and struck a deal with his friend, sales manager Jerry Retzloff: Lone Star would provide beer for backstage, and Willie would enjoy that beer onstage.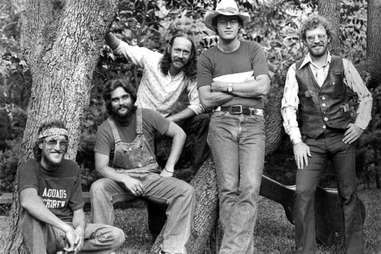 It went Gonzo
The brand had Jerry Jeff Walker's backup musicians, the Lost Gonzo Band, record a song for radio spots. The tune was eventually covered by the likes of blues legend Freddie King (hear his version here) and The Pointer Sisters. Later spots featured everyone from Kinky Friedman to David Allen Coe:
"Hi. I'm David Allan Coe, and the first thing I did when I got to Texas was meet Willie Nelson and drink a cold Lone Star, and I liked 'em both."
It got called out!
Eventually, Lone Star became so intimately associated with rebel country that when C.W. McCall wrote a song complaining about how Texas musicians were eroding family values, the chorus went "There's more to country music/Than outlaws and Lone Star beer". The irony: McCall (real name Bill Fries) started out as an ad exec for the agency that created Lone Star's iconic 1970s TV spots.
It got down with Dasypus novemcinctus
When Lone Star marketing guru Barry Sullivan brought Armadillo World Headquarters house artist Jim Franklin on to do posters, Franklin insisted they would feature armadillos. This came as no surprise: Franklin was 100% dedicated to the armored beast, and his surreal depictions grew so popular, in 1971 the UT student senate voted to replace Bevo with the armadillo as school mascot.
It saved our necks
The earliest bottles had elongated necks, but by the '70s those were dying out in favor of stubbier designs. Lone Star -- which called its bottles "longnecks" internally -- noticed that bar-goers were using the nickname too, so they made things official and slapped it on labels. Sales boomed, imitators followed, and the New York Times even wrote a mildly insulting trend story about it:
"Until a year or so ago, Texas's love affair with the longneck beer bottle was just another regional quirk, like overgrown pickup trucks and chicken-fried steak..."
It talked Turkey
When searching for the most quirkily Texas thing possible as the backdrop for those TV spots, Lone Star settled on the Cuero Turkey Trot. Now called Turkeyfest, the event still exists, and features a race between Cuero's fastest turkey -- who is always named Ruby Begonia -- and the fastest turkey from Worthington, Minnesota, who is always named Paycheck.
The winner earns the best title in the history of titles: The Traveling Turkey Trophy of Tumultuous Triumph.
It sponsored the first Austin City Limits
Back when only like 20,000 people lived within those city limits. (Okay, fine, 308,952.)
It went Hollywood
The iconic, movie poster image from 1980's Urban Cowboy is John Travolta's character "Bud" leaning back against the Gilley's bar with one of those longnecks in his hand and a belt buckle the size of a mechanical bull holding up his pants. These are the people Bud was watching while drinking his beer.
It also went Broadway
James McClure's play Lone Star is named for the beer. At one point, the lead character "Roy" (originated by Snyder, TX native Powers Boothe -- "Lamar Wyatt" in Nashville and, more importantly, "Lt. Col. Andrew Tanner" in Red Dawn) tells his brother that the prospect of once again drinking Lone Star under the stars is what kept him going in Vietnam.
The Louisiana connection runs deeper/weirder than True Detective
Back in 1991, the state of Texas banned New Orleans-brewed "Blackened Voodoo" on the grounds that it was satanic:
"We feel this kind of label and name would be detrimental to the industry as would witchcraft and other cult organizations."
In retaliation, the Louisiana legislature threatened to ban Lone Star -- a nice compliment in that it acknowledged the beer as the signature Texas beverage, but still, annoying. Texas eventually dropped the ban, and Louisiana reciprocated, once again making it okay to drink our beer on Bourbon Street.