Welcome to First Call, our weekly look at what our editors are drinking to kick off the weekend. Here, we'll be testing out new beers and liquors, and raiding our own stash for old favorites. Salud!
Cinco de Mayo is just like St. Patrick's Day. Except instead of Ireland, it's Mexico. And instead of the arrival of Christianity in the Emerald Isle, it's celebrating the defeat of the French by the Mexican army. OK, so maybe they're nothing alike. Except for the fact that they're both days everyone uses as an excuse to drink from dusk 'til dawn while mostly refusing to learn anything cultural. And that, friends, is reason enough to celebrate. Here's what you're drinking -- note the absence of Champagne.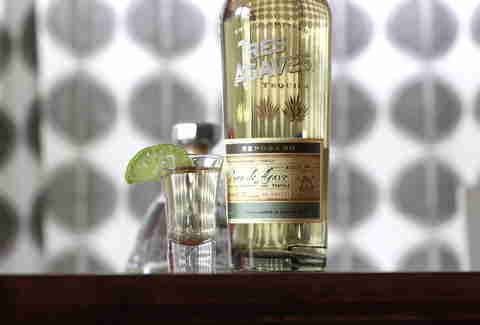 Tres Agaves reposado
You're going to do shots of tequila today. But might we recommend sipping some, too? Because this stuff's barrel-aged -- and fairly inexpensive, to boot -- and sort of deserves to be savored. Okay, fine. Just shoot it.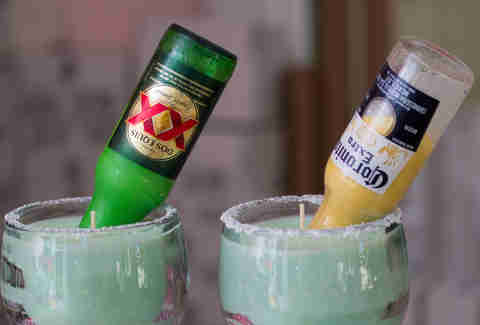 Beergaritas
You can get these suckers at most rowdy-ish bars on Cinco (I'm partial to Bunk Bar in Portland, OR), or make your own for way cheaper. All you need is a big marg glass, some Mexican beer, and a resistance to brain freeze. As you drink your cocktail, the beer replenishes the margarita. It's even better if the margarita is frozen -- if you must, just dump some tequila in a Slurpee. It's worth it.
Cruz tequila
Another excellent, sippable mid-range tequila you're going to shoot, but damn is it tasty. We recommend the silver, if only for its ability to ward off vampires and werewolves equally. Nobody wants to drink with Twilight fans.
Patrón XO Cafe Incendio
It's chocolatey. It's spicy. It's liqueur. It's also likely to bring back memories of the time you were kicked out of Starbucks for dumping tequila in your Mexican hot chocolate. Oh, and it's great over ice.
Tecate. All the Tecate.
Embrace the inevitable. And don't choke on the limes.
Andy Kryza is a senior editor on Thrillist's Food & Drink team, and also tends to use the Feast of St. Basil as an excuse to drink. Follow him to Flag Day parties: @apkryza.