Ask anyone what their favorite bar in the world is, and -- when they get around to picking one -- inevitably there will be a story. They love it because they met their wife there or it was their college hangout or they saw Donnie Wahlberg riding on a llama in the bathroom. And considering many of our editors' jobs require almost constant time in and around bars, we thought it would be fitting to ask them to tell the story of their favorite bar in the world. There were no more parameters, no limitations on words, none of that. Just tell the story of your bar.
And once you're done reading ours, we want to hear the story of your favorite bar, so feel free to drop the tale in the comments below.
Miami, FL
The 'vern, as it's affectionately known, is not a place you go for the drinks. First off, because the draft lines haven't been cleaned since UM football was relevant, and, secondly, who cares if the lines are clean when all you're drinking is light beer seasoned with the beer pong balls that have been rolling around on the floor next to the men's room all night? You go because this place is a bad-decision factory. It's what happens when you shoehorn, like, infinity people into a space with about 3ft between the bar and the wall, have limited air conditioning, tons of smoke, and give free beer to offensive linemen.
The bartender doesn't help matters, an ageless dude who we're pretty sure graduated UM Law at some point in the '90s, but chooses to bartend at a college beer bar for the, um, fringe benefits, and will keep the flat domestic suds flowing for you all night if you slip him a $20. And you'll need em: the sign reading "Warning: Manatee Area" on the ladies' room door is actually kind of alarmingly accurate. Sound awful? Maybe. But when you know every night is gonna end with a story you tell for decades, the smoke left in your clothes smells a lot sweeter. -- Matt Meltzer, editor, Miami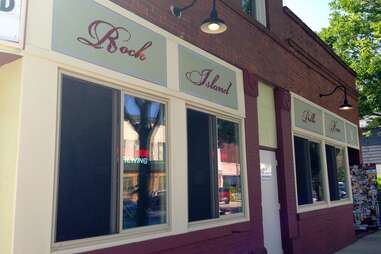 Blue Island, IL
The first thing I noticed was the tap list. A friend had recommended the place (his "favorite beer bar") when he'd heard we were making a Vito & Nick's pizza-related journey to Chicago's South Side. But I wasn't expecting a 16-tap lineup, whose quality could easily hold its own with the upper echelon of Chicago beer-geek haunts. I opted for a Founders Doom (a barrel-aged IPA that you don't see on tap much, if at all), and, as I looked around, I realized what was supposed to be a "one or two beers" stop might have to last a bit longer, seeing as it was just 3pm on a perfect Summer Saturday. The pinball and Pac-Man machines in the corner were calling. So was the old-school jukebox stocked with throwback punk classics and soul records. Then the sunny, picnic-tabled beer garden was all "stop looking at them and come over here!".
As the afternoon unfolded, we talked to the owners, Dave & Jen, who had relocated to suburban Blue Island from Chicago's Logan Square and found the area in need of a great beer bar. Turns out the refurbished building has been home to one watering hole or another since the Civil War. The hours went by. The sun went down. The beers disappeared. Dave asked if we wanted to try a Fernet-spiked Stiegl Radler concoction he'd been messing around with. Why, yes, we did! We left knowing we'd be back even though it isn't close to home, but every time we make the trip South, it feels like we are. -- Matt Lynch, senior editor, Cities
Dallas, TX
Here in New York, my favorite bar is Whiskey Tavern (if you've ever had Rob Magill make you a penis-shaped Twinkie cake on your birthday you know why), but in the whole wide world it's The Amsterdam Bar in my hometown. Every kind of person that Dallas haters say you'll never meet in Dallas, I did meet, either there, or at the dearly departed XPO down the street. An art dealer who was a child prodigy corresponded with Norman Rockwell. An obscene French director who loved Southern Comfort. A behemoth punk singer, who, in 1991, punched Kurt Cobain in the face after Cobain smashed a guitar over his tattooed head. I day-drank next to him once when the bar was otherwise empty. For 30 minutes he said nothing, then without turning his head, he asked if I knew what it was like to take a s*** in a cotton field. I'm still searching for an appropriate response.
Oh, and, hi Mike. -- David Blend, executive editor, Special Content
London, UK
Little known fact: in-between Animal Farm and 1984, George Orwell wrote an essay on the perfect bar. In it, he produced a list of 10 points which make up the basic recipe for the drinking man's utopia. Well, I've looked through the list, and my own all-time favorite watering hole -- Freud in London -- does literally none of them. Not one. In fact, more often than not, it does the exact opposite of what Orwell recommends.
The architecture isn't "uncompromisingly Victorian", unless by some fluke the Victorians were known for their bare concrete walls covered in mind-bending artwork. The house posseses both a radio and a piano (gasp!), and no one -- from bartenders to patrons -- gives a sh*t about whether you like what they're playing. It isn't quiet, and you need to talk extremely loudly to overcome the charged, giddy atmosphere. The pint glasses? They're filled with cheap, delicious cocktails (sorry "creamy draught stout"). You technically can get "a decent lunch upstairs", but only because upstairs is the outside world, and the bar is in a basement below a furniture shop. It's tiny, it's fun, and there is no Wi-Fi. And on a good night, it's damn perfect. -- Jason Allen, editor, London

Meridian, MS
If there ever was a beacon of boozy hope in a vast American wasteland, Weidmann's Restaurant is it. Like the last of the Mohicans or whichever dude held on longest at the Alamo, this stalwart split-level establishment has been serving Meridian -- a onetime Mississippi railway hub that's seen way better days -- since 1870. One look at the white tablecloths, lavish bartop, and high-ceiling dining room, though, and it's clear Weidmann's has no intention of packing it in just yet.
One night, some Marines and I (Meridian has a big ol' military base) had barricaded ourselves in the upstairs bar for serious drinking and Southern rock when a scuffle broke out amongst the troops. Naturally, I cowered in the corner with an extra Abita while the damage was done, but tell you what: you know you're in a real-deal Dixie bar when the band doesn't even bother to stop playing for a brawl. If you're passing through, stop in and have a drink. -- Dave Infante, senior writer, National Food/Drink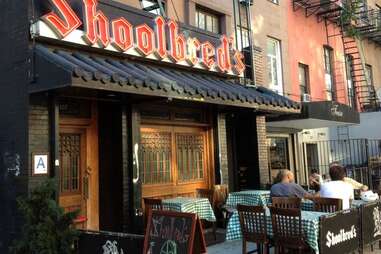 New York, NY
Before you've settled into a new city, you'll inevitably wind up drinking at its worst bars. It's like freshman year of college when you think you're going to be best friends with your roommate forever, only to discover nine months later that he doesn't really talk about anything besides Xbox Live and the dining hall menu. Or maybe that was just me. Anyway, a few weeks after I moved to New York, I wandered into Shoolbred's one blustery Sunday afternoon and realized immediately it would be the exception to the rule. I knew that half a staircase beneath a wide Second Avenue sidewalk in the East Village's evaporating Little Poland was not the proper place for a low-ceilinged Scottish drinkery with a fireplace. But like all the bars on this list, the bizarre circumstances just sorta add to Shoolbred's charm.
There are probably 10 beers on tap -- nothing too special -- the cocktails are serviceable, and the food is good (and, blessedly, not particularly Scottish). But if you can get the way-back booth on a Friday night, the one I like to call the Darjeeling Limited because of its resemblance to a Wes Andersonified train cabin, call your friends and settle in. Actually, call me too, because, for my money, there's no better place to get loaded. I'll buy the next round. -- Dave Infante, senior writer, National Food/Drink

East Lansing, MI
There comes a time in every man's life when he stops drinking $1 fizzy beer from plastic cups. For most of us, that time is called hospice. But for Michigan State students, Crunchy's makes the transition from cheap beer to craft beer seamless. On the outskirts of a town populated with energy drink/vodka specials, Crunchy's offers nearly 30 taps ranging from Bud to a steady flow of micros from Founders, Bell's, and international brewers. And if a big-ass mug of stout's too grown-up, you can also order by the bucket: not a six-pack in ice, but draught beer poured directly into a goddamn mop bucket, served alongside gigantic pizza and no-frills burgers to offer some padding during a bucket race with opposing tables.
Those buckets also make for some of the best/worst karaoke in the world, with horrible renditions of Neil Diamond belted out in a dark room where the names of previous regulars are carved into the walls. This is a dangerous, dangerous place. A place whose $6 burger-and-beer special led directly to my failing Forestry 101... twice. A place where making out with strangers is a regular pastime. And a place where you can transition from a stranger-fondling college kid to a stranger-fondling adult with ease. They say your first love is your greatest. I will always love Crunchy's. And also that one chick who made out with me after I totally slaughtered "Forever in Blue Jeans". -- Andy Kryza, senior associate editor, National Food/Drink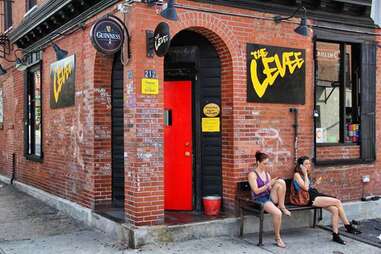 Brooklyn, NY
Being from Florida, I'm pretty accustomed to all things bizarre, misunderstood, and meth-addled. The Levee is no exception. Today, the bar is more of an attraction than a legitimate dive destination, but when I first moved to Brooklyn back in 2010, it was everything. Like Herbie, the bar is fully loaded with entertainment. Traditional Jenga is cast aside in favor of a Sharpie-scribbled Drunken Tower, the Buck Hunter machine operates, but the aim is so uncalibrated that only the most inebriated Southern transplant could ever stand a chance, and playing the nude Photo Hunt invokes the same feeling you once had when stumbling across a stack of discarded Playboy's in some weird old dude's recycling bin.
Beer/shot combos are aplenty, low-end, and stereotypically named after the people who would order them; a Texas Two Step (Lone Star + tequila shot), for instance, clocks in at $5. For eats, they offer unlimited plastic bowls of cheeseballs and what is perhaps, simultaneously, the best and worst hot dog I've ever had. On one occasion, my birthday, I exited the establishment… a bit over-served I suppose, and proceeded to pee my initials on the sidewalk before gracefully & flawlessly jumping through a yellow cab's window when he denied my request for a lift home. As my girlfriend stood watching, impressed, but, like, TOTALLY NOT IMPRESSED, I knew this place was magical. She's still with me, two years later. Did the Levee have anything to do with the longevity of our love connection? Maybe not. But maybe, just maybe, it did. -- Alex Robinson, editor, Supercompressor
Springfield, MA
For the first 15 years, I didn't know it had a front door. My Grandfather, Ray Tuller, basically lived in the Prince. He ate there AT LEAST four times a week, and probably drank there more. We always parked in a lot in the back, and would wander through an unmarked door, Goodfellas-style, passing older waitresses changing for their shifts, which is not as hot as it sounds. And miraculously, every night, the back table kitty-cornering the bar was always there, waiting for us. If you think that sort of thing is sweet now, imagine being six-years old. I've never felt so cool. But that bar though... it's a hand-crafted wooden bar built in 1935 and adorned with thousands of ornate, hand-painted steins crowding every nook and crevice. Once I was finally of age(ish) and at college 20 minutes away in Hartford, I'd come in with my Grandfather, and we'd sit at said bar eating fried cheese with sweet-hot mustard, drinking boots of "half and halfs" of light and dark German beer, and just talk shit.
My Grandfather was one of the great sophists, a man who would take the opposite side of an issue strictly because agreement was boring, and he'd verbally dismantle you, mostly with logic, or, if that didn't work, bluster. We'd sit at that bar for hours, me drinking steins, him switching to Beefeater and soda, and go through politics, sports, and history. Then he'd get bored of talking to me, and find Rupprecht, the owner, or, later, his son Rudi, and harangue them in German (he was a translator during WWII). When my Grandfather died in 2009, I gave the eulogy, then we all went to the Prince, sat up at the bar, ordered half and halfs, and talked shit. It was what he would've wanted, even if we did embarrass him by coming through the front. -- Kevin Alexander, executive editor, National Food/Drink
Denver, CO
I've definitely spent more money playing pinball here than I have on booze. And there's plenty to like behind the bar -- they always have a bunch of local craft beer on tap (try Dry Dock's Apricot Blonde). But I don't come here for the booze. I come here because as a kid, I loved it when my Mom would give me a dollar to get beaten badly at NBA Jam and Streetfighter 2 inside our town's one arcade. So when I walk into 1up and see all the old-school video-game cabinets and pinball machines lined up just the way they were in the Christiana Mall in 1992, and then reach into my wallet and see a few bills, I feel simultaneously like a kid and a billionaire.
I always end up shoving a Hamilton like it's nothing into their change machine and playing pinball and Ms. Pac-Man until my hands get sore. At night, the bar turns into something of a scene. I avoid it then. But at 4pm on a Friday, when I'm standing inside a half-empty bar, my favorite Colorado beer cradled in the cup-holder on the side of the Family Guy pinball machine, and I'm locked in because I just got a damn multi-ball, there's nothing better. -- Lee Breslouer, senior editor, National Food/Drink
Madison, WI
Memorial Union at the University of Wisconsin-Madison is the only student union in the country that serves beer. I'm pretty sure that's a lie. But damn did every person I went to college with do their best to braggartly perpetuate the beautiful untruth as we sat around the sprawling, Lake Mendota-fronting Terrace, downing pitchers of Spaten Optimator and looking at boats we didn't have access to and nodding our heads to free concerts.
The true mark of badassery in school was to have a heisted metal Terrace Chair -- whose backs are cut out in a trademark sunburst pattern -- sitting in your backyard, where the cops couldn't see the product of your larceny from the street. They're also wildly uncomfortable, but hey, that's what the beer's for. I'd always bring cards, and Euchre reigned (it is the Midwest), but one time I played Asshole with my mother, who had such an… ummmm… unequivocally fun time that she got lost in the woods on the way home. She was staying nowhere near any woods. She told me never to tell my father, and that she couldn't wait to go back next time. -- Ben Robinson, editorial director
Austin, TX
My former weirdo psych-rock band was the first band to ever play here back when it was just the bombed out remains of one of the last legitimately dangerous Tejano bars in East Austin. They were serving beers out of an ice chest and whole coconuts pierced with long straws, and I'd be surprised if the term "up to code" applied to anything in the place.
Since then Cheer Up has grown into one of the last true vestiges of Austin counter-culture. The queer-leaning, but still-inclusive dive quickly became a clubhouse for Austin's creative class, hosting some of Austin's best bands, DJs, and police officers drawn by said DJs. Over time they added a lean/mean list of tap beers buoyed by Austin Beerworks, eats from one of my favorite food trailers in town (Me So Hungry, RIP), and a bandstand designed by a NASA engineer to earmuff the APD. Next thing you know, the place isn't a dive at all anymore, and it could make the front page of Design*Sponge in a somehow not-annoying way.
When their land was bought out from under them, the old space was sent off with a DJ set from yours truly, a fireworks show, and flaming Chinese lanterns that literally lit a tree on fire while Whitney Houston's "I Will Always Love You" played in the background. They've since re-opened in the city's historic Red River music district, and, while everything's now up to code, they're still playing by their own rules. -- Dan Gentile, staff writer, National Food/Drink
Brooklyn, NY
From day one (or rather before day one since I was stalking this place before it opened), I loved Radegast. It's the one place in NYC where I cannot remember ever having a bad time. I would come here, play cards, eat sausages and giant pretzels, drink liters full of beer, and it was all good. But then they went and did something crazy and got even better over the years, which is a borderline impossibility when your favorite bar changes. They added a giant back room with more space and extra bathrooms that featured craftier and more refined beers I never ordered because I still always wanted the liter, and they added a roving band that occasionally stands on your table and sings, and I loved EVERY. SINGLE. THING. ABOUT. IT. I've walked in here a few times thinking it's too crowded or too loud or just too much of a hassle, but I've never walked out feeling that way. -- Andrew Zimmer, editor, New York
Sewanee, TN
Sewanee -- both the tiny, mountaintop town and the college that makes it up -- is a weird, magical place. While the entire campus, with its towering Gothic architecture, could be the set for a Southern Harry Potter remake, Shenanigans is… not that at all. It's a ramshackle, bright blue, wooden building that, until a few years ago, leaned at about a 30-degree angle, held up by giant steel cables. (On the plus side, you can now open the front door without leaning a shoulder into it. But... it no longer leans.) They have a solid draft lineup -- probably eight taps pouring everything from McSorley's to Jackalope, but the beer never really mattered. (The spicy turkey melts did, however.)
What mattered was that, for most of my college years and for that of most alumni who graduated off the Mountain since the place opened in the '70s, Shenans was both the only restaurant and the only bar in town. Its long wooden tables, etched with initials and frat letters, were the only places where your parents could steal you a Mason jar, so, while almost-of-age, you could share a beer with them. It was where after-hours discussions with a professor would move to, because a shared pitcher is a much more fitting way to analyze Faulkner than is a classroom. But, also, its creaking front porch -- and the steps and front yard as the night wore on -- was the only place to drink for hours with friends, who always encouraged individual pitchers, while the sun set in Tennessee, and to get nostalgic about Sewanee before you'd even left. -- Liz Childers, editorial assistant, National Food/Drink
San Francisco, CA
The Black Horse London Pub is 19ft long and 7ft wide. 19ft long. And 7ft wide. It's officially the smallest bar in San Francisco -- the fire code says the capacity is 22, but I'm honestly not even sure it could fit that many people. All of the beers are bottled (they've get a delicatessen liquor license, which explains the "Black Horse London Deli" sign out front) and all of them are kept in an ice-filled, claw-footed porcelain tub squeezed behind the bar. The beers rotate based on whatever the owner James "Big Dog" King picks up at the grocery store, the music is managed by whoever's tending the, uh, bathtub (Cassie FTW!), and there's maybe a dice-filled cup behind the bar you can play 1-4-24 with.
Best of all -- even though it's small, that didn't stop them from trying to cram everything you'd find in a normal-sized pub (pewter mugs, Guinness artwork, soccer scarves, a comical dart board that I'm not ever sure how you'd play...) into the 133sqft space. What makes it my own all-time favorite, though, is the unintentional exclusivity of the whole thing -- you don't need a password to get in, or a reservation, or someone who can get you on a list. You just have to grab a wad of cash, cross your fingers, and hope one of the eight stools is open when you show up. -- Grant Marek, senior editor, West Coast