Our editors reveal their 12 favorite beers of all time
When I first asked my fellow Thrillist writers & editors to pen odes to their absolute favorite beers, I was met with more than a little chagrin & debate. How am I supposed to pick just one?!, they cried out, flummoxed. That's like choosing your favorite child! It can't be done! Of course, it can be done: just like you can love all your kids while preferring the angels over the agitants, you can love all beers while reserving a special place in your heart/stomach for a certain brew. So we each did some serious reflecting/drinking, then picked the beer that we always come back to, the one that we automatically order if it's listed on a menu or chalkboard. Are these the best beers? Who knows. But with extreme bias and an absolute absence of rationality, these are our favorites.
Let us know what your favorite is in the comments!
Anchor Christmas Ale
Winter warmer, ~5.5%
San Francisco, CA
So here's how this works: every year, Anchor Brewing Company -- one of the best craft brewers in the entire freaking galactic cluster -- makes a Christmas ale, and every year they use a different recipe, and a different hand-drawn label, and it's only sold November to mid-January, and it still somehow manages to makes you feel like you could piss raindrops on roses and whiskers on kittens. It's always dark, and full-bodied, and provides more of a liquid polar fleece than a blanket. And come February, without fail, you'll wish you'd stocked up on some for the not-winter. - Grant Marek, editor, Cities
Anchor Liberty Ale
American IPA, 5.9%
San Francisco, CA
Yes, I am British, and yes, my favourite-with-a-u beer is Anchor's Liberty Ale. It was first famously brewed in 1975 to celebrate the bicentennial of America's independence from Britain, which they've spent the last 200 years not shutting up about. I am aware that makes me a sort of reverse, booze Benedict Arnold to both my country and its fine brewing heritage (the IPAs no doubt littering this list? That's a British style.), still, I like to think that I'm above such petty politics. And when Liberty Ale isn't stabbing my tongue in the back, it's rewarding it with a close-to-perfect balance of hoppy bitterness and malty sweetness, with just a suggestion of citrus & honey to tie it all together. It doesn't overstimulate your taste buds like so many hop-filled crafts, but it still rewards you with all those glorious subtleties that lighter beers miss. It's amazing -- and I'm sure they all sing "The Star Spangled Banner" when they make it, but I can live with that. After all, it is a British drinking song. - Jason Allen, editor, Cities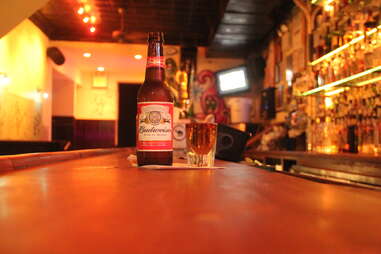 Bud with a shot of Jack
American lager/Tennessee whiskey, 5%/45%
St. Louis, MO/Lynchburg, TN
I was delighted when I learned that one of America's oldest breweries had gotten caught up in the collaborative spirit championed by our nation's craft beer movement. To me, "Bud with a shot of Jack" takes the adventurousness of that movement to new heights with its fearless foray into the world of spirits, going one step further than barrel-aged beer by actually incorporating whiskey into the recipe -- giving the consumer not only notes of charred oak, but also notes of alcohol. If this is where beer is heading, sign me up and put me on the bus, and tell the bus driver to drop me off at a bar because buses are cramped and uncomfortable. - David Blend, executive editor, Thrillist
Bell's Two Hearted Ale
American India pale ale, 7%
Kalamazoo, MI
I'm fortunate enough to live in Portland, OR, home of the best beer scene in the country -- nay, the world -- and love to rub it in people's faces. I've got instant access to great breweries like Breakside, Hair of the Dog, Gigantic, Boneyard, Burnside, Ninkasi, and Ecliptic. I can't recall a meal that wasn't paired with a great beer you schmucks haven't heard of. But I'm a Michigan boy, and every single time I have an award-winning beer to complement my food, football, or early afternoon (just being honest!), I secretly wish it was a Bell's Two Hearted. This is the first great beer I drank. I didn't even know it was an IPA -- or what an IPA was -- when I first made out with its bottle, and to this day it defies the hoppy suckerpunch of most IPAs. It's just a damn fine sipping beer: strong and full-bodied, yet infinitely drinkable. In bars throughout Portland, you see Bell's stickers slapped up on the coolers, giving hope that you'll score a bottle hidden in some barback's cellar. Fat chance. It's the great white whale. If you're in the Midwest, where it pours freely, count yourself thankful. Even the most badass of brewers in a city that calls itself Brewvana crave it. Whales, apparently, are delicious. - Andy Kryza, associate senior editor, Food & Drink
Funky Buddha Floridian
Hefeweizen, 5.2%
Oakland Park, FL
The folks at Funky Buddha -- who make beers that taste like peanut butter & jelly sandwiches and Reese's cups -- set out to make a beer that tasted like their home state. And since you can't really make anything taste like identity theft, Medicare fraud, and home foreclosures, they instead opted for citrus, banana, and cloves. Which taste much better on a hot day, and also make for a Heff that tastes like it could come from nowhere else.
An added bonus is that while it's pretty ubiquitous in decent bars in Central and South Florida, you won't find it anywhere near a $12-for-a-Bud Light club or"ultralounge". Meaning it really is a beer for full-time residents, and not people who have condos they visit twice a year but claim to be Floridians for tax purposes. - Matt Meltzer, editor, Travel
Goose Island Bourbon County Brand Stout
Imperial stout, 14.25%
Chicago, IL
When the big boys at Anheuser-Busch snapped up Goose Island a few years back, chief among the craft beer community's many concerns ran something along the lines of "if they ruin Bourbon County Stout, so help me God..." Thankfully, it's been so far, so good for this godfather of heavy, viscous, barrel-aged stouts that have become objects of obsession for many a beer-drinker. It's still perfectly balanced and far more satisfying (and typically at a lower price point) than many younger upstarts. Also (and I realize this may be a way of cheating and cramming multiple beers into one entry) their special release variants continue to be incredible, from the coffee stout collabs with Intelligentsia to (rumor has it, haven't tried it yet) this year's Vanilla Rye. It's perfectly acceptable to get up unspeakably early on Black Friday to wait in line for it, which is more than I can say for discounted electronics. - Matt Lynch, editor, Cities
Great Divide Chocolate Oak Aged Yeti
Imperial stout, 9.5%
Denver, CO
The first beer I truly loved was Guinness. When I drank it the most I was in college, a bright-eyed, curly-haired young man with a bulky Nokia phone, a pathetic score on Snake, and a taste for stouts. Guinness was smooth and creamy in ways those cheap light beers my friends drank never were. I understood why it was one of the world's most popular beers. Years later, I was introduced to Great Divide. When you live in Colorado, you'll see bumper stickers all over the place that say "I Believe" on them with a picture of a Yeti, the beer's mascot. There is a mystique to the beer. Once I finally had it, I became a believer. Every version of Yeti released usually becomes my favorite. This past year it was the Chocolate, a smooth, cocoa-forward stout that makes me happy in a way that first sip of Guinness did. I haven't played Snake in a while, but I'm probably still horrible. - Lee Breslouer, senior editor, Food & Drink
Left Hand Milk Stout Nitro
Milk stout, 6%
Longmont, CO
Back in the '80s, before "kale" was even a thing for my Dad to be clueless about, he had a long-ish career in the beer industry. As such, I was raised to revere beer generally, and above all, the dogma of draught over everything. Later, when I discovered I absolutely abhorred IPAs, stouts became my go-to high-ABV option. So when I heard that Left Hand had devised a nitrogen bottling method that delivered on-tap smoothness in a bottle, without the rattling widgetry used by Guinness et al., I had to try it. And lord, is it something. Creamy like dairy, with nary a belch-inducing bubble, this oil-black stout is sweet on the tongue and absolutely void of the harsh CO2 bite you encounter in most bottled brews. Just watching the head reverse-cascade up the side of someone else's glass is enough to Pavlov me into ordering my own. Obviously, it's also a delicious treat on tap, but I keep coming back to the nifty Nitro bottles for their intrigue, convenience, and downright drinkability. - Dave Infante, senior writer, Food & Drink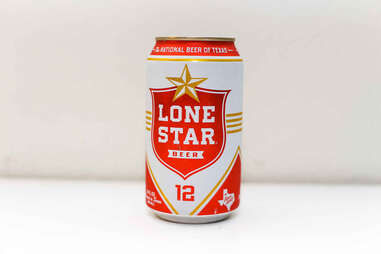 Lone Star Beer
American lager, 4.65%
San Antonio, TX
Condensing my love for Lone Star into such a small space is difficult. Almost a year ago, I wrote a big-as-Texas treatise on my love of my state's national beer, and to this day my feelings haven't changed. It's still my favorite. Like an old worn-in catcher's mitt, in both sentimentality and flavor, Lone Star isn't a beer you drink because of the bouquet of Old World hops or the foamy creamsicle head. You drink it because it's 103 degrees outside . Or because a pitmaster just handed it to you while in line for barbecue. Or because it's actually cheaper than bottled water. But mostly because, like so many things in Texas, it's simply tradition. - Dan Gentile, staff writer, Food & Drink
Oskar Blues Gubna
Imperial IPA, 10%
Lyons, CO
Here's the thing I love about Gubna, the big boy on the roster of Dale's Pale Ale maker Oskar Blues: it looks like a can of off-brand soda. Or maybe some kind of energy drink for Alabama fans. Which all means that if you wanted to walk around town sipping a 10%, hyper-resiny, dry-hopped, absolutely delicious double IPA without a single person noticing, you could do that. Theoretically. This is all really theoretical. - Ben Robinson,editorial director, Thrillist
Unibroue Raftman
Belgian pale ale, 5.5%
Chambly, Quebec, Canada
I was going to go with a Coors Light, or maybe a loaded Landshark (Jimmy Buffett's beer topped off with tequila, preferably paired with a fried fish sandwich). Those are beers I've drank consistently during the best parties of my life. But Raftman? This smoky Canadian bastard kinda changed my whole outlook on beer. There was a place near my college that specialized in craft beer and did a mug club: 50 beers and you got a custom goblet with your name on it, hanging behind the bar forever. As a 21-year-old, this is just about the coolest, most important thing in the world, and so I found myself drinking beers I otherwise never would've as a college student. It's a peat-smoked whiskey amber -- rich and a little sweet. I loved it. I still compare all new beer-drinking experiences to that epiphany, and order it every time I see its peculiar label. - Andrew Zimmer, editor, Thrillist New York
Unibroue La Fin du Monde
Belgian-style tripel, 9%
Chambly, Quebec, Canada
There's a stable of at least a dozen beers that constantly rotate through as my "favorites", but there's absolutely none that have had a more transformative effect on me than Fin du Monde. I went to college in Montreal, where the legal drinking age is a ripe 18-years-old. This meant us wet-behind-the-ears freshmen had free reign to shop for beers like full-blown adults. One night, my roommate and I were standing in the dep (French-Canadian for bodega) when he suggested we try this "end of the world" beer, mostly because "9% is really strong". I remember sitting in the common room with friends as I took my first sip, and I was instantly blown away. Beer can taste like this? But... it has flavor! Lots of flavor! And I want more of it in my mouth! The clove spiciness, the plums, the full-bodied goodness... all of these things made the boring lagers I had tasted up to that point seem downright sad. I don't know where I would be today without this beer. As homage, I carry it at my shop and never let it go out of stock. - Zach Mack, beer contributor & owner of ABC Beer Co.
Dave Infante is a senior writer for Thrillist Food & Drink. He is a drinker of all beers, and a lover of most. Follow @dinfontay on Twitter, Instagram, and Snapchat.