Beyond Hooters: 9 restaurants to visit for the wings, or whatever
If you tell your friends you're going to Hooters, you're basically telling everyone you know, "My life will be empty unless I see the upper part of a boob within the next hour, so I'm gonna go do that for a little while". A smarter option is to go to another eating and drinking establishment where the women are similarly not wearing very much. Don't worry, none of your friends will figure out that the servers at Mugs 'N Jugs are scantily clad.
Here are nine different bars and restaurants carrying the Hooters torch:
Bikinis Sports Bar & Grill (Texas, Oklahoma)
The proprietor of Bikinis is so insanely devoted to the sanctity of half-naked servers that he set up an entire town in their honor. Really! Carmen Electra even visits sometimes. If you don't feel like making the pilgrimage out to Bikinis, Texas, you could just visit one of the 11 restaurants in TX, or one in OKC.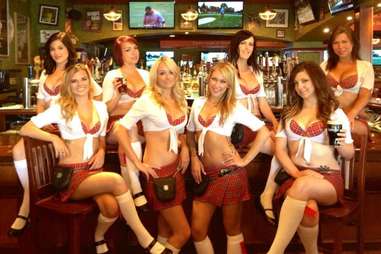 Tilted Kilt (Locations in 30 states, plus six in Canada)
Crawling with tartan-clad lasses, this chain offers traditional pub fare like fish 'n chips and shepherd's pie, though you'll have to go someplace else for sexed-up haggis.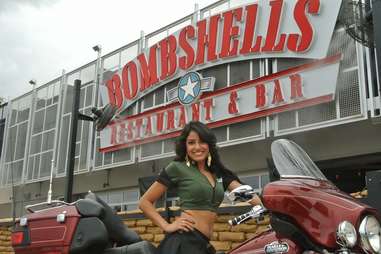 Bombshells Restaurant & Bar (Dallas, TX)
And it doesn't just have that name because of the servers. Bombshells is actually WWII-themed -- the walls are decked out with bullets and vintage military helmets, the signature drinks include the Pearl Harbor, and apparently the staff is full of major generals, 'cause the waitresses' uniforms even feature two gold stars along the neck.
Twin Peaks (Locations in 21 states)
Boasting food, drink, and "scenic views" (get it??!!), Twin Peaks is stationed in a staggering 21 states. Even more staggering? Their commitment to any and all holidays. When they aren't wearing their trademark plaid belly shirts, the waitresses wear stuff like sexy Santa gear for Christmas, cropped camo for Veterans Day, and black corsets for... Black Friday.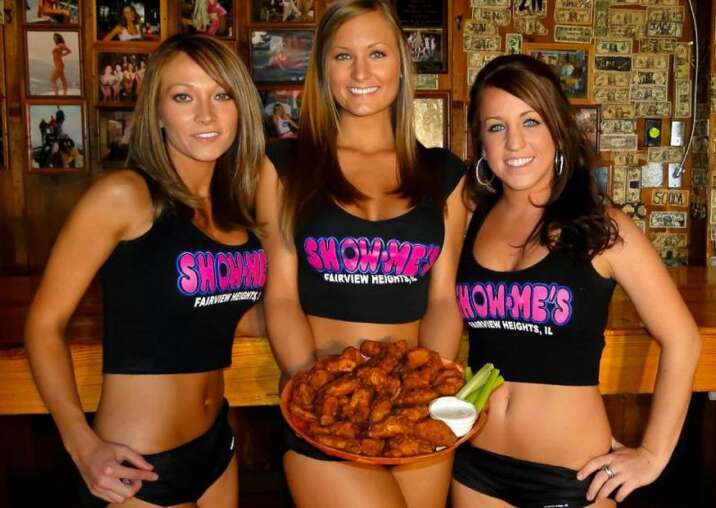 Show-Me's (Kentucky, Indiana, Illinois, Missouri, Ohio)
It's supposedly named in a nod to Missouri, the Show-Me State, but the place also graces the great states of Kentucky, Ohio, Indiana, and Illinois. They encourage you to "have an appetite for fun", so go ahead and get TWO garden-fresh salads, you madman!

Heart Attack Grill (Las Vegas, NV)
You might better know this Las Vegas spot as the grill that gives people actual heart attacks, or whose owner is unafraid to wave around your ashes on live TV. But don't forget about the nurses -- okay, waitresses in nurse uniforms -- who tend to customers taking on the Quadruple Bypass Burger.

Bone Daddy's (Six locations in Texas)
This Texas chain might boast "BBQ, beer, and daddy's girls", but please don't ask any female person there if you're their daddy. Or if you do, at least tip them well.

Mugs 'N Jugs (Tampa Bay, FL)
This Tampa Bay bar offers beer bucket specials, massive sports packages, and karaoke every single night -- meaning no matter which day you show up, you'll still have plenty of chances to embarrass yourself in front of a woman who's completely out of your league.

Ojos Locos (Six locations in Texas)
That means "crazy eyes" for those of you who skipped high school Spanish, and it's what you'll be after taking one of their many tequila shots.
Rod Domino is a freelance writer and entrepreneur still seeking investors for restaurant concepts based on David Lynch films, including The Elephant Ear Man and Fire Wok with Me. Follow him to damn fine coffee via @roddomino.