Shutterstock/Mitchell Maglio (edited)
Bros: they're everywhere. Quoting Archer. Shotgunning beers. Rolling deep to survivor hour with their entire pledge class because THEY RUN THIS SH*T. Maybe you know one. Maybe you date one. Maybe you are one. No matter what, if you've been to a college campus in the past 20 years, you've seen the American Bro.
Here at Thrillist, we're uniquely fascinated by him, so in honor of College Week and the blessed return of college football, we've tracked down bro specimens from every single one of the AP Poll's Preseason Top 25 football schools (ED NOTE: yes, we know the season has started but RESEARCH TAKES TIME OKAY?). From the preppy knolls of Chapel Hill, to the frigid quads in Columbus, to the hella-hyphy whateverland of California, these are the bros you'll encounter at each football powerhouse. Godspeed.

1. Florida State
What he's wearing:(EDITOR'S NOTE: our incredibly thorough sources at FSU insisted that FSU frat guys fall into one of three categories: South Florida Bros of Sigma Phi Epsilon (SFB), Georgia-Florida Flop of Sigma Chi or Kappa Alpha (GFF), and the Gulf Coaster of Pi Kappa Alpha (GC). For accuracy purposes -- and because it's kinda awesome that they broke it down so extensively -- we will include all.)
SFB: Lots of hair product, teeth-whitener, and an intensely tight Thursday night clubbing outfit involving designer jeans and some sort of pressed button-down, or a date function T-shirt "ordered two sizes too big so that he can promptly cut off the sleeves for the perfect gym fit"
GFF: Long shaggy hair, which makes him constantly swoop his head to get it to flop and sit perfectly across his forehead, a tattered, worn baseball cap that is either "a dingy yellow that used to be white, or a dark camo plastered with his frat letters across the top"; khaki shorts "above the knee", or jeans with boots, and a Bid Day shirt
GC: FSU game day polo, Costas, boat shoes
What he's saying:
SFB: "You guys going to Vegas for Electric Zoo?"
GFF: "Y'all seen the pledges? Someone better drive me to Ken's."
GC: "You ever caught any tarpon with that thing?"
Turn-ons:
SFB: Shaving body hair, DGs and Tri Delts, basketball electives, the sun
GFF: Southern girls, drinking whiskey with your Dad, executing the perfect swoop
GC: Key West, fishing, wake boarding, boating, intramural sports, girls from KD and ZTA
Turn-offs:
SFB: Razor burn, a bad flossing routine, dive bars, clouds
GFF: Yankees, vodka, an inability to properly swoop, emotional honesty
GC: Being landlocked
Most frequented bars:
SFB: Baja's Beach Club
GFF: Ken's Tavern ("most of them have their own mug")
GC: Collegetown and Recess nightclub ("there is a damn roof deck pool")
EVERYONE: Potbelly's infamous Friday Happy Hour ("aka Frat bellies, the Greek Melting Pot")
Most coveted car:
SFB: Lexus or Mercedes SUV ("with the windows rolled down because sun and tanning")
GFF: Jacked up Chevy Truck covered in mud
GC: A Ford Truck or Jeep Wrangler with a decal of his frat letters, plus "Salt Life" and "Guy Harvery" stickers

2. University of Alabama
What he's wearing: Khaki shorts; a crimson polo shirt (one of his collection of 15 that are each just slightly different enough to justify buying another Alabama shirt), faded brown loafers; hair that is cut at just the right length so it brushes his eyebrows when he has his UA hat on, which is always
What he's saying: "Man, so much [Redacted: Johnny Depp movie] at SAE last night", "See the new girls moving into the Tut?"
Turn-ons: Bear Bryant, National championships, the Machine, girls in Nike running shirts and oversized Greek party shirts
Turn-offs: OOS kids, GDIs, Sperrys that haven't been broken in
Most frequented bars: Anywhere on the Strip, Galette's late-night
Most coveted car: Black Jeep Grand Cherokee

3. Oregon
What he's wearing: Green and yellow everything; Or a neon tank top, neon sunglasses, knockoff holiday sweaters, and anything with the Stars and Stripes on it, because even the frat guys in Oregon have a little ironic hipster in them.
What he's saying: "I'm totally going to the Gorge for Sasquatch, Paradiso, AND DMB this year"; "You going to Taylor's?"; "I'm going to crush an entire Heptathlon at Track Town"
Turn-ons: Bleach blonde hair; vape pens; girls in scissored-up shirts; making the quacking noise while doing sex; watching Marcus Mariota run
Turn-offs: Beavers; boring, normal brown hair; people suggesting they go to Rennie's Landing; watching Marcus Mariota get tackled
Most frequented bars: Taylor's -- especially on Dollar Beer Wednesdays; Rennie's Landing if they're feeling not-fratty... actually, scratch that, that never really happens
Most coveted car: 2005 extended cab pick-up/SUV built specifically for camping and long weekends boozing and cruising en route to Mt. Shasta or a music festival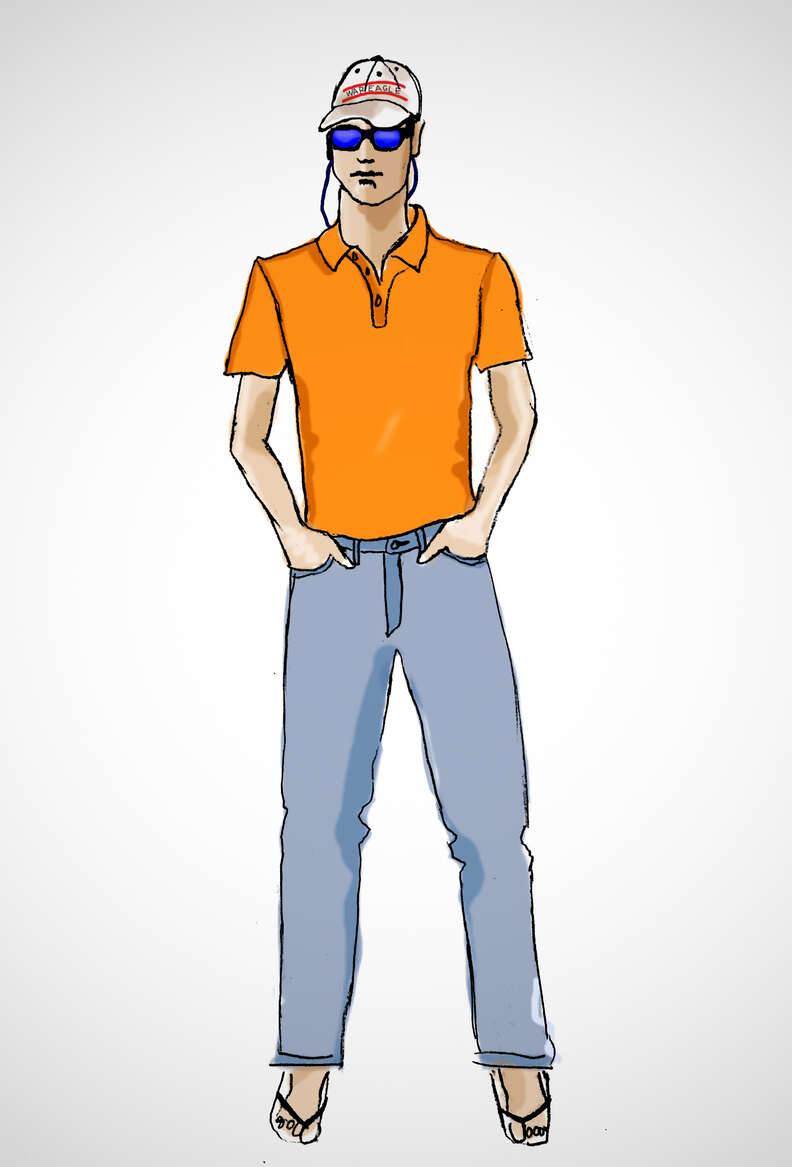 4. Oklahoma
What he's wearing: Polo oxford; short Polo shorts; Polo underwear; Polo hat; Polo cologne; for jeans, either $20 Wranglers with a dip can imprint on the back left pocket or $200 designer jeans. There is no middle ground; on game day, an OU polo, Ray-Bans, and Sperrys
What he's saying: "Where are you staying for OU/TX?"; "You wanna do a frat lap at Seven47?"; "I hate Seven47, I'm never going back there again"; "I can't believe I went to Seven47 again"; "I wish Fat Sandwich was still here"; "Let's go to Sugars!"
Turn-ons: Bob Stoops' visor; intramural sports; FIFA; "Texas beer"; Dave Matthews Band; Adrian Peterson; blonde sorority girls wearing the exact same thing as every other blonde sorority girl; watching "Malcolm Kelly Freestyle" on YouTube; Colorado weed
Turn-offs: Liberals; longboarders; GDIs; graphic tees; Longhorns
Most frequented bars: Seven47 and Blackbird
Most coveted car: King Ranch F-150, to project the fratty outdoorsman mystique while maintaining generous levels of parental pampering

5. Ohio State
What he's wearing: Black North Face Denali fleece; whiskered jeans because it's cold nine months a year and Ohio is nine years behind in fashion; a pair of Dr. Martens from the DSW in Toledo
What he's saying: "F*CK MICHIGAN", both in and out of context; "Let's hit O-Fratio and beat the clock"; "Let's call it Bro Fratio instead of O-Fratio"; "O-H! Dude, O-H! What the hell? I said O-H! ARE YOU FROM FROM MICHIGAN OR SOMETHING?"
Turn-ons: Michigan Week; Fly Pie; getting beer delivered to "the house"; Fake Bake; yoga pants on The Oval; blaring music on the Friday morning commute to his super-sweet internship after a Thursday night spent watching The Logsdon
Turn-offs: Michigan; jokes about sweater vests, which are NOT FUNNY ANYMORE YOU GUYS; 370 S. Front Street
Most frequented bars: O Patio; Ugly Tuna; Brothers; Too's; Charlie Bear (RIP!); Pint House once he becomes a sophisticated alumn-bro
Most coveted car: A souped-up Ford Probe or Eagle Talon. There aren't many of 'em left on the road, bro

6. Auburn (pictured)
What he's wearing: White AU hat he claims he got when he was 12, but that he swam with on his last lake trip of the summer last year to age it prematurely; Costa sunglasses with blue fraternity Croakies; faded Levi's; orange polo
What he's saying: "Get your Rodeo tickets?"; "What chick're you bringing to New Orleans formal?"
Turn-ons: Republican values; Momma Goldberg's; hunting; anything Ag; Pi Phis, Rodeo
Turn-offs: Alabama fans; dead oak trees; being the second best football team in the state; Ag jokes
Most frequented bars: Bourbon Street; Sky Bar
Most coveted car: X-Terra, splattered with dried mud from last weekend's mudding trip

7. UCLA
What he's wearing: A blue tee proclaiming that "A Bruin is forever, but a Trojan's only good once" with plaid shorts; an ironic Hawaiian-style blue and yellow button-up; "the ubiquitous neon accoutrements (headbands, sweatbands, etc.) that seems to indicate you have shopped at American Apparel"; if he's really cool and conscious of judicial news: a throwback Ed O'Bannon jersey
What he's saying: "Maloney's IS O'Hara's, dude!"; "How do people even let their kids go to USC?"; "What the hell is this Puzzles place with the curly fries all the alums are talking about?"; "Bro, did you see those USC chicks?"; "We're not ALL Asian, you know."
Turn-ons: Girls impressed by dudes getting into extremely competitive state universities; baby-blue booty shorts; calling their penis "John Wooden"; the torta ahogada at Rendezvous
Turn-offs: Girls not impressed by dudes getting into extremely competitive state universities; leaving Westwood; Trojan condoms
Most frequented bars: O'Hara's (MALONEY'S!); Sepi's for happy hour; Mom's; Barney's Beanery; Busby's West ("free limo bro!!!")
Most coveted car: Lexus RX, but the hybrid one

8. Michigan State
What he's wearing: An old hoodie haphazardly cut at the neck, making it look like a 1980s gym sweater; shorts with socks; unintentionally baggy khakis that will inadvertently comprise the majority of his wardrobe once he graduates, marries Stacy from Delta Gamma, moves back to his hometown and completes his Midwest Dad journey of becoming the best damn car salesman in Genesee County; a borrowed suit that hasn't been washed since pledge week
What he's saying: "Where's Chad? No, not that Chad. Blonde Chad"; "We going to Burgerama tonight?"; "I met Izzo once at Best Buy... super-nice dude."; "Our chicks are waaaaaaaaay hotter than the ones in Ann Arbor"
Turn-ons: Tom Izzo; 2am Dubs from Menna's; backwards hats; tossin' the bee around; chicks who can hold their own at beer pong; Bob Seger; Dave Matthews; the idea of Dave Matthews covering a Bob Seger song
Turn-offs: Hippies (except his one bro who's sweet on bongos); hipsters (except his one bro who listens to Young the Giant); Wolverines (except that one Chi Omega he kind of did sex with when visiting his buddy from high school, and Thor in the remake of Red Dawn)
Most frequented bars: The Riv, Rick's, Harper's, Buffalo Wild Wings, the parking lot outside Spartan Stadium
Most coveted car: Z71 Chevy Blazer lifted far beyond the threshold of road safety, because ALL OF THE OFFROADING!
9. South Carolina
What he's wearing: Boat shoes and white gym socks that stretch halfway up his calves; Columbia PFG shirt with the back vent, because he may feel the urge to start fishing at any moment; Masters visor even though he's never been to the Masters; assorted articles of clothing that only say "COCKS" on them
What he's saying: "COCKS!"; "Fratlov's"; "Who's got late-night?"; "Dutch Fork's gonna take South Pointe to the woodshed tonight"
Turn-ons: The COCKS; making innuendos about the COCKS; posting Instagrams from places he's gone fishing with his father; Grilled Teriyaki late-night
Turn-offs: Leaving the tailgate to actually go to a COCKS game; the Vista, even though it always turns out to be just sorta-OK; Clemson
Most frequented bars: Pavlov's; The Bird Dog
Most coveted car: Either an important sedan (leased with an option to own) or a domestic pick-up truck (high school graduation present). COCKS window sticker? You better believe it.

10. Baylor
What he's wearing: Ariat boots; Levi's jeans; unnecessarily large belt buckle because he is Very Texas™; button-down shirt with the sleeves rolled up; Aviators; one of those dunking bear tees from Congress Clothing; a straw field hat
What he's saying: "I can't believe Holly Tucker didn't go further"; "Piano Man night?; "Let's go ball at the Slick"; "Did you know we're actually a licensed zoo?"
Turn-ons: Diadeloso; David Crowder; sailgating; honking the crap out of his scooter; the fact that RGIII still shows up at Scruffs sometimes; Baptist girls that don't think he's the devil because he drinks
Turn-offs: Overzealous Brazos boat police; "ring-by-spring"-ers; the fact that RGIII's 15-person entourage is getting into Scruffs while he's still stuck in line
Most frequented bars: Scruffs; Cricket's; Scruffs; George's tent when he doesn't have a ticket on game day; ... Scruffs
Most coveted car: Lifted pick-up truck with a grill guard (again: Very Texas™)

11. Stanford
What he's wearing: An SAE party T-shirt that says "You didn't come, but your girlfriend did: twice"; neon Wayfarers; Chubbies short shorts (made by Stanford grad, bro!); fake "Nerd" glasses; Nerd Nation gear; high socks and day slippers (if he's from SoCal/projecting)
What he's saying: "Can't meet up tonight -- I have drinks with an Angel investor at the Rosewood."; "Nah, he's like OLD, 2008 Palo Alto money."; "My Prius gets amazing f*cking mileage."; "You coming to Roman Bath?" "You know we have a tap in our penthouse that pours vodka, right?"
Turn-ons: Santa Clara DGs and Stanford Pi Phis; guest lectures from Elon Musk; Angel investors; Snapchat
Turn-offs: Any mention of the Ivy League; SUVs; suits; closed-toe footwear; "co-op girls"; things colored blue or yellow
Most frequented bars: The Nuthouse, Dutch Goose, The Old Pro, NOLA, The Patio (well, more specifically when it was Rudy's), and Club Illusions before it tragically closed
Most coveted car: A silver 2014 Tesla with the vanity plate EQUITY

12. Georgia
What he's wearing: Chacos; Masters visor even though he's never been to The Masters; ludicrously short shorts that reveal weirdly skinny thighs; UGA polo on game day that's always tucked in; dumb belt embroidered with fish (from his high-school ex, who he still brings to frat formals because his parents really like her, or something); a new pair of Costas with palmetto Croakies from last beach week in South Carolina
What he's saying: "Athens blow is the fire"; "WIDESPREAD MOTHERF**KING PANIC!"; "So, wait... did you play a sport at Westminster?"
Turn-ons: Jam bands; homegoods that've been senselessly emblazoned with the Georgia "G"; girls that blend into packs because they're all wearing the same season of Tory Burch; Mark Richt's devilish grin
Turn-offs: Hybrid cars; terrorists; haircuts; Florida, generally
Most frequented bars: Generals, Bourbon Street
Most coveted car: Z71 Chevy Blazer lifted far beyond the threshold of road safety, to be off-roaded in a nameless, slightly eerie field outside of town

13. LSU
What he's wearing: A Polo brand polo or pocket tee, but, like, it needs to have the logo; khakis for those fancier, frattier nights out
What he's saying: "You see the two chicks on the stage last night at Reggie's?"; "Geaux Saints"; "Call me a pledge to drive me back from Tigerland"; "F*ck Drew Brees. Tony Romo is totally gonna be better this year."
Turn-ons: Tri Delts; the "magic" of Tiger Stadium on a Saturday; fishing; a senseless amount of purple and yellow
Turn-offs: Nick Saban; corn dogs
Most frequented bars: Anywhere in Tigerland, especially Bogie's, Fred's, JL's, Reggie's if he's feeling skeezy/a freshman
Most coveted car: It doesn't matter as long as it has mud tires

14. Wisconsin (pictured)
What he's wearing: Grandpa-inspired, short-sleeve button-downs (bonus points for paisley, pastel, or polka-dot); cuffed & pressed khakis during the week; red-and-white-striped overalls on game day; day-drinking festivities will provide cut-off "I'm with Bucky" T-shirts and flat-brimmed hats haphazardly tilted upward to reveal a mess of overly-pomaded hair; slightly worn Sperrys in tan or navy -- never socks; real winners will bypass legitimate footwear altogether and just rock Ugg slippers to class
What he's saying: "No, no, I'm not from Wisconsin. I just go to here"; "Yeah I know J.J. Watt/Montee Ball/other NFL-playing UW grad whose name I am familiar with"; "Let's go to Med Café and plan our Halloween costumes"
Turn-ons: "Coasties" (girls that go to Wisconsin but aren't from Wisconsin); high-waisted shorts; UW T-shirts slayed by scissors into dresses, skirts, tops, or headbands
Turn-offs: Girls that go to Wisconsin who are from Wisconsin; girls majoring in Ag-anything; people who have taken a bus at any point in their lives; not having season tickets to football; living South of University
Most frequented bars: Kollege Klub, Mondays, and Chasers, but... actually really just the KK
Most coveted car: A black BMW -- generally a new 3 Series, but 5 Series parental hand-me-downs are accepted -- parked in a heated, underground parking garage
15. University of Southern California
What he's wearing: A solid-color, not-pastel Polo shirt; designer jeans that don't really look designer but totally are; Persols, but the more modern frames, not those folding McQueen ones; deep V-necks; boat shoes
What he's saying: "Row-run! Look! Row-run!"; "It's such bullsh*t that we have to take Writing 140"; "Ghetto dogs? Ghetto dogs."; "If you can't go Greek, go TKE"
Turn-ons: Fraturdays; exchanges; the Finger Fountain; the proximity of Panda Express to the 9-0; DGs, generally
Turn-offs: Finding space at Leavey Library during finals; weekends (everyone's out of town, bruh); having classes over at the business school
Most frequented bars: The 9-0; The Lab if he's feeling fancy
Most coveted car: Range Rover Sport

16. Clemson
What he's wearing: Either an orange Death Valley T-shirt or one of those Dri-FIT golf polos with a tiger paw that the coaching staff wears; those pervasive Southern-frat-boy-uniform khakis or dark Wrangler jeans; black standard Wayfarers; Rainbow sandals or grey New Balance sneakers
What he's saying: "Yuengs and Wings or what?"; "Yeah, dude, I'm rocking my 'I'm Legal' shirt into Triple T's RIGHT NOW"; "Our tradition of disliking South Carolina stems from our historical political ideology being rooted in Agrarian populism, and theirs in Conservatism! Plus they're a bunch of bitches!"
Turn-ons: Buying girls gummy bear shots at TD's; rubbing Howard's Rock; being legally allowed into Tiger Town Tavern; saying he hates Cocks in a serious manner
Turn-offs: Actually having to take gummy bear shots at TD's; liquor stores that close early; trying to park anywhere; having to explain what he means when he says he hates Cocks
Most frequented bars: Anywhere on College Ave; TD's; Tiger Town Tavern; Moe's (on Mondays)
Most coveted car: Whatever standardly upper-middle class Southern boys of relatively new means drive (Chevy Tahoes?)

17. Notre Dame (pictured)
What he's wearing: Brand new Notre Dame sweatpants; brand new Interlocking ND cap; brand new zip-up Notre Dame hoodie ("It's kind of like prison -- you're just issued new stuff each year."); at the tailgate: plaid pants, or ironic (yet super-expensive) embroidered ND logo Brooks Brothers navy blue chinos; a Lou Holtz-era vintage "Catholics vs. Convicts" T-shirt you claim your Dad gave you, but you really got off eBay; custom blue and gold Nike Airs made on Niketown; your Dad's class ring on your right hand and your Grandpa's on your left
What he's saying: "Bro, tailgates in J-Lot. Look for the Irish flag... no, the OTHER Irish flag"; "Parietals are totally killing my game, dude"; "Alumni Hall sucks"
Turn-ons: SMC chicks; business school rankings; Inter-Hall football; South Dining Hall; Golden Domes; chapels in all buildings; Catholicism
Turn-offs: SMC chicks; Atheism; USC; Zahm Hall; rooms with no crucifixes
Most frequented bars: Corby's Pub ("Dude, it was in Rudy."); The Linebacker Lounge
Most coveted car: Dad's old MDX (it's really not that old)
18. Ole Miss (pictured)
What he's wearing: Front pleat khaki shorts that his Mom bought the last time he went home to Jackson; cross-stitched belt with Colonel Reb on it BECAUSE YOU CANNOT CHANGE MASCOTS AND TRADITION IS IMPORTANT; red Southern Tides Collegiate polo carefully tucked in; at the tailgate: embroidered blue chinos with a red checkered button-down
What he's saying: "At least we'll win the party"; "Where's your family's tent in the Grove?"
Turn-ons: Hordes of blondes in color-coordinated Harvard red and Yale blue; red Solo cups filled with whiskey
Turn-offs: Scrubs that dress in T-shirts on game days, because only Sunday best should be worn to the Grove
Most frequented bars: The Library; The Levee; City Grocery's upstairs bar for dates with hot Tri-Delts
Most coveted car: Ford F-150 in white so the Colonel Reb magnet really pops

19. Arizona State University
What he's wearing: A non-ironic tank top or cut-off yellow Sun Devils shirt emblazoned with the words "We pre-game harder than you party"; a red headband or flat-brimmed baseball cap with the Sun Devil on it; athletic shorts or board shorts in almost all situations; Axe body spray (but, like, the older, more expensive kind); hair gel; surprisingly well-ironed clubbing gear for trips to Scottsdale; an alarmingly deep spray tan
What he's saying: "You going to the pool at the Vue?"; "I'm at the pool at the Vue"; "I can't believe my parents actually paid for me to live at the Vue"
Turn-ons: Girls with fake tans/boobs and tragically low self-confidence; triangle push-ups; talking about fights they almost got in; Pablo Neruda's early works
Turn-offs: Pale people; non-athletic pants-wear; the "nerds" at Arizona; Pablo Neruda's later works; condoms
Most frequented bars: Anywhere on Mill Ave
Most coveted car: A Nissan X-Terra with a roof rack in a hue of yellow so bright, it burns your retinas

20. Kansas State
What he's wearing: Justins roughed up from his summer Ag internship on the farm; heavy canvas Carhartt overalls with one buckle done; a cut-off purple EMAW T-shirt; a "Got Beef" baseball hat with beer bottle caps smashed around the bill, worn a little bit to the side (but just a little); an OtterBox case he got to protect his iPhone during his summer Ag internship on the farm
What he's saying: "Well, during my summer Ag internship on the farm..."; "So I went to a small 1-A school that was consolidated while I was there with two other 1-A schools, so then it became a good-sized 3-A school that now gets to play 11-man instead of 8-man. Which is, you know, less running, and more passing."
Turn-ons: Regal purple; family values; the Equestrian Team; marrying his college sweetheart; the Peterson Farm Bros; watching the Jayhawks lose; Bill Snyder
Turn-offs: Monsanto; liberal media; being stereotyped as a "farm boy" in articles like this
Most frequented bar: Rusty's Last Chance
Most coveted car: A souped-up black-on-black Dodge pick-up

21. Texas A&M
What he's wearing: Super-cool Lucchese boots; Ray-Ban Wayfarers; Vineyard Vines polo; a Maroon Out shirt from four years ago that he got from his older brother (obviously, he's got one from every year -- this is just his favorite)
What he's saying: "Damn tea-sips"; "It's a rebuilding year"; "Wanna mug down?" to random girls during lights-out at Midnight Yell (and most other places, too)
Turn-ons: Houston's rap scene; everything about Aggieland, despite knowing it's sorta terrible; Antonio's post-game; all that Johnny Manziel coverage on Deadspin two years ago
Turn-offs: Fish Camp; Saw 'Em Off tees; boot-chasers; all that Johnny Manziel coverage on Deadspin now
Most frequented bars: Corner Bar; The Tap; The Chicken
Most coveted car: Any Ford that comes with the King Ranch edition badge with at least two A&M bumper stickers and a vanity plate that says some permutation of "Gig 'em"

22. Nebraska
What he's wearing: Bro-tank (regardless of temp); Ray-Bans; Sperrys; expensive climbing jacket (for tailgating)
What he's saying: "Remember that time we did blow with Carl Pelini? MAN that guy can talk fast." "What time are we going to the Rec?"
Turn-ons: Any chick who can hammer three Shark Waters at Cliff's and still make it to the game in time for the Tunnel Walk; 1995 Orange Bowl highlights on ESPN Classic
Turn-offs: Mom jeans; girls from Omaha; girls from Omaha in Mom jeans
Most frequented bars: The Bar; The Rail; Barry's (game days only)
Most coveted car: Murdered-out Jeep Rubicon

23. North Carolina
What he's wearing: Patagonia stand-up shorts (5" inseam, light stone); needlepoint knit belt with Chapel Hill logo; Sea Strikers with neoprene Croakies from his semi-retired father's charter fishing company; Guy Harvey tee; beer-stained brown Rainbows; a haircut somewhere between Jeff Daniels & Jim Carey from Dumb and Dumber; camo koozie to make it clear he can hunt right now if necessary
What he's saying: "Just wait until basketball season"; "I really only like Gov't Mule's earlier projects"; "The granola girls at Weaver Street don't even know how bad they need me"; "Y'all want to go hunting at my cabin?"
Turn-ons: Season tickets; hunting; vinegar-based sauces; the idea that grades don't matter in the "real world"; hunting; slow boats; watching plebs commit to rush requests at Undergrad Library
Turn-offs: Mike Krzyzewski's droopy jowls; the SEC; expired hunting permits
Most frequented bars: Pantana Bob's early, Top of the Hill late
Mosted coveted car: GMC Yukon/Chevy Tahoe

24. Missouri
What he's wearing: To class: Ralph Lauren solid tee; slip-on moccasins; sweatpants; cheap sunglasses from "charitable" sorority event; Going out: salmon-colored shorts; Polo; Sperry's; To the game: wannabe SEC attire ("we're still beginners") consisting of khakis, tucked-in black/gold polo, last year's coolest Ray-Bans, Titleist hat; his own extremely sweet beer koozie
What he's saying: "You from St. Louis? [Pause] Dope, what high school?"; "M-I-Z... F*ck-K-U"; "Pump Room after Econ?"; "Oh shit, bro, Vegas Bombs?"
Turn-ons: St. Louis Cardinals gear ("actual baseball knowledge not necessary"); girls wearing yoga pants and carrying Vera Bradley bags; Golden Girls; free swipes into Plaza 900 from pledges
Turn-offs: Kansas gear; the state of Kansas; visible panty-lines in those yoga pants; Peace Park and all the people in it; the Women's Studies Curriculum; GDI parties at Whiskey Wild
Most frequented bars: Harpo's (25-cent draws!); Bengal's; Field House (penny pitchers!); Quinton's; Campus Bar (25-cent triple wells!)
Most coveted car: A fully loaded Ford F-150 with a hidden gun rack for early morning hunts that he may never actually go on, but damn if that isn't a cool thing to say aloud

25. Washington
What he's wearing: American Apparel bro tanks that say "Does this shirt make me look frat?"; a polo shirt (if he's in Beta); purple and gold hats; ubiquitous black plastic Ray-Ban knockoffs.
What he's saying: "Dude, are you on the Ave?!?"; "We're not drunk" (but as a chant heard in basically every frat basement); "I'm going to take so many gyros to the face at Aladdin's"; "You get with any KD slam pieces last night after Morning Bar or what?"; "Did you hear Chingy threw up on stage at SAE Greek Week?"
Turn-ons: Skin-tight tube dresses (especially in the winter); sailgating; being from Mercer Island, Bellevue, or Lakeside
Turn-offs: Cougars and Ducks; Coach Sark; girls who wear seasonally appropriate clothing; not being from Mercer Island, Bellevue, or Lakeside
Most frequented bars: Fourno's; B-Mart and A-Mart; Dante's
Most coveted car: Black BMW 335i with either Lakeside basketball, Mercer Island lacrosse, or Bellevue baseball on the back
Kevin Alexander is executive editor of Thrillist Food & Drink, and went to Trinity, which he secretly suspects has long been the NESCAC equivalent of Arizona State. Follow him to the pool at the Vue: @KAlexander03.
Dave Infante is a senior writer for Thrillist Food & Drink. He deeply regrets the fact that Miami University of Ohio didn't make the preseason Top 25, because he went there once and that place was like Bro Thunderdome. Thunder-bro-me. Follow him on Twitter: @dinfontay.
Liz Childers is an editorial assistant for Thrillist Food & Drink. She was obviously not in a fraternity, but was in, like, five drinking societies. Follow her on Twitter: @lizchilders1.