Food & Drink
Sponsored By

Truly Hard Seltzer Is Gifting Us New Flavors This Season
Sponsored By

Put down the hot toddies and eggnog: Truly wants to make hard seltzer the drink of choice all year long, and to do that, they've recently revamped their entire lineup of flavors to make them even crisper and more refreshing. So if you're all-in for the "summer of seltzer" becoming a year-round affair, here are all the bubbly details on Truly's new offerings -- including when and where you can get your hands on the stuff.
Say hello to new flavors
While you were busy sipping hard seltzer at the beach this summer, Truly was at work optimizing their flavors with scientific intensity: We're talking nearly 1,500 hours of testing completed on more than 130 recipes over three months, then 2,000 blind consumer taste tests. The result was 12 updated flavors, which launched November 1, including a brand-new option: Watermelon & Kiwi. Truly says the tweaked flavors have an enhanced, fruit-forward aroma, with no lingering bitterness. 
A mix pack to satisfy everyone's tastes
The brand-new Watermelon & Kiwi flavor can be found in Truly's popular Tropical mix pack, alongside summery Passion Fruit, Pineapple, and Mango -- the perfect flavors for kicking those winter blues. And since variety is a host's best friend, especially over the busy holiday party season, keep the Berry and Citrus mix packs on your radar, too. The Berry pack includes Black Cherry, Wild Berry, Blueberry & Acai ,and Raspberry Lime, while you'll find Orange, Lime, Grapefruit, and Lemon in the Citrus mix pack. (Check out where to find six-packs and mix-packs near you to taste all the revamped flavors for yourself.)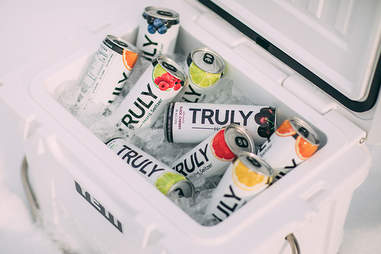 Courtesy of Truly
Seltzer is here to stay, folks 
It seems clear at this point that hard seltzer isn't some fad about to go the way of low rise jeans and side bangs -- just check the numbers. Hard seltzer sales grew a whopping 220% in 2019, up from 177% in 2018, according to Nielsen Holdings. The fizzy beverage is even taking on more traditional options like beer and cider, too -- in August 2018, Drizly reported that seltzer made up only 6% of sales in their beer/cider/seltzer category. By August 2019, it was 19%. So, expect seltzer to continue growing in popularity in 2020 -- but this time with Truly and their revamped flavors as part of the pack.