If anyone knows how to make surprising combos satisfying, it's a rockabilly tiki bar. New York oasis Otto's Shrunken Head is known for its elaborate cocktails in the rum-saturated vein of Trader Vic, as well as their original concoctions. But would they fare as well infusing wild flavors into tequila for a fun time squared?
To find out, we asked one of the bar's raddest tenders, Zofia Maria, to make us the kookiest Cuervo cocktails she could imagine. She obliged, with a maniacal gleam in her eye.
First off, a beloved appetizer. Even communists love chips and salsa (possibly because it's a communal bowl of red sauce). Keep your salsa safe from '80s movie villains by sipping your salsa as a mixed drink. Now you have a private stash and you don't lose precious minutes and calories to chewing chips; this drink has already chewed them for you.
Chips & Salsa
Ingredients:
3 ounces Cuervo Especial
Handful of crushed Zapp's Cajun Dill chips
Dash of Bloody Mary mix
Dash of hot sauce
Directions:
Mix liquid ingredients together.
Serve straight up with a chip garnish.
Zofia says: "Zapp's Cajun Dill chips are my favorite flavor out of all the Zapp's flavors and I was just thinking how delicious would this be if I can create that flavor into a cocktail, so I experimented and voila! Then it led me to think of chips and salsa, hence the Bloody Mary mix & hot sauce and nothing goes better with chips and salsa then some tequila! Olé!!"
This next one takes a little preparation. Cut three jalapeños into thin strips. Infuse in a bottle of Cuervo Especial anywhere from five days to forever. Ho ho ho! Now you have jalapeño tequila.
Exploda Paloma
Ingredients:
2 ounces jalapeño-infused Cuervo tequila
1 ounce elderflower liqueur
1 ounce grapefruit juice
2 ounces ginger beer
Splash of lime juice
Directions:
Take salt tossed with a pinch of chili powder to rim the glass.
Add together and shake all the liquid ingredients.
Serve in salt rimmed glass and garnish with a slice of candied jalapeño, candied ginger, and another candied jalapeño.
For a more classic Paloma, sub the juice and ginger beer with a light grapefruit soda like Fresca.
Zofia says: Ms. Maria likes the tour of the tastebuds this cocktail represents, leading your tongue on a tour of "sweet and spicy, with a bite from the jalapeños, plus there's salt and chili on the rim."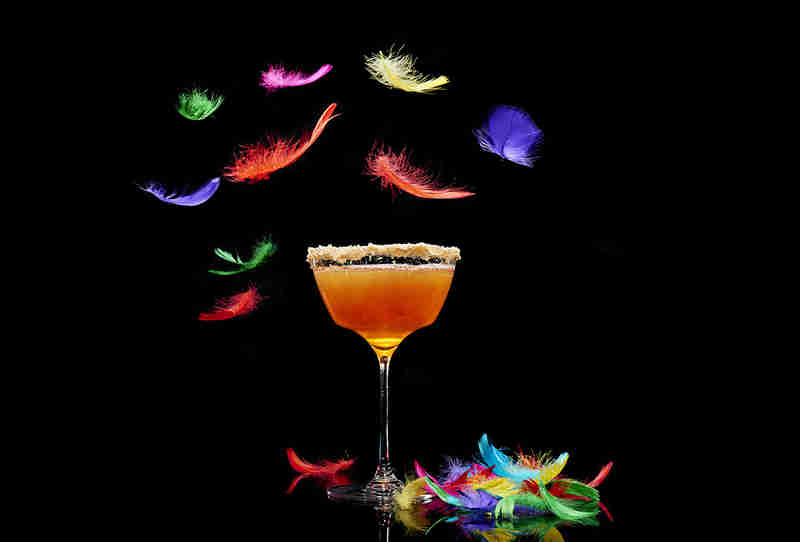 Now that you've got this infused teqila thing locked down, try something without capsaicin. If you can't find Jose Cuervo Cinge cinnamon tequila in your area, infuse three cinnamon sticks in a bottle of Especial for two days and strain. Do this Thursday night so you've got the best brunch drink ever ready to rock on Sunday. The sweet flavor will be a nice switch after all the heat in the last couple cocktails.
French Toast
Ingredients:
2 ounces of Jose Cuervo Cinge cinnamon tequila
1 ounce vanilla vodka
Squirt of maple syrup
Directions:
Shake with ice and strain.
Served up in a glass rimmed with brown sugar.
Zofia says: "Delicious! Tastes just like French toast." Be proud, noble bartender. You've given us a wild night and a delicious breakfast.
The last time Brendan McGinley got wild he bruised two ribs. Laugh at his pain on Twitter @BrendanMcGinley.