The 14 Most Underrated Canned Beers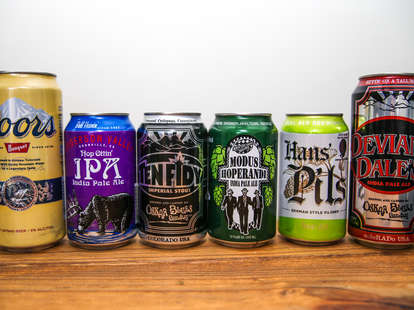 For years, canned beers were treated like the second-class citizens of the brewing world, relegated to dirty waters at the bottom of camping coolers and the cramped confines of cardboard 24-packs. But nowadays, they're the belles of the brewing ball, and not just because they're a significantly cheaper date.
So, to take the pulse on the booming canned beer industry, we polled a group of experts ranging from brewers to beer writers about which canned beers they think are underrated. Your koozies will thank us.

Oskar Blues Ten FIDY
Russian imperial stout; 10.5%
Longmont, CO
"This 10.5% ABV beauty may not be your first choice to take white-water rafting, or to shotgun in your driveway on a Friday night. But it's still a damn fine, world-class imperial stout -- one worthy of just as much praise as its corked and caged (or wax-sealed) brethren." - Caroline Wallace, Bitch Beer (Austin, TX)

Pilsner Urquell
Czech pilsner; 4.4%
Plzeň, Czech Republic
"Most beer plebeians don't realize that Pilsner Urquell is a completely different beer in the can than it is in the glass. It's actually quite good in the can and tastes just like a real pils should. Sadly, most lagers imported in green bottles are light-struck and taste like wet cardboard by the time they reach the consumer. The average Joe drinking imported lagers from the bottle has no idea how good a pils is really supposed to taste. True story." - Ashley Routson, Drink With The Wench (Berkeley, CA)
"Pilsner Urquell is a readily available and really great canned beer that no one is talking about. People love Stella Artois, but this beer beats it in my opinion. I am a big fan of sessionable lagers and Pilsner Urquell is the original pils which -- history lesson for the day -- is named after the great Czech city where it's produced, Pilsen." - Mark Hellendrung, Narragansett Brewing (Providence, RI)
Oskar Blues Deviant Dale's
India pale ale; 8%
Longmont, CO
"Let's start with the fact that it's 16oz, so there'll be a few less trips back to the cooler. It's a big, burly beer at 8%, and if you like hops (and I do), then there's plenty to be had here." - Corey Pond, The Common Table (Dallas, TX)

Upslope Brown Ale
American brown ale; 6.7%
Boulder, CO
"I think Upslope Brown Ale is a fantastic canned beer. Browns, in general, go a bit underappreciated, but this one delivers. It's a beer I can enjoy on the side of a river fishing, or with dinner." - Patrick Crawford, Denver Beer Co. (Denver, CO)
Anderson Valley Hop Ottin' IPA
American IPA; 7%
Boonville, CA
"People don't give Anderson Valley much attention, but Hop Ottin' has a great balance of malt and hop. It's a good, solid IPA if you're a hop lover." - Mohammad Walid, Quickie Pickie (Austin, TX)

Shiner Bock
Bock; 4.4%
Shiner, TX
"I'm a big fan of Shiner Bock in a can. It's national now, but I don't know that people who haven't lived in Texas fully appreciate its awesomeness." - Ben Siegel, Banger's Sausage House and Beer Garden (Austin, TX)
Coors Banquet
Pale lager; 5%
Golden, CO
"The most underrated can in my book is the ole Yellow Belly: Coors Original. This was the first canned beer that I ever drank in the mountains of Colorado and, to this day, if I can't find a good local craft beer, but they've got Coors Original, that's what I'll order two out of 10 times. The other eight times I order whiskey." - Josh Hare, Hops & Grain Brewery (Austin, TX)

DC Brau The Public pale ale
American pale ale; 6%
Washington, DC
"Pale ales are a dime a dozen, as pretty much every brewery has one. Most are just OK. This one ends up being a 'take no prisoners'-style American pale ale with a great drinkability to back it up. It's so epic that crushing one is just not enough." - Jason Alstrom, BeerAdvocate (Winthrop, MA)

Narragansett Bohemian Pils
German pilsner; 5.2%
Providence, RI
"I'm going to make my pick Narragansett Bohemian Pils. At 5.2%, this 16oz can is about as quaffable as it gets for the coming spring and summer months. The body is light and refreshing, but it does not skimp on flavor. Initially the palate has a sweet maltiness which leads into great citrus hop presence. It leaves the palate clean, causing you to want to take more and more sips, leading to more and more cans." - Julian Kurland, The Cannibal (New York, NY)
Ska Brewing Co. Modus Hoperandi
American IPA; 6.8%
Durango, CO
"A few weeks ago, Jules Bouchard (a coworker) and I were meeting with one of our beer reps, and this green canned beer came up in conversation. Each one of us had a story of nostalgia that we shared about this hoppy, canned goodness. Three ladies sitting around talking about cracking open cans and memories of the past. That's what it's all about."
- J Cann, aka JC, Euclid Hall (Denver, CO)

Saranac Legacy IPA
India pale ale; 6.5%
Utica, NY
"I think the bias against canned beers is a very unfounded, uneducated one. The vast majority of people don't realize that it's light (and oxygen) that deteriorate beer, so anyone who turns their nose up at a can in favor of a completely skunked [transparent glass bottle beer] are proving the point. Cans are also way more portable and are optimized especially for summer, which is why I usually show up to the beach or rooftop parties with cans.
I've been a big fan of the Saranac Legacy IPA, which has kind of snuck into the market under the radar. A beautiful citrusy nose, a smooth mouthfeel, and a refreshingly dry finish make this a no-brainer to go with salty beach or party snacks or enjoy alone. It's also very affordably priced." - Zachary Mack, Alphabet City Beer Co. (New York, NY)

Founders Centennial IPA
American IPA; 7.2%
Grand Rapids, MI
"Having found canned success with their super-sessionable and hop-laden All Day IPA, Founders has now released cans of their brash, but balanced Centennial IPA. Packing plenty of grapefruit and other citrus notes, a wallop of bitterness, and a solid malt backbone, Centennial IPA is a favorite among hopheads." - Russ Phillips, Craft Cans (Portland, ME)
Real Ale Hans' Pils
German pilsner; 5.3%
Blanco, TX
"I'm a fan of Real Ale Brewing's Hans' Pils, which is sold in 12oz cans. It won a silver medal at the 2012 Great American Beer Festival. Lagers generally don't get the nerdz super stoked, but they are the most difficult beers to make and Hans' Pils is awesome!
Real Ale Brewing is a great brewery out of Blanco, TX, and in a lot of ways we think alike and like many of the same things. We just finished a collaboration project with them and Three Floyds. We all brewed an imperial black ale, Blakkr." - Todd Haug, Surly Brewing Co. (Minneapolis, MN)

Brewery Vivant Triomphe Belgian IPA
Belgian IPA; 6.5%
Grand Rapids, MI
"The first thing I notice in this beer is the aroma of plums and raisins, a fruity signature of Belgian yeast. The beer is very full-flavored and very complex. Caramel sweetness, phenolic spiciness, American hop flavor, and bitterness are all evident. It's a beautiful copper color with a full head that lasts. I first had beers from Brewery Vivant a few years ago, shortly after they opened and started canning. I've been very impressed from the start, and look forward to good things coming from this young brewery. Triomphe achieves something that I think is very rare: a complex beer with a wide range of flavors that are strong, yet balanced." - Jason Buehler, Oskar Blues (Longmont, CO)
Dan Gentileis a staff writer on Thrillist's National Food and Drink team. He is happy that canned beers are finally crushing it after so many years of being crushed. Follow him to more aluminum observations at @Dannosphere.
This article was originally published on April 5, 2014.