For Brooklyn's Untitled Queen, Drag Is Art
The multidisciplinary artist discusses her evolving looks and the next wave of Brooklyn drag.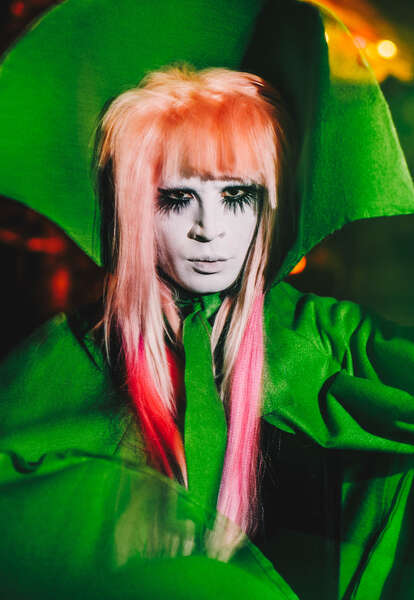 Untitled Queen at 3 Dollar Bill

| Photo by Cole Saladino for Thrillist
Untitled Queen at 3 Dollar Bill

| Photo by Cole Saladino for Thrillist
The Brooklyn drag scene is famous for its innovative looks, and there's no better example than Untitled Queen, a fixture on the scene for over a decade. I caught up with this multidisciplinary queen on a chill, post-Bushwig Wednesday morning to chat about her conceptual approach, how she got her name, and her role as a "grumpy ghost."
Thrillist: How did you get started doing drag? What drew you in?
Untitled Queen: I went to graduate school for my MFA in Fine Arts at Parsons in 2007. I went to school with a friend, Jess Ramsay, who was a sound artist and DJ in nightlife at the time. She really encouraged me to try [drag], but I was never really that interested in it, at all. I thought drag was okay when I went out but wasn't really obsessed with it; I wasn't watching Drag Race or anything like that.
And then it was one of those cases where I was the last person to know. Everyone knew I was probably a drag queen… I started to finally think about it—and I met Macy Rodman, who is an amazing trans pop star. Anyway, the short story is that she was just starting her iconic punk drag show called Bath Salts and she was like, "Hey do you want to do the first one?" And I was like, "Okay." And then I…just said yes to anything.
I met Merrie Cherry out one night during Pride and she was like, "Hey, I have a competition called Dragnet at Metropolitan. Do you want to compete?" I did that competition—I won—and that just snowballed.
I entered into this Brooklyn nightlife that just made sense to me, and I realized I've been doing drag my whole life; my whole art life has been very much connected to what we call drag. It's been about 10 years and I haven't stopped since.
"Untitled Queen" is quite a name. What's the story behind it?
When I wanted to come up with a name, I didn't want it to be a real person's name. I didn't want it to be a pun on anything and I wanted it to reflect my contemporary art background, so I came up with Untitled Queen as a way of riffing off the naming tradition of various artworks throughout history called "Untitled." I thought this makes a lot of sense because for me, it's less like a person, and more an object. It could let me do whatever I wanted—it was a blank slate. But also I was like, "No other bitch is going to do this name."
Your look is also pretty striking. Did that come together over time, or was it something that came to you all at once?
Lately, people identify me with this very blank white face and really graphic eye. But everything evolves. Every time I come out, I take it as almost like a studio practice. Every time I'm out, I try to construct based on what I'm interested in at the time, and I feel it as a continuum. I'm constantly inspired and that's what's so amazing about drag. It's a constant flux—both creation and destruction.
That's what's the most fun. You can come out any way you want and play with things all the time, as many times as you want, and there's really no rules.
I've definitely come to like certain things, this white blank face I have really enjoyed. It ties a lot to my drawing practice and I like how it both shows my features and also flattens them, because there's really no contours, there's not a lot of manipulation. Just monochromatic. I love the contrast of a plain graphic face, and everything else is a bit more maximalist or has other details you can draw focus to.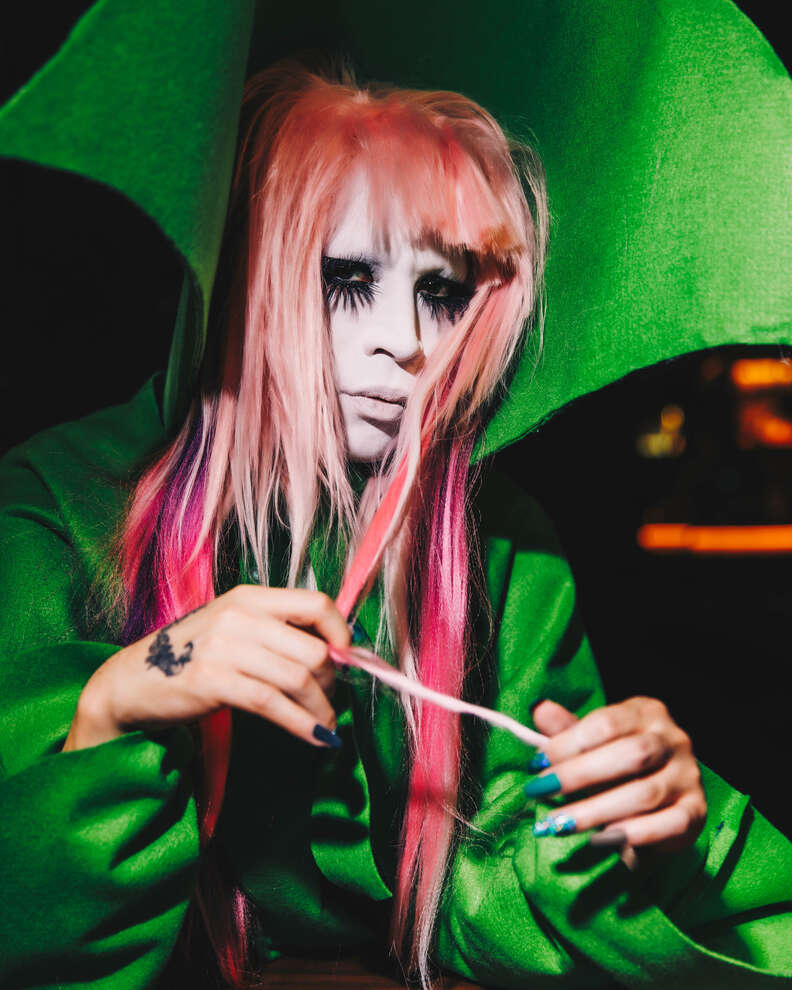 Do you consider your drag work and your work as a visual artist all part of the same work?
Correct. I think about my process as one whole project. My artwork is not discrete objects. It's telling one long story and drag is just one medium—one part of it.
And what's that story?
Oh [laughs]. What drag did for me was like a light bulb that connected multiple things. I was always interested in a lot of multidisciplinary art. I love installation, I love sculpture, I love video and performance. Drag was a container to put all of it into. Drag is an amazing multidisciplinary practice: it involves social engagement, internet media representation—all these things are connected all at once, and it has these live elements that make it so exciting.
But, the story for me is a lot about being a queer person, a child of immigrants. My father is from the Philippines and my mother's family is from Puerto Rico. And my story continues to grow. A lot of my stuff is about poetry, decolonization, and my own politics, but then things that I get inspired by like film, literature, art history. Also being an older millennial, [laughs], like a disillusioned grumpy ghost. Those are all parts of my story. But it's not told all at once. It's continuous. All of my work begins to flesh this story out.
What projects do you have coming up?
I have a show on October 28 at C'mon Everybody called Untitled (Next Generation). It's going to be a highlight of newer generation drag artists that I feel are really shaping the culture and are creating platforms in our drag community. So, I'm the old generation. I'm like the Spock [laughs].
Live performance took a bit of a hit since the pandemic started. I'm always curious how people are dealing with that.
I feel like a lot of us are really going headstrong deep into doing so much live performance. So many of us are trying to make the most of it while we can—as safely as we can—before there's any other kind of lockdown or anything else. That's just been sort of my attitude: Be as safe as possible but being like, okay let's actually try to really enjoy ourselves.
A lot of people lately have been putting together really complex, really thoughtful shows, and there are a lot of great newer performers. People that were starting out during the pandemic are now starting to be seen by more audiences, which has been exciting.
John deBary is a drinks expert and writer. His first cocktail book,
Drink What You Want
, is available now, and his next book,
Saved by the Bellini
, is expected in early 2023. He is also the co-founder and president of the
Restaurant Workers' Community Foundation
, which is dedicated to improving the lives of hospitality industry professionals through advocacy, grant making, and impact investing.