Vaccine Cards Are The Golden Ticket For Certain Bars and Clubs
You can even get free drinks with proof of vaccination.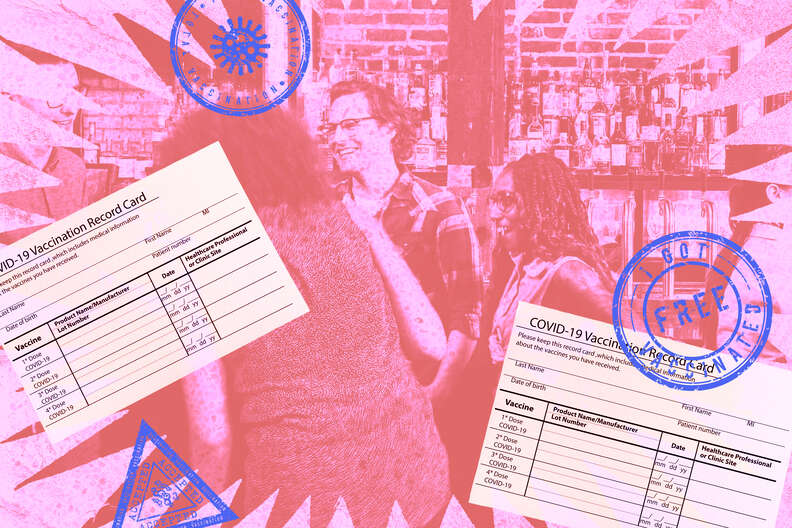 Design by Maitane Romagosa for Thrillist
Design by Maitane Romagosa for Thrillist
The COVID-19 vaccine is now available to all American adults, and the proof can be found in the numbers. Currently, nearly 45 percent of U.S. citizens have gotten arm pricks.
In New York City, where a significant threshold of more than 70 percent of residents has now been reached, local policies are having bar goers provide proof of vaccination, by flashing either their physical vaccination card or the Excelsior Pass mobile application, in order to be granted entry into private drinking establishments like restaurants, bars, clubs, and event venues.
And New York isn't alone. Around the country, providing proof of vaccination might be required for those ready to clink glasses with friends inside a cocktail bar or catch a drag show inside their favorite club. But other areas of the country—like Florida, Texas, Arizona, and Utah—are taking the opposite approach, with limitations now being enforced upon business owners to cast a blind eye to their patrons' vaccination status.
Why the mixed signals? The Biden administration has essentially maintained that it wants to keep federal hands off of the controversial issue, recently releasing a statement saying there is no intention to develop a federal vaccine passport system. Instead, the private sector and local jurisdictions are developing their own verification systems.
Meanwhile, all eyes have been on California, where some of the country's most intense COVID-19 restrictions were lifted on June 15. As bars and restaurants in big cities like San Francisco and Los Angeles have eagerly awaited the reopening, Governor Gavin Newsom signaled that the state would soon introduce an electronic vaccination verification program of its own. Unlike New York, it seems this program will not be coupled with a vaccine mandate.
"It's not a passport, it's not a requirement, it's just the ability now to have an electronic version of that paper version, so you'll hear more about that in the next couple of days," Newsom said in the announcement.
Right now, entry into California events labeled as indoor "mega events" such as those that take place in sporting arenas or in concert venues already require proof of vaccination, but most bars and restaurants in the state aren't going to be asking for your vaccine card—just yet.
There are certain spots, though, that are capitalizing on the safety vaccinated patrons feel when proof of immunity is required for entry, like cocktail bar The Other Door in North Hollywood. There, managing owner Ari Schindler is betting on COVID-19 safety being an important draw for the foreseeable future, and has re-envisioned the bar as a private, members-only club that exclusively serves vaccinated clientele.
"We have lots of friends, especially those on the front line in the medical field, who want a place where they can hang out and unwind," Schindler says . "We all know that the end of the pandemic and the return to our normal lives is when herd immunity is reached through vaccination, so we decided to create a place with herd immunity already in full effect, where essential workers—and eventually everyone—can return to normal."
To enter the bar, patrons will be required to purchase a modestly priced membership card, currently available at only 10 dollars a pop, and they'll also need to show proof of vaccination when they arrive. Just got your shot? You can still purchase a card now, but you won't be able to sip a Negroni inside until two weeks after your final vaccine appointment—the amount of time that is generally regarded as necessary for building up full immunity to the virus.
"We decided to create a place with herd immunity already in full effect, where essential workers—and eventually everyone—can return to normal."
Another state currently working on its vaccine pass rollout is Hawaii, which just lifted restrictions on inter-county travel and is now allowing fully-vaccinated residents who received their COVID-19 shots in the state to be able to travel back in without needing to take a pre-travel test or undergo any quarantine time.
On the island of Oahu, where the state's capital of Honolulu can be found as well as nearly half of all tourists who visited Hawaii pre-pandemic, drinking establishments like karaoke bars and nightclubs are reopening with a catch. Customers are required to show their vaccination card or a recent negative test result in order for the establishments to operate at 50 percent capacity.
"We're just going to trust in businesses," Honolulu Mayor Rick Blangiardi said in a statement, admitting that the requirement stating bars and clubs must request vaccination cards in order for entry will be upheld mainly on the honor system. "The one thing we will do, if suddenly people are being in total violation of the rules or if there's a cluster or something happens, we're going to close it down."
Concert venues have been particularly interesting. The Waikiki Shell and the Blaisdell Concert Hall are planning on welcoming back guests in two separate entrances—one for those who are fully vaccinated and one for those who can provide a recent, negative COVID test result instead. The two groups will even be seated away from one another for maximum comfort. A recent Foo Fighters concert at Madison Square Garden required proof of vaccination to enter.
The city of Chicago is taking an arguably more fun approach as they push for citizens to continue to get vaccinated: giving them free alcohol. At the end of May, the Illinois House of Representatives pushed through a bill that allows bars and restaurants to offer customers a free alcoholic drink if they provide proof that they've been vaccinated.
"Not only will the vaccine protect you from getting sick—your free COVID-19 shot can now get you a free shot of your choosing, or whatever drink suits your palate," said Illinois Gov. J.B. Pritzker, who signed the new measure into law and also extended the allowance for bars to serve to-go beverages to patrons.
Until July 20, the 41 percent of Chicagoans who are currently vaccinated are now able to snag a 12-ounce beer, five-ounce wine, cocktail, or shot of liquor if they're able to prove they're vaccinated. Other cities like Washington DC are also offering boozy benefits for vaccination, offering residents free beer at vaccination clinics, and New Jersey and Connecticut are both offering free drinks with vaccine proof.
At some Chicago establishments, proof of vaccination isn't just an incentive but a requirement to sit in certain sections. At popular nightclub Smartbar in Wrigleyville, proof vaccination is required to enter, and at Moe's Cantina in River North, neon bracelets are handed out to vaccinated patrons to serve as their key to a seat in the unrestricted section of the restaurant. Those who are not yet vaccinated still have to deal with distanced tables and physical partitions.
"All of our staff is vaccinated, and we're asking the patrons to be vaccinated, as well," says Joe Shanahan, owner of Smartbar, which reopened its door for the first time for Pride weekend. "There will be a vote of confidence and a vote of, almost, we're all in this together, and the dance floor is going to fill up with people enjoying themselves until the wee hours of the morning."