Which State Produces the Most Craft Beer?
Unless you've been living under a rock -- or in North Dakota, apparently -- you're probably aware that craft beer's a pretty big deal in the United States these days, as more and more stores are offering microbrew alternatives alongside their macro counterparts (your Budweisers, your Coors, etc). So where do we stand in 2015?
Vinepair's put together an interactive map highlighting some of the Brewers Association's major data points for this year, and -- more importantly -- ranking where each state stands in craft beer world's pecking order. Here are the numbers we all care about: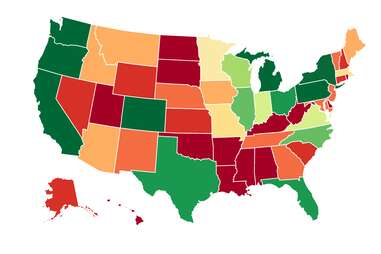 Number of Breweries
When it comes to sheer amount of breweries, the West Coast truly is the best coast. California leads the pack with an absurd 431 breweries, a whopping 175 ahead of Washington, whose 256 suds factories put it in second place. Colorado rounds out the top three, meanwhile, with an impressive 235 breweries. As for the state with the least craft beer operations, that dubious honor goes to North Dakota and its six lonely breweries.
Top 10:
10. Florida (111)
9. Ohio (110)
8. Texas (117)
7. Pennsylvania (136)
6. Michigan (159)
5. New York (181)
4. Oregon (216)
3. Colorado (235)
2. Washington (256)
1. California (431)
Total Barrels Brewed
Pennsylvania upset the California apple (raisin?) cart and snagged first place here, producing just over 4 million barrels last year (compared to California's 3.4 million). From there, the competition drops off significantly: Colorado stole third place with a "meager" 1.6 million. Last place? You guessed it: North Dakota, which turned out 4,571 barrels last year.
Top 10:
10. Michigan (825,103)
9. Wisconsin (850,874)
8. New York (948,228)
7. Texas (982, 918)
6. Oregon (1,039,063)
5. Florida (1,128,089)
4. Ohio (1,274,331)
3. Colorado (1,673,686)
2. California (3,423,124)
1. Pennsylvania (4,074,883)
Check out the interactive maps over on Vinepair for the full ranking and the rest of the data (like breweries per capita and barrel production growth).

Gianni Jaccoma is a staff writer for Thrillist, and he's really waiting for North Dakota to top one of these lists. Follow his expectant tweets @gjaccoma, and send your news tips to news@thrillist.com