Ice can make or break your beverage. Good ice chills without diluting. Bad ice dilutes and pollutes until you're left holding nothing but unfulfilled potential, a.k.a., "sadness". Because Johnnie Walker® wants your spirits to be uplifted, they hooked us up with Richie Boccato, founder of NYC cocktail ice company Hundredweight, for the 411 on frozen water's relationship with your whisky.
Let's start with on the rocks. If you prefer your whisky straight, the right ice will add just the right amount of water to release its heavenly aromas. This is crucial to your enjoyment because while there are only four primary tastes, there are 32 primary smells. However, you don't want too much water, as that would mask those already outnumbered tastes.
According to Richie, the move, then, is to go "on the rock", using one giant, super-cold, crystal-clear cube. The size produces less surface area than lots of little cubes (geometry is crazy like that), and the clarity means fewer impurities. That adds up to an exquisitely slow melting process that'll preserve integrity while chilling for as long as it takes you to finish your drink.
As for cocktails: they're at their best when every ingredient knows its role, like an NBA team with one superstar, one star, one really good dude, and a bunch of guys who play defense, shoot 3s, draw fouls, or have expiring contracts. Water is one of those ingredients. The spirit might be the superstar, but water can help open it up. It can also lower the ABV just enough that you can better enjoy a spirit-heavy drink.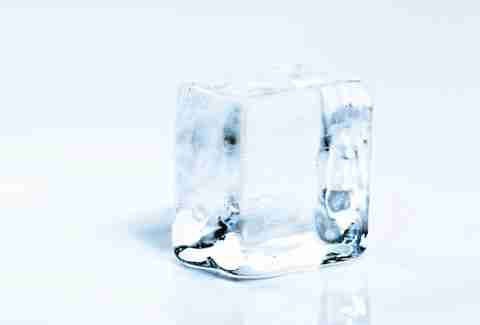 While water can elevate your cocktail, too much makes your drink taste like water. How to achieve the right balance depends on what you're making. For shaken cocktails like a classic Blood & Sand, Richie says a single, large format cube is the way to go: sturdy enough to withstand all that smashing around and chill without over-diluting.
Highballs are better served by the Collins spear: a 1.5" by 5.5" cut (again, less surface area than a stack of cubes) that stands straight up in your glass, keeping your Red and Ginger colder, longer.
For spirits-only drinks like the Rob Roy – which you should stir, and never mix – cracked ice is the key: a medley of different sized shards that introduce the right amount of water right away. Though strained into chilled glasses, these cocktails warm up faster, and so don't have a long glass life. Richie's advice: drink them responsibly, while they're still lively.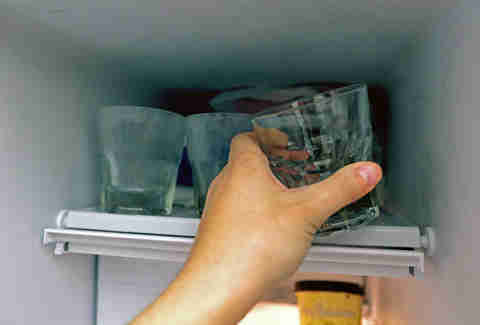 So, can you make your home ice as good as the stuff you're demanding at the bar? Almost! You can make big cubes simply by getting oversized silicone trays. You can keep any ice super-cold by storing it in the freezer right up until you're ready to plop it in the drink. Stashing your glassware in the freezer helps too (don't even bother with the fridge – it's just not cold enough).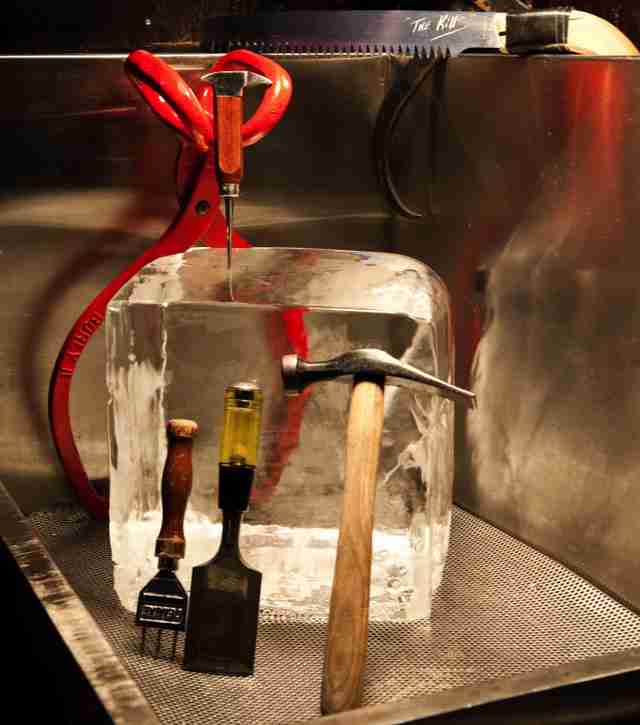 Clarity's tougher. Boccato and other pros use expensive Clinebell machines to recreate how water freezes on a lake (from the top down, pushing out impurities; and with the water in motion to eliminate air bubbles).
If you're hardcore, you can mimic many of the Clinebell's effects using a fairly awesome camping cooler method perfected by Alcademics' Camper English. But even Richie says this isn't essential – just using bigger, colder cubes will dramatically improve your drinks. The only thing melting will be the hearts of your guests when you serve them your freaking amazing beverages.
PLEASE DRINK RESPONSIBLY. ©2013 Imported by Diageo, Norwalk, CT.