Want to become a bartender? Here are 19 things you need to know.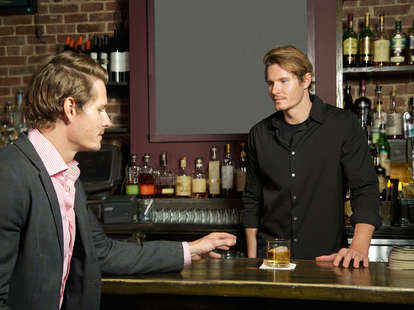 At some point almost everyone says, "I'm quitting this blankety-blank job and becoming a bartender." Because Thrillist thinks that's basically the most admirable life decision in the universe, we talked to House of Walker® bartenders from all over America to find out what you really need to know if you're considering making a career behind the bar your next step in life.
Don't go to bartending school: All you'll learn are bad habits someone else will have to train out of you, and maybe a few halfway decent habits that still won't help, because "every bar is a snowflake, and every bar owner uses a different system."
Don't pad your resume: Did you know that every bartender in America knows each other? You'll definitely get busted.
Practice eye contact: It's surprisingly difficult -- and if you can't do it, you're cooked.
Bone up on classics, worry about the rest later: Classics (Daiquiri, Old Fashioned, Rob Roy, Martini, Margarita…) teach you balance. After that, our bartenders say it's surprisingly easy to learn billions of modern recipes on the job.
Prepare to keep your cool: "If you don't have the ego strength to be unflappably, almost psychotically nice to everybody 100% of the time, there's no future for you in this industry." It won't be easy -- you're going to be shocked by the... er... unpredictable demands of your customers. Some tricks for dealing:
Focus on process: you've got drink orders, food orders, and processing to handle in the order patrons have been waiting. Finger-snappers and money wavers will just have to wait.
Work on your "polite with undertones of wryness" voice. You'll be amazed at how being the wittier one can stymy rowdy behavior.
Pretend unruly people are close friends or relatives who you always show patience with, even when they're terrible.
Prepare to be totally uncool, man: Cutting someone off will be the hardest thing you'll have to do ("To this day, I still have a hard time telling a grown man he's done"), but adulthood and responsibility aren't always attached at the hip, and when they're not, laying down the law's 100% on you.
Say goodbye to your chair: The average American sits eight hours a day. Bartender shifts run longer than eight hours. And as the old saying goes, "There is no sitting in bartending".
Watch YouTube selectively: YouTube is "the best and the worst". There's a lot out there that'll help you improve (Small Screen Network vids), but there are also old guys who look like pawn shop owners who don't know the difference between Cuba Libres and Daiquiris.
Sharpen the basic math skills you abandoned after high school: "If you're rubbish at counting, you're not going to make it."
But don't fire your CPA: If you work for a chain or hotel, you'll be reporting everything. Otherwise, cash is king, but the IRS has been cracking down more lately, and anyway, people with credit cards don't believe in monarchies.
Get a feel for the flow: This is pretty zen, but: spy on masters of chaos -- bartenders on busy nights where they're making 15 drinks at a time, sous chefs holding down the line in a frantic kitchen, even cops at a crowded intersection. Pair that with smelling when a food order's ready and hearing "bourbon rocks" over "Bohemian Rhapsody", and you'll be the Baryshnikov of the Bartender Ballet. Minus the tights. Hopefully.
Be willing to barback: Many badass bartenders begin there, and once you've got that job, the call-up could come quickly. You won't be wasting time: "You learn speed, bar flow, product knowledge, and precision from being a bar back. Let the things you learn at the bottom be the foundation for making it to the top."
On a slow night, ask your local for a guest shift: Guest shifts are infinity times more instructive than serving drinks at home to friends, who'll either uncritically say you're great, or that you're the worst. Use them to learn how the bar works, and how everyone works together. Ask too many questions, because you can't ask too many questions.
Don't treat your friends too well: They should be there to support you, not the other way around. Instead of charging them $7 for a $150 tab, give 'em the same service you'd give any good customer.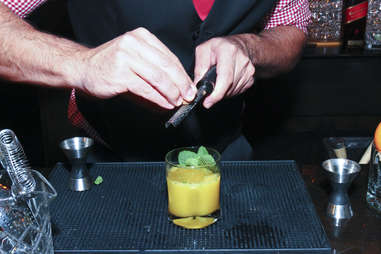 Roll in packing: Bring your own wine key and beer opener -- and depending on the bar, maybe your own nutmeg grater. These will be your best friends, even better than the friends who are totally shocked you just charged them for drinks.
Don't tolerate rejection: "Keep asking for a job until they file a restraining order against you."
Stick around at least a year: Bartending's like any other job -- bolt at the first opportunity and you're "flighty". Again, the community is tight-knit, word spreads fast, and the last thing you want is a jilted employer telling everyone you're a… blankety-blank?
Suggested lit: Harry Craddock's The Savoy Cocktail Book; Dave Broom's The World Atlas of Whiskey; David Embury's Fine Art of Mixing Drinks; Dave Wondrich's Imbibe!; Gary Regan's The Joy of Mixology; Dale DeGroff's The Craft of the Cocktail; Ben Reed's The Art of the Cocktail; Jim Meehan's The PDT Cocktail Book; Danny Meyer's Setting the Table; Tony Abou-Ganim's The Modern Mixologist; anything by F. Paul Pacult or Doug Frost; Pete Hamill's A Drinking Life; and when you're ready to get holistic, Gordon M. Shepherd's Neurogastronomy and The Physiology of Taste by Jean Anthelme Brillat-Savarin.
Suggested cinema: No: Cocktail. Yes: Hey Bartender; On the Bowery; Casablanca; the Steve and Miranda relationship in Sex and the City; Big Trouble in Little China.
Special Thanks To: John deBary, Adrienne Byard, Luke Tullos, Lynnette Marrero, Brittany Chadbourne, Jason Littrell, Julio Cabrera, Ezra Pattek, Ben Potts, Ashley Danella, James Chauncy, Cabell Tomlinson, and Brett MacDonald. Without your participation this article would only have four words in it, and none of them would be accurate.

PLEASE DRINK RESPONSIBLY.
©2014 Imported by Diageo, Norwalk, CT.