Want a Coors Banquet? Visit These Great Bars Across America.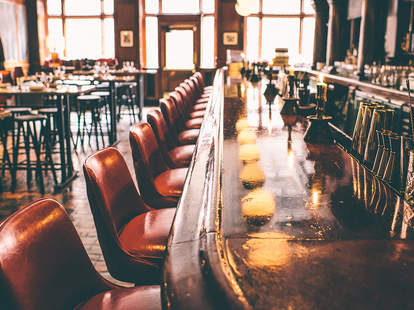 There's no greater joy in life than discovering the bar you're in serves Coors Banquet. And while that might be a slight exaggeration considering the importance some people place on the birth of their first child, it's nonetheless indisputable that original Coors isn't found on just any bar's beer list. So that your satisfaction isn't left to chance, we tracked down 14 excellent spots across America -- dives, lounges, dens of eclecticism -- that do carry the golden lager.
Located straight down the road from Providence College, The Abbey is an easy favorite for hungry Friars -- ohhhhh, that's why the name!
How good is the selection here? So good their website is www.92beers.com.
They serve 30 kinds of burgers with true variety, not just some slight rejiggering of the toppings, and each one is amazing. There are a lot of good burgers on this list, but only The Abbey stages an entire pageant for their menu on their website. They also make their own potato chips, which is above and beyond the average -- or it would be, if you weren't at a place that serves parmesan-dusted fries and honey teriyaki bacon skewers.
With such gastronomic glee, this is the college bar you're looking for, since you're 21 and have no bottom to your stomach.
Courtesy of Ben's Tune Up
A lot of bars go to copious lengths to establish an "atmosphere," and very rarely does this atmosphere go any further than "dim lights." Ben's Tune Up, in Asheville, North Carolina, is everything that you could want from a downtown bar, because rather than having one aimless mood, the people behind it seemed to have decided "What if instead of one general feeling, we have every general feeling, and let them fight?" Ben's Tune Up is great for people that want to relax and upon doing so, realize they're now in the mood to crank up the party. Regardless of your plans for the evening, Ben's Tune Up has got your back. --Daniel Dockery
You need at least one haunted bar, so it might as well be the ghost of a boxer and bartender who served up shots for half a century. More substantial than Portway Paul are the regulars: neighborhood locals, blue-collar workers getting off their shift, and fans of burgers and great bartenders. It's not just a bar, it's a description of the riverfront town in which it resides.
Courtesy of Happy Village
It's easy to miss Happy Village, an unassuming dive perched on a corner of a couple of Chicago side streets just south of a more bustling section of Wicker Park -- but you should make sure you don't make that mistake. From the just-dingy-enough interior to the ping pong-focused room behind the bar (the ping pong here's serious, no Solo Cup-centric games allowed), it almost feels like hanging out in a friend's basement, which is appropriate, because the secluded beer garden decked with tents and plastic furniture feels like it's set up for some high school graduation party you vaguely remember attending. So crack open a beer, keep an eye out for the tamale guy making his rounds with his cooler, and settle in for the night. You're definitely among friends. --Matt Lynch
A couple miles down the road from the Red Rocks Amphitheater lies another great music venue. If it doesn't have the achingly gorgeous vista behind the band it does have the comfortable atmosphere of a beloved local bar. Less of a dive than a pleasant wading pool, Morrison Holiday Bar is where the locals and tourists alike love to congregate. Stride through the interior doorway to the deli, where the burgers are phenomenal, and the outdoor seating overlooks a brook gliding right into Mt. Vernon Creek. The popcorn is free, the drinks are cheap, and the poker games are fun. Throw in a full deck of variety in both liquor and beer, and you have your new favorite place to just reeeeeelaaaaax. Even the plentiful bikers are chill here.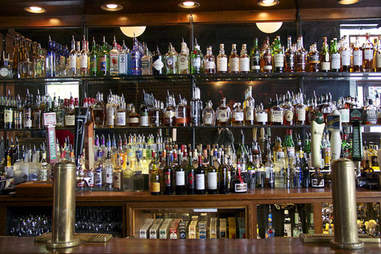 Courtesy of Harry's Bar & Tables
Classic is the word at this corner bar, where a beautiful glass exterior set in brick gives way to old wood and warm smiles. There's patio seating, the food is praised by the regulars, and the extensive menu showcases Harry's worth for a well-made cocktail. The entire place feels a little bit like it's preserved from yesteryear, and it's a fine place to relax in the company of friends. Isn't that all we want from a bar?
Courtesy of Kaiju
Kaiju (Louisville, KY)
America has two (TWO!) bars dedicated to H.P. Lovecraft (oddly, neither one in Providence), but horror and monster-themed bars are generally few and far between. Enter Kaiju, a chic nerdy hangout devoted to the menagerie of Japanese monsters. craft cocktail bar with rotating drafts, presumably because the kaiju keep crushing them beneath their heels.
Monster-themed pop art pervades the space like Godzilla stampeding through Starry Night -- which is both literal and figurative imagery here, since this joint has an actual painting of Godzilla marauding over Van Gogh. In lieu of a kitchen, there's a beloved food truck outside that does Japanese snack food. Destroy all monsters? Let's toast them instead!
Courtesy of Kinga's Lounge
Authentic Polish food (and servers!) plus some delightful Americanizations (hellloooooo, deep fried pierogi! Hello… Polish-American servers?) make this mile-high dive a neighborhood favorite. Live music and karaoke, dancing, poker, plus its renowned crowd of good people… this bar has everything it takes to be a real public beer hall. Or a real public beer patio, your call: they have two!
This delicious Chinese fusion spot is beautifully lit, with the classy atmosphere you want from a cocktail bar. Nosh on fare from their conjoined restaurant on the other side of the wall, Bistro Chi. And with dollar oyster specials, it's that rarest of joys: a good Sunday bar for something besides watching football. It would be perfect if they brought back their beloved tapas menu, but that's the great thing about Kama: it all comes back in the end.
Trendy bars come and go, but neighborhood dives like Ye Rustic Inn are built to last. It's neither an inn nor particularly rustic (unless you count wood paneling and stained glass windows), and it's definitely not old enough for a "ye," but it's got miles of charm. It's where you meet up to watch the game with the crew while devouring the best buffalo wings in L.A. You'll find a well-stocked jukebox and bartenders with plenty of personality to spare. They've got big leather booths, vintage trophies on the shelf and inexplicable antler chandeliers. There's live music, karaoke, trivia and bingo nights, but also quiet and dark corners for sipping a cold one. It's the place where you stop in for a quick one, and wind up staying until last call. If you're looking for a cocktail with foam and fresh produce, look up the street. If you're looking for the best bar in town, you've come to the right place. --Danny Jensen
Courtesy of Garces Group
Olde Bar (Philadelphia, PA)
Once upon a time, there was a Philadelphia institution called Old Original Bookbinder's. For six years it lay fallow. Then it sprang to life again, now called The Olde Bar and totally respectful of the history at its location. Not only did cocktail legend Charlotte Voisey curate their menu, she did so in conjunction with filmmaker Erich Weiss, the grandson of Bookbinder's old owner. In fact, much of the drinks menu bends a knee to the story of the bar, the block, and the city--which is why it displays special pride in its clover club, which is Philadelphia's flagship cocktail.
Plus, it's a great place to sup some seafood. The raw bar is lush and their "buck a shuck" oyster bar is available every day during happy hour. Every. Dang. Day.
You can feel good about it, too, because The Olde Bar is recycling those shells back into strategic locations in the sea so that baby oysters can grow up to be tomorrow's dinner. Yay!
If you're still not sold, they have snapper turtle soup.
This wood-paneled old man bar was once a gambling rathskeller where an IRS raid in the '60s turned up 10,000 football parlay cards, racehorse bet slips, scratch sheets and a pair of 16-gauge shotguns. This would be a surprise in most other cities, not Chicago. Today, Lottie's serves as a central dive bar meeting ground, hosting a buffet on the day of their Chicago Dive Bar Crawl as well as buses to Hawks games or haunted houses (the scary ones downstate). --Sean Cooley
Courtesy of Slippery Noodle Inn
Stranger things have happened in Indiana, but if they did, they almost certainly occurred at the Slippery Noodle Inn or its many other names. By their own reckoning the 1850-established roadhouse has been a stop on the Underground Railroad (high five!), a bordello (no judgements!), a murder scene, and a shooting gallery for not one but two Prohibition-era crooks: John Dillinger's crew and the Brady Gang. It's a portrait of Indiana's underbelly, and thus, the most iconic bar in the state. Oh, and there's world-class music there, too.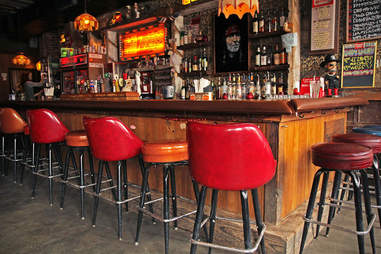 Tim McDonnell/Courtesy of Skinny Dennis
Skinny Dennis is the kind of bar where a Wednesday night can easily find you lighting your heels on fire to the rockabilly stylings of Brooklyn's best pompadours, while sultry-eyed girls in polka dots and high-waisted jeans bet you'd make a great wedding date (it's been a good week, guys. A good week). Yet happy hour is strangely relaxed for a dive that knows how to burn down the barn and rebuild it by morning.
There's a corner for making out that propriety forbids naming here, and it gets used pretty frequently.
Beers are so cheap here you'll think you've actually left NYC for Texas, but opt for at least one round from the inventive cocktail menu; it mixes beer with soft drinks, whips up boozy coffee milkshakes, and spikes homemade lemonade. Skinny Dennis is an awesome bar, through and through.