We've Got George Clooney's Summer Cocktail Recipes
Nothing compares to drinking a refreshing cocktail on a hot summer day -- especially when it's made with tequila. And good tequila at that.
To aid you in your summer-drinking pleasure and pull you out of your tequila & soda rut, George Clooney and Rande Gerber have released four new cocktail recipes, all made with their own Casamigos blanco tequila.
Check out the recipes below, and get to drinking. You can't argue with Clooney.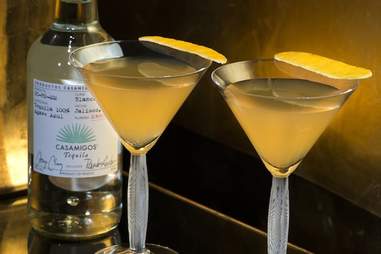 Courtesy of Casamigos
Bees Knees
INGREDIENTS:
1 1/2 parts Casamigos blanco tequila
3/4 part fresh lemon juice
1/2 part honey syrup
DIRECTIONS:
Combine all ingredients
Shake and strain into a coupe glass or serve up
Garnish with lemon twist
Courtesy of Casamigos
Flora Rosa
INGREDIENTS:
1 1/2 parts Casamigos blanco tequila
3/4 part fresh pink grapefruit juice
1/2 part almond syrup
1/2 part fresh lime juice
2 dashes jasmine water
DIRECTIONS:
Shake all ingredients with ice
Strain and serve in a coupe glass
Garnish with an edible flower
Courtesy of Casamigos
Peach Amigo
INGREDIENTS:
1 1/2 parts Casamigos blanco tequila
1/2 peach cubed
6 lemon cubes
1 barspoon super fine sugar
DIRECTIONS:
Muddle all ingredients except tequila
Add tequila and enough ice to fill a rocks glass
Short shake and pour
Courtesy of Casamigos
Raspberry Smash
INGREDIENTS:
1 1/2 parts Casamigos blanco tequila
3/4 part fresh lime juice
1/2 part agave nectar
5-8 raspberries
DIRECTIONS:
Combine all ingredients with ice
Shake and pour into a rocks glass