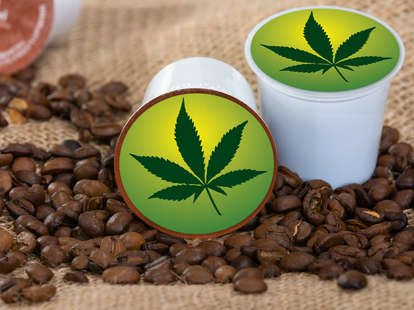 You already know about the weed-laced coffee craze thanks to pioneers like Mirth Provisions. But apparently it's reached the next, natural step by tackling Keurig. Yahoo Finance has the deets on companies like Uncle Ike's Pot Shop, which is selling coffee pods boasting 10mg of THC out in Seattle. California's House of Jane has an even more sophisticated operation going with their pot coffee K-Cups. They come in four varieties (medium roast, dark roast, decaf, and mocha cafe) and are just a small part of a mellow coffee empire that includes award-winning creamers and a forthcoming Frappuccino knock-off.
Still, you'd think a bunch of weed-loving hippies would be wary of K-Cups, due to their prime landfill real estate, right? As Emily Paxhia, co-founder of Poseidon Asset Management, puts it, "the more that cannabis can be consumed in forms that are familiar to broader populations, the more interesting it's going to become to a mass market."
Emily, trust us, it's already plenty interesting.
Kristin Hunt is a Food/Drink staff writer for Thrillist, and thinks this is bound to fall into the hands of unsuspecting moms. Follow her at @kristin_hunt.