Barmageddon: What Bartenders Hate Most During the Holidays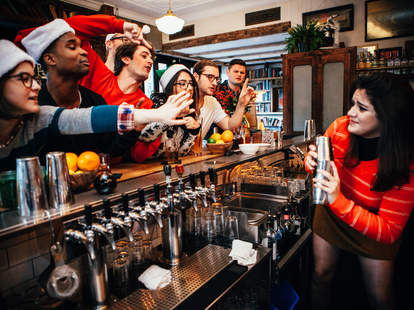 Nicole Fara Silver/Thrillist 
The bravest of bartenders are forged in this season of chaotic open-bar holiday parties and Santa-themed bar crawls. We spoke to a few tried and true bartenders who have seen it all (and then some), and they gladly dished on all the things that make them wish coal upon your stocking.
Nicole Fara Silver/Thrillist 
Losing their pony bet
Guess what? All the bartenders working your office-holiday party are for sure talking smack amongst each other in between pouring Gail from HR another Sauv B. But it gets better. They're also keep running bets on who's going to make a tool of him or herself during the festivities. And, yes, they call them "ponies." If you're not doing the same with your coworkers, well, guess who the good money is on?

The destruction of the last refuge away from holiday music
Brave a look into the dead eyes of a bartender who has heard "All I Want For Christmas Is You" covered by every burgeoning pop act from the last ten years, if you dare. (Or just stop requesting it.)

Witnessing the fruits of cuffing season
All the desperate singles who shacked up once the stores were lined with holiday items (in September) will be making out at the bar, thankful for not having to endure another holiday season alone (though they will inevitably break up around March).
Nicole Fara Silver/Thrillist 
The one creeper who hangs around under the mistletoe
"...which is why we don't do that anymore," as one bartender told us. Don't be the guy who literally forces an establishment to rethink their seasonal decorations.

Getting a shift covered on a holiday
Because of course you work at the one place that is open on Christmas.

Making Eggnog or Hot Toddies
It's such a drag to boil water when the bar isn't equipped for it. Also, buy eggnog at the store like everyone else.
Nicole Fara Silver/Thrillist 
Dealing with the sad holiday loners
These folks are generally pretty friendly, but all they want to do is talk when you have other customers. You also get the feeling they're using your conversation as fodder for that one chapter in their moody novel about being alone on the holidays.

Having to sell dumb holiday specials to patrons
You'd be surprised how many people don't like gravy.

Braving the elements
"Getting to work with your hair wet from the snow and all your clothes are wet and your boss complains because you look bad -- and then no one comes in because it's snowing."
Nicole Fara Silver/Thrillist 
Santacon
From Berlin to Boston, this international bar crawl makes headlines every December, and its no secret why. Here's a direct quote from one of the bartenders who was absolutely starting to have traumatic flashbacks by the mere mention of the word. "It's the worst thing in the world. People who celebrate it just have the least respect for what's going on during the holidays. It's like, taking the worst people from St. Patricks Day and throwing them in bright red and making them worse."

The monsters who disrespect the garnish
People who rip off their garnish and litter the bar with sprigs of mint or olive spears are not a seasonal occurrence, but the glut of holiday parties and open bars definitely exacerbates the problem.

Co-workers ditching work because they couldn't find anyone to cover their holiday shift
Rude. Being shorthanded during the holiday rush feels like trying to take Russia in the winter. Impossible.
Nicole Fara Silver/Thrillist 
Santacon, again
Yes. It is bad enough to make the list twice.

The Christopher Columbus of seat stealers
You know, that one person who suddenly claims all three stools with their puffer coat and bag of galoshes and backpack and shopping bags with little regard for everyone else in the bar. Though it's understandable if you need a pint that badly after holiday shopping at Ikea.

The people who will inevitably lose their coat
And then throw a fit. For some reason, in addition to tending bar, patrons expect bartenders to keep an eye on belongings, charge phones, remember your name when you close out, etc.