We asked ourselves, "What's more dadly than feeding large groups of people and managing thirsty, rowdy crowds?" With that in mind, we decided to hit up one of the hardest working industries for their best and brightest and asked them about the most important things their fathers ever taught them. We talked to celebrity chefJohn Besh and butcher and restauranteur Pat LaFrieda, and premiere bartenders Pamela Wiznitzer, Jeffrey Morgenthaler, and Danny Neff about all their dads' best pieces of advice that helped them get to where they are now.
Pat La Frieda
If you don't know who Pat LaFrieda is, you must be a vegetarian. This meat guru extraordinaire learned everything he knows about the business from his dad, Pat La Frieda Sr. In fact, the La Friedas have a long history of dads-in-chief, stretching back to La Frieda's great-grandfather Anthony LaFrieda, who came over to New York from Naples to start up their business. Now as a fourth-generation butcher, LaFrieda Jr. has totally transformed their biz, acting as the meat supplier for places like Mario Batali's restaurants and Shake Shack, creating custom patty blends, and catering to about 400 restaurants. Here are the most important things his dad taught him:
Be the nice guy
"In general, the most prominent of all I learned from my father was the idea of civility. He taught me that civility was something that one should walk with throughout one's life, that it is a guide to how one should conduct themselves in private life and in business, and it would be how others would judge me."
Work ethic is key
"To run my business, my father taught me that above all else, work ethic was the only difference between two people competing in an industry. The concept of working hard is simple to explain, yet my father never explained it to me verbally. It was something that he demonstrated every day by example."
Be the type of person everyone can respect
"My father has his core group of friends but never lets that restrict him from being overly friendly with everyone that enters his world. What's fascinating is that he does it in an honest manner, meaning that he is no chameleon. He doesn't act differently or change his views like many do in those circumstances. He stays true to himself, is loud about it and what's fascinating is that he gains the respect of those around him because of it. As his childhood friends often tell me, he has always been the one man that could walk through his neighborhood, passing many groups of people, some having been bitter enemies with each other, yet having each group stop to greet him."
Pamela Wiznitzer
Pamela Wiznitzer is a drink-creating heavy hitter and is the bartender equivalent of the cool overachiever in your high school class who just made it all look so easy -- and a lot of that is due to her equally overachieving neurologist father. Besides being the creative director of Seamstress, working towards a Food Studies Master's at NYU, acting as president of the NY Chapter of the United States Bartenders' Guild, and winning titles like "Bartender of the Year," Pam teaches a class with her dad called "The Neurology of Taste." Pam and her dad work in totally different fields but brought it all together to dissect how the brain understands flavors, and that's a dad-daughter duo that can't be beat.
Never do anything half-assed
"Whatever my father did, he did he committed to it 100% -- he never did anything half assed. He wakes up every morning at 5am to go swimming. After he goes to the synagogue, he then comes home, reads his newspaper and drinks his oj, then goes to work and makes sure he's home for the family when my mom or brother or whoever needs him."
Be patient
"When I was younger and my dad used to do homework with me and I'd be on the computer pressing the buttons to make it go faster and he'd look at me and say "You need to take a step back and wait. You need to have patience.Take one moment to step back, breathe, and wait. It'll happen. Nothing happens instantly."
Take a break
"My dad always taught me that there's always time to take a nap. He's the best napper I've ever seen in my life. If there's 5 minutes, you can take a nap."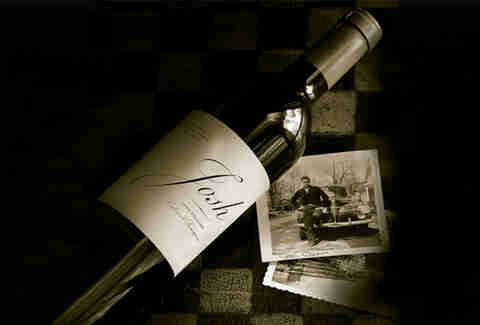 Joseph Carr
The Napa Valley vintner and former sommelier founded Josh Cellar in honor of his dad, whose legacy aspires Carr's work today through values like craftsmanship and quality. With advice like the below, wouldn't you name your wine brand after your dad too?
You're really only as good as your word
I once had this lousy job working in a lumber mill for the summer. My Dad called the yard foreman to get me the job, and I hated it. After about 2 weeks, I told him I was going to quit. He reminded me that I had made a commitment for the summer, and that I had taken another man's job who might have needed it. At the end of the day, your word is the only thing that people can find to gauge the value in you as a man. So I stepped up and finished the summer, because from that point on, quitting was never an option.
Danny Neff
Danny Neff -- one of seven kids -- has a lot to thank his dad for. Both he and his brother Michael manage the bar program at Holiday Cocktail Lounge, and watching their dad's determination working construction to support a large family despite his ailing health was the type of kick to the behind he needed when times got rough.  
Keep moving
My father taught me to set my goal and to keep moving. I started in the bar industry six years ago as a barback. I barbacked for two and a half years for two very well known cocktail bars and worked my ass off to get where I am now -- and it's because of what my father taught me.
Believe in your ability to succeed
"[My brother and I] were born into controlled chaos; we thrive in it. If there's a situation at the bar where we're out of ice or limes and we're open in 5 minutes, and he and I are both the ones who are like ok cool, I'm going to go across the street and talk to the bar and get ice and limes and he's going to get the juicer and get everything prepped and ready because we were taught to think, 'No. We will be successful. We will not fail.'"
Community is everything
One of the big things that he taught was community. And community in our industry is everything. Community with your industry, community with your brand, your spirit, all of that -- if you don't know how to be a part of a community and help where help is needed, you're not really doing your job, in my opinion.
Jeffrey Morgenthaler
Morgenthaler, the guy who brought you barrel-aged cocktails & carbonated cocktails, did not come from an industry background and didn't think he'd be slinging drinks as one of the most in-demand bartenders around at places like Clyde Common and Pépé le Moko (he studied architecture and his dad was a banker). But despite his successes in the sometimes too-serious world of refined cocktails, Jeffrey keeps it real. And it was his dad's love for "fun" drinks like blended margaritas, piña coladas, and ice cream Brandy Alexanders (have him tell you that story if you ever meet him) that shaped the way he approaches his craft.
Don't take yourself and your job too seriously
"My dad taught me that drinks were supposed to be fun. It's kind of poignant now that everybody is taking it very seriously. You didn't sit around sniffing your single malt scotch cocktail -- you had fun drinks and you drank outside on the patio with your friends."
John Besh
Chef John Besh is known for sticking to his Louisiana roots and paying homage to the traditional culinary treasures of his home; this makes even more sense when you take into account that he was brought up by a father who "viewed the world as a boy brought up on the farm" and lived by those "good 'ole southern farming ethics." His father, Ted Besh, former test/fighter pilot, engineer, and CPA, had a lot to teach his son about life, but this is one of the most important things Chef Besh walked away with into adulthood.
You'll one day reap the benefits of hard work
"Raising children, just like horses, they do much better the more you work them. More than once I'd hear Dad say that a busy boy is a well-behaved boy. Between sports, chores, school work, and studies, there wasn't much time for distractions. Outside of schoolwork, I'd be given homework assignments of reading and writing book reports to him on the classics and I thank him for it everyday."