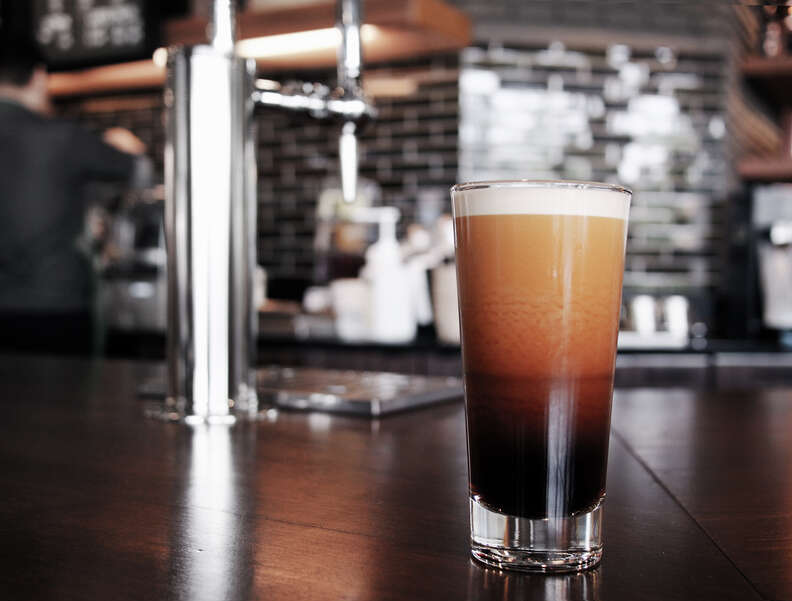 Witukki/Shutterstock
Witukki/Shutterstock
How Nitro Became the Hottest Thing in Cold Coffee
If you have bought coffee -- even just once -- in the past couple of years, you've probably noticed coffee shops and grocery stores touting "nitro coffee." What was once a technique beloved by beer-obsessed homebrewers in the early 2010s is now one of coffee's biggest and most inescapable trends. Nitro coffee is everywhere -- from cans that line the shelves of nearly every grocery store and gas station around the country to the menu boards at local cafes and major chains.
Nitro coffee -- cold brew coffee infused with nitrogen gas through a pressurized valve -- first made a splash in third wave coffee shops across the country, and quickly became a favorite among serious coffee aficionados. It was so beloved that even Starbucks took a chance on the beverage in 2016, introducing it at its Seattle Reserve Roastery where it soon became the second most popular order after the Caffe Latte, according to a Starbucks rep. Since then, it has spread to almost half of US cafes, and the chain announced this spring they're making moves to serve nitro at all locations by the end of the year.
The popularity is surprising considering it isn't exactly easy to make nitro coffee, which requires assembling a complex series of faucets, tubes, hoses, gas tanks, and keg connectors. It's not cheap either. The cost of launching a nitro program can add up to more than $1,500 which is a big cost for a small business like a coffee shop. And that is before you even factor in the training it takes to teach baristas how to use the equipment. From a customer perspective, the price tag of nitro coffee -- frequently $5-$6 a cup -- is steep, too. So how did nitro cold brew (NCB) become an unmissable drink?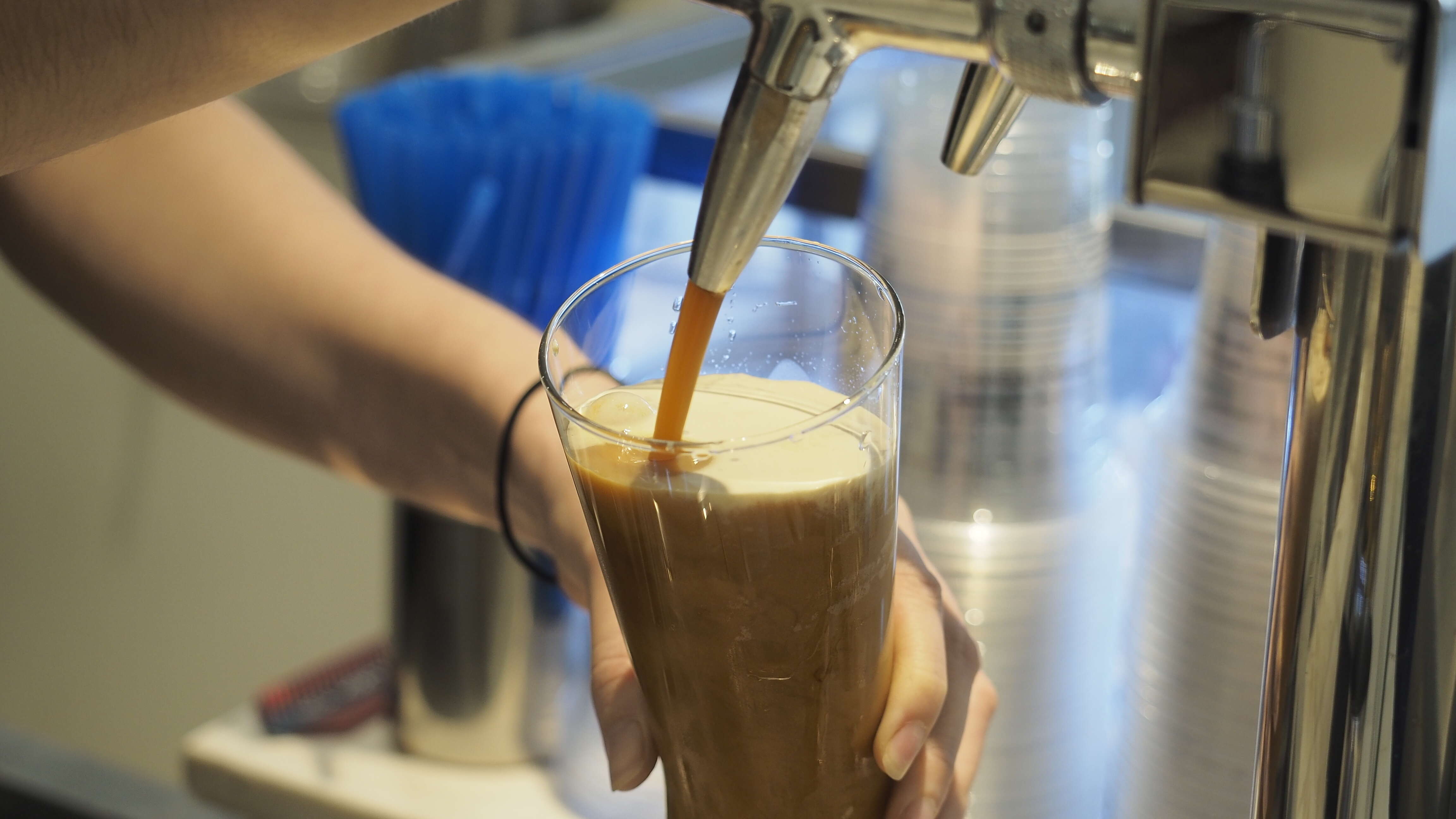 To understand the appeal of nitro coffee, you need to first understand the science. The first step in the nitro process is to brew coffee with cold or room temperature water for 12-24 hours. Then it is time to transform cold brew -- an already superior product to iced coffee -- into nitro cold brew by infusing the liquid with nitrogen gas with a pressurized valve. It is this step that gives nitro coffee its signature velvet texture.
The tiny nitrogen bubbles give the coffee a satiny thickness. Cold brewing beans turns up their sweetness and turns down their acidity, while adding nitrogen yields a frothy, milky layer that sinks from top to bottom. Coffee geeks call this gradation-in-motion a "cascade" and will compare it to a Guinness if they still have your attention. From a distance, a glass of nitro coffee and a freshly poured stout might look exactly the same. And like stouts, nitro is often kept in a keg.
The result? A cold drink that is thick and velvety and slightly sweet, but contains no dairy and no sugar -- only coffee. It's this miraculous texture that convinces so many coffee drinkers to shell out $6 for a cup.
Most industry players cite Cuvée Coffee in Austin, Texas as the spark of the nitro craze in 2013. They also agree that Stumptown Coffee Roasters in Portland likely followed shortly thereafter. Inspired by stout beer, Cuvée claims to be the first to offer NCB in kegs and widget cans that help recreate the same effect as a keg.
Jarrett McGovern, the co-founder of New York-based coffee company RISE Brewing Co., recalls the hype when he first started cold brewing out of his East Village apartment. Inspired by the homebrewers he saw innovating online and how Cuvée marketed and commercialized the product, he and his friends started experimenting with infusing coffee with gas.
"When we first started cold brewing and first started looking into the brewing of it, we were looking into either CO2 [carbon dioxide] -- there was a drink called the Manhattan Special [espresso and sparkling water] -- and then NO2, which is nitrogen."
He learned that because CO2 makes carbonic acid and harsher bubbles, it was less compatible with coffee than nitrogen. He also saw potential for a canned product right away. He noticed shoppable ready-made options were limited. At gas stations and supermarkets, customers had to choose between Starbucks Frappuccino and Monster Java Energy, neither of which were healthy or tasty. Seeing an unmet need, RISE made canned nitro its focus.
McGovern was not alone in realizing the potential of NCB. Several other companies have hopped into the nitro coffee business including La Colombe and Califia Farms.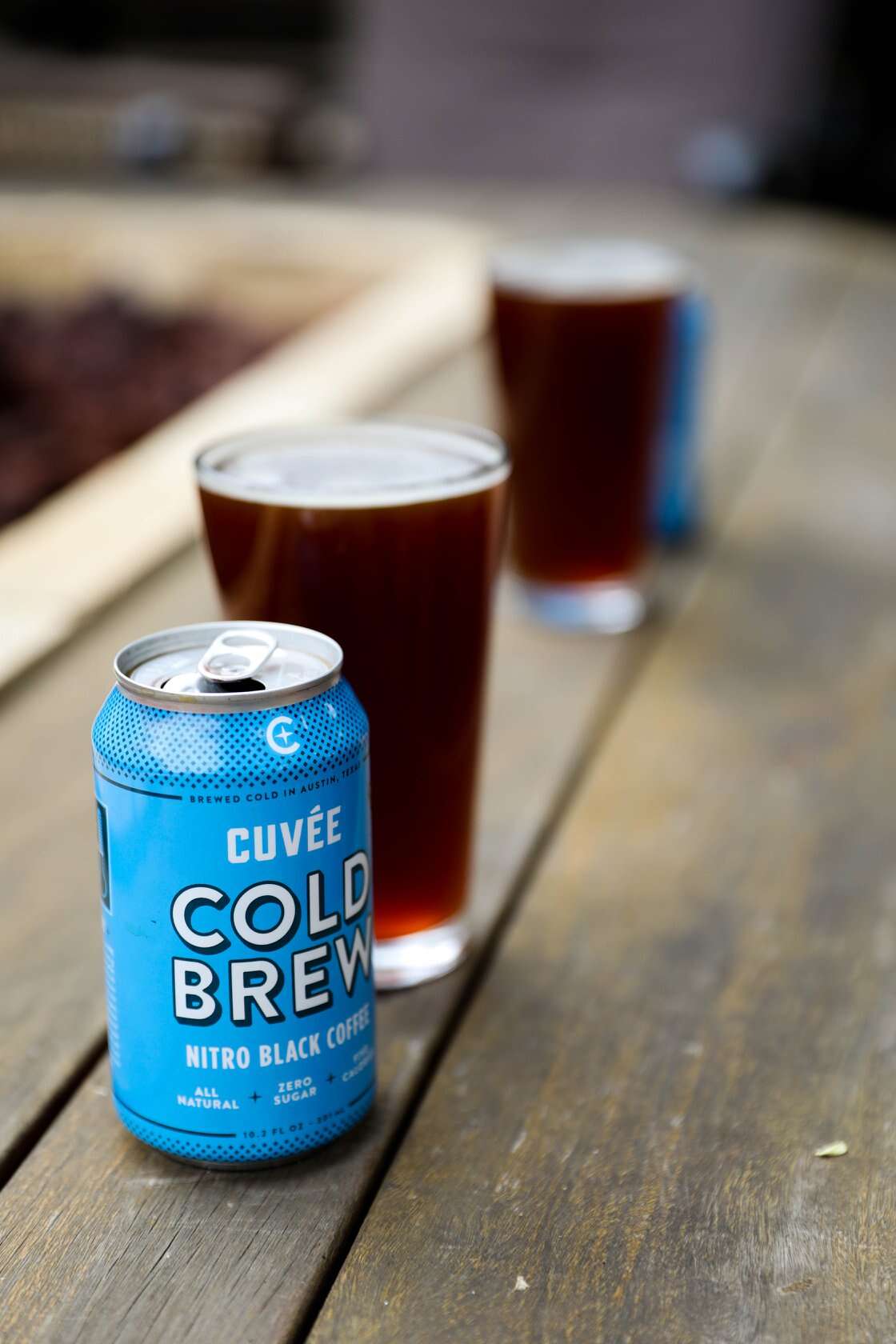 In spite of NCB's extravagance and high upfront costs, its long term profitability has lead to its prevalence. As a natural preservative, nitrogen is practical. It pushes out oxygen, keeping coffee so fresh it tastes the same as the day it was brewed for more than a year. For reference, a standard bag of roasted beans is said to have a six-week shelf life.
Cold brew in general is economical, a reason for its recent boom. Given the short lifespan of beans and grounds, small-batch roasters have always struggled with profit margins. Airtight bottled and canned cold brew keeps much longer, making large-scale business possible. In cafes, it takes a matter of seconds to pour, which keeps long lines of customers moving quickly.
Nitro has also gone on to become a popular office perk. Commonwealth Joe, an Arlington, Virginia-based coffee company, services workplaces in DC, NYC, Philadelphia, and Baltimore with NCB on tap. They provide kegerators and deliver fresh kegs of coffee on a weekly or biweekly basis. This model has been so successful that the company decided to forgo its original plan to launch a small chain of cafes, says its CEO Robert Peck. RISE got their start hooking offices on nitro too. They peddled nitro door-to-door to Manhattan and Brooklyn restaurants, and people started asking to have it in their offices. Word spread and their number of clients quickly grew to the approximate thousand they serve today.
And the drink has found a real fan base among the health conscious set. Naturally sweet and rich, nitro feels like an indulgence. It's creamy like an iced latte, but dairy-free and has roughly five calories for a standard 12-ounce beverage. It's gets the greenlight for vegan and keto diets alike -- paleo too.
McGovern predicts that as dairy, added sugar, and preservatives go out of favor, we'll see an array of beverages beyond beer and coffee get the nitro treatment. At his brewery in Stamford, Connecticut, they improvise with ingredients and chemicals during sessions they call "F Around Fridays."
"We've nitro'd rosé, we've nitro'd root beer, we've nitro'd apple juice, we've nitro'd teas, we've nitro'd matcha, we've nitro'd coffee," McGovern says. They even nitrogenated gravy at the brewery's Thanksgiving party last year.
McGovern is onto something. Although not yet commonplace, nitro cider and matcha green tea, for example, exist.
Sprudge co-founder Jordan Michelman would like to see NCB play with beer more. Beer cocktails in which two different brews are mixed, such as a Black and Tan, are not as common in America as the UK, but he sees NCB-beer blends as a possibility that could take off.
However, his no-nonsense take on nitro's future follows Newton's third law. What goes up must come down, and the end of the era is near. He compares the trajectory of NCB to that of the Flat White (RIP) -- once ordered by hip people everywhere only to get canceled once Starbucks rolled out ads depicting the sleek foamless latte.
Michelman has a point. Some of Starbucks' NO2 creations, the Nitro Dirty Chai, Nitro Pepper Jerky Cold Brew, and Nitro Hopped Apricot Cold Brew are signs that nitro coffee has maybe jumped the shark. "Starbucks is [a trend chaser] but they're also the death sentence of the trend."
Sign up here for our daily Thrillist email, get Eatmail for more food coverage, and subscribe here for our YouTube channel to get your fix of the best in food/drink/fun.
Alex Erdekian is an editorial assistant at Thrillist. Send caffeine.