We Visited the Blue Point Brewery to Find Out What Makes It So Beloved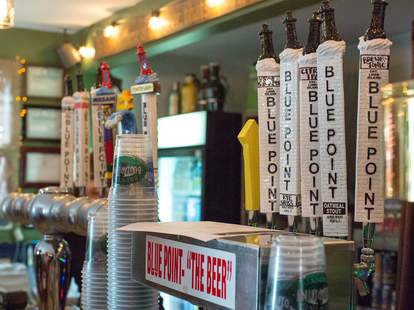 Second only to their love of Billy Joel, Long Islanders love Blue Point Brewery. When it first opened in 1998, it was the only production brewery on LI. While that isn't the case anymore, there's a reason why almost all of Patchogue squeezes their cars into the parking lot and tailgates with oysters and beer there on Saturdays… even though Long Island doesn't even have a sports team anymore. So, we visited Blue Point ourselves to see what all the fuss was about, and this is what we learned:
Patrick Spears/Thrillist
It's an important piece of Patchogue history
Patchogue's a tiny town on Long Island that's technically considered a village, and it certainly feels that way. The brewery is located in a boatyard on a Patchogue River, and was once used as an ice factory. Fishermen would pull up by boat to buy ice, which they needed for packing their catch in, before heading out to the Great South Bay, and it sat abandoned for decades before founders Mark Burford and Pete Cotter opened Blue Point nearly two decades ago with pieces of brewery equipment they scraped together from auctions. Now, even though there's several production breweries on LI, Blue Point is the oldest, and the only one left over from the mini craft beer boom of the '90s. But that doesn't mean this brewery doesn't have a lot of new tricks.
They're always experimenting with small-batch brews
Sort of like a beer version of Willy Wonka's Chocolate Factory, Blue Point's original brewery is now where "innovation beers" are produced, and you can only taste them in the Patchogue tasting room. Brewmaster Dan Jansen and his team have created about a dozen plus beers that are only available there, and any one of them could become the next big label for Blue Point. These beers, like their Strawberry Berliner Weisse (a sour white beer style originated in, you guessed it, Berlin), Vanilla Cream Ale, and Mexican Lager, which is infused with lime and salt, are so new they are only available on tap and can't be sold outside the tasting room, and don't even have labels -- instead, they're all outfitted with a black and white label that simply says "TEST BEER."
They're using unexpected local ingredients, like East Coast seaweed
Alright, before you spit out the sushi you had for lunch, hear us out. One of the most vital parts of Blue Point's experimental small batches is their ability to try out brews with different ingredients, including four different types of East Coast seaweed in their "Prop Stopper" Seaweed IPA. (For those of you unfamiliar, they are making a boat joke there.) The seaweed gives the IPA a subtle, salty finish. There's also a Beach Plum Gose, made from a small, tart fruit you can normally pick right from the dunes on Long Island beaches and salt right from LI's Great South Bay, as well as an Oyster Stout, brewed with local oyster shells to give the stout a tinge of full-flavored salinity.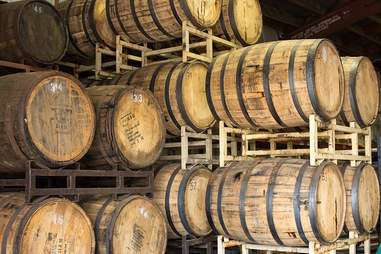 Patrick Spears/Thrillist
They're barrel-aging beers
If you thought that barrel-aging was only good for grape juice and bourbon, you'd be mistaken. Now, craft breweries around the country, including Blue Point, are barrel aging their beers, too. At the brewery, Jansen and his brewers are taking some of the brand's favorites, like RastafaRye Ale and White IPA and aging them in tequila, bourbon, sherry, rum, whiskey and scotch barrels to infuse the flavors of the liquor, as well as some vanilla, chocolate, and tobacco notes from the wood barrels, into your favorite brews. And while none were ready for us to have a sip yet, we were able to sneak a peek as the crew began the process of moving one "experimental" brew into a keg.
Patrick Spears/Thrillist
They are firkin enthusiasts
A firkin is just another word for a cask, which is the steel or wood vessel that cask ales (or "real ales" if you're British) are fermented in. They're called that because it's how Britain has been brewing beer for centuries, and are deemed "real" ales because they aren't filtered or pasteurized, and are carbonated naturally. Cask ale has been a pillar of Blue Point for the past 15 years, and because of it's fermented in the same vessel it's served from, these beers maintain all the flavor the brewer intended on you to taste. That flavor isn't a overshadowed by a super bubbly carbonation and, because it's normally served at 52 degrees, isn't so cold that you can't taste the flavors. Here's how head brewer Eric Ahlberg explains it: "The beer is at its most precious form in the cask. It's what beer tastes like straight out of the fermenter. No filtering, no force carbing [when they force CO2 into a beer to make it bubbly]. Just beer in its natural form." A firkin is a quarter of the size of a barrel of beer (10.8 gallons) and that tiny size makes it perfect for testing super small batches of wacky brews too -- making them ideal for even more experimentation. Also, every Friday, the brewery taps one of these firkins, giving lucky tasting room patrons a taste of one of their favorite beers in a new way.
They host a Cask Ale Festival that is basically a beer flavor showdown
All of that experimentation comes to a showdown when Blue Point hosts its annual Cask Ales Festival, where more than 60 breweries from all over come and show off what "real beer" they've been cooking up. It's officially the largest Cask Ales festival in the country, so to gear up for it, Blue Point makes over 200 casks, some with some unusual flavor profiles, like earl grey tea and cucumber. Most of the breweries wackiest beers start out this way, are taste tested at the festival, then perfected in the tasting room.
Courtesy of Blue Point Brewing
The Tasting Room has a secret menu
Only true Patchogue locals know about the secret menu, until now, we guess. Behind the Tasting Room bar are Anne Marie Meisen-Buck and Jess Labriola, who both have 15 years worth of beer knowledge from pouring brews at Blue Point. All that insider knowledge, along with the creativity of Patchogue locals, has led to the creation of Blue Point's own "secret" menu. With every new beer that comes into the tasting room, beer "cocktails" are devised by the locals to spice things up, especially those who consider the tasting room one of their regular haunts. The latest secret item is the Beach Plum Gose mixed with a bit of Blue Point's Blueberry Tonic, which is like a blueberry seltzer, but with alcohol. Its bubbly, tart, and fruity mix is perfect for the summer heat, or boat rides down the Patchogue River. Some of the regulars also like to mix up the few standard brews for variety to, like the "Rastical" which is a mix of Hoptical Illusion and Rastafarye Ale. While these aren't specifically on the menu, those "in the know" can ask for one of these mixes and have a taste.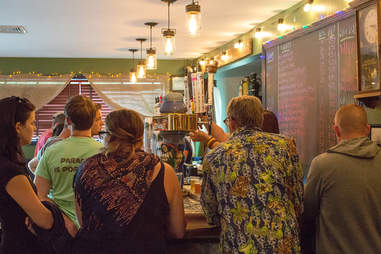 Patrick Spears/Thrillist
They've always got home in mind
Probably one of the most important reasons why Long Island loves Blue Point is that it still feels like the local brewery, even though you can find their Toasted Lager across the United States and a few places internationally, and they brew thousands of barrels of beer a year. The tap room, even on a Thursday at 3 pm, is filled with locals, looking to taste whatever's new on draft. And Blue Point is always rounding up support for local causes, like selling hand painted buoys to help Operation Splash, which keeps Long Island waterways clean, and also gives to Island Rescue, a local animal shelter. Right down to the buoy on the label, the stuff in the bottle, or their new commercial about what makes Patchogue great, they're paying homage to their hometown, too.