We Taste-Tested (and Ranked) Every Alcoholic Kombucha at Whole Foods
Matt Meltzer/Thrillist
Matt Meltzer/Thrillist
So maybe you've heard about this alcoholic drink they sell at Whole Foods that's good for you, right? The crazy fermented probiotic stuff in the giant cooler next to the wine, that'll not only give you a cool buzz but detox the f&%k out of you in the process?
Well, the stuff is called kombucha, and it's been around for something like 5,000 years. It's originally Chinese (although today a large percentage of the stuff in the US is made by a California company, Synergy Drinks), and it reportedly maintains all kinds of magical healing powers. It also, as we mentioned, contains around .5% alcohol. So, it's a whopping 1 proof.
Which means you'd have to drink pretty much EVERY SINGLE VARIETY at your local Whole Foods to even catch a buzz. Which is, well, what we did. And then we ranked them by flavor. As you can imagine, minimally buzzed probiotic insanity ensued.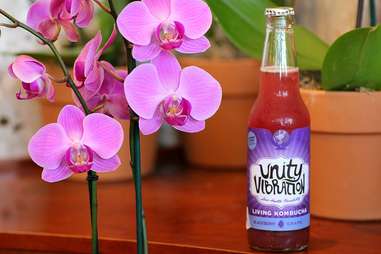 15. Unity Vibration Blackberry Grape
Don't let that pretty picture fool you, the first words out of my mouth when I tried this were, "Oh God, it's awful." Well, the first words after, "Go get a towel!" to clean up the mess, 'cause this thing has A LOT of carbonation. It tastes like the half-gallon of fruit juice that you forgot about in the back of the fridge and that almost exploded when you tried to open the cap three weeks after its expiration date.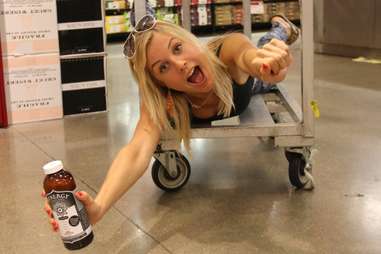 14. Superfruits
Given the name, you probably think that a "Yumberry" is delicious. Why wouldn't you, the name includes the word "yum!" You should be so lucky, though. What this drink, which is chock-full of yumberry, actually tastes like is a case of hard cider you left in your backseat for a week. Yeah, the yum's been skunked right out of those berries. So even if this label was scary correct and drinking it allowed you to fly, it would not be worth suffering through an entire 16.5oz of it to get there.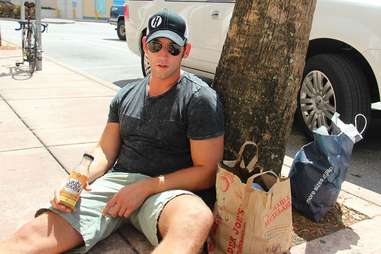 13. Unity Vibration Pineapple Ginger
As a drink, this leaves a lot to be desired. As a sushi topping? It would absolutely crush it -- a lot of pickled ginger in there. Somehow though, despite a whopping 14 grams of sugar, the sweetness of the pineapple gets totally overwhelmed. Which is too bad.
12. Original
Two words: carbonated vinegar. One sip of this, and you'll see why they made 12 other flavors. Apparently, cops like it, though. We asked one who was shopping at the store.

11. Gingerade
At first glance, you might think this is a sports drink engineered specifically for Shaun White or Andy Dalton; it is not. And sadly, for our mouths, it tastes like a mix of apple cider vinegar and pureed ginger.
10. Strawberry Serenity
Remember the "bad" kid on your little league team, who used to say shit like, "If you put pink Starburst in that bottle of strawberry Gatorade, then leave it under your bed for, like, a month, it'll get you SERIOUSLY messed up?" He's making prison wine now. But that concoction he suggested tastes just like this.
9. Maqui Mojito
There's a little warning label on these things that says "THIS IS A RAW FOOD. Strands of this culture may appear." Which means, basically, that you may find yourself swallowing a slimy trail of live kombucha culture along with your alcohol. That's what happened when we tried the mojito. It tasted a little more like green tea than the Hemingway favorite but was smooth and, thankfully, less carbonated than some of the other flavors.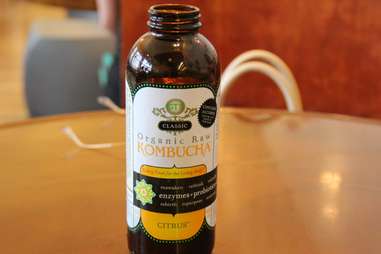 8. Citrus
This drink reminds me a little of those street taco vendors who advertise "meat" tacos but when you ask what kind of meat, their only response is, "just meat." The Citrus label doesn't give you any idea what fruits are in it. While a quick swig evokes strong hints of orange and lemon, what it really tastes like is a slightly fermented version of EmergenC.
7. Raspberry Rush
There is some serious raspberry action going on here. But after that first rush of raspberry subsides, you're left with a soft hint of Go-Gurt mixed with childhood memories of the milk at the bottom of your Trix bowl.
6. Multi-Green
When you drink anything with the word "green" in it, you're expecting a liquefied version of all the veggies mom force-fed you as a kid. Which is why Multi-Green is so misleading; despite being decidedly frog-colored, it tastes like unsweetened iced tea and water.

5. Cosmic Cranberry
Remember Thanksgiving dinner as a kid when you got bored because who cares about the Detroit Lions, and you started doing crazy stuff like throwing leftover cranberry sauce in your parents' half-finished glasses of sparkling white wine? Had you actually tried that cranberry white wine, then you'd know EXACTLY what Cosmic Cranberry tastes like.
4. Third Eye Chai
Really, the only downside to this one is the name will have that song "Jumper" stuck in your head for the rest of the day. If you can get past that, it tastes like a carbonated, watered down chai tea latte mixed with pumpkin spice. Just replace the caffeine with alcohol.
3. Divine Grape
Imagine you opened up a bottle of Manischewitz (because, hey, who doesn't enjoy wine that tastes like grape-flavored antiseptic spray?) and found it had fermented SO much that it started to carbonate? Well, consider your Champagne-Passover dreams come true. If you're not Jewish, imagine grape Benadryl with bubbles, and less of a buzz.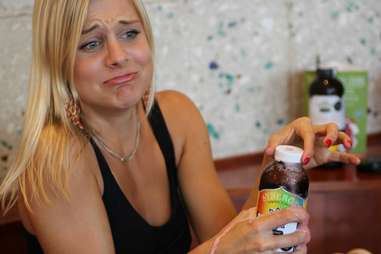 2. Trilogy
This one reminded us of a fifth-grade science experiment, where a kid puts an entire box of Zotz in a bottle of water, lets it sit for a week, and then explodes it in front of the whole class. While you can definitely taste the strong flavors of raspberry, lemon, and ginger, the real taste you get is the fizz; Trilogy is easily the most carbonated of the Synergy line.
1. Gingerberry
Because we value truth in advertising, Gingerberry takes the top spot. Its stated ingredients: ginger root, blueberry juice, and 100% pure love. When you take a sip, you taste absolutely nothing but the first two. And had Crystal Waters been with us, she would definitely have confirmed the love.