What to Drink With Spicy Foods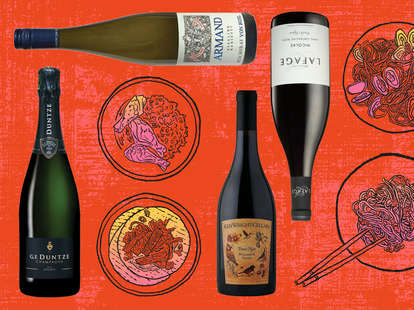 Maitane Romagosa/Thrillist
Maitane Romagosa/Thrillist
As a product of Galveston, Texas, I'm convinced that my love for spicy foods is embedded within my DNA. I can remember at a very young age (let's say, around seven or eight years old) enjoying bowls of my Granny's gumbo with dabs of hot sauce; smoked ribs and sausage links hot off the barbeque pit courtesy of my dad in the summertime; and of course, cracking and sucking the head from many small mounds of crawfish. And as I got older, my tolerance for spice only increased. From bags of Flamin' Hot Cheetos through middle school lunches to adding one too many jalapenos on nachos at high school football games, I couldn't shake the need for spicy foods if I tried.
Now that I'm old enough to enjoy wine with a meal on a regular basis, I've been keeping a running list of grape varietals that can bring out the full flavor of my favorite fiery food choices. From a bowl of spicy Thai noodles to a basket of buffalo wings, I've discovered that wine – compared to beer or other beverages – has the ability to go toe-to-toe with some of the most succulent dishes.
Hot Tip
Something to note about pairing wine with spicy foods: it's important to be mindful of the amount of alcohol present. In food, chili heat tends to create a warming or burning sensation on our palate. The higher the level of alcohol in a wine, the more astringent (and uncomfortable) spicy food it will feel on your tongue. To avoid that, it's important to choose wines that are light, dry, fruit-forward, and high in acidity.
For my fellow foodies who enjoy cranking up the heat, here's a short list of white and red wines that will bring out the best in common spicy foods.
Recommendations
Sparkling wine or Champagne
Bubbly may not be your first choice when it comes to enjoying spicy foods, but it should definitely be a consideration moving forward. If you're a seafood lover like me, the fizz in a Brut Champagne (which means, it will have very little sugar added) is a great option to help bring out the freshness of fish that has been elevated with spice.
My Bottle: G.F. Duntze NV Brut Réserve (Champagne)
Dish: Spicy seafood pasta
Riesling
A white wine that is naturally high in acidity and sweetness, Riesling is versatile and can accompany any meal. Because of its natural sugars, a light German Riesling -- which can have notes of green apple and lime -- is an ideal option to pair with spicy Thai dishes because it can provide a cooling sensation to your palate.
My bottle:Von Buhl Armand Riesling Kabinett 2015
Dish: Massaman Curry
Albariño
If you like Pinot Grigio, then you'll totally enjoy a glass of Albarino. Hailing from northwest Spain, Albarino is the white wine of Spain. While often compared to its Italian cousin, this dry, medium-bodied, high acidic wine is crisp, refreshing, and has notes of peach and apricot that would be great for the next Taco Tuesday.
My bottle: Bilbao Albarino 2018
Dish: Spicy Pork Carnitas
Gewurztraminer
While this French wine may be a little bit tricky to pronounce, it is one of the most fragrant white wines you'll find, and ranges from dry to sweet. For the sake of accompanying our quest for spicy culinary satisfaction, an aromatic dry or off-dry Gewurztraminer from Alsace will have medium acidity with fruity notes of grapefruit, pineapple or peach. This will pair incredibly with the rich spices of Caribbean food.
My bottle:Geil Gewurztraminer Kabinett
Dish: Jerk chicken
Pinot Noir
As one of the beloved noble red grapes, Pinot Noir's fresh red fruit flavors (think strawberry, raspberry, red cherry) allow for it to be enjoyed when it is fairly young. Pinot Noir is a personal favorite of mine, simply because it is easy drinking and goes with almost everything. A quick suggestion when choosing a bottle: Pinot Noirs from Oregon aren't cheap, but you are going to get your money's worth.
My bottle:Ken Wright Pinot Noir Willamette 2017
Dish: Dan Dan noodles
Gamay
This French wine is particularly unique because it solely focuses on grapes from Beaujolais, a region that is immediately south of Burgundy. The wines produced from this region have light tannins, fresh fruit flavor, and should be served (lightly) chilled to highlight their acidity.
My bottle: Beaujolais Nouveau
Dish: Fajitas
Grenache
Finally, another French wine (that also goes by the Spanish name, Garnacha) is another red wine that can be enjoyed chilled. Putting a little chill on a bottle of Grenache in this instance is important because unlike the other wines listed above, Grenache tends to be low in acidity and high in alcohol. The pepper spice in Grenache uniquely brings out the spice in Indian cuisine.
My bottle: Domaine Lafage Cuvee Nicolas 2017
Dish: Chicken Chettinad
Sign up here for our daily Thrillist email, get Eatmail for more food coverage, and subscribe here for our YouTube channel to get your fix of the best in food/drink/fun.