Anthony Humphreys/Thrillist
Mother of God, Jack Daniel's Built a Motel & It's Glorious
Tennessee whiskey, rock star marriages, and roller derby dance parties all have one thing in common: The Jack Daniel's Motel 7 bash. And when those things get together for parties in middle-of-nowhere Brooklyn and middle-of-lots-of-things Miami, it somehow creates a crazy, one-of-a-kind experience, complete with Andrew W.K. marrying people (yup, for real). And the folks at Jack Daniel's are throwing more of these musically driven motel-sized parties all over the damn country. So grab your chance to go, and then read our review of both parties below to find out what to expect if you go.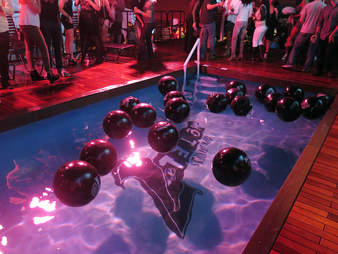 Dana Lauren Goldstein/Thrillist

There'll be swimming in hilariously tiny pools
In true motel fashion, there was an "in-ground" swimming pool set aside for quick dips between dance moves (the Miami one pictured up there), and this particular one even came complete with one real (and one fake) lifeguard. Fun fact: according to the real lifeguard, adults at a party are better behaved than children at a public pool.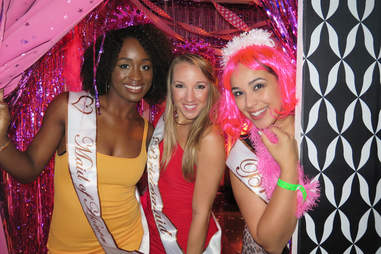 Dana Lauren Goldstein/Thrillist
Ohhh, there will be karaoke
There's something odd about getting summoned into a room via pink boa. It somehow becomes not odd when you're belting "Don't you wanna dance" into a mic in the company of a half dozen bachelorettes, like these ladies in Miami.
Anthony Humphreys/Thrillist
You'll learn to breakdance
Emphasis dance crew posted up at the Brooklyn party in one of the corner motel rooms upstairs to teach several of our editors that breakdancing doesn't have to be done on your head.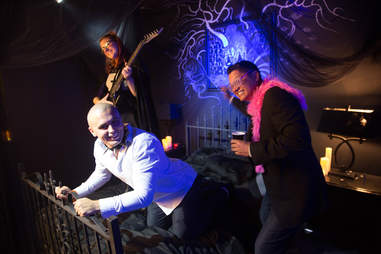 Anthony Humphreys/Thrillist
You'll be doing whatever this is
We honestly don't even know what's happening here, but this guy who looks like Billy Corgan is very into it. He is not at all mellon collie!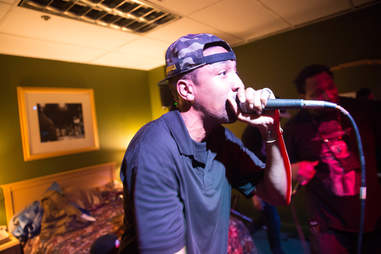 Anthony Humphreys/Thrillist
You're probably going to up your rhyme chops
15-year-old NYC freestyle crew End of the Weak challenged guests in Brooklyn as they walked by all night, virtually tossing a mic at them. Much like learning a language, forced immersion is the best way to become an expert spitter.
Anthony Humphreys/Thrillist
Hosting legit weddings in a chapel
inside
their pop-up motel is bonkers enough, but Jack raised the bar in New York even more by
helming the ceremonies with Andrew WK
, famed party guy and already-ordained minister.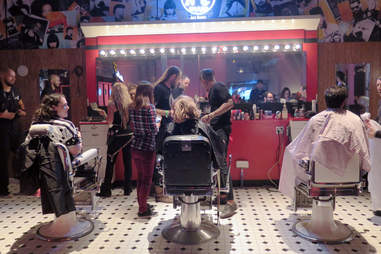 Dana Lauren Goldstein/Thrillist
You might walk away with a Mohawk
Nothing says motel like a pop-up barber shop, like this slick station in Miami. Sometimes a new 'do is best gotten on a whim, and if that's your bag, Motel 7's got you covered. Well, unless you're going for the Moby look.
Anthony Humphreys/Thrillist
You'll get to be a DJ
Complete with velvet rope and an unnecessarily selective bouncer, the "rave room," decked out in eye-splitting neon, fog, and the opportunity to actually operate the DJ setup, was a highlight of both motels. Bonus points for '90s glowstick tricks.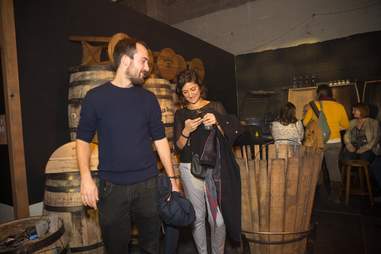 Anthony Humphreys/Thrillist
You'll learn the art of booze storage from JD's "barrel man"
Dressed in folksy overalls, the leader of Jack Daniel's barrel-making master class (whom we later found out is named Kevin "the Barrel Man") gave serious insight into the process, from how they make the metal rings to why they singe the insides.
Dana Lauren Goldstein/Thrillist
You'll chill in a room full of pillows
What you do with said pillows is totally your business, but given that you've already crammed 100 nights worth of cray into just one night, a powernap between rooms wouldn't hurt.
Anthony Humphreys/Thrillist

You'll take a stroll through music history
Acting as a stoic oasis from the craziness of the rest of the motel, The Jack + Jim Gallery featured a full spread of prints from (arguably) music history's most famous live photographer Jim Marshall. Seriously, this guy was there to capture Jimi's flaming guitar.
Anthony Humphreys/Thrillist
There's boozy hot cider and donuts
Even though the Brooklyn motel was pretty hot, a mulled cider spiked with Jack Daniel's was the perfect accompaniment to boozy, "fried right in front of you" doughnuts that Queens bakery Sweet Dreams dubs "doughnuts for grownups."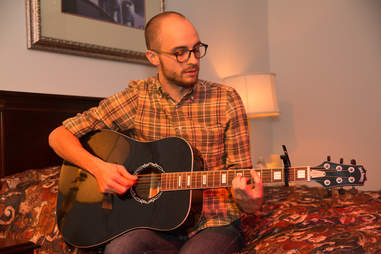 Anthony Humphreys/Thrillist
You might get a custom song written for you
The lowest key room in the bunch was occupied by NY improv master Evan Forde Barden, where he was taking topic callouts and making up songs on the spot accompanied only by a guitar. It was like that one dude in college, but better executed.
Anthony Humphreys/Thrillist
You might witness an album being recorded before your eyes
Not to be outdone by ol' off-the-cuff Barden, a super-funky band was just next door jamming real hard. But the kicker is: they had an adjoining room that was acting as a control room laying down an album on the spot.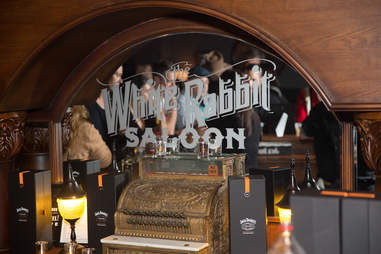 Anthony Humphreys/Thrillist
You'll sneak into a speakeasy for smooth jazz and top-shelf JD
Like most speakeasies, the Motel No. 7's ode to prohibition could only be entered through a dirty room stacked with mattresses. Inside, the velvet-clad lounge pitted dim lighting against smooth jazz keys, and lubricated conversations with classic Manhattans and healthy pours of Jack Daniel's Single Barrel.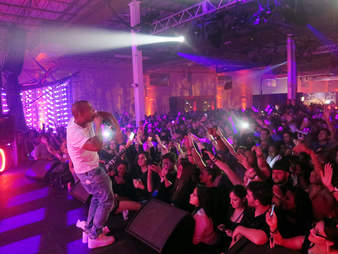 Dana Lauren Goldstein/Thrillist

You'll see A-list live acts (Ja Rule seriously brought it)
Upon first entering the castle of insanity that is Motel No. 7, guests are immediately greeted with a looming, barrel-studded main stage. Why? Because every night, for the last hour, Jack Daniel's Motel brings in a seriously A-list performer to bring the event home as loudly as possible. In New York, it was T-Pain and Cloud Nothings on respective nights. In Miami it was DZA, Ja Rule, and more. In your city? Who knows. In a word, the whole motel is pretty over-the-top. Here's a little cheat sheet of the total amount of nuts-ness in just BK alone: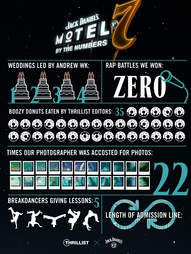 Anna Horowitz