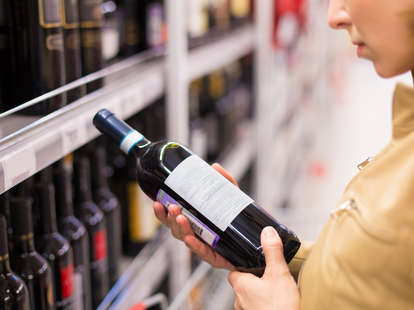 USAart studio/Shutterstock
Even wine experts admit to one another privately that it's impossible to not get overwhelmed by choice when trying to purchase wine. Believe me, we understand what it's like to start sweating by just looking down the wine aisle. Tens of thousands of wines are released every year; no one can keep up with that kind of volume.
Wine is too deep and too broad a topic for steadfast rules, but if you have 15 bucks to spare, and are willing to do a little bit of work, here are the guidelines that will give you an edge when you're shopping for a good, inexpensive bottle.
Go with smaller regions
While 15 clams probably won't get you a single-vineyard wine, there's no reason why you shouldn't be able to get a good wine from a high-quality region for that price. Avoid geographies that are too large (do you know how big South Eastern Australia really is?), there's a reason those wines are so cheap. Sub-regions (like Cotes du Rhone or Sonoma County) are good sizes for which to aim.

Look for a regular-sized bottle (750ml)
While you might be tempted to go big on the bottle size (hey, more bang for your buck, right?), the bang, in this case, will come from a smaller volume of higher-quality wine, rather than a hefty amount of a so-so drinking experience. And yes, you should be able to find a vintage wine (with some exceptions, as you'll see below) for $15.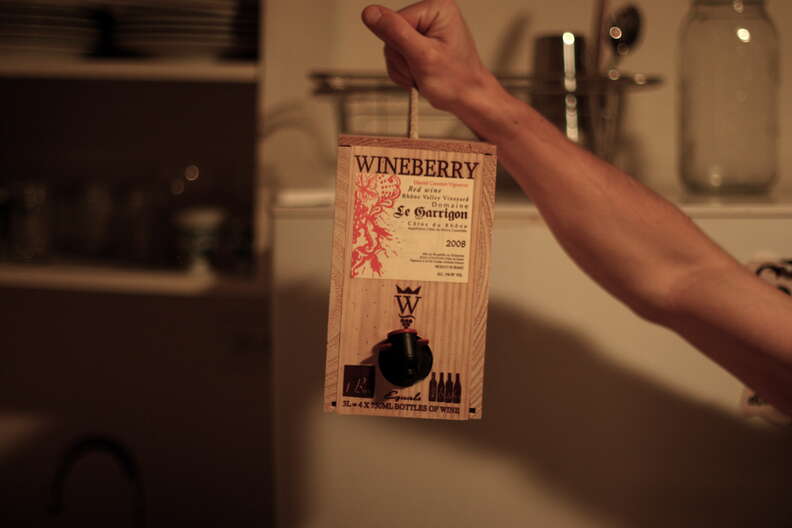 Don't be afraid of the box
Alternative wine packaging (such as bag-in-box and Tetra Pak) has come a long way; or, rather, the wine being put into that packaging has come a long way. These are no longer the purview of cheap wedding receptions -- some seriously tasty wine is being sold without a glass bottle. These are great options for parties when you want to stretch your dollar, but don't want your guests to drink swill.

Be wary of the bargain bins
Sometimes, those big, end-of-aisle displays at the wine shop or grocery store contain some real wine bargains. More often, they're full of the crap that the store couldn't sell. Your best bet is to approach these aisle-ending displays with skepticism that's in opposite proportion to their displayed discount percentage.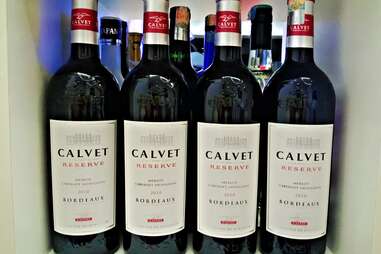 Buy the right wine from the right region
Some wine regions have been growing and vinifying certain grapes for so long that they can churn out tasty varietal wines in their sleep. Think Bordeaux for cabernet sauvignon, California for chardonnay, New Zealand for sauvignon blanc, Rioja for tempranillo, Germany for riesling, South Africa for chenin blanc, Argentina for malbec, and Chianti for Sangiovese. Who benefits from those multiple decades of experience? You do. At $15, these areas are going to deliver more often than not.

Obscure grapes can be a better value
Ever hear of pinot noir or nebbiolo? They're finicky grapes to grow, and go into some of the world's most expensive wines. How about arinto, loureira, nero d'Avola, cariñena, or albariño? No? Well, wines made from more obscure grapes are usually cheap, but not because the quality is lacking. Try 'em -- you might just take home your new favorite grape variety (at your new favorite price).
This goes for wine regions, too. The more well-known it is, the more you're likely to have to pay for it. Right now, Spain and Portugal are your bank account's friends. Some areas, like Northern Italy and France's Jura, are hot with wine geeks; don't go there, because you'll pay for that cachet.
Don't be afraid of bigger brands
Like any business, wine has its major, industrial-sized players. They shouldn't always be avoided, however, because their economies of scale allow them to employ high-quality winemaking even for their low-end brands. Case in point: Korbel's sparkling wines are killing it in terms of value for money. Just sayin'.

Look outside of Champagne for bubbles
You want genuine Champagne for $15? Yeah, well, I want a 1964 Alfa Romeo Giulietta Spider. Neither of us are going to get what we want. But having a budget doesn't mean you have to go without bubbles. Sparkling wine's current popularity means that everyone is doing it and some are doing it very well.
If you like fruity bubbles, look to Italy's prosecco. If you want yeasty complexity, Spain's cava uses the same production methods as Champagne, for a lot less dough. For something in between, try Crémant d'Alsace (Champagne's less pricey cousin). You'll be going non-vintage here, but since most sparkling wines are vintage blends, that's not a bad thing.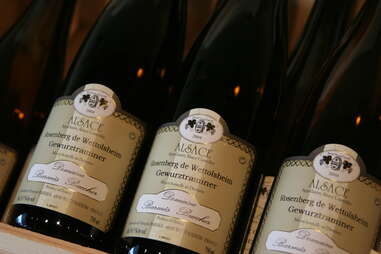 Sweet wines are sometimes your best bet
Sweet wines are not en vogue, which means that those of you with a sweet tooth currently have the gate key to bargain-bin wine heaven. Off-dry wines (gewurztraminer from Alsace) and dessert wines (late-harvest wines from California, and non-vintage fortified wines such as port and Madeira) are at shockingly low price points considering their production costs.

Employ all Internet resources
Wine is like any food or commodity. You'll find the highest prices at the local or markup level (restaurants, small wineries) and the lowest prices online. Given that you're already online reading this, do some research on recommendations, reviews, and prices; there have never been more available wine resources online than there are now. If you live in a state that allows wine purchases and shipments, you can get hooked up with wine directly at sites like Wine.com and Wine-Searcher.com.
Sign up here for our daily Thrillist email, and get your fix of the best in food/drink/fun.
Joe Roberts is a Certified Specialist of Wine, and can regularly be found roasting the wine world's sacred cows at 1WineDude.com. Follow his wine recommendations and musings: @1winedude.