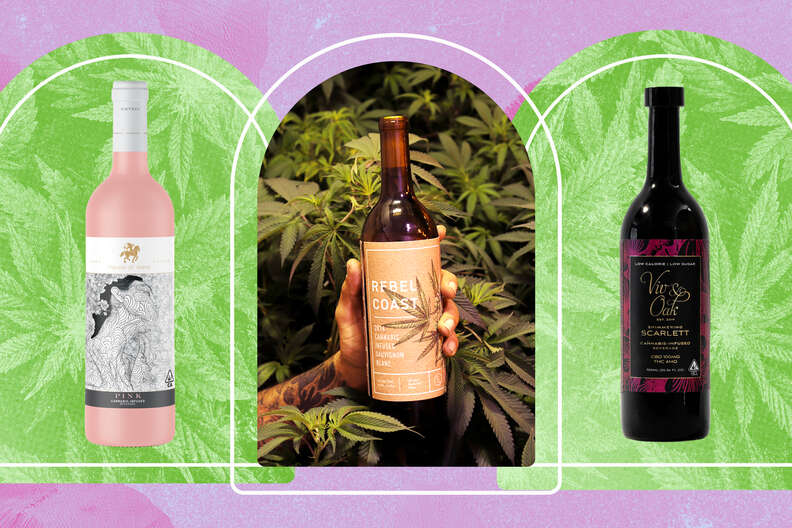 Design by Maitane Romagosa for Thrillist
Design by Maitane Romagosa for Thrillist
Cannabis is proving to be big business. Though still illegal at the federal level, the industry has made great strides towards legalization—19 states have legalized recreational cannabis use for adults, while 38 others now allow medical cannabis sales, and 13 have decriminalized cannabis use. This has led to an explosion in the industry, especially during the pandemic when states like California deemed cannabis businesses essential, resulting in a record $17.5 billion in sales across the U.S. in 2020.
With this Green Rush comes an abundance of innovation as brands seek to distinguish themselves from the age-old stoner trope and appeal to consumers who aren't just looking to get high, but are interested in taking advantage of purported benefits that include everything from reduced anxiety to better sleep and pain management.
One trend that appears to have taken hold, especially in California where cannabis is legal and wine-growing regions are plentiful, is non-alcoholic wine infused with THC. Brands like Rebel Coast, House of Saka, and Viv & Oak have sprung up over the last few years, appealing to cannabis consumers who seek the familiar buzz that alcoholic wine provides, but without the detrimental hangovers.
For House of Saka, it was important to appeal to women cannabis users who were left ignored by the industry at large. Prior to her post as co-founder and CEO of House of Saka, Tracy Mason spent time serving as chief strategy and innovation officer for CannaCraft, which sells more than 200 products including vapes, beverages, flower, and candies.
"What was really missing was a company that was addressing the emerging female consumer, and attracting them in ways that were comfortable for them," Mason says "So in terms of both form and factor, and look and feel."
In terms of look, House of Saka's wine bottles are elegant artworks unto themselves, with gorgeous illustrations set against white, pink, and ombre orange bottles. When it comes to form, Mason was inspired to create House of Saka's signature rosé—which happens to be the fastest growing category of any wine type.
Mason imagined that House of Saka's rosé, called Saka Pink, could be seamlessly integrated into many consumers' end of day rituals or lowkey evenings with friends, but without the negative effects of alcohol—not just hangovers, but also additional sugar and calories.
While rosé has an unpredictable range of 35 to 120 grams of sugar per glass, and between 21 and 72 sugar calories per glass, Saka Pink has just 11 calories per serving and a negligible amount of sugar. For comparison, Rebel Coast's Sparkling Sauvage has 49 calories and nine grams of sugar per serving, though it's worth noting that their serving size is a full 12-ounce can, while House of Saka's suggested serving size is five ounces.
The idea was certainly there, but as those who have tried cannabis-infused edibles know, the plant often has a distinct, not entirely pleasant taste. That, plus the fact that consumers expect certain flavor profiles from a beverage that intends to replace alcoholic wine, created a problem for emerging THC wine brands.
"We really wanted to mimic the flavor profile of wine, so that was our most difficult problem," says Rebel Coast founder and CEO Josh Lizotte. "Alcohol adds a lot of complexity, mouthfeel, and profile to wine, so mimicking that is difficult. We spent six to eight months just experimenting, and even after we launched we were still changing the formula and the process until late last year. Now we're at a stable formula that's consistent. But our first five or ten batches, they were all different because we were trying to make it better and better."
At least part of that problem is solved by quality sourcing. Rebel Coast sources its grapes from Sonoma Valley before infusing them with fast-acting THC that has an impressive onset of approximately 15 minutes from the point of consumption. House of Saka gets its grapes from select vineyards in Napa Valley, sourcing Chardonnay varietals for Saka White and Saka Spark labels, and pinot noirs for Saka Pink.
Rebel Coast, which also launched a line of hard seltzers, endeavors to limit the taste of cannabis in its products based on customer feedback, while House of Saka reintroduces natural cannabis essences and terpenes (aromatic compounds) that mimic alcohol flavor profiles back into its drinks after they've been de-alcoholized.
"In our Saka Spark product, we used Mimosa strain-specific live resin on purpose because we wanted those Mimosa-like terpenes to come through and really add to the flavor profile of our sparkling wine product," Mason explains. "But for still wines like Saka White and Saka Pink, we're looking for as neutral an emulsion as possible. But we're looking for emulsions with similar terpenes to cabernet or terpenes similar to chardonnay. While we try to nullify the weedy taste of cannabis within our beverages, we also leverage the terpene components that add to the wine-like experience, because wine has as many terpenes as cannabis does."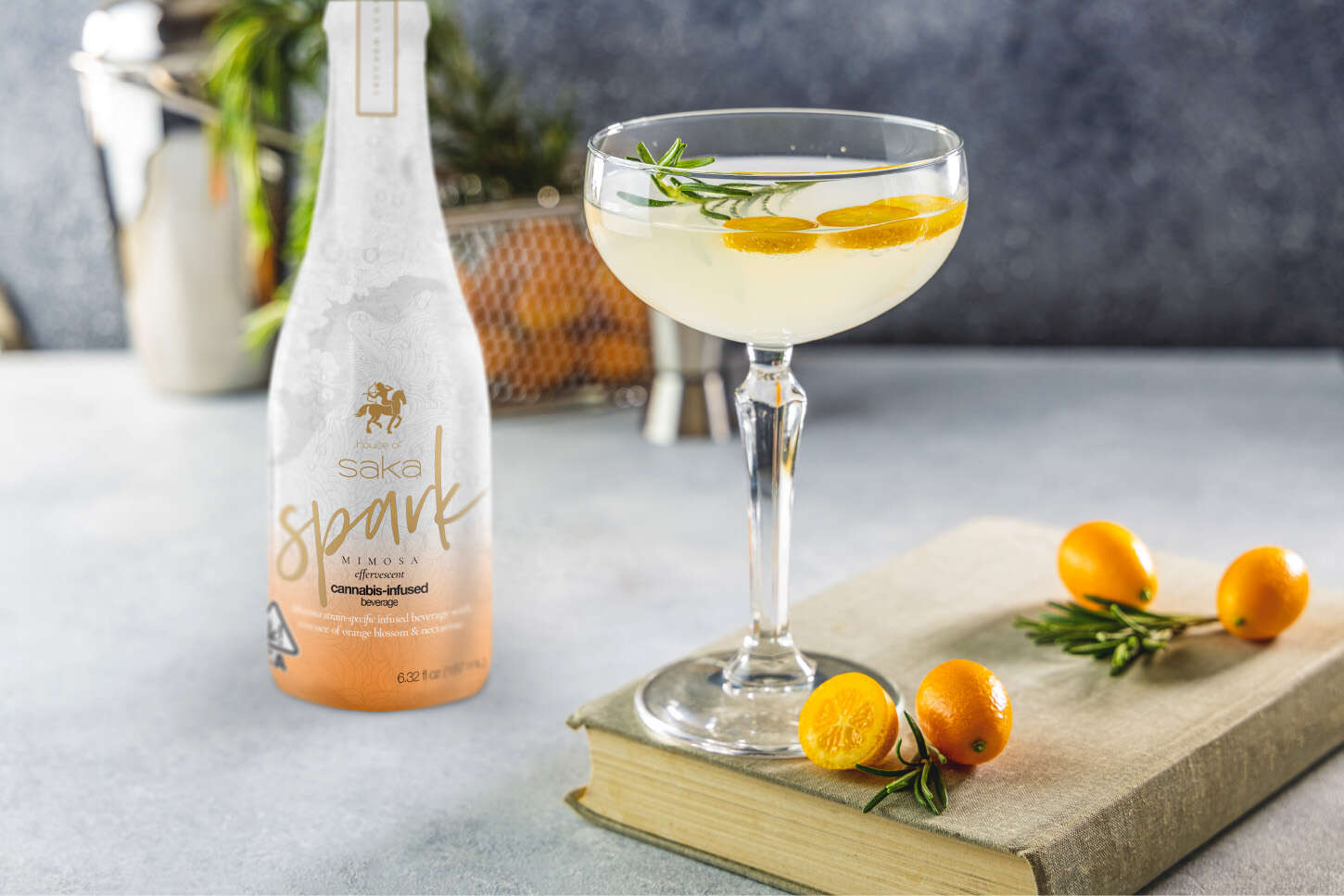 What does THC wine taste like?
While each brand takes its own approach to honoring the flavor profiles that consumers have come to expect from wine, each succeeds in its own way. When sipping Saka White, a refreshing citrus scent hits your nose first, followed by muted fruit flavors like apricot, ripe peach, and lemon peel, with a slightly sweet and acidic finish that lingers on the roof of your mouth.
Rebel Coast's Sparkling Sauvage, on the other hand, provides a pleasant carbonation that helps mask the cannabis taste to make way for the more acceptable citrus and grassy notes that sauvignon blanc varietals are known for.
Then there's the question about consumption and striking a balance between tapping into cannabis' rumored benefits of relaxation and mood elevation without getting too incapacitated. The good news is that, unlike other cannabis-infused edibles, beverages are highly metered. All of Rebel Coast's canned wines (Sparkling Sauvage and Sparkling Pink Passion, plus non-carbonated versions of each) come with 10 milligrams of THC in a 12-ounce can, while House of Saka's Pink has 40 milligrams of THC and five milligrams of CBD per bottle.
Each of these doses are relatively low, and Mason suggests that first-time imbibers start slow. "You're ingesting a couple milligrams of THC per every few ounces of House of Saka, and, just like alcohol, you'll know within 10 to 15 minutes how that dose is going to manifest," she says. "Effects wear off within a half-hour to 45 minutes if you stop after your first serving. If you continue drinking, the high will continue, but you're not going to be drooling on the couch at any point. That's not what we want. We want you to keep sipping and drinking and enjoying yourself."
Lizotte has similar advice for Rebel Coast drinkers. "Each can contains 10 milligrams of THC, which is a typical dose, but for some people that's too much," he says. "So if you're a newcomer or if you have a low tolerance, I'd recommend starting off with half of a serving. Then give it 30 or 45 minutes and see how you feel. Definitely take it slow."
Rebel Coast and House of Saka's THC wines do leave you with an uplifting buzz that's reminiscent of alcoholic wine. Saka Pink leaves drinkers with a positive and social disposition, while Saka White can inspire creativity and lively conversations. Rebel Coast's sativa-dominant Sauvage blend will give you the giggles if you crack open a can then queue up a comedy, while the indica-dominant Pink Passion is ideal for unwinding after a long day.
What food pairs well with THC wine?
Both brands' products are likely to elicit munchies, but there's no need to overthink your THC wine and food spread. Instead go with items you'd typically pair with your wines—like fish, poultry, salads, and light cheeses for whites, and red meats, stews, earthy vegetables, fragrant cheeses, and chocolates for reds.
If you're wondering if THC wine tastings or tours are in the future for House of Saka or Rebel Coast, unfortunately, it's unlikely, at least until recreational adult-use is legalized at the federal level. Currently, California does not allow cannabis facilities to offer tours, but Rebel Coast is hopeful that as more consumption lounges open up post-pandemic, it will open up the possibility.
Mason teased the idea of a front-facing House of Saka experience. "We are very, very deep in that process. However, it is under 1,000 NDAs, so I can't talk about it," she says. "What I can tell you, is that we are working heavily on creating a consumer experience unlike any other in the cannabis space, anywhere in the country. I can't wait to stand there with that giant scissor and show the world what we've done with this."