Because some nights you just want to put on Love It or List It, order a boatload of wings, and drink the sh*t out of some fruit-forward Zins, we gave our wine writer/certified sommelier the challenge of pairing 12 of your favorite take-out foods with an appropriate and affordable wine. And yes, of course we included both kinds of cheesesteaks. To wit:
Buffalo Wings
Pair it with: Zinfandel
Why: Some have called it "the impossible pairing", others have said, "stick with beer", and others have said "stop putting things in quotations". But a spicy wing calls for a big, jammy fruit-bomb of a red wine like Zinfandel. The right Zin is brambly and bold, with just enough sweetness to cut the spice of any good wing.
Try this one: Michael David Winery 7 Deadly Zins ($16)

Pad Thai
Pair it with: Albariño
Why: You may not immediately think Spain when looking to pair Thai cuisine, but Albariño, which is grown on the rainy coast, is always bright and zesty, and the ones with more pear and pineapple on the nose will pair perfectly with a nutty, starchy, slightly sweet pad Thai. Just step away from Asian food's standby, Riesling, and try it. Thank me later.
Try this one: Bodegas La Val 'Finca de Arantei' Albariño ($18)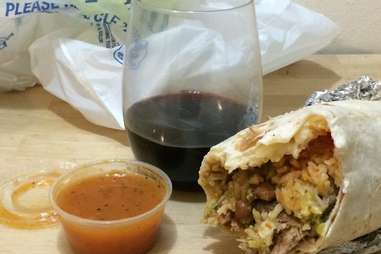 Carnitas Burrito
Pair it with: A dry, sparkling red like Lambrusco
Why: The smoky, not-quite-spicy flavor bomb that is a carnitas burrito pairs perfectly with a Lambrusco -- not the sparkling candy concoction favored by your crazy aunt in the early '90s, but a dry and earthy Emiglia-Romagna-style bottle.
Try this one: Cantina Ceci La Luna Lambrusco dell'Emilia IGT ($19)

Ramen
Pair it with: A brut sparkler
Why: For something salty and oily like ramen, it's best to aim for a sparkling wine that falls on the slightly sweeter side of brut, like Prosecco or sparkling Muscadet. Plus drinking slightly poorer person's Champagne with normal meals is kind of badass, and will garner you more likes on your food journal Blogspot.
Try this one: Julien Braud, "Le Bulle de l'Ouest" Muscadet ($23)

Spicy Tuna Roll
Pair it with: New World Pinot Noir
Why: Though the obvious selection is a light white -- duh, fish -- tuna is on the fatty side so it can handle a bit more body, like a New World Pinot Noir from Sonoma or Willamette Valley. The bursting cherry fruit flavor will highlight the sweetness of the sushi rice, enhance the saltiness of the seaweed, and dance with that distinct wasabi heat.
Try this one: Mouton Noir O.P.P (Other People's Pinot) ($17)

Chicken Tikka Masala
Pair it with: A hefty rosé, like Cerasuolo
Why: A rich and round rosé will complement both the acidity and the spice of that creamy, rich tomato sauce with just enough zesty coolness. A bold French rosé (i.e. not a Provincial) or a Cerasuolo, the Italian rosé made from the thick-skinned Montepulciano grape, will both do quite nicely.
Try this one: Marramiero DaMa Montepulciano Cerasuolo d'Abruzzo DOC ($14)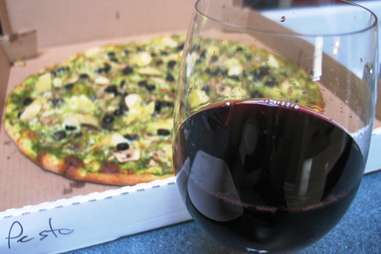 Slice of Pizza
Pair it with: Barbera
Why: Finding something to pair with THE GREATEST FOOD OF ALL TIME seems like it would be easy, but those Italians only make it look simple. It requires something with just enough grippy tannins to cut through all that glorious melted cheese, but not so many that it will clash with the high acidity in the tomatoes. Something like a medium-to-light bodied Barbera from Northern Italy has the perfect balance of juicy fruit and dry, mellow tannins to reestablish pizza as the best thing to happen to your mouth since braces.
Try this one: Fratelli Levis Piedmonte Barbera ($13)

General Tso's Chicken
Pair it with: Chardonnay
Why: Because this was a tough one, I eventually had to deconstruct the take-out staple, and I realized the key was figuring out what to pair with that garlicky ginger sauce. A stainless-steel aged Chardonnay has just the right heft to stand up to the sweet and syrupy dish, and unoaked Chards will maintain enough of that bright, citrusy acidity to balance out that ubiquitous sauce that coats the chicken/rice/everything in your apartment.
Try this one: Clambake Chardonnay ($16)

Bibimbap
Pair it with: Off-dry Riesling
Why: Remember all that stuff I said about trying out different wines with Asian fare? Forget it, because Riesling actually does pair perfectly with spicy food. Sweet(ish) wines simultaneously mellow and enhance the spice of a bulgogi rice bowl's thick, tangy chili sauce, creating the perfect balance of flavor. There's really no way to go wrong here: grab a German Riesling or one from upstate New York or Anderson Valley, CA.
Try this one: Charles Smith "Kung Fu Girl" Riesling ($13)

Fast-Food Burger
Pair it with: Cabernet Sauvignon
Why: In the interest of patriotism, what better wine to pair with our national food than a big and bold Napa Cabernet Sauvignon. The characteristic black cherry, vanilla, and licorice flavors of Cali Cabs are just begging for some griddled beef and a soft white bun.
Try this one: Anatomy No. 1 Cabernet Sauvignon ($25)
Philly Cheesesteak (with Provolone)
Pair it with: Merlot
Why: It's an age-old question: how do you pair a dish that was basically created for beer drinkers, by beer drinkers, with wine? The answer's Merlot, a wine that once waned in popularity due to (believe it) the movie Sideways, but is back thanks to its medium body and well-balanced fruit that complement, not overpower your favorite greasy sandwich. For a provolone cheesesteak, it works particularly well, because provolone, which is not the fattiest of cheeses, doesn't require punchier tannins, and the mellow Merlot won't mask the sweetness of the onions.
Try this one: Keuka Spring Merlot ($20)

Philly Cheesesteak (with Cheese Wiz)
Pair it with: Beaujolais
Why: On the other hand, Cheese Wiz walks the line between slightly sweet, salty, and, well, yellow, so it does well with a lighter, racier red. A Gamay-based Beaujolais features a tart cherry acidity that'll enhance the cheesesteak way more than the average light beer ever could. (Pro-tip: Beaujolais has awesome wines outside of the popular Beaujolais Nouveau.)
Try this one: Clos de Mez Fleurie 'La Dot' Beaujolais ($18)
Nora O'Malley is a certified sommelier and the manager of Alphabet City Wine Co. in NYC. Follow her: @noraomalley.