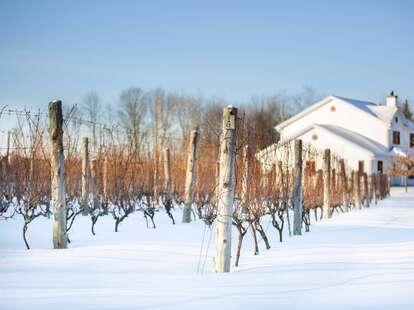 Domaine Bergeville produces organic and biodynamic sparkling wine

| Emmanuelle Roberge
Domaine Bergeville produces organic and biodynamic sparkling wine

| Emmanuelle Roberge
It's never been easy to put Québec in a box. Thanks to centuries of colonial guard-changes, the largely bilingual population is not quite French, but not wholly anglophone, either. Urban, cosmopolitan Montreal butts up against farm towns that appear plucked straight from fairy tales, while lavish Catholic churches and historic monasteries hold court beside ultra orthodox yeshivas. And, when it comes to the region's small but mighty winemaking industry, shrugging off convention is a point of pride.
"The industry is still tiny but we've done leaps and bounds in regards to quantity and quality in the last two decades," says Zaché Hall, owner of Domaine l'Espiègle, a popular winery in Dunham, Québec. "There are many new producers of very varied backgrounds, but I think what unites us most is our enthusiasm for attempting something new and risky, and potentially highly rewarding."
New and risky is correct. Despite its motto, "je me souviens," or "I remember," Québec is just wild about the rapidly evolving world of natural wine.
"Just 10 years ago, except for a few rebels like us, the majority of wineries were making industrial style wines using additives [and] so-called 'modern oenology,'" says Marc Théberge, winemaker and co-owner, Domaine Bergeville. "Now, just about every winemaker is aware of the demand for natural wines, and if they haven't yet adapted their winemaking practices, are in the process of doing so."
Hall agrees. "Low-intervention wines have a huge pull right now. The term can be misleading, but to me, it's about growing grapes that don't need heavy chemistry or high-tech equipment to make into delicious wine."
Whether you call it natural, low-intervention, raw, or something else, small-production wines fermented with native yeasts and produced without additives or pesticides have caught the attention of drinkers around the world, from chic Parisian bars to the family-owned vineyards on California's Central Coast. The movement evokes a youthful resistance to the confines of the establishment, where style guidelines are rigidly enforced and consistency is king, trumping any flirtation with experimentation.
Québec may be home to only 138 wineries and counting (for context, British Columbia claims upwards of 300, while California alone has 4,200); but it is quietly making a play for North America's most inventive viticultural landscape.
"The Québec market is super open to new and different styles of wine," says Théberge. "There's little in terms of regulations that forces the wineries to adopt a certain style, so creativity reigns. This diversity, coupled with a very strong determination to nurture environmentally sound vine-growing, is what sets us apart."
The demand is clearly there, too. Walk into any top restaurant in Québec City—many of which are gastronomic temples to all things locally grown, harvested, and produced— and you're likely to find at least one natural wine on the menu. Some of this is due to overlapping ideologies between the farm-to-table and natural wine movements.
"When we source for the restaurant, we first and foremost look for wines made in a natural way," says Thierry Fournier, the sommelier at Chez Muffy in Québec City. "These wines are usually made by smaller, more artisanal operations, which are more in line with the values of our restaurant." He also looks for natural bottles with "brighter and punchier flavors, which in turn makes for better pairings."
That's not to say it's all sunshine and rainbows up north. The region's harsh winters and truncated growing season led earlier generations of Québec winemakers to produce stellar ice wines.
"The climate here makes it very arduous to practice any viticulture at all," says Fournier. "The growing season is short, the winters are awfully cold, and the summers are unpredictable and humid. Conventional winemakers will use varying techniques to correct the final product in difficult years…like chaptalization, adding sugar to increase alcohol content, or deacidification. Natural winemaking doesn't allow such manipulations."
Instead of forcing the land to cooperate with established Vitis vinifera like Chardonnay and Cabernet, or doctoring their wine to conform to mainstream consumer expectations, Québec's natural winemakers use hybrid grapes and highlight qualities like lower levels of alcohol or heightened acidity.
"When most of the wine world is battling excessive heat and dealing with earlier and earlier harvest, Québec is really good at making naturally low alcohol wines with low pHs, which make natural winemaking easier," says Hall. "Most of our wines are naturally below 12% alcohol, and that's a plus in my mind. Despite lowish sugar levels, phenolic ripeness has been attained every year so far—I can really taste our soil, climate, and local flora."
Less boozy, food-friendly wines that work with the environment rather than against it? Sounds like a recipe for success. See for yourself by picking up a bottle from one of the game-changing Québec natural winemakers below.
Six Québec natural winemakers to try
Hatley, Québec
Marc Théberge and his team at Bergeville have been perfecting their lineup of certified organic and biodynamic traditional method bubbly for more than a decade. "We have three lines of sparkling," Théberge says. "The festive line aims to be your favorite aperitif. The gourmet line is a line of sparkling that we developed to accompany a meal. And, finally, the ephemeral line, where we test new things. If they become crowd-pleasers, we fold them into the other lines of product. We have also been known to make the odd ancestral method sparkling, which is commonly referred to as pét nat."
Théberge has a special place in his heart for his un-disgorged creations, or wines that undergo secondary fermentation in the bottle and are left unfiltered, so the spent yeast, or lees, remains in the mix. "We encourage people to gently shake the bottle to put the lees in suspension before opening them," he says. "The lees provide a texture similar to drinking a beer and provide some roundness without masking the fruit-forward style. These wines are meant to be drunk while they are young and vivacious."
Dunham, Québec
After honing his skills in Niagara and the south of France, Zaché Hall and crew kicked off their operation in 2018 by planting about six acres of vines in a patch of glacial sediment near Dunham. These days, l'Espiègle's fleet spans many varieties and styles of predominantly still wines.
"We have Gamaret, which is a cross of Gamay from Switzerland. I blend it with Gamay, it's very quaffable," says Hall. "We also make a still blanc de noir of Meunier, which is impressively umami. I like it a lot, but as much as I hate to admit it, our Chardonnay is likely our most intellectual wine."
Frelighsburg, Québec
Setting up shop atop a steep hillside, highly intuitive winemakers Justine Thérrien and Julien Niquet put out a handful of unfiltered, organic head-turners that play nicely off the area's unique topography and arrive bursting with personality. Their sparkling numbers stand out from the pack, especially the Grape Brin, a velvety, semi-carbonated red made from a blend of Gamay and Blaufränkisch that displays a remarkable sturdiness despite its diminutive 10.6% ABV.
Farnham, Québec
Spanning nearly seven-and-a-half acres of sandy soil, this biodynamic powerhouse from Véronique Hupin and Michael Marler has been leading Quebec's natural charge since 2005. The landscape and microclimate is ideal for growing Chardonnay, as evidenced by the property's thriving 30-year-old vines, but the winery's Pinot Gris, Seyval, Pinot Noir, and Zweigelt also hold their own. Les Pervenches is beloved for its skin-contact selections, including standout orange wines and a blush-red Chardonnay that macerates for eight months in terracotta jars.
Magog, Québec
Husband-and-wife team Frédéric Simon and Catherine Belanger have backed this splashy natural winery since 2011, converting 18 different grape varieties into what is widely recognized as some of the continent's hippest natural wines.
Thankfully, the juice lives up to the hype. The lineup spans rich, skin-contact bottles; layered reds exploding with Marquette, Frontenac Noir, and Petite Pearl; soft rosés; and even a playful, apple-infused porch-pounder packaged in hand-labeled cans. Nothing's off limits here as long as it stimulates the mind and pleases the senses.
Saint-Armand, Québec
Pigeon Hill co-owners Manon Rousseau and Kevin Shufelt have been channeling their passion for environmentalism into every bottle that streams out of their modest Saint-Armand vineyard since 2008. They champion lesser-known hybrid grapes like Marquette, which they introduced to the region themselves, alongside cold-weather fixtures like Frontenac. Don't miss Le Mouton, an oak-aged, single-varietal red that ably showcases Marquette's peppery abundance, and gets its name from the vineyard's resident sheep that freely roam about the vines.

Want more Thrillist? Follow us on Instagram, Twitter, Pinterest, YouTube, TikTok, and Snapchat.
Meredith Heil is the Editorial Director of Thrillist Travel. She's originally from St. Louis, now lives in Washington, DC, and in between has visited all 50 states plus dozens of countries. Rejoining Thrillist in 2021 after several years of freelancing, she earned an MA in Social Documentation from UC Santa Cruz and previously served as a content editor at Google as well as a staff writer for Thrillist's Food & Drink team. Her work has been featured in
The New York Times, Wine Enthusiast, Eater, Food & Wine, Bon Appétit, PUNCH
, and
Condé Nast Traveler
, among other publications. She loves all things cocktails, crosswords, and women's soccer. Follow along with
@mereditto
.