This Map Shows Which European Countries Drink the Most Beer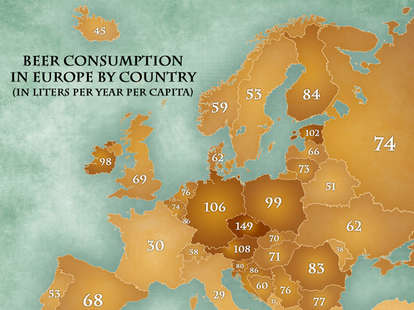 Jakub Marian (overlay) / Tindo - Fotolia.com (blank map)
There's no denying that Europe loves its beer (perhaps even more so than the United States), but just how much beer is the continent consuming? In short, a lot.
A map created by Czech linguist, mathematician, and artist Jakob Marian breaks down just how much beer each European country is drinking (in liters per year per capita), and surprise, surprise: Eastern Europe is the biggest consumer. The Czech Republic is downing the most brews -- 149 liters per year per capita to be exact -- with Austria, Germany, and Estonia coming in just behind it. Who is drinking the least? That would be Montenegro, coming in at 11 liters, followed by Turkey, Albania, and Italy (because really, who needs beer when you have all that wine?).
Note: most of the figures are from 2012 or 2011, and, for Serbia, 2007 (so Kosovo is not shown as a separate country). But still, it's a lot of beer.
Check out the full map below:
Lucy Meilus is a staff writer for Thrillist and is now planning a trip to the Czech Republic. Follow her on Twitter at @Lucymeilus and send news tips to news@thrillist.com.