What's America's Booziest State? We Ranked Them 50 to 1.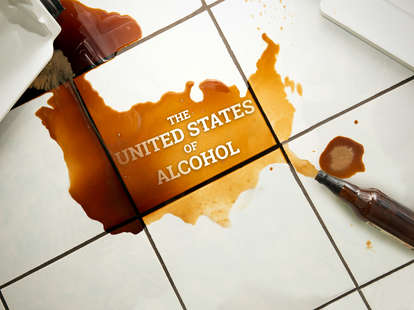 Drew Swantak/Jennifer Bui/ Thrillist<br /> &nbsp;
Drew Swantak/Jennifer Bui/ Thrillist<br /> &nbsp;
We all know America loves to drink. But in all our time spent writing about drinking, actually drinking, and occasionally doing both at the same time, a question emerged amongst Thrillist's editorial staff: which state loves to drink more than any other? Naturally, we had to find out, and just like that: the search for the booziest state in the USA was born.
To help keep this study fair & balanced, we turned off Fox News, put our closely held editorial opinions on the shelf, and turned to the data. Well, actually, we tapped Chris Kolmar, who is Movoto.com's "Chief Armchair Economist" (and, by way of disclosure/coincidence, also a buddy of mine from high school). He turned to the data, churning out spreadsheet after boozy spreadsheet to tabulate 10 alco-criteria -- from per-capita craft breweries to last-call hours -- on which all states in the Land of the Free would be measured.
The result is a statistically infallible, 50th-to-1st ranking of the United States of drinking. We laid it out in a map (below) to tell the story of this country's wettest & driest states interactively; hover over the (+) to catch top-line stats, plus anomalies Chris discovered while pulling the numbers together. Next, there's the full 50-to-1 ranking itself -- scroll down to see which state can rightfully claim the title of the USA's Booziest State. Finally, take a look at our methodology via a brief interview with Chris about finding & manipulating the data.
To wit:
The United States of Alcohol: a state-by-state comparison
Roll over the interactive map above for more info on how each state gets down!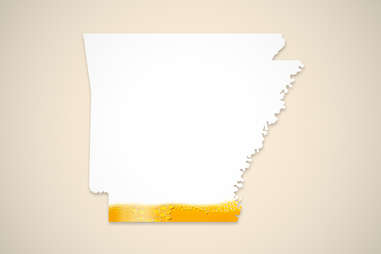 50. Arkansas
Standout stat: 1.81 gallons of alcohol consumed per capita
The Natural State didn't clock any worst-in-category numbers, but when you're tied for second-lowest per-capita gallons consumed (1.81) and sell sauce six days a week... well, that dog just won't hunt.

49. Mississippi
Standout stat: 0.2 craft breweries per 100,000 residents 21+
Two-tenths of a craft brewery per 100,000 people?! That's the lowest ratio in the country. Turns out the Delta blues are just what every boozehound feels when visiting this forsaken place.

48. Alabama
Standout stat: 2 distilleries
Wait, does every Southern state just hate booze?

47. Utah
Standout stat: 1.37 gallons of alcohol consumed per capita
There we go! Look at those tee-totaling Mormons getting in on the bottom 10! Must be all those liquor laws!

46. Georgia
Standout stat: 1 bar per 21,812 residents
And... welcome back to the Southeast. The home state of Tip "T.I." Harris and frat bros who wear fishing clothes as real clothes actually boasts a not-terrible number of craft distilleries (ten!). Unfortunately, it's also tied for third-last in craft breweries and only drinks more gallons o' hooch than eight other states.

45. Tennessee
Standout stat: Liquor stores only open six days a week
The Vols have been terrible for, like, ever at this point, but even consistent institutional failure hasn't driven enough Tennesseans to drink.

44. Maryland
Standout stat: 1 bar per 10,136 residents
Gone are the glory days when Natty Boh was actually brewed in Baltimore (long, long gone). With a row of pedestrian numbers, the Old Bay State got dinged hard on its low underage-exception laws.

43. South Carolina
Standout stat: .6 craft breweries per 100,000 residents
And no sales on Sundays?! Charleston, consider seceding -- but just from the state this time.

42. Oklahoma
Standout stat: 1.94 gallons of alcohol consumed per capita
Okhlahomans actually drink more alcohol per capita than a few other states, which, frankly, is better than we expected.

41. Florida
Standout stat: One underage exemption
Save Cigar City and a few others, Florida's got a dreadful craft brewery scene for a big state -- just 0.5 per 100,000 Floridians. Sure, Miami's got bottle-popping pool parties, but the rest of the Sunshine State is hardly on the same page. Just one more reason to skip it on your next vacation.
40. New Jersey
Standout stat: 0.4 craft breweries per 100,000 residents
There's no such thing as alcoholic pork roll (... yet), and without it The State We All Hate is a barren, boozeless wasteland, with roughly the same per-capita craft breweries as Alabama. Alabama! Six under-21 exemptions kept it from an embarrassing ranking, but beyond River Horse, there aren't many real bright spots in the Garden State.

39. Virginia
Standout stat: 200+ wineries and vineyards
VA hosts an incredible number of wineries, and Stone Brewery having just selected Richmond as the location for its East Coast operations, Virginia's booze future is looking sweet.

38. Hawaii
Standout stat: 38th in craft breweries per capita
Finally, a state ranking that's impervious to the 50th state's beauty. Take that, you laid-back bastards!

37. Kentucky
Standout stat: 1 bar per 13,321 residents
For all itsliquor lore, (and being home to some of the best distilleries in the world), you'd think they'd have more bars per person than a place like Oklahoma (which is No. 42 on this list).

36. Kansas
Standout stat: 1.95 gallons of alcohol consumed per capita
Attention Kansans: drink more Tallgrass. Like, now.

35. North Carolina
Standout stat: Four underage exemptions
Hailed by beer geeks across the country as the next-next craft beer capital, Cackalacky's 1.3 craft breweries per 100,000 includes both household names like Sierra Nevada (their Eastern seaboard facility sits in Fletcher) and prestige makers like Fullsteam, Highland, and Mother Earth. Don't wait 'til Sunday morning to buy your tailgate liquor -- sales don't start 'til noon down here.

34. New Mexico
Standout stat: 2.1 breweries per 100,000
The desert heat means there's really never a bad time to sip a refreshing adult beverage, which may be why Lobos crush about 2.36 gallons-worth every year.

33. Connecticut
Standout stat: $373,592,000 economic impact of craft beer
Annoying New England blue laws aside, the Constitution State's got some decent wineries within its borders, plus Stratford's somewhat-new neckbeard favorite, Two Roads Brewery.

32. Indiana
Standout stat: 73 wineries and vineyards
Hoosier bars have proven to be downright innovative when it comes to outsmarting drinking regulations.

31. Louisiana
Standout stat: 0.3 breweries per 100,000 residents
With producer numbers lower than Lake Pontchartrain in July, the Big Easy eked out this damn-respectable position by drinking 2.6 gallons per capita/year, and picked up big points off five (5!) underage exemptions. Plus, y'know... Bourbon Street.

30. Minnesota
Standout stat: 1 bar per 5,271 residents
The Twin Cities are the ancestral home to tons of classic working-man brews, but the Land of 10,000 Lakes also boasts a few distilleries and nearly 50 wineries. Nice.
29. West Virginia
Standout stat: 1 bar per 4,051 residents
The country road will take you home, but only after you drive by about eleventy watering holes on the way there.

28. Texas
Standout stat: 275 wineries and vineyards
Lone Star, Pearl, Shiner, and many more iconic brews have roots here, but Texas picks up its big points in Hill Country, where an underappreciated wine industry has been thriving for generations.

27. Arizona
Standout stat: 1 brewery per 100,000 residents
There're plenty of reasons to avoid Arizona (scorpion, meet shoe), but beer isn't one of them. The Grand Canyon State's got an incredible density of brewpubs & full-blown breweries like Four Peaks, Barrio, Sonoran, and more.

26. Delaware
Standout stat: 3.59 gallons of alcohol consumed per capita
Despite being the second-smallest state in the Union, Blue Hens are the second-biggest drinkers by per-person volume, which is kind of -- strike that, completely insane. No wonder Dogfish Head is doing so well!

25. California
Standout stat: 3,674 wineries & vineyards and counting
The Bear Republic's obvious claim to fame is its vineyards, and holy hell does it have a lot more of 'em than the rest of us (it outranks its nearest competitor, Washington, by about, oh, 2,700). But it also leads the country when it comes to booze's economic impact, and houses some of the country's favorite craft Meccas like Stone & Russian River, plus impossible-to-ignore international heavies like Anheuser-Busch.

24. Pennsylvania
Standout stat: 1 bar per 4,320 residents
Despite absolutely arcane beer-selling regulations -- why with the six-packs & cases, guys? -- PA actually turned in impressive numbers. Well done, sons & daughters of Penn!

23. Ohio
Standout stat: .9 craft breweries per 100,000 residents
"OH!? IO!" is something screamed incessantly by Buckeye Staters who've been drinking heavily. There was no way to work this into our statistical analysis, so we're just telling you now.

22. Massachusetts
Standout stat: 1.2 craft breweries per 100,000 residents
The Commonwealth didn't put up any stellar numbers, but it drank its way into a solid result in pretty much every category.

21. Illinois
Standout stat: 1 bar per 4,604 residents
Despite the fact that they close at stupid times, IL's bar game is strong. Three underage exemptions and a sixth-overall economic impact kept it safely in the top 25.

20. Missouri
Standout stat: 1.1 craft breweries per 100,000 residents
The ancestral home of light beer also serves as America's boozy epicenter, dividing the sober Southeast from the great sodden plains of the Midwest & Pac-Northwest.
19. New Hampshire
Standout stat: 4.65 gallons of alcohol consumed per capita
According to New England lore, the Granite State's slogan was originally "Live free, die, or just drink everyone under the table", but that didn't fit on statehouse stationery. That's not true, but this is: because of its comparatively low state liquor taxes, a big influx of frugal drinkers from surrounding states slightly pad NH's sales stats.

18. Rhode Island
Standout stat: 1 bar for every 3,982 residents
Not only does Rhode Island have an impressive ratio of places for people to drink vs. people to drink in places -- when they're in those places, the average Ocean Stater mauls through hooch to the tune of 2.72 gallons annually.

17. Michigan
Standout stat: 109 wineries and vineyards
Solid stats all around, but MI pulled its high rank mostly thanks to its four underage exemptions and high number of vino producers.

16. Nebraska
Standout stat: Four underage exemptions
Again, nothing too fancy here -- just plenty of loopholes for "cool" Moms.

15. Idaho
Standout stat: 3.1 breweries per 100,000 residents
With the 15th-most bars per capita and landing in a three-way tie for 10th-most gallons consumed, Idaho probably could've climbed even higher on this list if not for its zero -- not a single one! -- exceptions to underage drinking.

14. South Dakota
Standout stat: 2.76 gallons of alcohol consumed per capita
Low population, high drinkability. That's the SoDak way.

13. New York
Standout stat: Last call at 4am in nearly every county
2,004 wineries and vineyards, 34 craft distilleries, a whopping $2 billion in craft brewery-related economic impacts, the third-largest population in the country, plus the nation's highest concentration of substance-addled finance bros pounding vodka-sodas 'til last call?! Done deal.

12. Iowa
Standout stat: 1 bar per 3,118 residents
Alright Iowa!

11. North Dakota
Standout stat: 1 bar per 1,621 residents
Um... not only does NoDak dominate in bars-per-drinker, but it also landed third overall for gallons consumed. More mind-blowing: the Beer Institute calculates that NoDak residents drink just over a pint of beer a day on average. Whoa.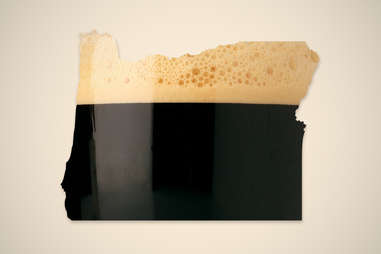 10. Maine
Standout stat: 4.7 craft breweries per 100,000 residents
Allagash, Shipyard, Maine Brewing, Peak Organic... the list goes on & on, long enough to break Mainers into the top 10. Of course, 2.65 gallons of alcohol per capita didn't hurt.

9. Wyoming
Standout stat: 1 bar per 3,303 residents
You know that barely anyone lives here (50th in population), but did you know the people who do call the Cowboy State home are so stubborn that it was the absolute last state that bent to federal demands to raise the legal drinking age to 21? Now you do. But enough about states' rights -- on to the drink! Founded in 1994, Snake River Brewing Co. in Jackson is the state's oldest, but despite its relatively young craft scene, our squarest state still has 4.3 craft breweries per 100,000. Between that, the very good small-batchers at Wyoming Whiskey, and a populace that puts back 2.67 gallons per capita, this place is inhabited by anything but squares.

8. Nevada
Standout stat: No last call
Oh, Nevada. Sweet, beautiful, free-thinking Nevada. Bless you. Bless your fourth-overall alcohol-drinking (3.27 gallons per), your five underage exemptions, and your sorta-surprising 1.1 craft breweries per 100,000 residents. But most of all, bless you for legislating into existence a place where we can order a Courvoisier up with a twist at 6:30am while smoking an unfiltered cigarette and playing Pai Gow poker under harsh fluorescent lights. Bless you for it all.

7. Washington
Standout stat: Over $1 billion economic impact of craft beer
For every 100,000 Washingtonians who think Black Sheep was an unfair portrayal of their fair state, there are four craft breweries pumping out suds to take the edge off. Wineries? Second only to California. Washington would've gone higher but for its pedestrian alcohol consumption: 2.25 gallons per capita, the lowest of any state in the top 10.

6. Wisconsin
Standout stat: 1 bar per 1,877 residents
Milwaukee used to be a spiritual homeland of blue-collar brew, but these days Wisco is all about premium stuff, like New Glarus & Leinenkugel. High-end or low, this is state full of craft breweries (2.2 per 100,000!) and hard-drinking Cheeseheads who average 3 gallons of alcohol each year. Plus, there used to be an urban legend that Miller Park's taps were fueled by a beer pipe that ran directly from the brewery. An urban legend we will perpetuate, right here. Miller Park's taps are fueled by a beer pipe that runs directly from the brewery!

5. Vermont
Standout stat: 6.2 craft breweries per 100,000 residents
In most of our columns, Vermont had barely anything going for it (except for per-capita consumption, where it places seventh). But then, we hit breweries. When you think about how small Vermont is compared Oregon -- the overall leader in craft breweries per 100,000 -- it's mind-blowing that the Green Mountain State is just a 10th of a point away from winning the category outright. Magic Hat, Otter Creek, Harpoon, and Long Trail are VT-based or -produced labels with strong regional distribution, but the harder-to-get prize is Alchemist's Heady Topper, a chrome-canned double IPA so coveted there's an actual black market for it. Well done, Vermont. Well done indeed.

4. Montana
Standout stat: 1 bar per 1,658 residents
North Dakota's next-door neighbor is nipping at its heels in the bars-per-drinker category, and Montanans, like North Dakotans, can flat-out drink -- they pound more alcohol each year than 44 states. The Big Sky State's big advantage is its craft breweries: 5.3 per 100,000.

3. Alaska
Standout stat: 5am last call (in some areas)
Seward's Folly aside, the 49th State is a promised land for the serious drinker. It's got plenty of breweries, residents drink more alcohol than 90% of the country, and a last call that would make even Manhattan yawn.

2. Colorado
Standout stat: 4.7 craft breweries per 100,000
CO is a beast. It ranks 10th in wineries, fourth in breweries, and is in the top-five craft spirits producers. It's tied for the second-highest number of underage exemptions in the entire country. It's top-10 in consumption, which is pretty impressive, given the mean elevation here is the US' highest, and drinking in thin air makes you tipsy quicker. Hell, in some early measurements, we thought Colorado was a virtual lock for No. 1. But then...

1. Oregon
Standout stat: 6.3 craft breweries per 100,000
... Oregon came along. It should be noted that our entire editorial staff (except for Kryza, who lives in Portland and likes to tell people about it) was actively rooting against Big O in this ranking. It leads any booze-related national conversation on the strength of its unassailably dense beer scene, but OR's also third in wineries, fifth in distilleries, and 13th in bars per capita. Oh, did we mention craft beer and wine alone account for $4.6 billion in economic impact each year, and Oregonians drink 2.65 gallons of booze? Because it does, and they do. Basically, it's a big, boozy bully, and we wanted to take it down a peg or several. But the numbers don't lie -- The Beaver State is America's Booziest.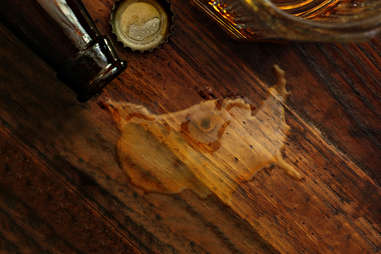 Finding America's Booziest: our sources & methods
Obviously, a ranking like this is only as strong as the data on which it's built. To explain exactly how we got said data, I interviewed Chris before & after he put together our master spreadsheet of boozy states.
Methodology:
In selecting criteria to measure each state, Chris told me that his team "tried to make it like an argument at a bar. If you're arguing with your friends on a Saturday night, we thought about the things you'd bring up to make your case." Of course, "there are some standards, like bars per capita", he explained, as well as volume drank, which he based off each state's per-capita intake of ethyl alcohol (basically the purest available volume reading for booziness).
Chris also looked to Facebook to make sure he was on the right track. "Breweries per capita is higher in pretty much every state than distilleries or wineries, and when we checked the Facebook data [the number of residents per state who like "Beer" and "Wine"], that made sense to me." Facebook didn't sound like a solid source to me, so I pressed him on its accuracy. "It sounds weird, but because such a large portion of the population is on [Facebook], it's actually a really good indicator," countered Chris. Then he sent me links to The New York Times' Upshot blog, which also relies on the social platform for some of its numbers. I pretty much shut up after that.
We wanted to stay away from alcohol-related felony and medical data, because that stuff is no fun, and this story is supposed to be fun. But as for the underage exemptions? "We were doing the research to see when last call was, and that just kinda came up," explained Chris. "We were intrigued to see how many states had these exceptions -- it's usually something about drinking with parents or in the home."
Sources:
*Breweries per 100,000 adults 21+: We knew we were going to be working with brewery stats a bunch. Luckily, Brewers Association put their data in multiples of 100k to keep the numbers from getting too clunky.
Distilleries, wineries & vineyards: Here, we relied on individual state's government sites and distillery and winery/vineyard association sites to get our data.
Days a week alcohol is sold: Most states sell at least six days a week, so we went through to gather anecdotals on partial-day restrictions (like Connecticut, or North Carolina).
Underage exemptions: There are 45 states that allow people under 21 to drink under certain circumstances. Those states got a boost.
**Gallons of alcohol consumed per capita: This one was the most fun. The NIH broke down its data to the volume of both the beverage, and the volume of ethyl alcohol contained in that beverage. We took the latter, to see who was drinking the absolute most pure alcohol by state.
Conclusion
Despite all the data-collecting & number-crunching, the fact remains that "booziness" is barely even a word, much less a quantifiable mathematical concept. We knew that going into this project, and we know it coming out. But even if you don't agree with the individual ranking of your state, or have qualms with a specific data column, we hope this piece gave you a deeper appreciation for the sheer diversity of American drinking culture. Cheers, folks.
[EDITOR'S NOTE: Since publication, we've realized some of our original statistics were incorrect. We neglected to specify the brewery stats only included craft breweries, and economic impact only included that of craft beer. We've subsequently updated and corrected our findings. Apologies for any confusion.]
Sign up here for our daily Thrillist email, and get your fix of the best in food/drink/fun.
Chris Kolmar is the chief armchair economist at Movoto.com.
Dave Infante is a senior writer for Thrillist Food & Drink, and is getting really tired of Oregon. Follow @dinfontay on Twitter, Instagram, and Snapchat.