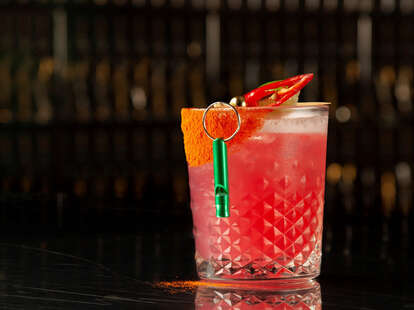 Checking into The Watergate Hotel in Washington DC, it's impossible to forget where you are. The historic hotel on the banks of the Potomac River reminds you of its significance at every turn: an exterior sign mimics a typewriter, former President Richard Nixon is featured on the voicemail, and key cards cheekily proclaim "no need to break in."
The hotel, of course, is the site of the June 17, 1972 break-in of the Democratic National Committee headquarters that led to an explosive exposé in The Washington Post and Nixon's eventual resignation. Ahead of the infamous bulgary's 50th anniversary (and timed with new Starz series Gaslit), the Watergate Hotel's Next Whisky Bar is featuring a special cocktail menu dedicated to whistleblowers, freedom of speech, and the power of the press.
"The whole team embraces the history of The Watergate," says the hotel's lead bartender Kal Lemma. "Instead of shying away from it, why not educate people about what it's like to have this history in your own backyard?"
Lemma says that, whether guests decide to stay in the aptly named Scandal Room or not, the entire hotel complex exudes historical significance—including the view of that very same DNC office from its Kingbird restaurant.
Now, the hotel is debuting three new cocktails to punctuate the era even more. The Whistleblower with chili pepper tequila, peppercorn agave, Rinomato Scuro, lime juice, and a chili powder rim comes garnished with an actual toy whistle and represents the boldness of coming forward with the truth "and sticking by the story," Lemma says.

"Instead of shying away from it, why not educate people about what it's like to have this history in your own backyard?"
The Post Worthy is a nod to the newspaper that broke the story with Woodinville whiskey, ginger cordial, lemon juice, basil, and rosewater to signify DC's famous cherry blossoms.
The barrel-aged Smoke & Mirror cocktail, in particular, is a showstopper. The drink—which is made with hickory-smoked KI NO BI Kyoto Dry Gin, presented with smoke emanating from a glass cloche, and incorporates yuzu dry vermouth—represents "when the smoke cleared to reveal what really went down behind the scenes with Nixon," he says.
But, as Lemma points out, the cocktails symbolize more than just what happened in the Watergate scandal. From Martha Mitchell to Edward Snowden to the latest Politico leak, whistleblowers continue to be an integral part of the American fabric.
"Truth in journalism and freedom of speech is something that deserves to be honored, appreciated, and given a tribute," says Lemma, who was born and raised in Ethiopia. "America gives more rights to its people to share their opinions and call out who needs to be called out."
The drink menu will run through June 12, though Lemma says customers can always request these cocktails or something similar from bartenders after that. He says the timing feels right to dedicate a menu to this admittedly dark but profound period in American history.
"We've had such a positive response since we've decided to embrace the history of it all," Lemma says. "People love the idea of feeling what it must have been like back then, and there's a greater appreciation for that era now that enough time has passed."
Whistleblower Cocktail Recipe
Ingredients:
• 1½ ounces chili pepper tequila
• ½ ounce lime juice
• ¾ ounce peppercorn agave
• ¼ Rinomato Scuro
• Chili powder
Directions:
All ingredients are added into a shaker then poured over ice in a rocks glass that's coated with a chili powder rim.
Jess Mayhugh
is the editorial director of Food & Drink at Thrillist, and has seen and read
All The President's Men
many times over. Follow her on
Twitter
and
Instagram
.