Why Starbucks Will Actually Succeed in Italy
Starbucks just announced it will soon be opening shops in Italy, thus invading one of the most fortified Old World coffee strongholds on the planet. Nationalist Italians may decry this move, thinking themselves equipped to resist the pumpkin spiced siren's song, but the truth is that Starbucks will actually fit right into the fabric of Italy's coffee drinking culture, and here's why.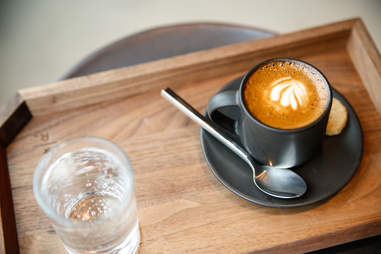 Dan Gentile/Thrillist
Starbucks' flavor profile actually matches Italian tastes
It's no secret that Starbucks takes serious inspiration from Italian coffee culture, one of the primary tenets of which is sprudgy coffee that's darker than the bottom of a well. Italy has traditionally found American coffee to be watery and weak, but Starbucks is loved (and hated) for a darker approach to roasting that should appeal to Italian palates.
It's in other coffee countries like Colombia and Japan
Colombia is arguably the coffee capital of the world, so there was serious skepticism about the chain's arrival in 2014. Although Juan Valdez is still a source of national pride, resistance to Starbucks on principle was countered by a curiosity for foreign imports.
Japan isn't a coffee producing country, but their culture is one of the richest in the world. Starbucks' arrival there dates back to the mid-'90s and they now occupy every prefecture driven partly by the chain's appeal as a Western status symbol. Italians are less obsessed with appropriating cultural trends, but young people will likely be dying to drink the caffeinated Kool Aid.
Italy has a ton of tourists
Every visitor to Italy relishes the idea of sipping a cappuccino at a tiny sidewalk cafe, but the beacon of a recognizable international brand staffed by likely bilingual employees will draw enough tourists to keep the lights on.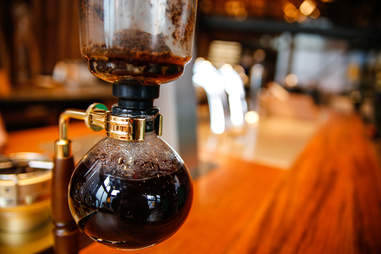 Dan Gentile/Thrillist
Coffee connoisseurship is on the rise
There is a movement towards American styles, and older Italian coffee culture is making room for newer, snob-leaning shops. Starbucks is the perfect gateway. 
Starbucks is meticulous about fitting into its surroundings
The brand takes store design into serious consideration, working with local designers on site-specific shops that don't just look like pre-fab latte factories. Design-wise these Italian outposts will likely be some of the most elegant Starbucks in the world and built with Italian habits in mind.
Dan Gentile/Thrillist
The brand is just really, really smart
Although they do have precedent for failing at other international expansions (mainly Australia), Starbucks isn't going into this lightly. The NYTimes reported that CEO Howard Schultz first stepped into an Italian coffee shop in 1983, meaning this idea has been percolating for roughly 33 years and will be executed "with great humility." That's probably just code for too slow to fail, but who knows, maybe they just plan to teach their baristas to spell people's names correctly.
Sign up here for our daily Thrillist email, and get your fix of the best in food/drink/fun.
Dan Gentile is a staff writer at Thrillist. He once spent 18 hours in a Starbucks and lived to tell the tale. Follow him Pikes Place flashbacks at @Dannosphere.