On Saturday, June 4th, 2016, Firestone Walker Brewing Company will host one of the greatest beer events in all the land, and all the other lands as well: the 5th annual Firestone Walker Invitational Beer Fest in Paso Robles, California. Tickets go on sale Monday, February 1st, at 10am PST, and will almost certainly sell out faster than Bruce Springsteen tickets in 1985 -- which somehow went extremely fast despite there being no Internet. How did ancient man accomplish such things?
Anyway, there's also another option for tickets: Firestone Walker is holding a contest that could snag you and a friend VIP passes plus lodging. You should definitely enter, because you're a lucky person, and because this isn't an event to be missed. We went last year, so we're eminently qualified to tell you why:

1. This isn't a free-for-all featuring thousands of breweries of varying quality. Instead, it's a select group of around 50 breweries personally selected by Firestone Walker brewmaster Matt Brynildson.
2. To get that Brynvitation (ridiculous new word not sanctioned by Matt Brynildson), the brewers have to not only be good -- they have to be actively advancing the cause of beer through ever-escalating quality and innovation. This best-of-the-best, most-interesting-of-the-interesting qualification has meant some exceptional breweries have been left off the Brynvite list.
3. The rigid requirements nonetheless produce a staggering variety of participants. Last year saw everyone from The Bruery, to The Alchemist, to Indianapolis' Sun King, to Frankfurt's Braufactum. You'll emerge soaked in knowledge of what's happening in craft all over America, the world, and Indianapolis.
4. Every brewery has to send someone directly involved in the brewing process, vs a good-looking person hired specifically to distract you from mediocre beer. So, your many, many questions will be answered by someone who really knows their shit.
5. Very often, that person will be a brewery's founder. So you can get autographs. Or just be like, hey, um, your beer is really good.
6. Attendance is also restricted, to a few thousand. Instead of fighting through post-Apocalyptic scene where hordes are fighting for beer like it's radiation-free water, you actually get to drink beer. Here, even the "long" lines are relatively short.
7. And you can have that meaningful discussion with a brewer without people behind you being like, "Get it and go, clown! You're holding up the super-long line!"
8. Each brewer is required to bring a session beer and a "special beer," and most bring more than that. You'll get to try some truly unique suds… and still be standing at the end of the (very long) day… and get to experience the amazing variety of progressive session beers.
9. Those West Coast IPAs are about as fresh as they can get. Like eating sushi off a boat.
11. You might meet a man named Jeffers. You definitely want to talk to Jeffers. He is the key to understanding Barrelworks. You definitely want to understand Barrelworks.
12. Instead of a convention center or football stadium, the fest is held in a replica Old West town, which is appropriate because it's a real Wild West out there for craft beer! And also because it's a pretty cool place to have a beer festival.
13. In fact, the Invitational is also a benefit for Paso Robles' Pioneer Day, held on the same site. Drinking beer for a cause releases mad karma flavonoids.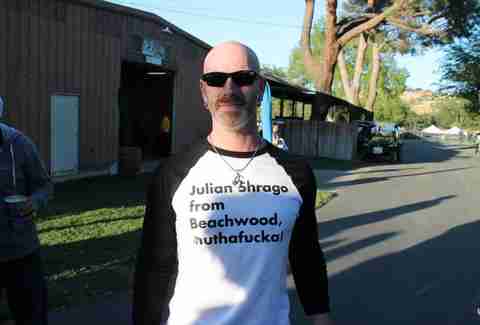 14. Because you see the same people throughout day, you might actually make friends, which is sort of the whole reason beer exists.
15. You'll also likely meet people who've been going to beer fests since before craft was a thing. Basically they're like what phone phreakers were to the personal computer business, and they'll give you extraordinary perspective on the growth of the scene.
16. The Brewers Camp… oh, man, the Brewers Camp. A ton of the brewers actually sleep in tents and RVs back there, and it makes for an incredible all-night party with everyone mingling, trading limited editions, and drinking those limited editions. [The photo above is not from the Brewers Camp; what happens in the Brewers Camp, stays in the Brewers Camp.]
17. You might get a new favorite band out of it! Seriously, one of these bad-asses is now the director of operations for 2015 attendee Surly, a brewery in Minnesota.
18. Did we mention that pretty much all the Firestone Walker beers are there? As well as the founders (the Lion and the Bear), who walk the grounds just like regular folks, though they are quite tall.
19. There's plenty of food at the event, but you can and should pop into San Luis Obispo at some point for a Tri-tip sandwich at the Firestone (no relation) Grill. This sandwich is so good and so big you might never leave the Central Coast. Which wouldn't be a bad thing at all.