10 Reasons The Master Sommelier Test Is The Hardest in The World
Everyone knows that becoming a Master Sommelier is hard, but nobody knows how hard quite like the cast of Esquire Network's upcoming docu-series, Uncorked. The show follows six aspiring New York sommeliers as they attempt to master the most notorious test in the food and beverage industry (and possibly the known universe), the Court of Masters Sommelier exam. We took a sneak peek, and got the inside scoop on which aspects of the test are tricky, which are mean, and why it sounds so… downright impossible.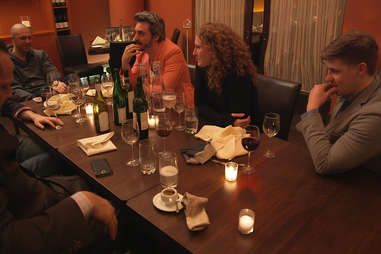 1. Very few people pass it
There are currently only 230 Master Sommeliers in the world, perhaps because the pass rate is 8%.

2. Very few people even take it
Only sommeliers who have previously passed the Intro, Certified, and Advanced Sommelier exams are invited to take the Master Sommelier test. And only Master Sommeliers can gain membership to the Court, which knocks out holders of their similar-sounding but purely theoretical (and easier, sorry guys) Master of Wine diploma.

3. It's a trifecta of difficult
There are three components to the Master Sommelier test -- theory, service, and blind tasting. Acing all in one sitting is practically unheard of.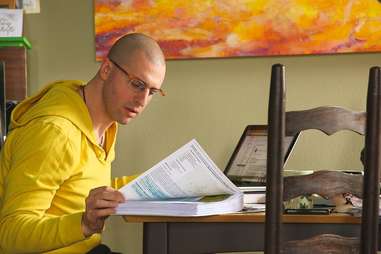 4. Two out of three is bad
Candidates get three years in which to nail every section, but passing theory is compulsory to starting the clock. After three years? It's back to square one, which is why most Master Sommeliers sit the test more than three times.

5. Study hours = getting a medical degree
Candidates must be familiar with the minutiae and legality of every wine grape varietal in the world, which is at about 10,000 at present. Oh and examinable content expands at a rate of about 5% per year, so just memorizing last year's 4,000+ flashcards again probably won't cut it, lazy.
6. They'll stress-test your service skills
The simulated service portion is often the easiest for restaurant workers, to whom the mechanics of serving wine correctly while dealing with customers is no biggie. But still, examiners pile it on thick, with stressful demands ("Could you split that half-poured Champagne between 14?").

7. And they might even insult you
You try smiling through observations like, "Looking a little snug in that suit!"

8. It's a bit like Jeopardy
Theory test day resembles a 25-minute nightmare job interview, with two masters firing around 120 questions across a table. These can be anything from the elevation of a commune in Italy to the laws on which clone of Sangiovese you are allowed to plant, so… picking "C" is not an option.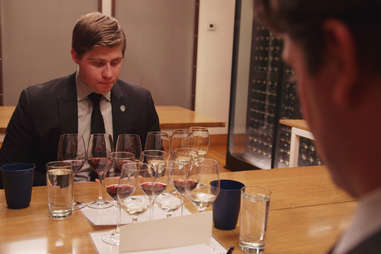 To pass the blind tasting, candidates must identify the grape varietal, location, and year for six wines, applying whichever identifying markers happen to work ("One Austrian wine reminds me of the glue they used to use to attach my braces as a kid," -- Josh Nadel, featured sommelier) and a whole ton of book studying.

10. It's not even just wine
Nobody imagines a Master Sommelier slinging tequila shots. But if they did… they'd know what they were talking about as the test also covers beer, liquor, cocktails, and sake. Basically, you should invite one to your next party.
Uncorked premieres November 10 10|9c on Esquire Network. Watch the trailer here.