10 Reasons Why You Should Be Drinking German Riesling This Summer
Michela Ravasio/Stocksy
Michela Ravasio/Stocksy
Some things get a reputation they don't necessarily deserve, like Riesling, which for years has been unfairly regarded as a wine that's "too sweet." An incredibly versatile white that pairs with almost any food, this wine -- particularly from its motherland Germany -- is typically found among many somms' top five, and for good reason. We got three NYC-based experts to tell us why Rieslings are always solid picks, and particularly so in the summer: Paul Grieco, Riesling savant, Summer of Riesling founder, and the proprietor of Terroir Wine Bar, Frederick Twomey of Bar Veloce, and Mike Duffy, sommelier at Burger and Barrel.
They're fermented in a way that makes them incredibly light
The last thing you want to eat on a hot day is a big bowl of beef stew that'll make you want to nap, and probably sweat a lot. Same goes for what you want to drink. Riesling is normally fermented in stainless steel drums, so it never sees any of those oak barrels that give other whites their heavy, buttery taste.
Twomey says: "If I'm going to the beach, give me something light, crispy, and something maybe slightly floral. Don't give me a heavy, oaky chardonnay. If I'm on a beach, that's not what I want."
Riesling comes in many styles, from bone dry to rich and fruity
The stereotype that Riesling is a sweet wine is mostly thanks to a few super-sweet varieties that were heavily marketed to Americans in the '60s and '70s -- but that's not the whole story. Rieslings can range from bone dry to very sweet, usually depending on where they're from. No matter your preference on the sucrose spectrum, there's bound to be one you'll like.
They take you on vacation
Rieslings show off their sense of place, or terroir, much better than most other wines. German Rieslings in particular are more transparent with the subtleties that help identify where they were grown, so you get a clearer sense of all the elements that came together to produce the wine -- the water, soil, sunlight, climate, etc. At the most basic levels, German Rieslings have several styles that range from dry to off dry. But the different terroirs and climates in each region lend to distinct flavor profiles and characteristics in the wine -- from racy acidity to vibrant fruit flavors -- that can really transport you as you drink them.
Twomey says: "When I taste a wine, I really want to feel like I'm traveling. Riesling really lends itself well to talking about where it's from."
Duffy says: "One of the things that makes Riesling great is that it's a very a versatile wine. It has a refreshing nature, it's a little bit lighter in body and it's normally very crisp -- but it can be fruity or dry."
Riesling is great for day drinking
If you don't spend at least half the summer outside with a drink in your hand, you're doing the season an injustice. Besides being light and crisp, German Rieslings typically have a lower alcohol content than other wines -- which makes that extra glass during your day-drinking session kind of a no-brainer.
Grieco says: "If you and your mates start drinking Riesling at 12 noon and keep drinking at a leisurely fashion throughout the day, you're going to be bright eyed and bushy tailed by 6 at night." (However, he's not a doctor, so make sure you know your own limits.)
Their high acidity makes them a great summer wine
One of the reasons why German Rieslings are as summery as cookouts and fireworks is due to their characteristic high acidity, as well as a bit of residual sugar which gives them that crisp, refreshing taste that'll have you reaching for them during AC season.
Grieco says: "During the summer, we want things with good acidity, we want things with a little bit of residual sugar, and you also want light. The acid in Riesling is the highest in any grape or wine."
You can eat whatever you want with them
If your ideal dining experience would include sushi, pizza, and empanadas throughout the course of the meal, then you and Riesling are made for each other. It has the ability to cleanse your palate, making them a solid pairing with almost any dish -- from your Eggs Benedict at brunch to your ramen at dinner. (And that's mostly due to the high acidity in them.)
Grieco says: "Acidity is like a Zamboni, and much like how a Zamboni comes out on the ice between periods so we can go out on the ice and play hockey, acid clears the palate." Here's hoping "the Zamboni of wines" becomes a thing.
Somms love 'em
Want to get a somm talking? Ask why Riesling is a great wine and they probably won't shut up. They rave about that Riesling balance that causes it to be just the right amount of tart and sweet.
Grieco says: "What German Rieslings have in spades is balance. That dollop of residual sugar would come across as a spoonful of maple syrup if it wasn't offset by acidity. That acidity would make you feel like you were sucking on a bitter lemon if it was not offset by that dollop of residual sugar."
They age well, especially for a white wine
Turns out, not all wine gets better with age. In fact, most white wines are supposed to be had within just a couple of years after they're bottled -- but not Riesling. Because of their high acidity, Rieslings can stay at their peak maturity (roughly 20 years) for as long as it'll take your 401K to be worth something.
Twomey says: "Riesling seems to transform. It may lose some of its fruit, but because of its acid content, it still has some life in it and it starts to evolve in a much more interesting way. And for whatever reason, other grapes just don't do that."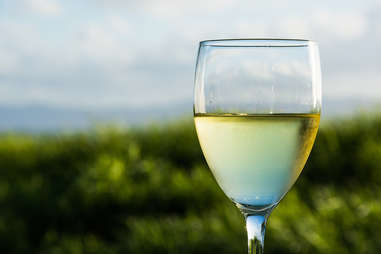 It hails from Germany, and has for a long time
You thought school was out for summer, but we've got a quick history lesson for you: Riesling dates all the way back 50 BC in German wine viticulture (which is a fancy word for wine science, which we wish we would have majored in). In the 19th century, it was considered one of the most prized wines on the planet, and Germany has always been its largest producer. In fact, it's responsible for more than half of all Rieslings available on the market today, and the grape variety makes up 80% of Germany's historic Rheingau wine region. In case you were wondering, that's a lot of Riesling to sip on in the sunshine.
It's the game-changing ingredient in a summer cocktail
Most somms say Riesling is great on its own, but, if you're trying to impress your friends, this wine throws down in a cocktail without trying too hard. Use lighter liquors, like a vodka or tequila, then accentuate the wine's notes with subtle fruit flavors from a flavored liqueur or fruit purée. Make a big-batch cocktail at the next cookout you're invited to and everyone will probably ignore the cook helming the grill to laud your wine cocktail know-how.
Duffy says: "Keep it really simple, not too strong; make a nice refreshing cocktail that accentuates the flavors in the wine."