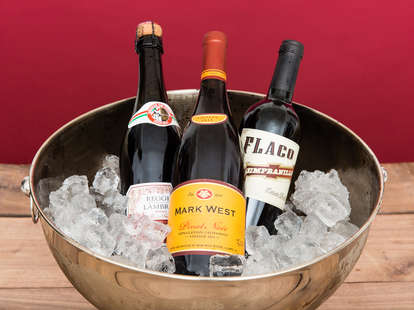 Chilling your red wines may seem sacrilegious to some, and downright odd to others. But serving a chilled red during the hot, humid summer will gain you nothing but admiration from wine novices and aficionados alike. Vastly different from throwing ice cubes into your wine, cooling off your reds in the fridge or in an ice bucket brings out their warm weather appeal without watering them down. The chill enhances the bright acidity, upping the refreshment of any wine, versus drinking it warm, which makes it seem more boozy and heavy.
It's best to stick to reds that are to low to medium in body and tannin, which means you'll have to put down that malbec and try something else. (Don't worry, malbec will bewaiting for you in autumn.) Avoiding heavily oaked wines is also advisable, since a rich oak flavor is likely to overpower other flavors when cold. Opt for old-world wines that come from European countries like France, Italy, Spain, Austria, Croatia, and Hungary, which are more likely to offer full flavor in a medium body.
Try out one of the wines that meet these conditions, which we've listed below, and don't forget to ask for an ice bucket. You'll not only impress your date with insider wine knowledge and a refreshing quaff, but the sommelier as well, who would likely do the same thing on a hot summer night.
Lambrusco
The ultimate chilled red -- chilled is actually the go-to way to serve it -- this traditional sparkling from Emilia-Romagna, Italy is essentially adult soda. They span the scale of sweetness – from super dry to vaguely sweet -- and offer tons of fruit and spice. These powerful wines stand up to thick BBQ sauces, and spicy food just like a can of Coke would. Widely available in stores and on restaurant lists, it's an easy go-to wine in the summer.
Etna Rosso
This magical wine from Sicily has chameleon-like abilities to adapt to any season. In cool weather it feels rich and silky, comforting and full. In warm weather it can be chilled down to a lively light wine with bright and refreshing flavors. These wines are generally inexpensive, with excellent examples on the shelf for under $25, and are classy enough to serve your girlfriend or boyfriend's parents.
Pelaverga (& other rare varieties from Piedmont)
The Northern Italian region of Piedmont is home to some of the best wines in the world (Barolo, Barbaresco), but it's their little siblings, often forgotten, that do so well chilled. These almost extinct varieties became fashionable again over the last decade and are popping up on lists and shelves all over the USA. Look for lightly colored varieties like Pelaverga, Ruche, Fresa & Grignolino in addition to Barbera. These surprisingly fruity and juicy wines are spicy and complex and significantly less expensive than their better-known Piedmont brothers.
Beaujolais
From France's Burgundy region comes a group of wines known as Beaujolais made from the gamay grape. Aside from the light fruit juice-like Nouveau wines that come out once a year in the fall, the wines from Beaujolais are full flavored with nuanced flavors of dark spicy fruit, earthy minerals, and herbal undertones. Any wines made from the gamay grape take especially well to a chill, bringing out their inherent berry flavors.
Pinot noir
The kind of pinot noir that should be chilled is the classic European style: light bodied, light tannin, and barely oaked, if at all. The big fruit bombs that come from California drink more like merlot than a true pinot noir. To make sure it's the chillable style, look for wines that are no higher than 13.5% alcohol by volume. The bright cherry and floral flavors will shine through the chilled wine, and the earthy mushroom and forest floor flavors will linger on the palate. Look for mid priced examples from Burgundy and Austria.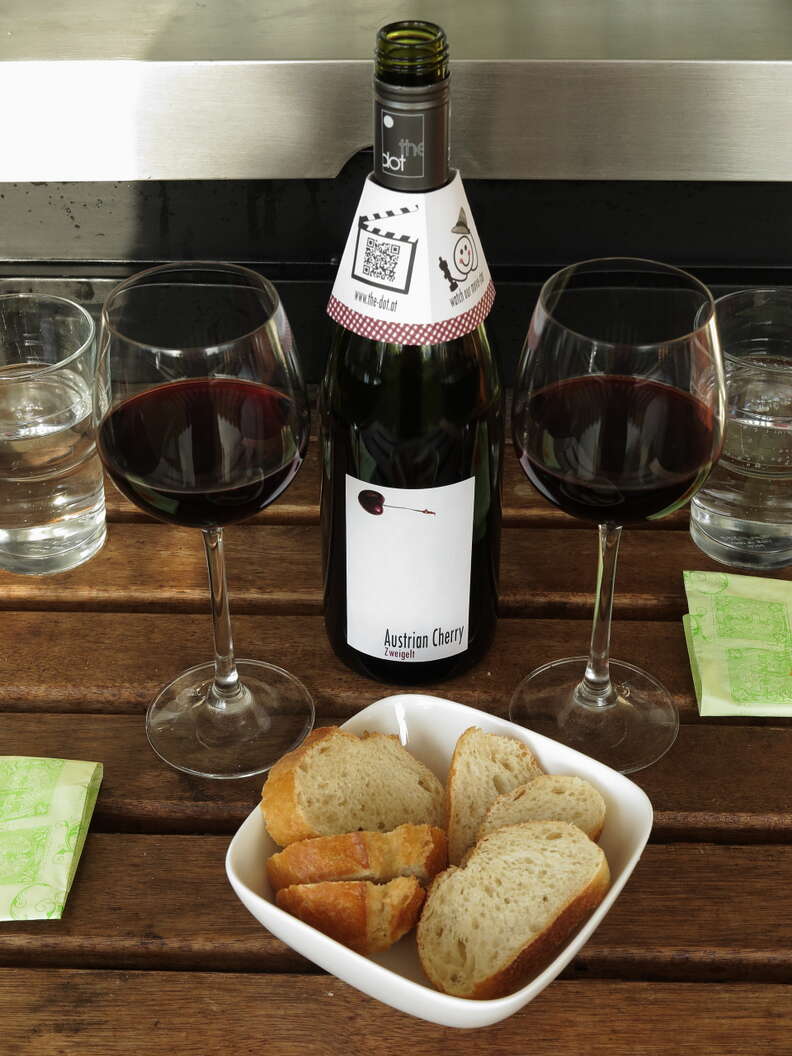 Zweigelt
This hybrid grape was made in the lab by Mr. Zweigelt himself in 1922 in Austria. Today, it is slowly gaining popularity among wine geeks everywhere. These wines are often light or medium with full flavors of red fruits, herbs, and savory undertones. Full of classic red-wine flavors, it's an apt substitution for cabernet sauvignon as it will pair well with steak, mushrooms, and cheeses. More expensive versions tend to be heavier in body, which means a mid priced bottle $25 or under is the best bet for chilling.
Tempranillo
This grape is a catch-all workhorse that grows in practically every region of Spain. The wines that are made from Tempranillo vary greatly, and some of the premium wines can be full, powerful and expensive. Luckily, the best ones to enjoy chilled are the cheap and cheerful bottles $15 and under. If you see a bottle of $9 tempranillo, that's the one to plunge into the cooler at the rooftop BBQ and enjoy with your ribs.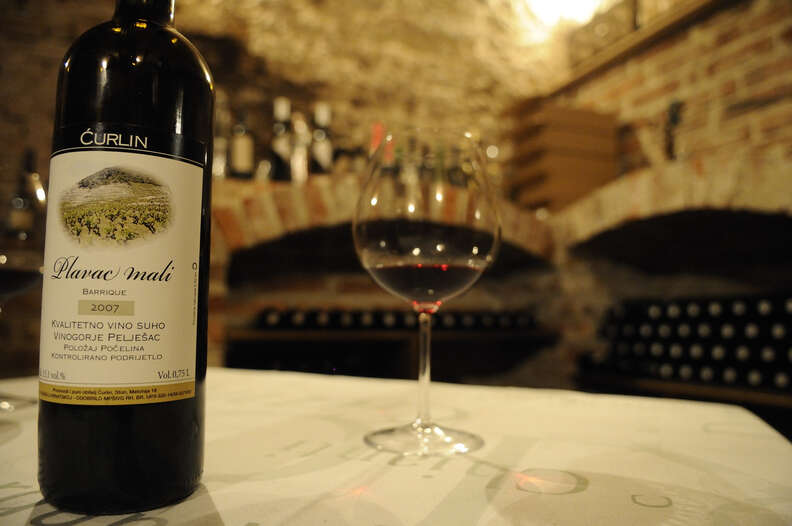 Plavac mali (& unoaked zinfandel)
Plavac mali (pronounced PLA-VATZ MOLLY) originated from the Croatian coast, and is one of the parent grapes of California's fruity zinfandel. These full flavored wines offer many of the typical zin flavors of tea, blueberries, baking spice and even cocoa, all tied up in a surprisingly light body. Lower in alcohol and body than their American offspring, they work well served cold. Unoaked versions of USA zinfandel can also be chilled with success, but be sure to look for wines that are under 14% alcohol for best results.

Sign up here for our daily Thrillist email, and get your fix of the best in food/drink/fun.
Tess Rose Lampert is a Manhattan-based philosopher-turned-drink expert who spends her nights grappling with tough decisions like what to pair with Thai takeout and Netflix binges. It's often mezcal. Follow her to south-of-the-border pilgrimages: @TessRose211.